NEW
Yoo-hoo! Elmedia runs natively on Mac computers with Apple silicon: M1 and M2 series!

Create Personalized Playlists with Mac MP3 Player
It's great to have your music library structured and organized in a compact, beautiful, and easy-to-navigate configuration. Elmedia Player offers a playlist feature that you will surely appreciate. Create your own playlist with your favorite music, manage it and enjoy tracks in one convenient place at any time.
Audio Visualization
Want to accompany your music with graphics? Try the audio visualizer which offers 12 different modes. Find the one that suits you best and enjoy the tracks to the fullest.
App-Specific Volume Settings
Don't let your Mac's system volume settings interfere with Elmedia Player. Adjust the volume as you wish: you can turn off system sounds and leave the music on.
AC-3/DTS Through S/PDIF
Surround sound greatly enhances your music and movie listening experience. To get the best surround sound experience on your Mac, use Elmedia Player's AC3/DTS hardware passthrough.
Never-Ending Loop
Listening to your favorite music on repeat is easy with the unlimited loop feature. You don't have to worry if you missed a part of a song or podcast, just loop the part you need as many times as you need.
Fine-Tuned Audio with 10-Band Equalizer
Customize the sound to your liking with the 10-band equalizer offered by the MP3 player Macintosh app and get even more clarity and quality. Alternatively, you can use one of the presets to ensure perfect sound.
Choose Playback Channels
Easily activate playback features in Elmedia Player. You are not limited to a basic two-channel setup. This Macintosh MP3 player comes with reliable two-channel, four-channel, six-channel, or eight-channel configurations.
MP3 Player for Mac: Wi-Fi Streaming and Native Fullscreen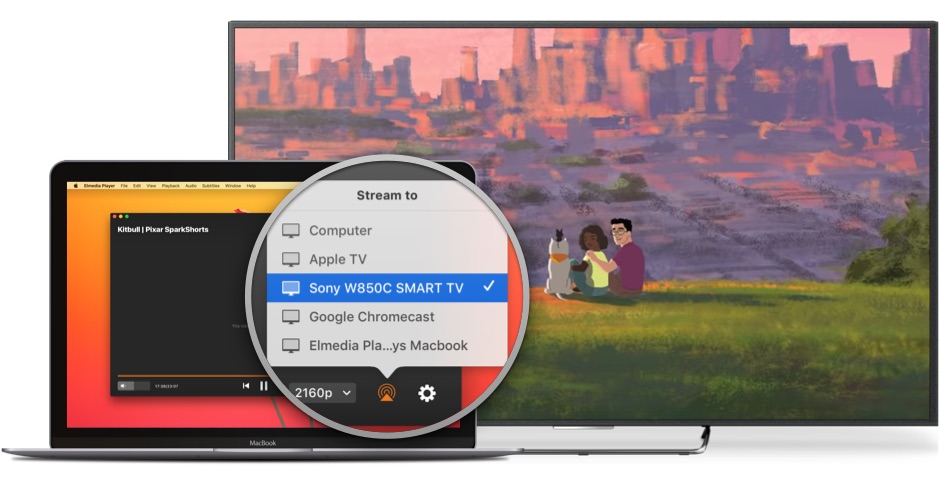 Whether you want to stream media and enjoy great music and video on the big screen, Elmedia helps. This MP3 player for Mac supports modern wireless technologies, meaning you can quickly and seamlessly transfer media files from your Mac device to Apple TV, Chromecast Smart TV, and other DLNA-enabled and AirPlay devices.
Apple TV and other AirPlay devices
Smart TV and DLNA Connectivity
Chromecast and Chromecast Ultra
What is MP3?
MP3 (short for MPEG-1 Audio Layer-3) is one of the most common and popular lossy digital audio encoding formats that can be easily played on computers and portable digital devices. It uses a compression algorithm to reduce the overall file size. Audio is compressed with a loss of quality, but for the average user, the loss is almost imperceptible. Even after compression, MP3 music files maintain relative quality. Thanks to its small file size and stable and high-quality playback, MP3 is a favorite format of most music lovers.
Get an Immersive Audio Experience with MP3 Player for Mac
Forget about the problems of playing certain file formats. Elmedia Player can open many audio formats such as WMA, M4A, OGG, APE, and more, allowing you to enjoy your favorite music without any problems.
If you have ever worked with the FLAC format, then you probably know that it is quite difficult to find a FLAC player for Mac that is not a standalone application. Here, Elmedia Player will also help you and open the FLAC file with ease, ensuring flawless playback.
The same goes for most Mac MP3 players that don't support files like Microsoft's WMA. Unlike these programs, Elmedia plays any type of file, even lossy formats, and can easily be called a WMA player Switch between Mac and Microsoft formats hassle-free.
What other users are saying about Elmedia
If you are searching for an advanced movie Player for Mac, then Elmedia Player 8 is here for you. Elmedia Player 8 is known as the best media player amongst the new generation of Mac users.
Elmedia Video Player for Mac offers a wide range of features to meet all your multimedia needs. You can stream directly to Smart TV or Apple TV.
Elmedia Player has a wide variety of other features and capabilities, but having the ability to play just about every possible video format, tweaking settings as needed for sync, audio and video problems.
It can play any file format including the widely-used ones like AVI, MP4, FLV, SWF, WMV, MKV, MP3, M4V, etc without the need of installing any other plugin or codec.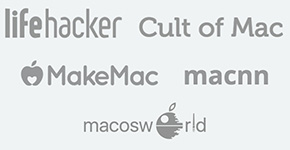 #1 at Video
Elmedia Player Free
Get a download link for Desktop
Submit your email address to get link for quick download and get started!
Languages:
Deutsch, English, Français, 日本の, Español, 中文