NEW
Yoo-hoo! Elmedia is now natively compatible with Apple M1-powered Macs!

How to play MP3 on Mac easily
1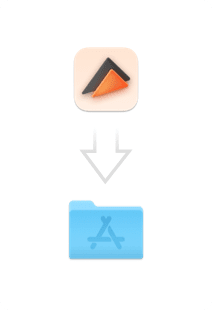 Download Elmedia MP3 player for Mac from the official website.
2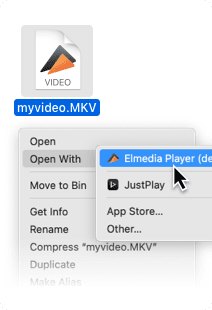 Open the player and select your file in one of three ways:
Drag and drop your MP3 file from your Mac's Finder into the Elmedia Player window or the icon in the dock.
Right-click on the MP3 file of your choice and choose "Open with" to select Elmedia Player as your player of choice.
In the Elmedia Player window, select "File" from the menu bar and then select "Open" to find your MP3 file.
3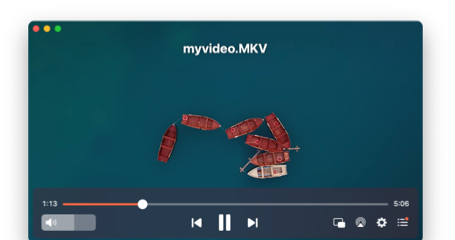 An MP3 Player for Mac with an Immersive Audio Experience
The Elmedia Player supports a wide range of audio formats, such as WMA, M4A, OGG, APE, and more. Your audio and video file format will never hold you back from enjoying the music you love.
Especially if you prefer the quality and capacity of FLAC, finding a FLAC player for Mac that isn't a standalone application can be difficult. The Elmedia Player offers flawless playback while accommodating more traditional file formats.
Similarly, most Mac applications won't support WMA files from Microsoft, but Elmedia is an WMA player that switches between Mac and Microsoft formats on a single playlist. Use an MP3 player for Mac that plays any file type you use, including video to audio extraction.
Personalized Playlist Creation on Mac MP3 Players
Imagine your entire music library laid out and organized in a compact, beautiful, and easy-to-navigate configuration. With this MP3 player Mac app's playlist feature, you can create, manage, and enjoy all your music in one convenient place. Your playlists are ready to enjoy whenever you are–with these powerful features.
Audio Visualization
If you want some graphics to accompany your music, try the audio visualizer. 12 different modes for you to try and find which suits you best. Use more senses to engage with your tracks - not just hearing.
App-Specific Volume Controls
Set volume control how you like it, without affecting your Mac's system volume settings. You can keep your music turned up and leave the system sounds down.
AC-3/DTS Through S/PDIF
Surround sound has never sounded this good. With Elmedia Player's built-in settings, you can set up a pass-through for hardware decoders with AC-3 or DTS for the best of the best in surround sound quality.
Never-Ending Loop
Make sure the music never stops with the never-ending loop feature. Whether you've missed a part of a song or podcast or simply want to enjoy your favorite music uninterrupted–this Mac MP3 player has you covered. For as long as you want.
Fine-Tuned Audio with 10-Band Equalizer
If HD surround sound isn't enough, you can expect even more clarity and quality when you experience the 10-band equalizer this Macintosh MP3 player offers. Choose from optional presets or manually adjust each facet for the perfect sound that's right for your ears.
Choose Playback Channels
Activate surround sound quality and playback features in Elmedia Player with ease. Don't let a basic two-channel setup limit you any longer. This powerful MP3 player Macintosh app comes ready with robust two-channel, four-channel, six-channel, or eight-channel configurations.
MP3 Player for Mac with Wi-Fi Streaming and Native Fullscreen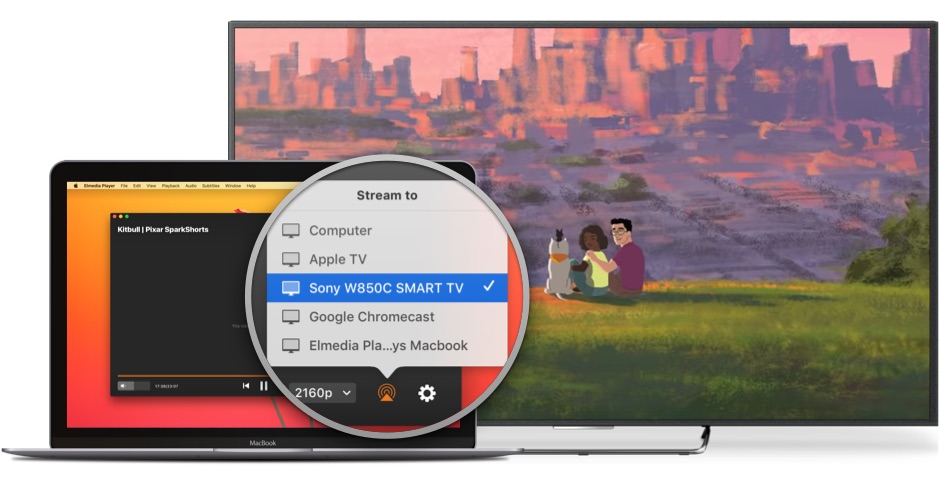 There's nothing like having family and friends over and enjoying great music and video on the big screen–speakers bumping beside a crisp, full-screen display. There's no better way to enjoy your media during a party or get-together than with an MP3 player for Mac with a wireless streaming feature like Elmedia Player. You can wirelessly stream video or audio from your Mac device to Apple TV, Chromecast, Smart TV, and other DLNA-enabled and AirPlay devices.
Apple TV and other AirPlay devices
Smart TV and DLNA Connectivity
Chromecast and Chromecast Ultra
What is MP3?
An MP3 file is an audio file format that uses compression technology to reduce the file's overall size. Because of this, it's transferable and lightweight with broad applications. Also, it's the ideal file format for almost all audio applications today because of its ability to maintain relative quality after compression. Thanks to the MP3 file format, you can save thousands of music and audio files without using a significant amount of space. The high-quality playback and small file size make MP3 a favorite standard for music lovers everywhere.
What other users are saying about Elmedia
If you are searching for an advanced movie Player for Mac, then Elmedia Player 7 is here for you. Elmedia Player 7 is known as the best media player amongst the new generation of Mac users.
Elmedia Video Player for Mac offers a wide range of features to meet all your multimedia needs. You can stream directly to Smart TV or Apple TV.
Elmedia Player has a wide variety of other features and capabilities, but having the ability to play just about every possible video format, tweaking settings as needed for sync, audio and video problems.
It can play any file format including the widely-used ones like AVI, MP4, FLV, SWF, WMV, MKV, MP3, M4V, etc without the need of installing any other plugin or codec.
A Mac MP3 player is essential for playing audio MP3 files on your computer. They range from basic versions, like Elmedia Player, to paid versions with advanced features. Elmedia Player PRO enables you to stream content from Chromecast Ultra, Apple TV, or online video services –while avoiding disruptive advertisements.
You want to find a Mac MP3 player app that supports many file formats–WMA, AAC, ALAC, M4A, and OGG. Both the basic and advanced versions of the Elmedia Player are high-performance
M4A players Mac
users prefer because of their comprehensive audio format support and advanced features. You may also try the IINA modern media player or VOX for Mac and iPhone.
The MP3 player for Mac included in the operating system updated with the release of Catalina. The iTunes program became Apple Music, TV, Books, and Podcasts–each containing the relevant parts of your audio and video library. You can use the Finder application to sync and manage your content between your iPhone, iPod Touch, and iPad.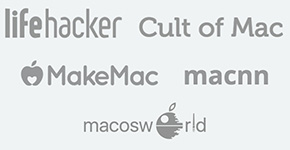 #1 at Video
Elmedia Player Free
Get a download link for Desktop
Submit your email address to get link for quick download and get started!
Languages:
Deutsch, English, Français, 日本の, Español, 中文