9 Best Download Managers For Mac OS 2016-2017
The top download manager for Mac is essential for every Mac user. Whenever you need to save something from the web to your computer, like videos, music, books, apps, download managers do a really great job, especially when the files are large.
Download managers offer lots of options suiting everyone's needs, but probably the best thing about these apps is that even if the download was interrupted for some reason, they can resume it from the point it was stopped at. This surely saves some time and traffic.
Look through this article featuring the list of best download managers for Mac, hopefully with Sierra support as soon as it is released.
Download
Folx can easily be the top download manager for Mac with two main functions combined - it is a download manager and a torrent client in one app. Downloading with Folx is super easy: just open the web page with the file to be saved, click the link in your web browser and the download will start. This app resumes the interrupted downloads and lets you tag the downloaded content for easy search for the on the computer no matter how long ago you downloaded it.
Folx is free but also has the PRO version for those who want more sophisticated options. Folx PRO includes lots of awesome features: splits the downloads in up to 10 threads to speed up the download process; lets you schedule the download tasks; offers smart speed adjustment (download speed is adjusted automatically whenever other apps need to use Internet traffic), integrates with iTunes, lets you search the web for torrents directly from the app; has a password manager for faster downloading from websites with authentication.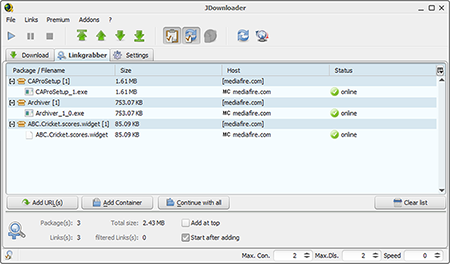 Jdownloader is an open source download manager for Mac that is platform-independent. It is written in Java, which can make it rather slow on startup. This manager is mainly optimized for one-click hosting and sharing solutions like Rapidshare or Megaupload. This app is great for someone who wants to paste encrypted links from third party websites.
The great thing about JDownloader is that you don't have to deal with the annoying waiting times when you are a free member of such service as Rapidshare. Queue as many files as you want and get notifications about download progress via a status bar.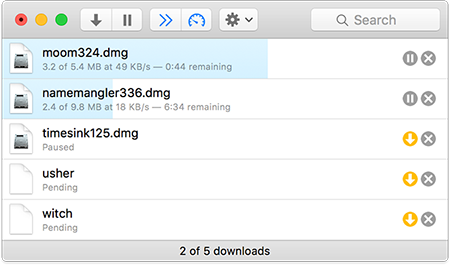 Leech is a good option for those who want to manage downloads and maximize the speed. Its main focus is browsers integration. You have an option to set a username and password for corresponding servers. E.g. if you have a premium account on uploaded.net for high downloading speed, you can set up an automatic login to your account whenever Leech catches the link from uploaded.net. No need to have any extensions for web browsers in order to use automatic download link catching.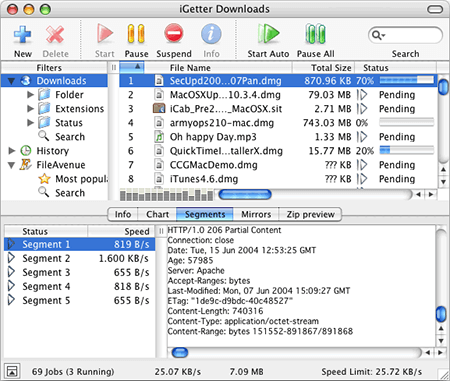 iGetter provides Mac users with high speed downloading by using segment downloaded for boosting up the speed. With the possibility to resume broken downloads unstable network connection is not a problem anymore.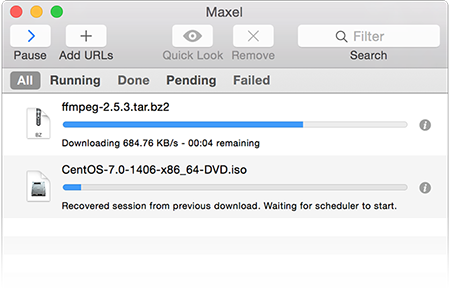 Maxel is a user friendly OS X downloader aimed to make downloading of files from the most popular transfer protocols, namely http, https, and sftp, very easy. Commonly referred to as a download accelerator, this app splits downloaded files into pieces and downloads pieces simultaneously, thus maximizing the bandwidth. Adding a download task is reduced to a simple drag and drop or paste option.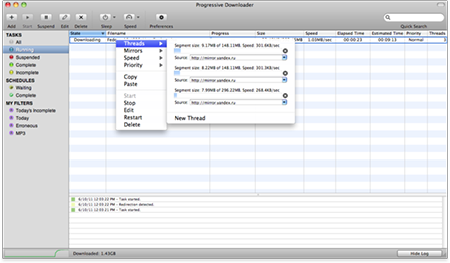 Progressive downloader is a full-featured download manager. It can resume interrupted downloads, does multi-threaded downloading, browser integration, etc. It has a built-in mirror search option to help find mirrors for large files.
The speed drawback is that, by default, Progressive only splits a download in 3 simultaneous threads. Thus, the speed acceleration is not as significant as in Folx PRO or Download Shuttle.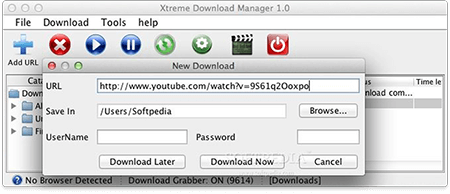 Xtreme Download manager. Written in Java, Xtreme Download Manager is created to be a simple to use app that can help download different file types faster than with a web browser. It involves dynamic segmentation algorithms and data compression, supports HTTP, HTTPS and FTP, therefore being usable with all kinds of Internet providers.
Xtreme automatically identifies the contents of the file and sorts the items to an appropriate category (documents, compressed, videos, music, applications). Completed and not completed download tasks are placed in two categories for the access, pausing the downloads, restarting them, or refreshing the link.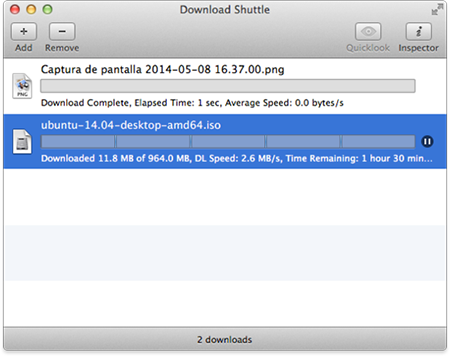 Download Shuttle is a simple solution for managing multiple downloads and accelerating the transfer speed. It will split your downloads in multiple segments and download them all at once; can handle links with authentication; includes basic but effective link management options.
In the main window of the app you can see the list of your downloads, and the top toolbar has the buttons for basic functions, including the option to add or remove links.
Download Shuttle also offers an inspector window with the detailed info about the status of each segment, and supports QuickLook (access data about the downloaded file).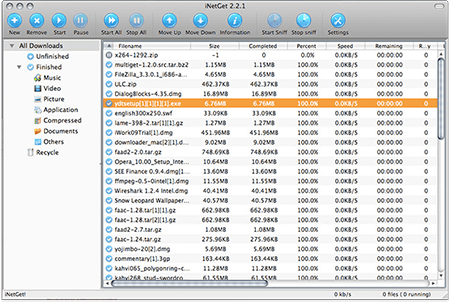 iNetGet is a part of the "top download manager for Mac" list. It helps you download any file via HTTP, HTTPS, FTP. iNetGet automatically resume interrupted downloads and has a multi-thread download tasks for better speed. iNetGet can also sniff and download flash media from YouTube and most other video sources.
Of course there is so much more about every download manager listed and you can always download the ones you think will suit you best and try them out to make sure you've got the best download manager of 2016.
Folx
Requirements: OS X 10.7+ ,
33.01MB
free space
Version
5.2.13688
(
31st Mar, 2017
)
Release notes