Being a rather popular format on Windows, WMV causes difficulties for QuickTime Player. To be able to seamlessly play this format, Mac users should search for third-party apps. In this article, we have gathered the list of the most popular WMV player Mac apps and will help you choose your perfect one.
Best WMV player for Mac - Elmedia Player
When you need to play WMV on Mac, Elmedia Player is the obvious solution. It can open more than the files Mac natively supports, including AVI, FLV, SWF, MP3, DAT, FLAC, M4V, DivX, and MKV. The features include preview thumbnails on the timeline and bookmark editing. There's an option to search for subtitles and save them as separate files, sync up video and audio, and add external audio tracks.
Get more with Elmedia Player PRO for playing WMV on Mac
For just $19.99, Elmedia Player PRO can do even more. Stream unlimited video, audio, and pictures from your Mac to bigger screens like Smart TVs via AirPlay 2, DLNA, Chromecast, or Chromecast Ultra and enter Picture-in-Picture mode. Elmedia Player PRO also allows for custom-tuning of video playback, lets you take screenshots, and gives you the ability to adjust the color and font of your subtitles.
Pros
Plays a wide range of video, image, and audio files
Unlimited streaming support
Unlimited screenshot capability
Create and edit your own playlists.
Cons
Possible issues with older Mac operating systems
Windows and Android versions are unavailable.
Supported OS: macOS
Price: free to use, PRO upgrade priced at $19.99
App Store Rating: 4.5 out of 5
This app solved me a lot of problem specially with films multilingual on my Mac. The native Mac app does not do this in the right way. Thanks, Elmedia Player Pro.
How to play WMV on Mac with Elmedia
2. Try one of the following methods:
Click and drag the file. Drop it on the player window.
While in Elmedia Player, use "File > Open". Search for the file
Or right-click it, pick "Open with > Other" in the context menu, and launch it with Elmedia Player.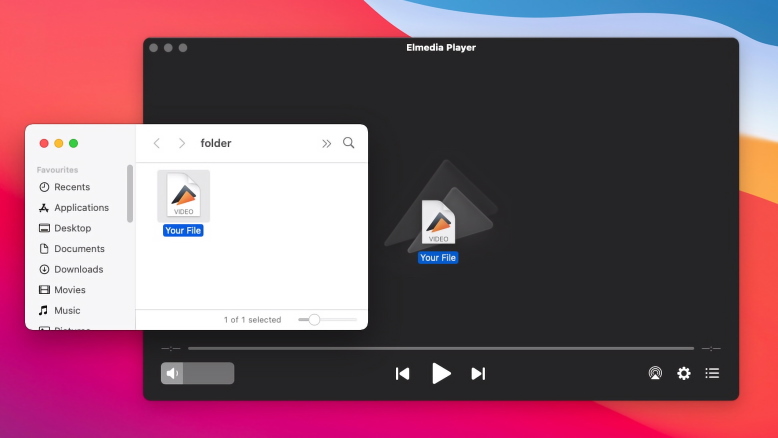 3. Your WMV will run, and you can add more to the playlist. If you want to use Elmedia for WMV by default, check "Always open with" while using the third method!
Other Alternative Apps to Watch WMV on Mac
Elmedia is not the only WMV player for Mac, even though it's the best. We'd also like to mention several other apps which caught our attention. These include both free and commercial solutions with various capabilities. The one thing that unites every media player on this list is their support for the WMV video file format.
VLC Media Player
VLC Media Player is a time-tested way to play WMV files. This open-source and free WMV player for Mac has the ability to play a large range of media files in resolutions up to 8K, as well as compressed video.
VLC for mac OS comes with an expansive set of features. You can change playback speed or audio quality and even add video effects. The app fully supports colored subtitles, additional subtitles, and audio tracks. However, one of the problems VLC has is that it's hard to find a lot of these features in the less-than-intuitive menu, which can make it frustrating to use.
Pros
Plays virtually any video file
Can configure playback settings
Complete playlist functionality.
Cons
Dated interface
Not the best performance in 4K.
Supported OS: macOS, Windows, Linux, iOS, Android
Price: free, donation-based service
Trustpilot Rating: 2.2 out of 5
Open WMV File on Mac Using VLC
2. The playlist area is marked with "Drag media here". Do as it says to load the .wmv.
3. Once it has been added, you can re-open and manage the playlist by clicking the icon in the bottom left.
5KPlayer
If you're looking for a WMV player for Mac that can manage your entire video collection free of charge, then 5KPlayer is one of the possible ways to do that. It has a media library feature, which allows you to sort and find videos easily. In addition, this video player can also stream videos straight from YouTube, as well as use Apple AirPlay to display those videos over multiple devices. Open just about any file types and customize it easily with the versatile audio and video playback management options.
Something to look out for, though, is that the free version of 5KPlayer is supported by ads, which can annoy you while you're in the player's menus. Thankfully, they don't play while you're watching a video.
Pros
Streams from YouTube
Supports 360-degree video
Plays resolutions up to 8K.
Cons
Resource-Intensive
Jarring user interface for new users
Ad-Supported free version.
Supported OS: macOS, Windows
Price: freeware
Trustpilot Rating: 2.9 out of 5
Play WMV files on Mac with 5KPlayer
1. Right-click the player window and select "Open file…" from the menu.
2. Browse to the WMV file and choose it.
IINA Player
IINA is a macOS video player that will help you open WMV on Mac. This smartly-developed app provides users with intuitive menus and even supports gesture controls to make playing videos much easier. The features make it a good option for a Retina screen, and it's a perfect fit for every user's needs, whether they need a simple video player or a high-quality professional application that can handle every part of the playback process. IINA can take care of anything you put up to it.
Pros
Excellent user interface with plenty of customization options
Doesn't black out displays in full screen mode.
Cons
Some crash problems when loading .avi videos.
Supported OS: macOS
Price: totally free
MacUpdate Rating: 4.4 out of 5
Watch a WMV File on Mac with IINA
1. Get IINA and launch it. It can't be found on the App Store, only on the website.
2. Hold your mouse on the .wma and drag it to IINA. Release on top.
3. The file will begin playing. You're done!
Switch Player
Switch Player can handle a variety of professional tasks. Designed for media editors, it not only lets you play videos, but also inspect and adjust the video files. The app allows single file transcoding and file conversion to ensure playback on any device. Change Windows Media content into MP4 files to make it compatible with any device out there.
It's close to being the best WMV player for Mac. This solution was developed by Telestream, the developer of Flip4Mac, which was the only way to enable WMV support in QuickTime and play this format on Mac for a very long time. It comes with several different plans to use Switch the way you want to, starting at $19.95.
Pros
Check and compare video files
Professional quality
Multi-format playback.
Cons
Very expensive PRO license
Only paid versions are available
Complicated user interface may be hard for new users.
Supported OS: macOS, Windows
Price: free trial, 3 plans starting from $19.95
MacUpdate Rating: 1.6 out of 5
View WMV on Mac with Switch Player
2. Use "File > Open File" to locate the video.
3. You can simply start watching.
OmniPlayer
If you are searching for a WMV player for Mac at a reasonable price, take a closer look at OmniPlayer. The app can handle plenty of file types and supports streaming over AirPlay and DLNA. Another great advantage is its ability to play and create playlists. Besides that, OmniPlayer offers video playback from online streaming platforms like YouTube and Vimeo.
This media player offers many configuration options. You can easily tune your audio and video playback, adjust subtitles (colors and fonts), perform video color correction, and way more. Unfortunately, users can't benefit from all these features unless they upgrade to the PRO version of the app.
Pros
Straightforward interface
Support for Picture-in-Picture mode
Stream to Roku, Chromecast, or DLNA devices
Support for screenshot feature.
Cons
Presence of annoying ads
PRO upgrade is required to unlock all features.
Supported OS: macOS, Windows
Price: free to use, PRO upgrade priced at $8.99
App Store Rating: 4.5 out of 5
Play WMV files with OmniPlayer
1. Run OmniPlayer and bring up its main window.
2. Drag/drop files onto the player area. That includes your WMVs.
3. From there on, you can use the playback controls.
Cisdem Video Player
Cisdem Video Player can play WMV on Mac. It doesn't do much else – you won't find an equalizer here, or any advanced UI elements like hotkey customization. But it's solid, it works with most video files, the basic version is free and has no ads. The converter component is the only special feature. It's not very in-depth, so you're better off using any other conversion software, really.
Pros
Free trial
Media file conversion feature
Can handle different file formats
Support for up to 5K resolutions.
Cons
Set of features is not so wide compared to the rest of the players
No plugins support
Casting to external devices option is missing.
Supported OS: macOS, Windows
Price: free to try; lifetime licenses: $19.99/1 Mac, $27.99/2 Macs, $49.99/5 Macs
MacUpdate Rating: 3 out of 5
Play WMV File on Mac with Cisdem
1. Open up the Cisdem Player.
2. Click "File" in the top left, and in the menu that opens, pick "Open".
3. Find your file by navigating through your hard drive and double-click it.
MPlayerX
MPlayerX can play media files in all current formats without the use of third-party tools. The interface of this WMV player for Mac may remind users of QuickTime Player, but it's more minimalistic.
This player is definitely not the worst option for watching HD videos on a Mac as well as playing WMV files as its price is pretty low in relation to its competitors, and it can be easily downloaded from the Mac App Store.
Pros
Ability to play WMV on Mac without delay
Remember the interrupted moment
Support for automatic search for the next video file.
Cons
The last update was in 2016
Can have compatibility issues with the new macOS.
Supported OS: macOS
Price: $1.99
App Store Rating: 3.6 out of 5
Play .wmv on Mac with MPlayerX
1. Open MPlayerX. It has a .dmg installer image.
2. Like many other players, you can use "File > Open" to load .wmv videos.
3. After it starts playing, try to experiment with the swipe gestures.
Convert WMV on Mac
If you absolutely need to play your WMV in QuickTime, or don't trust any third-party players, then using something like Handbrake is your only choice. Conversion takes time, it's pretty slow even at low resolutions, and when it comes to larger videos, encoding can take forever, so keep that in mind!
Once you've installed Handbrake, select the source – your WMV.
In the Summary tab, use the "Format" drop-down menu to select the desired output type.
Specify the destination by using Browse in the bottom right.
Click "Start Encode" and wait.
Tips to Choose a WMV Player
It's clear that there are a bunch of capable Macintosh WMV player solutions but we want to narrow that down even further with a quick list of features. Look out for these when trying to find the best WMV player for Mac.
A good WMV player should:
Support high-quality videos like 4K and 8K.
Be compatible with macOS.
Be ad-free.
Be intuitive to use.
Not be resource-intensive.
Play videos without delays or crashes.
Comparison Table of WMV Player for Mac Software
We've curated the best WMV players for Mac in one easy-to-remember chart. Find the right one for you here!
| | | | | | |
| --- | --- | --- | --- | --- | --- |
| Top Features | Elmedia Player | VLC Media Player | 5KPlayer | IINA Player | Switch Player |
| Complete support for several video formats | (AVI, FLV, SWF, MP4, WMV, MOV, DAT, M4V, MPG, DivX, MKV, etc.)   | (MKV, MP4, VOB, WMV, MPG AVI, etc.)   | (MKV, M2TS, MP4, AVI, WMV, FLV, etc.)   | (AVI, MP4, FLV, SWF, WMV, MKV, M4V, etc.)  | (MKV, AVI, FLV, AVCHD, WMV, etc.) |
| Supports several popular audio formats | (MP3, WMA, AC2, MKA, OGG, FLAC, AAC, etc.)   | (AAC, AC-3, FLAC, MP3, ALAC, etc.)   | (MP3, AAC, AC3, WMA, FLAC, ALAC, etc.)   | (AAC,FLAC, MP3, WAV, WMA, etc.)  | (MP3, OGG, ACC, WMA, AIFF, etc.) |
| Allows local WMV streaming to TV | (PRO) | | | | |
| Integrated Video Tuner | (PRO)  | | | | |
| Allows video conversion from one format to another | | | | | (PRO) |
| Simple video enhancement features: rotate, mirror image, flip, etc. | | | | | |
| Built-in audio equalizer | | | | | |
| Integrated subtitle support | | | | | (PRO) |
| Allows subtitle playback acceleration/deceleration (Subtitle sync) | | | | | (PRO) |
| Supports online searching for subtitles | | add-on  | | | |
| Hardware Acceleration enabled | | | | | |
| Enables screen recording | | | | | |
| Built-in Browser extension plays media from websites directly | | | | | |
| No-cost version | | | | | |
What is WMV Mac Format?
WMV, or Windows Media Video, is a compressed video file format. It was developed by Microsoft and used in several different third-party apps as well as enables easy sharing over the Internet and Email. It allows compression of large video files while allowing for high-quality playback to be achieved, which makes it incredibly popular in use with online radio stations that deliver a continuous flow of data. Its similarity to ASF means that it can be packaged with that file as well as AVI, making it optimal for streaming.
Frequently Asked Questions
There's no real right or wrong answer here. It mostly depends on the app you use which will determine the better format for you. MP4 is more widely preferred because of its incredible compatibility and versatility – especially with portable devices. MP4 is your best option if you're going to be using OSes like Mac, Linux, or UNIX. But if you're going to be on a Microsoft-powered device like Windows, Lumia, or Windows Tablets, then WMV would be better for you.
Unfortunately, not. QuickTime Player doesn't support WMV file format. So to solve the issue of how to open WMV on Mac you can either download a WMV player for Mac like Elmedia Player, VLC Player, 5KPlayer, etc. or convert WMV files into a compatible format (MOV or MP4) for QuickTime Player with the help of a video converter software or online converter.