Full protocols support
Commander One provides you with the fast and secure way to transfer and share your files via FTP, SFTP and FTPS.
Multiple connections
Tabbed browsing, multiple connections at a time — all to provide flawless and effective file transfer for Mac.
FTP server as a local drive
Map FTP server as your local drive to work with files as if they are located at your local machine — copy, delete, create, edit, etc.
Amazon S3
Store any number of files of any size in your Amazon S3 and get easy access to them with Commander One.


Mount Amazon storage as a local drive
Link your Amazon S3 storage or S3-compatible storage service with Commander One and manage your online content like local files and folders but without copying them on your Mac.


Link your entire Amazon S3 account or only specific buckets
If you do not need to work with all files you have in Amazon S3 you can link specific buckets to manage them in Commander One.
Connection Manager
The fastest way to access and manage all your clouds and network servers in one place.
Built-in FTP and
SFTP client
lets you connect to remote servers via FTP, FTPS and SFTP protocols.
Access and work with your Amazon S3 or S3-compatible storage account, link entire storage or certain buckets.
Connect to WebDAV protocol server and manage files directly from Commander One.
Mount multiple Dropbox accounts. Integrate Dropbox to share files directly from the app.
Mount multiple Google Drive accounts to work with all your sheets and docs in a professional dual-pane style.
Link your Microsoft storage with Commander One and access your online files the same way as local ones.
Mount all your OpenStack documents without synchronizing with your Mac and copying the content on the hard drive.
Download from and upload files to B2 cloud storage with Commander One Backblaze client for Mac.
Manage your documents directly on Box cloud storage. Get more opportunities for Box file sharing with our file manager.
Support for encryption on online connections
Commander One allows having encrypted file transfer between your Mac and popular cloud storages and remote servers. Have a safe work with files due to FTP encryption.
Web services (FTP, Amazon S3, WebDAV)

Cloud storages (Dropbox, Google Drive, OneDrive and more)
Private files

s#hV*IJ@3*mK

folder

mountencr2

Research

iu3T5YKp$dVy

xls

mountencr2

Presentation

(F-7bd[,-[Nj

png

mountencr2

Report-20xx

ypZp}tx6GL<d

doc

mountencr2
Encrypt data
Free file manager
Commander One is packed with the most important functionality for a fast and reliable file management. No matter if you are a professional or just finding your way to becoming one — Commander One is your all-in-one solution for the full control over your documents.
Show hidden files
A handy button on the toolbar displays all hidden files
Fonts & Colors
Set any colors for a visually pleasing experience
Brief mode
Access and manage many files and folders at a time
History and Favorites
Instantly access your favorites or folders that you already opened
essentials at your fingertips
Customizable Hotkeys
Assign hotkeys to any action
Unlimited tabs
With multiple tabs you won't need to close the folders while working with others
Convenient items selection
A handy tool allows a flexible selection of files
File operations queue
Have your file operations queued in the background
helpful tools you get for free
ZIP Support
Compress or extract archive with an ease
Built-in file viewer
Hex and Binary files are supported as well as text, media, image, HTML
List of Computers in local network
Easy access to shared computers over the network
Root Access
Benefit from the most profound access to your files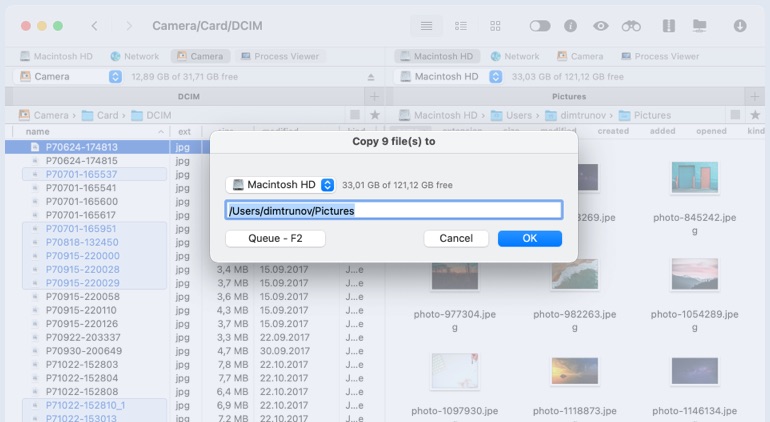 PRO Pack
The amazing PRO Pack features of Commander One are available for 15 days for free!
Connection Manager
Mount various online storages to your Mac and use them as local drives.
Mount your iOS device as a disk.
Mount Android
Manage files on your Android device, including media information and photos.
Connect any MTP device (e.g. camera) and manage its files as in local folder on Mac.
Work with ZIP, RAR, TBZ, TGZ, 7z files.
A fast emulator adds much needed features.
Process viewer
View all processes running on your Mac with the possibility to quit any of them.
Themes
Various color themes let you personalize your Commander One.
Commander One Languages
Český

Deutsch

English

Français

Українська

Magyar

日本の

한국어

Polski

Русский

Español

Nederlands

中文
Want to mount an (S)FTP server as a local drive on Mac? Check out CloudMounter