Top FTP Clients For Mac 2016-2017
FTP stands for the File Transfer Protocol. An FTP client is generally used to copy files from one machine to another over the Internet. Two computers involved in an FTP transfer are called a client and a server. The FTP server runs an FTP server software that listens to connection requests on the network from other computers. Client computers, that initiate connection to a server computer, usually have FTP client software installed. There is a variety of FTP client programs available on the web, but how do you choose the best one?
Here we gathered a short overview of the top FTP client solutions.

This dual-panel file manager for Mac can also be a number one choice FTP client. With its help you can connect to and work with remote servers via FTP, SFTP or FTPS. Mount these and all other supported online storages and servers (Amazon S3, WebDAV, Dropbox, Google Drive, Microsoft OneDrive) and work with them smoothly as with the local volumes. Commander One stores all your server settings securely, while the passwords are kept in Mac OS Keychain.
Download for FREE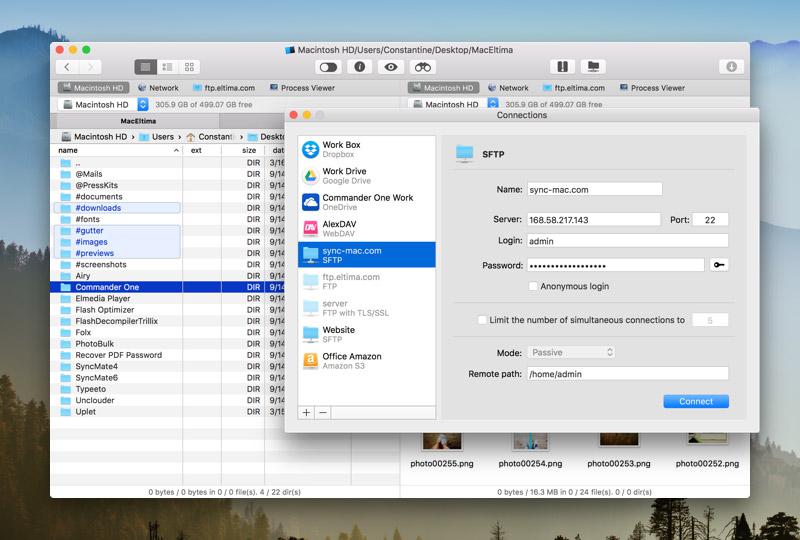 This FTP client Mac users would certainly appreciate - the system utility can be seamlessly integrated into Finder and it is capable of mounting (S)FTP servers and cloud storage accounts on Mac as if they were additional hard drives.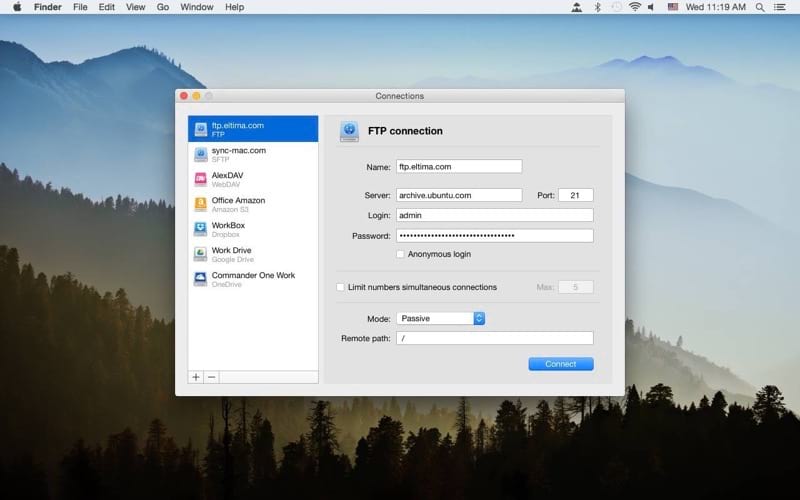 A sleek file manager that can transfer files at a really fast speed be it to an FTP or SFTP server, Amazon S3, or WebDAV. It helps you manage websites, do backups, upload multiple photos. It lets you mount supported storages and work with them as with local disks on your computer.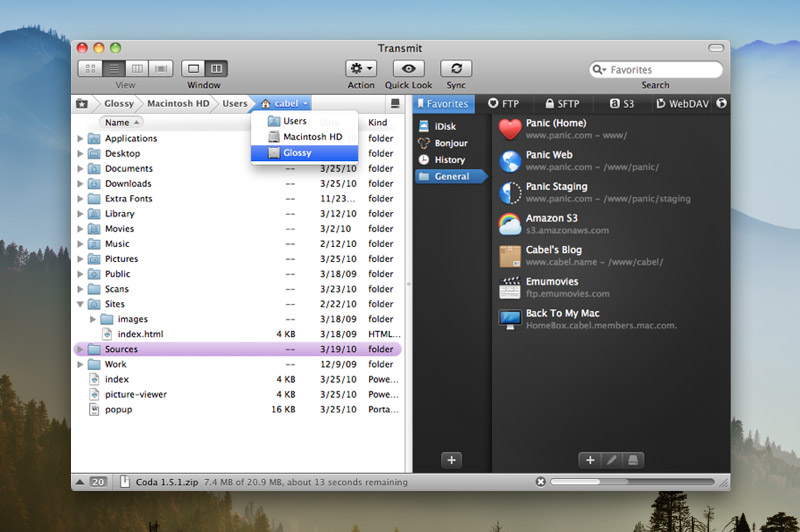 ForkLift among all other features, can connect you with FTP and SFTP servers. You can easily manage your files across networks. Just as the previous app it offers full control over all operations from keyboard including file selection - use preset shortcuts or create your own.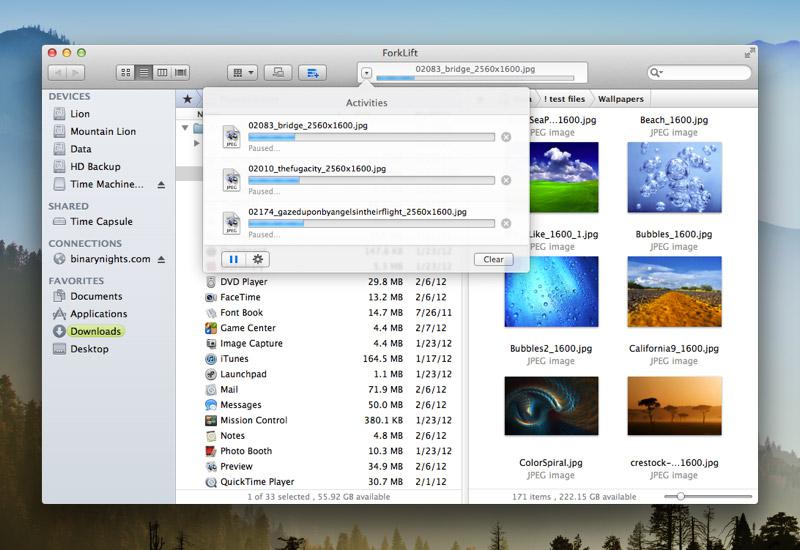 FileZilla is a free FTP solution offered as an FTP client for multiple platforms and as an FTP servers for Windows OS. Remote file editing is available for FTP, FTPS and SFTP, also you can move them around effortlessly with the help of the drag-and-drop feature.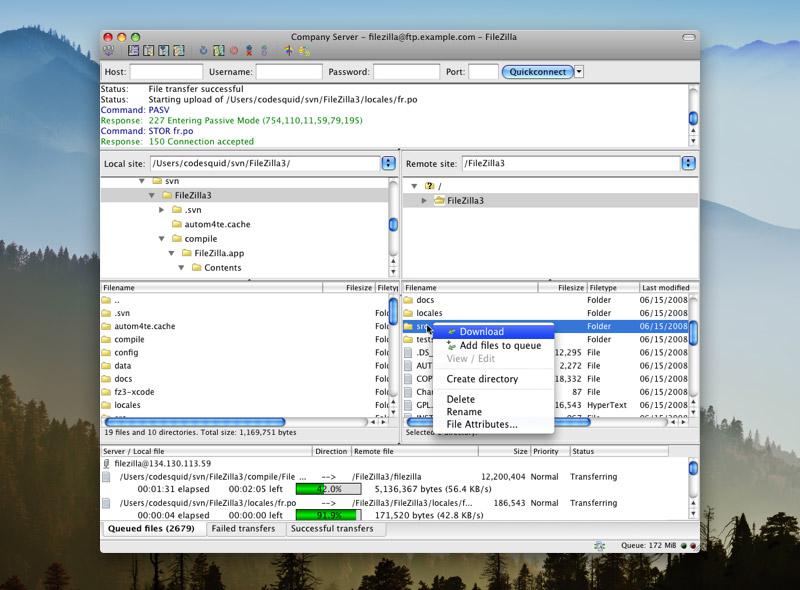 This file manager works with FTP and SFTP servers wonderfully and offers a friendly interface for easy file transfer. Cyberduck allows you to edit files in a preferred editor. Also supports WebDAV, Amazon S3, Google Cloud Storage, Google Drive, Rackspace Cloud Files, and Backblaze B2.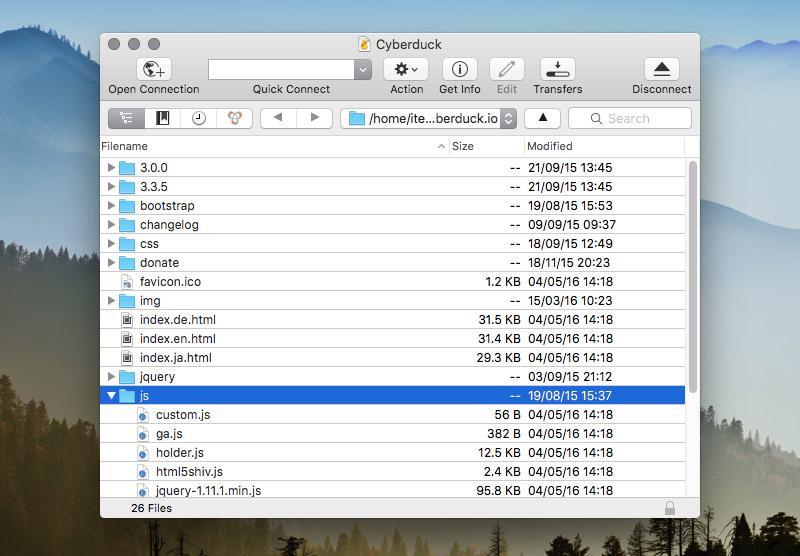 Now that you've looked through our selection of the top FTP clients you can perform tests of your own and make a choice according to your requirements.
Commander One
Requirements: OS X 10.10+ ,
19.78MB
size
Version
1.7.2(2317)
(
24th Mar, 2017
)
Release notes