SWF is the file format for Adobe Flash files. If you're working with web animations and graphics, you've probably come across SWF. To open this type of file on a Mac, you will need an SWF file player. In this article, we will provide you with all the information you need on how to find the best SWF Flash player for Mac.
NOTE: SWF playback functionality is limited on M1/M2 Macs. Get more information here.
The Ideal SWF Player for Mac - Elmedia Player
Elmedia Player is a free SWF player Mac users can rely on. It comes with plenty of options and controls for a great experience. It offers users the possibility to set the default quality for SWF files and manage Flash local security settings.
"Elmedia Player Pro is an inexpensive, more powerful alternative to QuickTime Player, and if you need it, the ability to download web content is easily worth the paid upgrade."
— By J.R. Bookwalter, Macworld
Pros
Supports a variety of file formats
Streaming capabilities
Customizable sound and video settings
Subtitle support.
Cons
Some advanced features are available in the PRO version
No Windows version.
Rating in App Store: 4.5 out of 5
Supported OS: macOS
Price: free version available, PRO with added features costs $19.99.
User experience: Overall, Elmedia Player has everything you need to enjoy media. It's fast, opens any format, and makes it easy to stream local files to other devices. I haven't encountered any glitches using the software. Everything I've tried has worked seamlessly. However, some users complain that it takes quite a long time to get screenshots.
How to Open SWF file on Mac using Elmedia
2. Choose the animation to watch.
You have the following options to add SWF files to Mac SWF player:
Drag SWF files onto the opened app or onto its Dock icon;
Select File from SWF player menu and click Open;
Right-click the animation in Finder -> Open with -> Elmedia Player.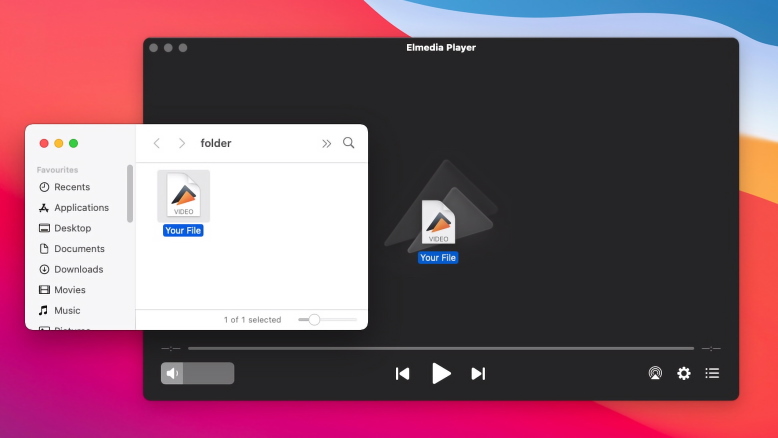 3. Enjoy!
Watch any SWF animation and more.
Open SWF on Mac Using the Following Elmedia Features
Tweak the Audio Settings
Elmedia offers plenty of settings when it comes to the audio experience. The virtual surround feature makes the HD sound feel alive for a complete headphone listening experience when using this music player for Mac. On the other hand, the Virtual speakers for headphones settings will make the sound from your playlists feel as if it is coming from loudspeakers, even when using headphones.
Video Player for Mac with Subtitle Support
Calibrate subtitles to suit your preferences. You can set for an automatic download, or choose manually. You can also play SWF on Mac and decide on fonts, size and colour.
Watch SWF Files on Chromecast, AirPlay, or DLNA devices
Don't be limited to watching SWF on Mac, you can stream to an Apple TV, smart TVs via Chromecast, or DLNA-certified devices and enjoy your media on the big screen. Adding a bigger set of speakers to a big-screen TV will enhance your viewing experience and you will make the most of your experience.
SWF player for Mac: other alternatives
VLC Media Player
VLC Media Player is an open-source cross-platform media player. It can be used to play SWF files and almost any multimedia format without having to download any additional packages. VLC Media Player is ad-free and contains features such as subtitle sync, video and audio filters. In addition, this player can be successfully used as a media file converter.
"VLC Media Player has excellent tools for tweaking video and audio playback, it can play formats nobody's mentioned for years, it's blazingly fast and it does everything without spyware, ads or anything else unnecessary."
— Carrie Marshall, TechRadar
Pros
Free and open source
Is compatible with all platforms
A wide range of supported file formats
Allows opening SWF files from URL.
Cons
The video quality may be damaged.
Rating in the App Store: 3.5 out of 5
Supported OS: macOS, Windows, Linux
Price: Free
User experience: I have been using VLC for the last 10 years and no other media player has ever come close to delivering the performance that VLC has provided. Apart from the performance it is so lightweight that it can work easily on a dusty 5 year old computer with same efficiency as on any latest computer.
5KPlayer
The next SWF player Mac users can try is 5KPlayer. It is efficient and plays videos at quality resolutions such as 720p, 1080p, 4K and 8K. 5KPlayer supports various audio and video formats including WMV, AVI, MP3, AAC, FLV, OGG and SWF. It works great on both Mac and Windows. In addition, the player serves as an online downloader and music player, and it also comes with streaming options. You can stream audio and video via AirPlay and DLNA without quality loss.
Pros
Allows streaming local files
Doubles as an online downloader
Customizable media library and playlists
Able to convert the online video to audio.
Cons
May be confusing for beginners.
Rating in Trustpilot: 2.9 out of 5
Supported OS: macOS, Windows
Price: free
User experience: I downloaded this player out of frustration of getting various picture quality from the various known players, and not being able to get any of them to play my 4K HDR movies. This one plays them perfectly and also plays my HD movies at the same quality so I don't have to keep adjusting setting. The only thing I can't seem to find is a frame-by-frame advance. But everything else is perfect, and the sound is amazing.
Jihosoft SWF Converter
If you are looking for a program to convert SWF files to popular video formats like AVI, MP4, MOV, etc., Jihosoft SWF Converter is worth considering. Converting is easy and takes only a few minutes (depending on the file size). You just need to import the SWF file, choose the preferred format and then convert it. Besides, Jihosoft SWF Converter works perfectly with most popular applications and devices, and provides advanced editing features like trim, crop, watermark.
Pros
Wide range of output formats supported
Fast conversion
Includes video editing options
Compatible with popular apps and devices.
Cons
Pricey
It serves as a converter, not SWF player.
Supported OS: macOS, Windows
Price: $49.95 (lifetime license)
User experience: Jihosoft SWF Converter serves its purpose well, and no major shortcomings were noticed. On top of that, it comes with additional editing options that many users will definitely appreciate. However, Jihosoft SWF Converter is pricey and basically a converter, so if you need a SWF player, you can consider other options described in the article.
Wimpy Player
Wimpy Player is a standalone player that is easy to set up and customize. The player is cross-platform and works on all devices, including computers, tablets and smartphones. It flawlessly opens SWF videos, as well as 3GP, MP4 and MPEG-4 files with the characteristic H.264 codec. Wimpy Player also supports audio formats: MP3, AAC and M4A. To play SWF on Mac, just drag and drop the file into the already opened player.
Pros
Lightweight
Compatible with all devices
Comes with a Skin Machine to customize your layout
Drag and drop functionality.
Cons
No advanced features
Outdated layout.
Supported OS: macOS, Windows, iOS, Android
Price: Free
User experience: Even though Wimpy Player lacks advanced features, it is easy to use and good for opening SWF files. The player seems a bit basic and has an unattractive design.
How to View & Play SWF Files on Mac with Web Browsers
Web browsers can be used as a rudimentary SWF player Mac users can utilise. They lack the extra features of desktop apps, but they generally work ok. You'll need to install an Adobe Flash plugin, which should then allow you to play SWF on Mac by simply dragging and dropping them on the browser. All major browsers have plugins that allow them to be adapted to this task.
Unfortunately, Flash files are gradually becoming obsolete from the point of view of software developers. That means that most modern editions of browsers do not come with Flash players by default, and you'll need to install your own plugins to play SWF on Mac. Older browsers will have it, but the likelihood is that you're using a version recent enough to have either made it an opt-in choice, or something that simply isn't available any more. If you do install plugins, make sure you get them from official sources, as unofficial ones could carry malware or viruses.
Conclusion
Adobe and almost all browsers no longer support Flash Player. You will need a third-party SWF player for Mac to play any Flash files you may have in your library. In this article, we've covered the most commonly used players that can open SWF files and hope you've found a media player that suits your needs.
Although there are online solutions for SWF players, we still recommend using dedicated media players. Third-party apps such as Elmedia Player that have a host of other capabilities besides playing SWF files are the best choice.
FAQ
The best way is to use a third-party player for Mac that supports SWF. Elmedia Player is the ideal tool for playing SWF files. It can handle a huge range of different file types, including all those that are used for Flash videos. Elmedia is also one of the top FLV players.
To play your SWF files in Chrome, you need to install the appropriate SWF player extension for your web browser.
Adobe has dropped support for Flash Player and most browsers followed suit. To play flash files, you need an Adobe Flash player alternative.
Adobe has discontinued Flash Player since December 31, 2020. As a result, Flash has not been adapted to run on M1 and M2 devices. To open SWF files on Mac, you can use Elmedia Player.
QuickTime does not support SWF playback. Alternatively, you can convert the SWF file to a format that plays in the QuickTime player, or you can simply download a media player that can open SWF files.
Flash files such as SWF are supported on the official VLC SWF player for Mac. If you want to open them on an iOS device, all you need to do is install the VLC app. You can now use this app to play SWF, FLV and other flash files on your portable device.