How to Play SWF Files on Mac
What Does Elmedia Player Offer?
Watch SWF, FLV and Other Videos
Aside from Flash movies, Elmedia supports nearly all video formats: RM and RV (Real), AVI, MOV, MP4, WMV, DIVX. Whether music or video, it plays them all.
Use More Customization Options
Elmedia Flash Player for Mac allows you to set the default quality level for SWF files and change local storage and security settings.


Simple DLNA and AirPlay Streaming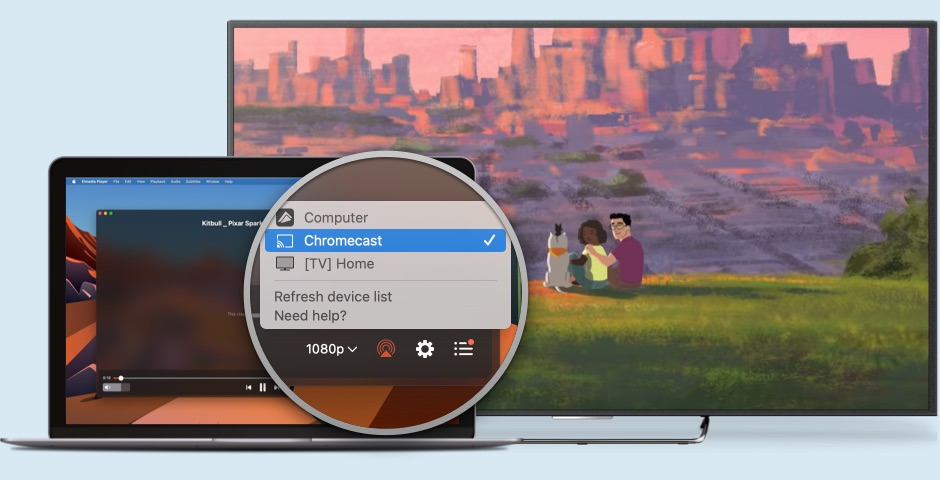 Using Elmedia Player's streaming feature, you can connect to any compatible Apple device, along with countless models of Smart TVs and HDMI dongles. This includes the Chromecast device series. The app has many useful options for this purpose, such as recoding and color correction. With all that in mind, Elmedia Player is also the
best music player on Mac
audio streaming.
AirPlay
Connect to a range of different Apple devices such as Apple TV, macOS, iPad and more.
DLNA
Broadcast media straight to all DLNA-compatible devices.
Chromecast
If you are using Chromecast or Chromecast Ultra with your TV-set, you can use Elmedia to connect to it from your Mac.
In Any Format
You don't need to worry about compatibility. If the receiving device can't handle your file's format, Elmedia Player will convert it on the fly.
Dodge Irritating Adverts
When you use Elmedia to open an online video you'll be able to enjoy the content with zero adverts.


4K Resolution
The ideal player for high quality. Elmedia handles 4K and Ultra HD with no problems, no lag and no loss of quality.
Subtitles Supported
Elmedia Player can easily handle both in-built subtitles, and external ones in the form of .srt files.
Playlists
Create entire lists of content, making it easy for you to enjoy your favourite albums or TV shows when streaming to a TV.


Playback Control
Use your macOS to directly control what you're streaming on your Smart TV - enjoy features that don't show up on standard remotes.
Manage subtitles
Customizable Subtitles
Sometimes, in order for subtitles to remain visible and readable, you need to adjust them. Set a different color, move them, resize them. Elmedia Player lets you do all these things out of the box. It can handle both external and embedded subtitles, and will even let you adjust the subtitle delay.
Automation

Automatically load subs with your video files, saving time and effort.

Customisation

Take your pick of colours, fonts and sizes.

Online Integration

Easy integration with opensubtitles.com.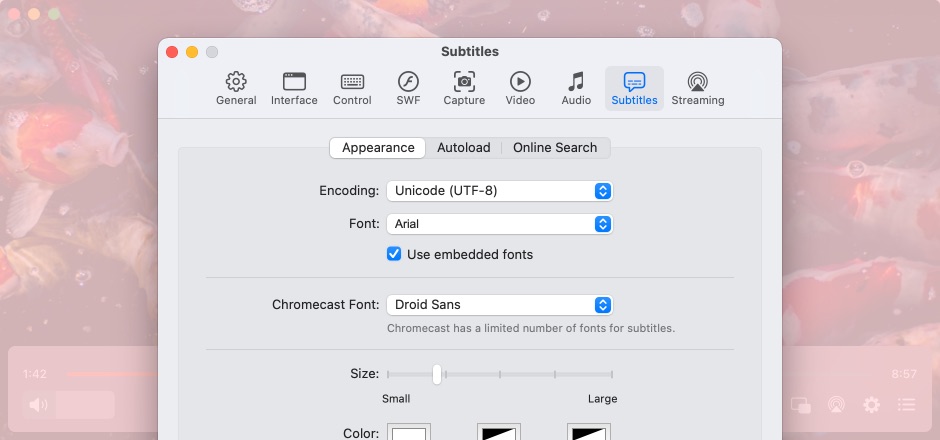 Unlock the Full Suite of Tools with Elmedia PRO
Fullscreen With Monitor Selection
Do you have a Mac setup with multiple monitors? You can change which monitor gets used for the fullscreen mode.
Adapt Your Audio Settings
Fine tune your audio levels for an optimum experience. Elmedia Player lets you adjust your settings to ensure you get the best sound possible.
Create a Library of Stills
Elmedia lets you create your own slideshow of screenshots. Select the interval between shots to create a tableaux of your favourite videos.
Loop Fragments of Video
If you're working on a particular video for creative purposes, you may find looping handy if you want to isolate a specific section and examine it.
Take Your Pick of the Best Audio and Video Options
Customise your outputs, choosing the ideal video settings and taking your pick of a range of audio channels, going all the way from 2 to 8. DTS and AC-3 are also options.

Multitask with Picture in Picture
Quickly minimise the Elmedia Player so that you can carry out other tasks, while keeping a minimised version playing within the picture.
What is FLV?
Flash Video is a proprietary Adobe format that can't be viewed without a special browser plug-in. FLVs are commonly encoded with h.263, which provides less-efficient compression in comparison to h.264 (the MP4 codec), but uses fewer resources to decode. It's a web and streaming-oriented format. Nowadays, that niche is taken up by WebM, which is more compressed and doesn't require a Flash Player for Mac.
What is SWF?
Small Web Format was created by Adobe to support web animation and interactive site elements, up to and including games. It has gained popularity thanks to the accessible development suite, which allowed artists with minimal coding skills to create their own apps, focusing on graphics and animation instead of coding. To
play SWF on Mac
, you need a compatible app. SWF web pages are no longer fully viewable.
What Happened to Adobe Flash?
The free Flash Player plugin stopped being supported on Dec. 21, 2020 and was fully shut down in January of 2021. Why did Adobe do it? Most likely, it's because the bulky, slow SWF failed to compete with lighter, faster, non-proprietary technologies, such as HTML5 (which introduced audio, video, and direct SVG support - features, which were previously exclusive to Flash).
We highly recommend Elmedia Player. It's got a really good range of features and tools, making it far more than simply an
FLV player for Macs
. It supports a wide range of different file types, including MPV and the ones needed for Flash videos. Plus, it offers great compatibility with a range of other playback devices.
Flash will basically be phased out, with support being eliminated eventually across all platforms and browsers. If you want to continue viewing Flash videos, you'll need a third-party
F4V player
like Elmedia Player. It's been designed to continue supporting Flash, letting you view any Flash videos you may have stored in your library.
The standard alternative to Flash Player is HTML5. This format has taken over from Flash and is one of the main reasons why Adobe is phasing out this file form. You can also use a
Flash Player alternative
tool like Elmedia Player for handling SWF and FLV files. It can play these file types, as well as a range of other file formats.
What others say about Elmedia
Elmedia Player has a wide variety of other features and capabilities, but having the ability to play just about every possible video format, tweaking settings as needed for sync, audio and video problems.
Elmedia Player Pro is indeed a great upgrade for those who are ready to pay. For the amount you're paying, you get a superb set of features like AirPlay support and ultimate compatibility.

#1 at Video
Elmedia Player Free
Get a download link for Desktop
Submit your email address to get link for quick download and get started!
Languages:
Deutsch, English, Français, 日本の, Español, 中文