How to Play SWF Files on Mac
It's easy to play SWF files on macOS using the SWF Mac Elmedia Player. The following is how to make use of this great tool:
1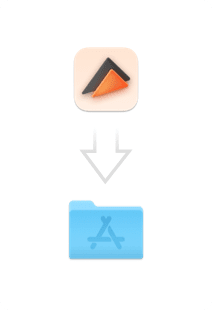 Set it up on your Mac
First,
download
the player from the Elmedia homepage.
2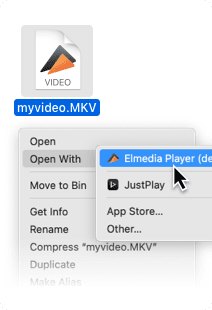 Add the flash files
You can either drag and drop, or right click on the file and select "Open with". You can also search for files via the Elmedia Player.
3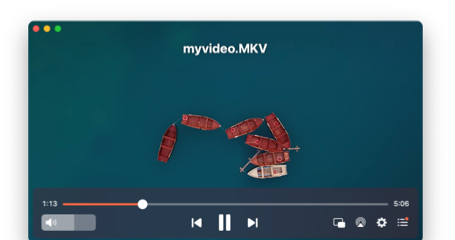 Enjoy your saved file with the Elmedia Player.
Our SWF player for Mac offers the best Flash viewing experience.
What Does Elmedia Player Offer?
Watch SWF, FLV and other videos
Aside from Flash movies, Elmedia supports nearly all video formats: RM and RV (Real), AVI, MOV, MP4, WMV, DIVX. Whether music or video, it plays them all.
Use more customization options
Elmedia Flash Player for Mac allows you to set the default quality level for SWF files and change local storage and security settings.
What is FLV
Most internet users, especially older ones that were around when MPEG was a widely used format, will be familiar with FLV, or Flash Video. In the earlier days of the internet, flash videos were short, lightweight videos that could be displayed on webpages. They were fairly limited, and non-interactive. However, in the days before MP4 and WebM, Flash was the default choice for online videos.
What is SWF
SWF, or small web format, is a more advanced version of FLV. It made use of the same technology, but also offered interactivity, providing a valuable platform for creativity in the earlier days of the internet. It eventually became surpassed by HTML5, which is now the general default. That said, people still keep large playlists of SWF files, creating the need to
play SWF on mac
. It's not as easy as playing an MP4, but apps like Elmedia provide the needed codecs to watch Flash videos.
What Is Happening to Adobe Flash?
While Flash was a mainstay of the online world for years, from 12 January 2021, the Adobe Flash Player will no longer be supported by adobe. This is happening for a number of reasons. First and foremost, Flash content has mostly been superseded by either M4A or HTML5. On top of this, issues around usability and security mean that the software is no longer workable. As a result, Flash content will be blocked, and browsers and players such as VLC will no longer support the relevant files. Elmedia Player is a great SWF file player Mac users can use to continue to view these formats.
High-Quality Wireless Streaming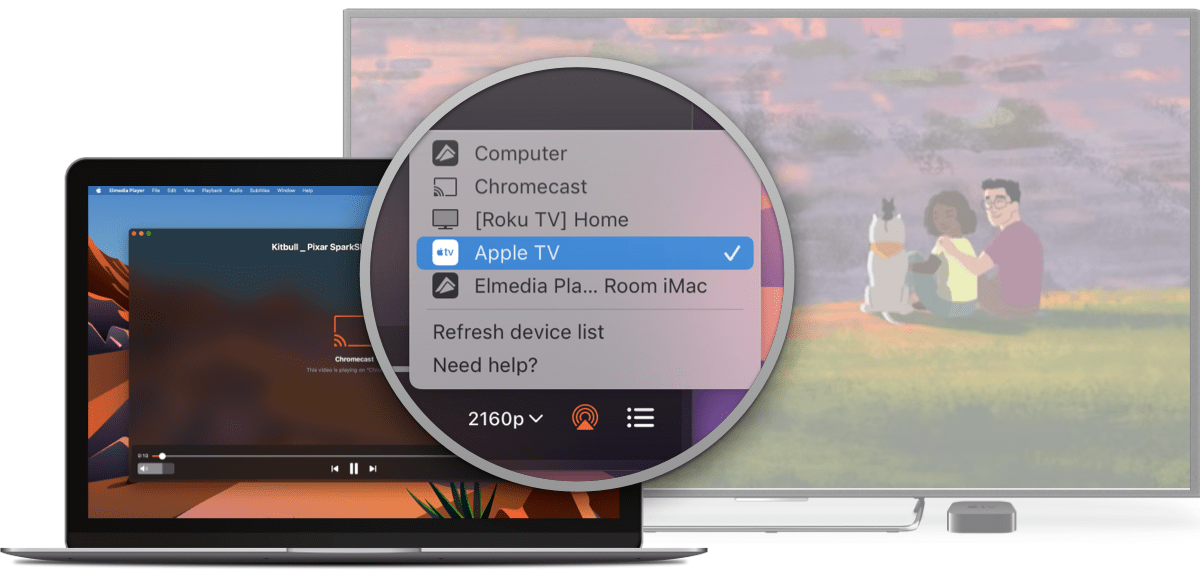 Elmedia Player is an effective SWF & FLV player for anyone looking to handle a wide range of different media. It functions in a similar way to a codec, and can handle all mainstream video and audio formats, as well as a range of less well known options. Anyone looking for the
best music player on Mac
need look no further. On top of handling a massive range of file types from MOV to MP4 and M4V, it's also effective at streaming straight to AirPlay, Chromecast and any DLNA devices you may use. Plus, it can receive streams for a range of other devices, such as macOS devices, iPhones and anything AirPlay-equipped. Use this
Flash media player for Mac to get the most out of your macOS media.
AirPlay
Connect to a range of different Apple devices such as Apple TV, macOS, iPad and more.
DLNA
Broadcast media straight to all DLNA-compatible devices.
Chromecast
If you are using Chromecast or Chromecast Ultra with your TV-set, you can use Elmedia to connect to it from your Mac.
In Any Format
You don't need to worry about compatibility. If the receiving device can't handle your file's format, Elmedia Player will convert it on the fly.
Dodge Irritating Adverts
When you use Elmedia to open an online video you'll be able to enjoy the content with zero adverts.
4K Resolution
The ideal player for high quality. Elmedia handles 4K and Ultra HD with no problems, no lag and no loss of quality.
Subtitles Supported
Elmedia Player can easily handle both in-built subtitles, and external ones in the form of .srt files.
Playlists
Create entire lists of content, making it easy for you to enjoy your favourite albums or TV shows when streaming to a TV.
Playback Control
Use your macOS to directly control what you're streaming on your Smart TV - enjoy features that don't show up on standard remotes.
Manage subtitles
Full Control over Subtitle Configuration
Configuring subtitles with foreign content is generally a long winded and tedious process. Elmedia Player removes any difficulty from this. It's designed to make it simple for you to work with subtitles, getting exactly what you need when you need it.
Automation

Automatically load subs with your video files, saving time and effort.

Customisation

Take your pick of colours, fonts and sizes.

Online Integration

Easy integration with opensubtitles.org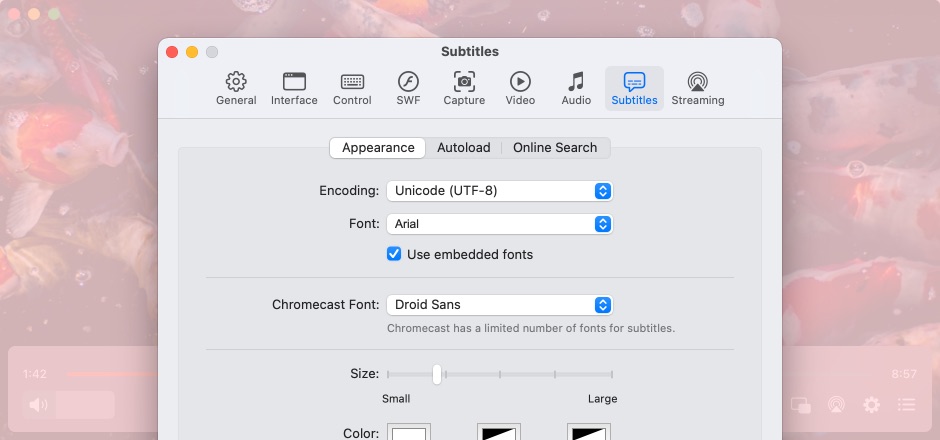 Unlock the Full Suite of Tools with Elmedia PRO
Fullscreen With Monitor Selection
Do you have a Mac setup with multiple monitors? You can change which monitor gets used for the fullscreen mode.
Adapt Your Audio Settings
Fine tune your audio levels for an optimum experience. Elmedia Player lets you adjust your settings to ensure you get the best sound possible.
Create a Library of Stills
Elmedia lets you create your own slideshow of screenshots. Select the interval between shots to create a tableaux of your favourite videos.
Loop Fragments of Video
If you're working on a particular video for creative purposes, you may find looping handy if you want to isolate a specific section and examine it.
Take Your Pick of the Best Audio and Video Options
Customise your outputs, choosing the ideal video settings and taking your pick of a range of audio channels, going all the way from 2 to 8. DTS and AC-3 are also options.

Multitask with Picture in Picture
Quickly minimise the Elmedia Player so that you can carry out other tasks, while keeping a minimised version playing within the picture.
We highly recommend Elmedia Player. It's got a really good range of features and tools, making it far more than simply an
FLV player for Macs
. It supports a wide range of different file types, including MPV and the ones needed for Flash videos. Plus, it offers great compatibility with a range of other playback devices.
Flash will basically be phased out, with support being eliminated eventually across all platforms and browsers. If you want to continue viewing Flash videos, you'll need a third party
F4V player
like Elmedia Player. It's been designed to continue supporting Flash, letting you view any Flash videos you may have stored in your library.
The standard alternative to Flash Player is HTML5. This format has taken over from Flash, and is one of the main reasons why Adobe is phasing out this file form. You can also use a
Flash Player alternative
tool like Elmedia Player for handling SWF and FLV files. It can play these file types, as well as a range of other file formats.

#1 at Video
Elmedia Player Free
4.8
rank based on
1531
+ users
Get a download link for Desktop
Submit your email address to get link for quick download and get started!
Languages:
Deutsch, English, Français, 日本の, Español, 中文