NEW
Yoo-hoo! Elmedia runs natively on Mac computers with Apple silicon: M1 and M2 series!

How to Use Elmedia WMV Player
1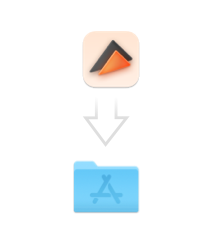 Install the app.
Grab Elmedia Player .dmg
and add the app to your Applications folder. This version is free to use, and you can upgrade it later.
2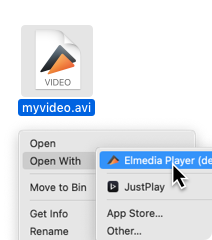 Add a WMV file to the playlist.
Drag it to the Elmedia window or the Dock icon.
Use File > Open from the player, then navigate to the file and double-click it.
Using Finder, locate the file, right-click and use the "Open With" option.
3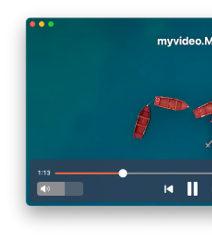 Enjoy!
Play and watch anything you want.
A Better Macintosh WMV Player
Looking for the right app to play HD WMV, FLV, MKV, or MP4 with any codecs? The definitive video player for Mac is here to rock your world. Elmedia Player does screenshots, playlists, and audio/video controls in a unique way.
Any codec, any file
Compatibility is Elmedia Player's greatest advantage. It'll feel like a significant upgrade over QuickTime, playing AVI, Matroska files, and any other type of video or audio. If you've got a movie or a song, playability is assured.
Set up the way you like
Turn up the bass, or increase the saturation. This is the #1 choice for tinkerers and people with refined tastes. Player behavior and features can be switched at any time. Subtitles have plenty of customization, too.
WMV Player - Mac Movie Subtitles
The most popular subtitle codecs - .srt, .ass, and .smil - can be opened freely in Elmedia, added to any movie, and selected, even if it already has a track of its own. In addition, there are some impressive online search capabilities.
Visual Settings

Move them around the screen and shift the colors. Change their size and font if need be. Get the most out of every track.

Find on the Web

OpenSubtitles.org has a lot to offer. Don't waste your time looking - Elmedia Player can search for you instead.

Maximum Compatibility

Change subtitle text encoding or burn them into the video to display them when you stream to devices over AirPlay or DLNA.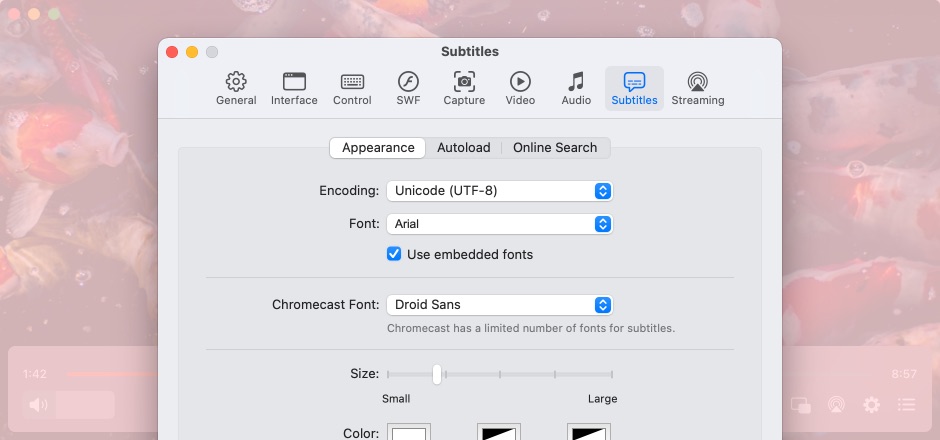 Go PRO and Get More
An $19.95 PRO upgrade turns Elmedia Player into a powerhouse, letting you stream, access the video tuner, the audio equalizer, and advanced screenshotting tools. You also get the ability to select and loop video segments. It's a massive deal, putting Elmedia on the same level as the
best WMV players for mac
.
Optimal WMV Player for TV Streaming
What's a better way to stream your WMV files from macOS to a TV than Elmedia Player? It's got everything you need - speed, ease of use, flexibility, and compatibility. Use a Smart TV or an Apple TV to get louder sound and a clearer picture - especially since you can stream in HD.
AirPlay
Including AirPlay 2.
DLNA
This covers almost every streaming device.
Chromecast
And Chromecast Ultra works, too.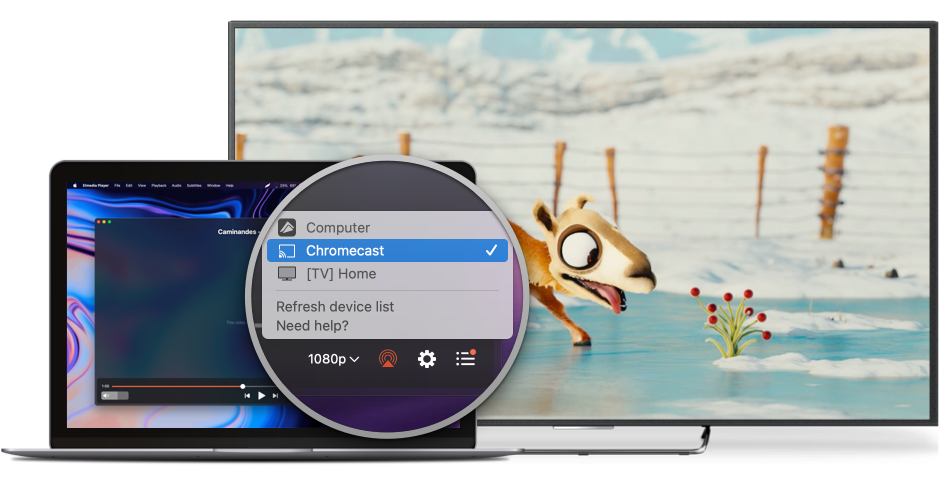 Features to Rival the Best Video Players
Watching WMV is a pleasure in Elmedia. Not only is it great by default, but you can also adjust so many things to suit your needs. The ones named here are just a fraction.
Live Setup
It's possible to alter playback speed, audio levels, or color correction and view the effects in real time, without pausing the video.
Deinterlacing
Do you have old, lined videos from DVDs, or maybe a TV recording? Deinterlacing is a simple tool that will make them watchable.
More Screenshots
Tell Elmedia to make a single screenshot - or a dozen. With the Screenshot Gallery, it only takes a few clicks.
Repeating Segment
Want to loop a small portion of the video, instead of the whole thing? Use the A-B Loop, and you'll get exactly that.
Sound Detail
Use the Equalizer, and manipulate the whole audio spectrum, divided into 10 bands. Presets included for quick adjustment.
AC3/DTS and S/PIDF
If you've got the right hardware, Elmedia Player will help you set up your own Surround Sound studio. Never too much quality.
What other users are saying about Elmedia
If you are searching for an advanced movie Player for Mac, then Elmedia Player 7 is here for you. Elmedia Player 7 is known as the best media player amongst the new generation of Mac users.
Elmedia Video Player for Mac offers a wide range of features to meet all your multimedia needs. You can stream directly to Smart TV or Apple TV.
Elmedia Player has a wide variety of other features and capabilities, but having the ability to play just about every possible video format, tweaking settings as needed for sync, audio and video problems.
It can play any file format including the widely-used ones like AVI, MP4, FLV, SWF, WMV, MKV, MP3, M4V, etc without the need of installing any other plugin or codec.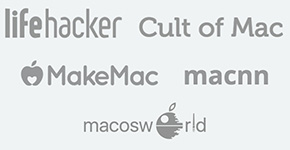 #1 at Video
Elmedia Player Free
Get a download link for Desktop
Submit your email address to get link for quick download and get started!
Languages:
Deutsch, English, Français, 日本の, Español, 中文