1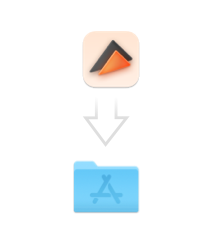 2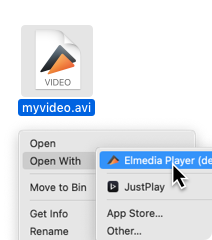 Select the WMV file that you want.
Here are a few different ways you can add your file into the Elmedia Player library:
Drop the selected file in the open window or the Elmedia icon in the dock.
In Finder, right-click on the file and select "Open with". Choose Elmedia Player and then open the file.
From the Elmedia Player window, click the "File" menu and then select "Open".
3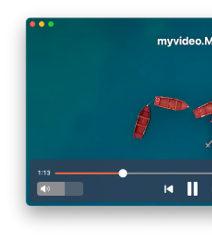 Enjoy!
Open WMV on Mac with Enjoyable Features
You'll definitely choose Elmedia once you find out what it has to offer. These features will improve your WMV playback and more.
It Plays All Formats
Elmedia's format compatibility goes beyond WMV. The player supports FLV, MP4, MP3, FLAC, MKV, and many others, including SWF and Blu-ray. You can be sure that your files will be played.
Highly Configurable Playback
Video and audio can be configured without effort in Elmedia. And there are many options, too - audio delay, equalization, video tuning, deinterlacing, brightness and contrast.
Forget YouTube Ads
Experience YouTube without ads. Elmedia lets you stream online videos while using its own interface. This means that you don't need to watch any ads, and the video will not be interrupted.

Save Playlists of Any Type
Playlists exported by Elmedia can contain both music and videos in any order you desire. Organize your media library with this vital feature. Better yet, M3U files are compatible with other players.
Watching WMV on Mac with Subtitles
In Elmedia Player, subtitle support is universal. You can open different formats (.srt, .ssa, .smil) and change settings such as position, color and font size. If they are desynchronized, just alter the subtitle delay. Finally, there's all sorts of options for online subtitle search on OpenSubtitles.org.
Configure the Visuals

Vertical movement, recoloring, and font choice - all of these can be easily changed at any time. Adapt the subtitles to your needs!

Use a Search Service

Elmedia can use the OpenSubtitles service to find tracks online for your current movie. Also, change the preferred method: hash or file name.

Automatic Settings

Configure your preferred language and enable the automatic subtitle search to get the right subtitles as soon as you open the file.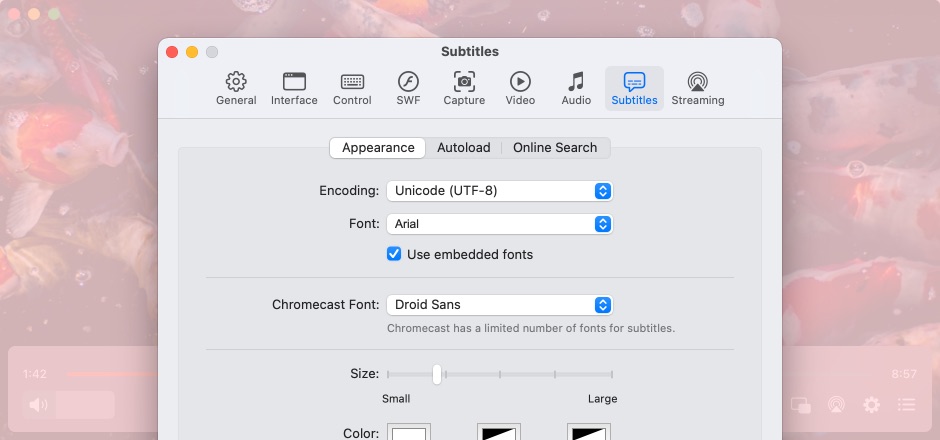 Further Improvements with Elmedia PRO
Far from a simple
Mac WMV player
, Elmedia Player PRO grants access to easy and convenient streaming over AirPlay, mass screenshots and further customization. With the upgrade, Elmedia is one of the
best WMV players for mac
. You get a fully-featured media player for less than 20$. If you like the free version, consider getting Elmedia PRO.
Stream WMV from Mac to TV
Once you unlock the streaming feature with PRO, you open a whole world of possibilities - connect to any Smart TV, Apple TV or TV attachment and stream your local files through a bigger screen and more powerful speakers. If you want to receive streams from iTunes or another instance of Elmedia, you can also do that.
AirPlay
Including AirPlay 2.
DLNA
This covers almost every streaming device.
Chromecast
And Chromecast Ultra works, too.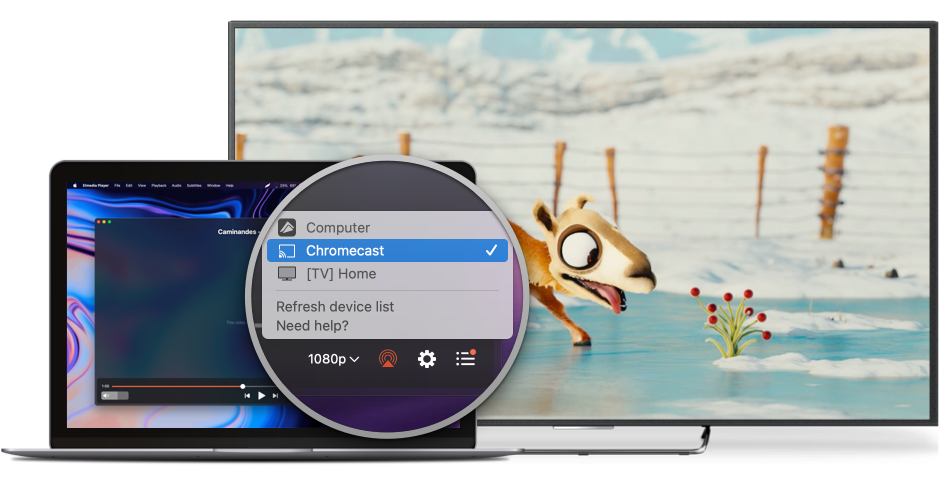 Open WMV on Mac with Advanced Settings
You can adjust every aspect of Elmedia to fully take advantage of any given codecs, including the
WMV file
format. This makes it stand out among other players. Whether it's for compatibility or for comfort, you can alter video, audio, subtitles, and other things.
On-the-go Adjustments
All options can be changed while the video is still playing, allowing you to see the effects immediately.
Deinterlacing Fix
An absolute must for old VCR video and camera footage. View striped, defective clips normally!
Screenshot Functions
Do you want to take one snapshot? Or maybe a whole gallery? Elmedia Player can do that automatically.
Infinite Loop
Choose a video or audio fragment to loop indefinitely. Single-file or playlist looping is also available.
Sound Equalizer
Ten bands to adjust your audio however you see fit. The equalizer gives you the ultimate control over sound.
Surround Sound Passthrough
Connect to AC3/DTS audio systems via S/PIDF. Use Elmedia Player for a home cinema.
What other users are saying about Elmedia
If you are searching for an advanced movie Player for Mac, then Elmedia Player 7 is here for you. Elmedia Player 7 is known as the best media player amongst the new generation of Mac users.
Elmedia Video Player for Mac offers a wide range of features to meet all your multimedia needs. You can stream directly to Smart TV or Apple TV.
Elmedia Player has a wide variety of other features and capabilities, but having the ability to play just about every possible video format, tweaking settings as needed for sync, audio and video problems.
It can play any file format including the widely-used ones like AVI, MP4, FLV, SWF, WMV, MKV, MP3, M4V, etc without the need of installing any other plugin or codec.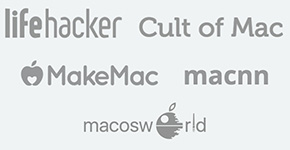 #1 at Video
Elmedia Player Free
Get a download link for Desktop
Submit your email address to get link for quick download and get started!
Languages:
Deutsch, English, Français, 日本の, Español, 中文