Being one of the several multimedia file types developed by Apple, M4A can easily be played by lots of apps. In this article, we have reviewed the greatest Mac solutions, but die-hard music fans may still prefer Elmedia as the best M4A player Mac app since it offers enriched functionality for both music and video playback.
Elmedia Player
Elmedia Player opens up our list of M4A player Mac solutions. Despite being a versatile video player, Elmedia is also considered one of the best music players for Mac. The player offers enhanced functionality for both video and audio playback that can certainly be evaluated by savvy users. However, its simplicity of use makes Elmedia also attractive for beginners.
The player is packed with customizable features and has support for almost any popular file format. Here you can find support for M4A, MP4, MKV, FLAC, and WMV. Rather than downloading separate players optimized for every file format, you can download an all-in-one solution and enjoy your audio content despite the format.
Compared to standard M4A player options like QuickTime or Apple Music, Elmedia Player can play M4A files with no quality loss. Even more, this audio player delivers superior performance for lossless audio formats. The app allows creating and editing playlists according to your own unique specifications. Another great feature worth mentioning is the 18-Band Equalizer, which comes with ten comprehensive presets.
Mac App Store Rating: 4.7
Top Features:
Customizable 10-band audio equalizer with presets
Support for most streaming devices and smart TVs
Doesn't require additional codecs
Pros
Ability to create and manage playlists
Can handle lots of audio formats
Enhanced control over audio
Ability to select audio track while streaming
Ability to convert audio to stereo when streaming.
Cons
Not a cross-platform solution
Not all features are available in the free version.
Supported audio formats: MP3, OGG, WAV, FLAC, M4A, AAC, WMA, MKA, AIFF, APE, and others.
Supported OS: macOS (including Ventura)
Price: free to use, PRO upgrade costs $19.99
How to Play M4A on Mac with Elmedia Player
To play M4A on Mac with the help of Elmedia Player, you need to proceed with these simple steps:
2. Once opened, drag and drop the desired M4A files to the player's window or the player's icon in the Dock.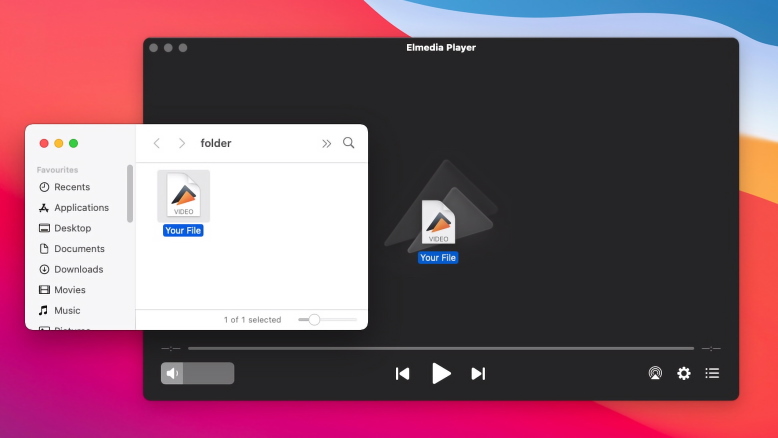 3. Another variant is to find the file you want to play in Finder, right-click it ->" Open With" -> select Elmedia Player from the list.
4. Alternatively, in the player, go to the Main menu, choose "File" and then "Open".
Colibri
Colibri has an option to enable binaural sound processing, BS2B, which makes headphones sound closer to stereo speakers. This can improve some songs and reduce listening fatigue.
Among its advantages, it is worth mentioning its gapless listening technology meaning that you won't experience any pauses or lags when switching between playing your tunes as the next song will be prepared in the background.
Top Features:
Ability to play music by album, artist, playlist
Can load cover art for FLAC
Doesn't have any ads
Doesn't require a subscription
Pros
Allows creating own playlist
Correctly displays information about playing songs
Refund within 90 days.
Cons
No free or trial version.
Supported audio formats: MP3, OGG, WAV, FLAC, M4A, AAC, WMA, MKA, AIFF, APE, and others.
Supported OS: macOS
Price: $9.99
VOX
The VOX Player can handle different formats, including M4A, MP3, FLAC, AAC, Musepack, Ogg Vorbis, WAV, etc, is friendly with SoundCloud and Last.fm, and looks cool. This M4A player offers a rather convenient set of features. Fans of hotkeys will appreciate that all the manipulations can be done with the help of a keyboard. The track being played is highlighted in the playlist. In the system menu, you can call the playlist, and manage the playback of songs.
When the program window is inactive, VOX displays notifications about the beginning of playing a new track. When playing, you can change the display of the playback time (how much time remains to the end of the actual playback time of the song). There is paid Internet radio with more than 3,000 stations ($5 to unlock) and the paid VOX Cloud service, which can store music.
Top Features:
VOX Cloud music storage
Supports uncompressed audio in FLAC
EQ with presets
Gapless playback
Pros
Play numerous lossless and lossy audio formats
Ability to open different types of playlists
Control the player from the main interface.
Cons
Sometimes has issues with finding added songs
CPU-intensive app.
Supported audio formats: AAC, M4A, M4B, MP1, MP2, MP3, MP4, MP+, MPC, MPP, OGA, OGG, OPUS, RA, RM, WMA, ALAC, APE, DFF, DSF, FLAC, TTA, WMA Lossless, WV, etc.
Supported OS: iOS, macOS, Windows
Price: free, Premium subscription $4.99 / month
AnyMP4 Blu-ray Player
Despite being mostly used for video playback, AnyMP4 Blu-ray Player can also be used as an M4A player Mac solution. The style of this media player is very smooth and pleasant, and users should be able to easily find the buttons and tools they need. The app offers a high-quality video and audio experience without overwhelming the user with many features.
The AnyMP4 Blu-ray Player is notable for its high speed and quality. It has a number of standard features: playing graphics, tagging and bookmarking, effects and room tuning, equalizer, and more.
While AnyMP4 excels at playing M4A, it does little else, and fails to provide even basic functionality that we're used to in other players. There are basic playback controls and a screenshot button. Although playlists may be unnecessary for Blu-ray, they are definitely needed for M4A and other music, so AnyMP4 is not a great option.
Top Features:
Play button
Stop button
Volume controls
Screenshots
Pros
Compatible with lots of video and audio formats
Supported audio formats: AAC, M4A, M4B, MP1, MP2, MP3, MP4, MP+, MPC, MPP, OGA, OGG, OPUS, RA, RM, WMA, ALAC, APE, DFF, DSF, FLAC, TTA, WMA Lossless, WV, etc.
Supported OS: iOS, macOS, Windows
Price: free, the premium version costs $24.96 per month
5KPlayer
5KPlayer has entered the category of perfect media players, supporting all media file formats from M4A, MKV, M2TS, AVI, WMV, FLV to MP3, AAC, and WMA as well as for streaming video and audio. The player features a minimalistic interface and the ability to correctly play high-resolution files. Avid listeners will appreciate the support of multichannel stereo, Dolby, and DTS.
In addition to supporting video and audio playback, the app can also receive satellite radio to help you listen to the radio directly from the app. You can choose to listen to some radio stations that are already included in this M4A player, or you can insert your own radio URL and listen to it.
Top Features:
Built-in AirPlay feature
Hardware acceleration option
Allows playing videos online
Support for HEVC format
TrueTheater technology
Pros
Built-in radio
Support for a wide list of both audio and video formats
Doesn't require any plug-ins.
Supported audio formats: MP3, AAC, AC3, AMR, M4P, OGG, WV, M4A and way more.
Supported OS: macOS, Windows
Price: free
MusicBee
MusicBee is a great music management and playback program for Windows. It offers such a huge set of features that sometimes it feels like you'll never know them all because there are so many. In addition to playing popular music formats, it supports automatic tagging, music management, CD ripping, automatic playlists, music conversion, support for audiobooks and podcasts, and much more.
MusicBee is available as a portable version or as an extension. This is the best M4A player for Windows and probably the best all-in-one program you can get for free.
Top Features:
Ability to find music files duplicates
Theater mode with visualizer
Allows you to search for songs on SoundCloud
Ability to restore the original volume of the track
Pros
Supports manual and automatic marking options
Automatic playlist creation
Free of charge
Support for covers loading.
Cons
Tracks are not always chosen logically
Sometimes crashes
Lots of options that can be rather confusing.
Supported audio formats: MP3, AAC, M4A, MPC, OGG, FLAC, ALAC, APE, Opus, TAK, WavPack, WMA, WAV, MIDI, MOD, UMX, XM, etc.
Supported OS: Windows
Price: free
Best M4A Player for Android
VLC
VLC on Android provides the same features as on PC – it's a completely free application that can play almost any modern multimedia content format like M4A, MKV, MP4, AVI, MOV, etc. There are flexible settings for scanning folders for videos or music, streaming to TV, a dark theme, and lots of playback options.
This M4A player for Android features the ability to scan and find all M4A files on your device and what is even more stunning, your SD card.
Top Features:
Cross-platform solution
Flexible content playback settings
Can connect to Android TV
Pros
Completely free application without ads
Wide range of audio formats
Ability to create playlists
Built-in equalizer.
Cons
Updates are rare enough
Sometimes there are crashes, interruptions of work
Not-so-modern interface.
Supported audio formats: MP4, MPEG Layer 1/2, MP3, AAC, Vorbis, AC3, A/52, E-AC-3, MLP/TrueHD, DTS, WMA, FLAC, ALAC, Wavpack, MIDI, ADPCM, QCELP, DV Audio, QDM2/QDMC (QuickTime), MACE, and others.
Supported OS: Windows, macOS, Linux, iOS, Android
Price: open-source, donation-based service
Convert M4A files to MP3 using online converters
Another variant to play M4A on Mac is by using online converters Despite requiring constant access to the Internet, they guarantee quick and easy conversion of M4A to MP3.
Zamzar Online File Conversion
Zamzar is a good free file converter that can handle many file formats. It is really easy to use and allows you to convert files online without having to download any software. The only downside of this converter is that it's a bit slower than most other online file converters, however, it does a decent job and is a reliable solution.
In order to perform M4A to MP3 conversion, you need to follow these simple steps below:
Go to the official site of Zamzar.
Upload the M4A file to the website by clicking the " Add file" button.
Select the MP3 format as a desired output one.
Click the "Convert Now" button to start the process.
Once finished, click the "Download" button.
Convertio M4A to MP3
If you do not want to bother installing special programs on your computer, then Convertio is to help you. This online resource is conditionally free as the maximum set of functions is paid but the simpler things, such as converting audio or video, as well as images is free. However, there is a limit per day.
Converting M4A to MP3 is quite simple and below you will find the detailed guide:
Click the "Select files" button or drag and drop the files to the Convertio page in order to upload M4A.
Find MP3 format from the presented ones.
Click the "Convert" button.
Wait some time for the process to be completed and click the "Download" button.
What Is M4A?
M4A files are an improved version of MP3 files. This improvement is due to the fact that, unlike MP3 files, such files can be obtained by lossless compression. The M4A format was first introduced by Apple. This type of format is also known as Apple Lossless Encoder (ALE).
Advantages: M4A files are compressed, but the process occurs without loss of quality. Another advantage of the M4A format is the absence of digital rights protection (DRM), which gives users the freedom to edit and download them.
Disadvantages: M4A files are recognized by Apple Music (formerly known as iTunes) and Apple devices, such as iPods. Unfortunately, their poor compatibility with other devices makes M4A audio tracks not very usable compared to MP3 files.
Despite the fact that this format is primarily designed for devices of the Apple ecosystem, it can also be found on Windows. Being essentially music recorded in a MPEG-4 container, this audio file opens perfectly in a variety of multimedia players. In the article above, we have overviewed several M4A player solutions suitable for this purpose.
Conclusion
In this article, we have presented several ways how to open M4A files on different operating systems. Files in the relatively new M4A format can be opened with a variety of external media players. Each M4A video player has its own advantages and disadvantages, as well as a different set of features.
So before choosing your perfect one, we highly recommend reading more about them all. If you are searching for a more universal M4A files player, we recommend you take a closer look at Elmedia Player. The app can not only seamlessly handle M4A files but also has support for dozens of other formats and offers enhanced video and audio playback capabilities.
Frequently Asked Questions
There are lots of music players on the market that can help you with playing M4A files. Depending on the operating system you can choose the current Windows Media Player, the latest versions of VLC, or Apple QuickTime Player. Our go-to M4A player is Elmedia Player. It's a versatile app that can easily be customized. It's also a great FLAC player as well as a WMA player for Mac.
Yes, VLC can seamlessly play M4A files not only on your Mac but also on Windows, Android, and Linux operating systems.
Sure, you can play M4A files on your PC. In case, Windows Media Player cannot open the file, make sure you have updated it to the latest version. Alternatively, you can use any of the M4A Windows Media Player alternatives.
Definitely, M4A is as good as MP3. However, it didn't get such great popularity as the MP3 format. In case you are searching for a decent MP3 player, we can recommend reading our article.