JustStream
Mirror Mac to TV wirelessly with JustStream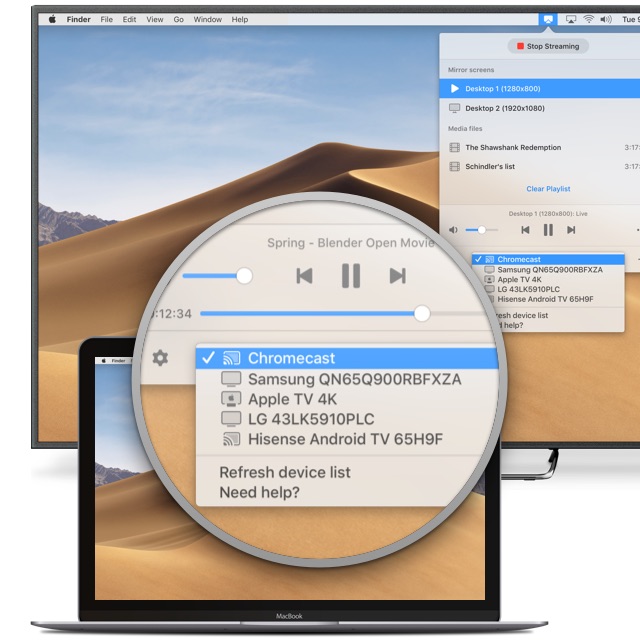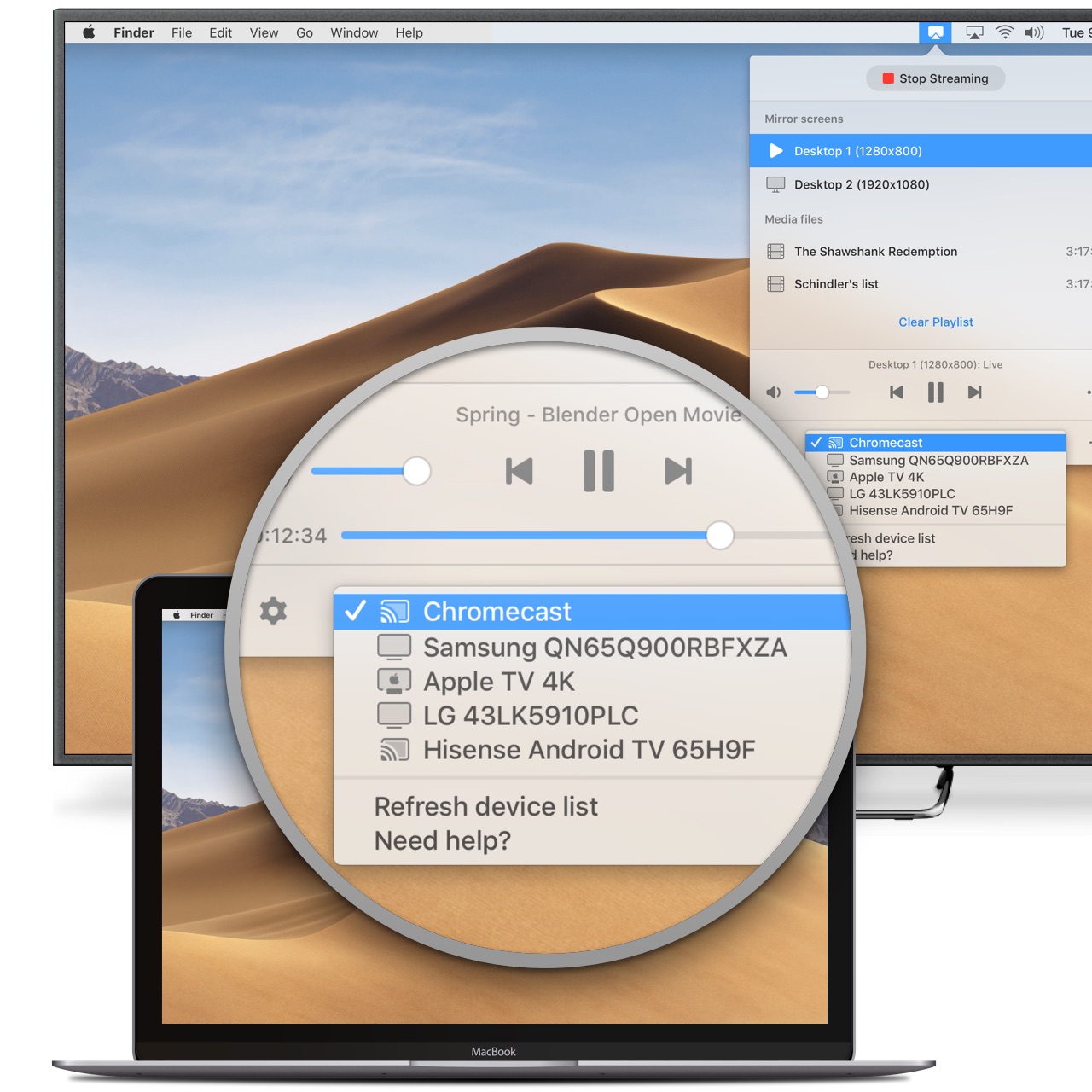 JustStream is a friendly yet advanced app that allows you to mirror MacBook to TV, Chromecast, Apple TV, and DLNA-certified devices wirelessly over your local network. If you need to stream local videos over you wireless network, JustStream will do that easily as well. Not only there are no wires required, but also there is no need for additional hardware or complicated configurations.

Enjoy 20 minutes with free Demo
Free JustStream offers you 20 minutes of uninterrupted mirroring of your Mac screen, so you can fully test and evaluate the app.
Mirror display
Mirror display of your Mac on your Smart TV, Chromecast, Apple TV, and DLNA-certified devices
JustStream is a perfect Mac mirror display app that delivers everything to the larger screen of your TV. It is not just videos you can mirror from MacBook to TV or from Mac to TV, it is also images, presentations, audio or software apps. JustStream supports various TV brands and services, including such well-known names as Samsung, LG, Sony, Panasonic, Roku. You can easily choose which monitor you will mirror and which screen will receive and show the content.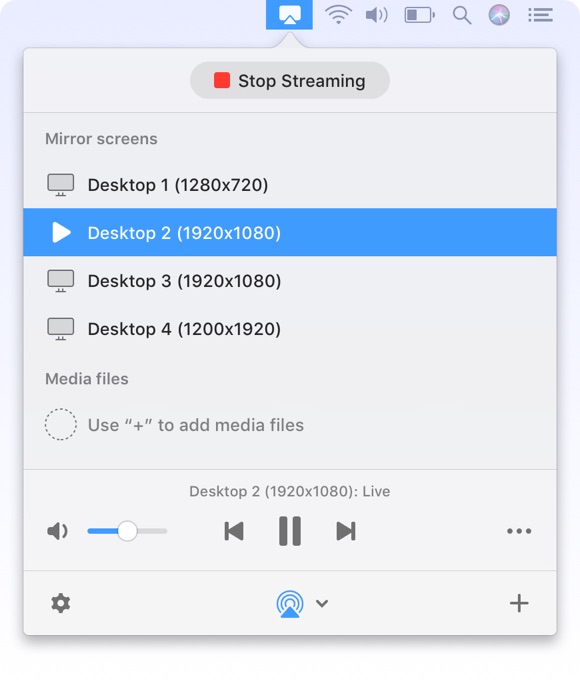 Special Mac mirror options
Not only you'll quickly learn how to mirror screen on Mac to your TV with JustStream, but you will also be able to capture cursor movements as well as mouse clicks. First option will allow your cursor activity to show up in the mirrored output, while the second option will show a highlighted circle at the spot where a click was made.
Adjustable quality and display settings
JustStream offers convenient settings to suit your specific needs. When mirroring you can set the quality to either Auto, Full HD (1080p) or HD (720p). There is also an option to regulate the dimensions of mirrored content to fit the TV screen.
Screen mirror Mac
Screen mirroring to all your devices
Stream media/video
Stream local videos to your TV, Chromecast or Apple TV. Multiple formats supported
Additionally to learning how to
mirror display of your Mac
, you will learn how to stream local files with JustStream. This app works well with pretty much any file format, which means you can stream virtually anything. In the event of streaming a format unsupported by your TV, JustStream can transcode it in real time without any interruptions or major slowdowns.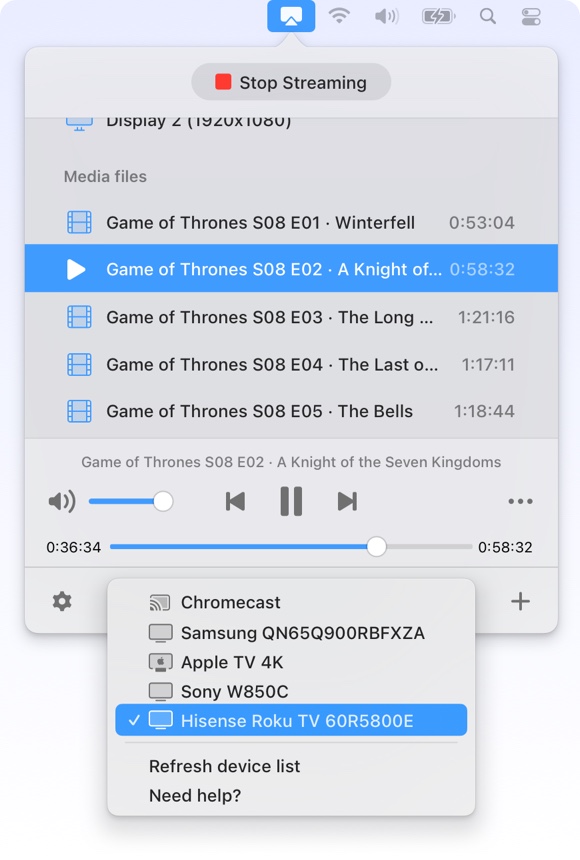 Create streaming playlists
Need to stream not just one file, but multiple shorter videos? No problem! You can compile playlists in JustStream for uninterrupted playback on your TV.
Advanced subtitles support
With JustStream subtitles are never left out! All popular subtitle formats are supported, including embedded and external ones. When streaming to Chromecast or Chromecast Ultra one can customize subtitles color, size, and font.
External and embedded audio
Whether the video you are streaming is using embedded or external audio tracks, JustStream works with both types and will stream them along with your video in a perfect sync.
How to mirror Mac to Apple TV, Chromecast, etc.
Learn how to screen mirror on Mac to your TV by following these easy steps:
Download and install JustStream on the Mac or MacBook you want to mirror screen on.
Open JustStream once installed. To do that click the app icon in the Menu bar.
You'll see the list of monitors connected to this computer. Select the one you are going to mirror to another device.
Select the device you'll be mirroring to by clicking AirPlay icon at the bottom of the window. The list will drop down for you to choose from.
Click the "Start streaming" button at the top of the app window. Alternatively you can double-click on your selected screen or click the three dots next to its name to initiate mirroring from the context menu.
By default, the mirroring is muted.
Here
you'll find the instructions for mirroring with sound.
To stop mirroring, click the "Stop Streaming" button.
Things to note:
By default, the first available device will be selected for mirroring.
If you cannot see the receiving device on the list, make sure that it is turned on and connected to the same Wi-Fi network as your Mac. Then try refreshing the device list.
The screen mirroring settings are accessible through
Preferences > Mirroring
.
Questions and answers
If you want to connect your Mac or MacBook to a TV wirelessly without having to get Apple TV, then you will appreciate an app that you can install on your Mac. There are plenty of third-party apps that you can use to connect your Mac with TV, some will let you mirror your computer screen on your TV, some will allow you to stream local files on Mac to TV. So basically there are mirroring apps and streaming apps, and there are also apps that do both. JustStream is the versatile app that can do both: mirror and stream to TV. You can look into other apps for streaming and mirroring as well, like those developed by AirBeamTV or Best App Limited.
Now that's easy! Just install JustStream app on your computer and make sure that your computer and a TV set are connected to the same wireless network. Browse for a file on your Mac that you are going to stream and click "Start Streaming".
I was wondering how to connect Mac to smart TV and was so happy to find this software - connects and streams content wirelessly without any issues at all.
I needed an app that would stream with the sound included. JustStream did not disappoint, on the contrary - it exceeded all my (not so) humble expectations.
The fact that I don't need to worry about how to convert files to supported formats is just awesome! I just add the video to JustStream and let it do the rest.
For now I am using the free version of the app, but I might actually buy it soon for my little future project. I like how everything gets done in a couple of clicks.

#1 at Video
JustStream
Streaming App for Mac
4.5
rank based on
23
+ users