JustStream
Stream and Mirror Mac to TV wirelessly
If you're wondering how to screen mirror on Mac, JustStream is the answer. It's easy to operate and extremely versatile. With JustStream, you can stream and mirror from your TV to a variety of TV brands, such as LG, Sony, and Samsung. Not only that, but it also works with Chromecast and Apple TV.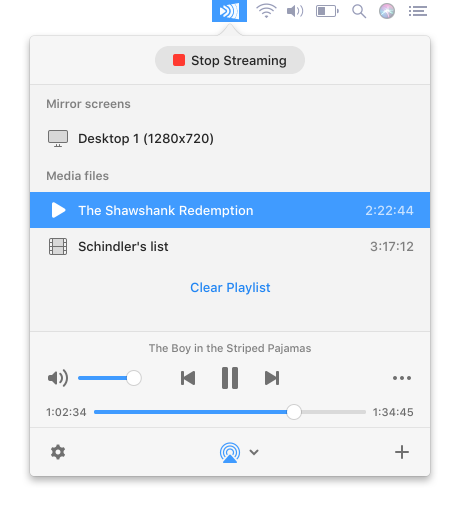 Enjoy 20 minutes with free Demo
Free JustStream offers you 20 minutes of uninterrupted mirroring of your Mac screen, so you can fully test and evaluate the app.
NEW
Yoo-hoo! JustStream runs natively on Mac computers with Apple silicon: M1 and M2 series!

Mirror display
Screen Mirror Mac Media to Smart TVs
If you want to mirror MacBook to TV, JustStream will provide a complete experience using only your desktop. And you won't have to mess around with the settings, either.
The app is a multipurpose one: AirPlay 2 and DLNA protocols are found on many receiving devices, and it also streams to Chromecast (Ultra included).
For more info on how to mirror Mac to TV, we've got all the tips and tricks that you might need.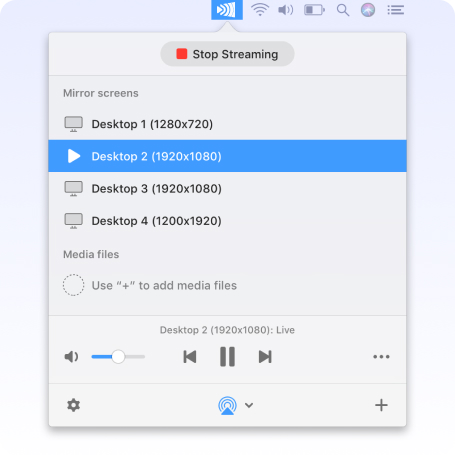 Mirror Mac to Smart TV Along With Your Cursor
You can configure JustStream to track your mouse and highlight your clicks. On the other hand, if you want to get rid of the cursor, it can be hidden. Regardless of whether it's presentations, pictures, charts, or apps - whatever you wish to screen mirror on Mac, JustStream can handle it.
Adjust Quality and Display Settings While Mirroring
JustStream offers convenient settings to suit your specific needs. When mirroring, you can set the quality to either Auto, Full HD (1080p) or HD (720p). There is also an option to fit the content automatically to your TV screen.
Screen mirror Mac
Screen mirroring to all your devices

Mirror Mac to Samsung Smart TV

Mirror Mac to Roku TV

Mirror Mac onto Apple TV

How to mirror Mac to Chromecast

Screen mirroring Mac to Sony TV
How to Mirror Mac to TV and Other Devices
Download
and install JustStream to your Mac, or MacBook.
Open the app. Select the monitor you're going to mirror.
Click the AirPlay button at the bottom and choose the receiving device.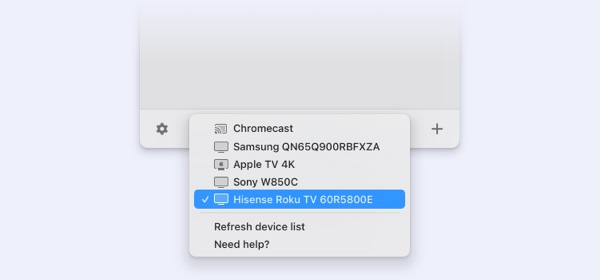 Click the Start Streaming button at the top, or double-click on your chosen receiving device to start mirroring.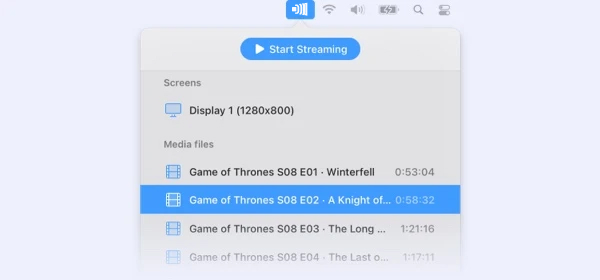 To stop screencasting, click the "Stop Streaming" button.
Things to note:
By default, the sound from your Mac won't be broadcasted. Follow the instructions here to enable it.
Stream Mac to TV Wirelessly
Stream Mac to TV - Local Files of Any Kind
JustStream is the perfect solution to stream local files from macOS devices to TV
. It accepts all common video and audio formats, and is able to project them to a big TV screen without significant quality loss. And more importantly, slowdowns are almost non-existent. Learn
how to stream from Mac to TV
equipped with nothing but a Wi-Fi network.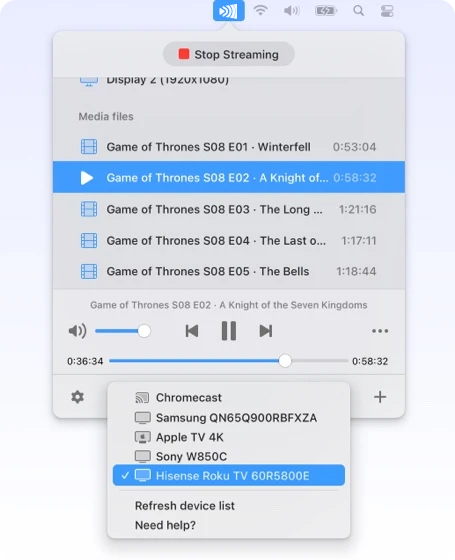 Create Streaming Playlists
Collect multiple files into a playlist and keep them running back-to-back without having to switch them manually. Forgo all interruptions!
Complete Subtitle Support
You can expect JustStream to run any common subtitle file. Better yet, you can add external subtitles to your videos and stream them that way.
Additional External Audio
If a video file has its audio stored in a separate file, don't fret. JustStream can open them both, and you can even adjust the audio delay.
Questions and answers:
There are a few different options on
how to connect Mac to TV
. You can either use an HDMI cable to hook up the two devices, or you can do so wirelessly using a third-party application. We recommend using JustStream to connect your Mac to your Smart TV - it's lightweight, yet it can fulfil all your mirroring and streaming needs.
Get JustStream for your Mac and make sure that your TV is connected to the same wireless network. Done? Now browse, find the file, choose your TV from the device list and start streaming.
JustStream is available in two versions - free and paid. Free version allows 20 minutes of uninterrupted streaming and mirroring. You can purchase a 1-year license for JustStream PRO for only $12.99.
I was wondering how to connect Mac to Smart TV and was so happy to find this software - connects and streams content wirelessly without any issues at all.
I needed an app that would stream with the sound included. JustStream did not disappoint, on the contrary - it exceeded all my (not so) humble expectations.
The fact that I don't need to worry about how to convert files to supported formats is just awesome! I just add the video to JustStream and let it do the rest.
For now I am using the free version of the app, but I might actually buy it soon for my little future project. I like how everything gets done in a couple of clicks.
Languages:
Deutsch, English, Français, 日本の, Español