Almost Like Magic for Your Files
A Video Player for Mac That Plays All Formats
Elmedia Player is the
best video player for Mac
- its playback capabilities are beyond competition. It has proved itself as an ultimate
Mac MPEG 4 Player
as well as a perfect
MKV Player for Mac
. It easily decodes any popular media format, and some that are less common as well; this includes FLV, SWF, WMV, AVI, MOV, MP4, MP3, DAT, FLAC, M4V, MPG, MKV, Blu-ray unencrypted discs and many other
audio and video formats
. It's also the top HD video player for macOS thanks to hardware acceleration; it lightens the load on your CPU and prevents video defects, such as desynchronization.
Video Player for Mac with Playlist Support
You don't need to open every file individually. Drag your files into the app window and Elmedia will add them to the active playlist. WIth Elmedia controls, it's simple to shuffle, repeat, or stop after the current track.
Media Player for Mac with Full Playback Control
You get full control over the look and feel of your media. Regulate the playback speed, even while it's still playing; add subtitles, search frame-by-frame, bookmark, apply visual effects and more.
Streaming Like Breathing
Mac Video Player for Chromecast, AirPlay and DLNA
Enjoy any content you like on your TV screen! As a powerful streaming app, Elmedia Player allows you to cast local files from a Mac to an Apple TV, a Smart TV and other compliant devices over Chromecast, AirPlay or DLNA. You can also use the player as an AirPlay receiver by streaming media from iTunes, other Mac software, or various AirPlay-friendly devices to Elmedia. Stream audio from an iPhone to make use of larger speakers.
AirPlay
With Elmedia Player, it's easy to start an AirPlay stream from your Mac to an Apple TV or other compatible devices.
DLNA
DLNA-certified devices include speakers and Smart TVs. Turn up the music, and enjoy your movies on a big screen.
Chromecast
Chromecast and Chromecast Ultra are fully supported by the Elmedia app. Hook them up and start streaming within minutes.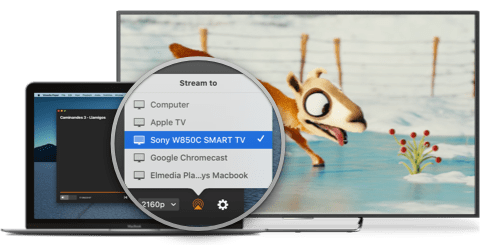 All Formats Are Welcome
Don't bother yourself with file conversion. Elmedia can stream any playable filetype as it is. If it's not supported by the receiving device, the media stream will be transcoded (converted) on the go.
No Ads Anymore
With the Open Online Video option you can watch and stream videos from YouTube, Dailymotion and Vimeo without ads.

Stream 4K Videos
Elmedia Player is the best 4K video player for macOS. It easily delivers Ultra HD videos to Chromecast Ultra, Apple TV 4K, and Smart TV.

Subtitle Support
Elmedia is the go-to video player for Mac when it comes to advanced subtitle support. In addition to embedded subtitles, you can open external tracks and play them over any given video. SRT, ASS and SMIL tracks can be added.
Playlist Streaming
You can easily stream entire playlists in high quality, free of any interruptions or defects.
Convenient Remote Control
While streaming, you can use the Elmedia Player interface on your Mac as a remote control.
Simple Subtitle Management
Video Player for Mac with Subtitle Support
With Elmedia Player you can change the way your subtitles look. Set them up to be downloaded automatically, or make the choice manually. Sync inaccurate subtitles with the other tracks by adjusting their delay.
Appearance

Elmedia offers settings for subtitle encoding, font (Chromecast may not support some), size and color.

Autoload

The Autoload option allows you to set up automatic download for subtitles in your preferred language.

Online search

Elmedia Player may search for subtitles on OpenSubtitles.org. There's a lenient download limit of 200 files per day.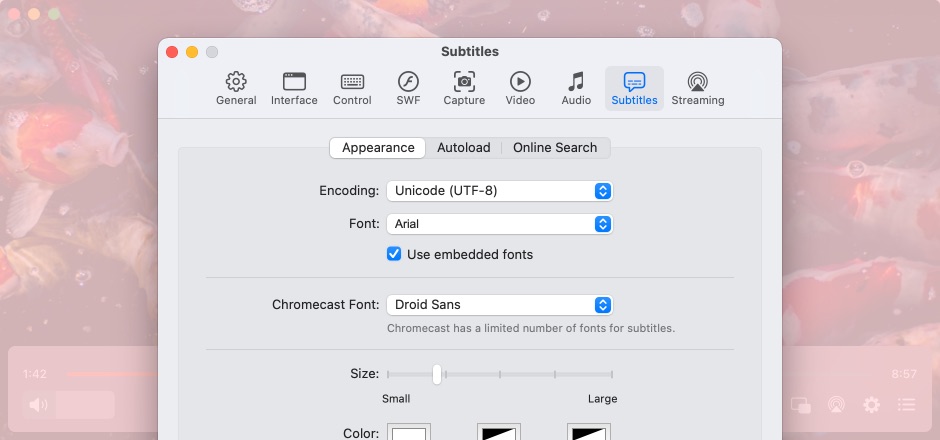 Customized Video Playback
Your Video - Your Rules
Create the Video World of Your Desire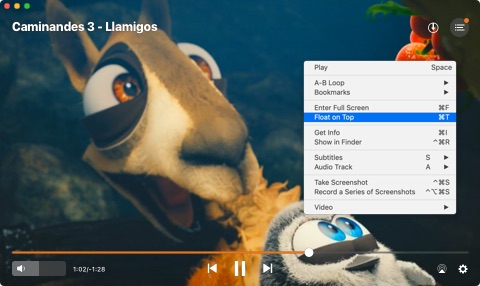 A unique Flash player for Mac
You can play SWF files and change quality and privacy settings like you would in the Flash Projector (or any web plugin, for that matter).
Video tuner
You can enhance and personalize your video playback by adjusting brightness, saturation, contrast, gamma and other parameters.
MacBook Touch Bar support
If you have a Touch Bar, it can be used to control the playback. Play, pause, see the elapsed time and customize it to suit your needs.
Making Screenshots
Elmedia screenshot functions are highly automated and will satisfy even the most ardent screencapper. No need to pause, either.
A-B Loop
Elmedia can loop any video segment as many times as you like. This also works for songs - handy if your music album is a single file.
Deinterlace Improvements
Flickering, jaggies, blurring and other video defects are a thing of the past - just check the Deinterlace box in Elmedia Preferences.
Attune Audio with Video
Misaligned audio can be fixed. You can adjust the audio delay even while the track keeps playing - this way it's easier to correct.
Advanced Fullscreen Mode
If you have several monitors connected to your Mac, you can select one to be used for the fullscreen mode.
Sound Improving Video Player
The New Era of Sound with Elmedia Player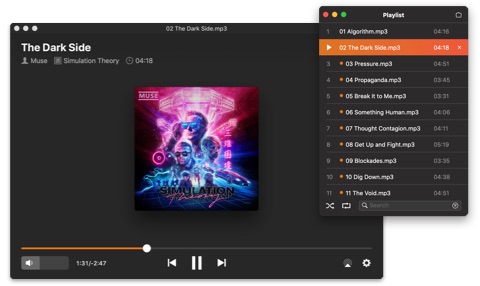 Volume control
Elmedia Player's volume can be controlled without affecting the system volume. This adds a whole new dimension of sound control.
Fetching External Audio Files
When opening a video, Elmedia Player can automatically load audio files from the same folder and add them to the list of tracks.
Surround Sound
This
best music player for Mac
can connect to advanced audio systems via AC3 and DTS. Give it a listen, and freshen up your hi-fi music!
Audio equalizer
The 10-band equalizer allows you to adapt the sound to your personal preferences. Crank that BASS up to the max.
Super Easy Browsing and Downloading
No Ads in Videos
Elmedia Player has a browser mode that allows you to surf reputable video sharing websites like YouTube, Vimeo, and Dailymotion right from the app window. Use the "Open Online Video" option to watch your favorite videos without irritating ads.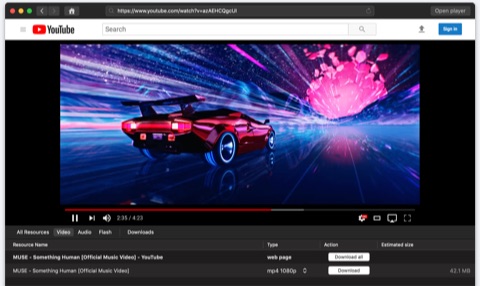 What others say about Elmedia

#1 at Video
Elmedia Player
Universal video player for Mac
4.8
rank based on
131
+ users
Get a download link for Desktop
Submit your email address to get link for quick download and get started!
Pricing:
Starts from $19.95
Languages:
中文, Český, Deutsch, English, Français, Italiano, 日本の, 한국어, Polski, Русский, Español, Svenska, Nederlands