NEW
Yoo-hoo! Elmedia runs natively on Mac computers with Apple silicon: M1 and M2 series!

How to play videos on Mac with Elmedia Player
Almost Like Magic for Your Files
Video Player for Mac with All Codecs
Smooth HD playback, user-friendly interface, compatibility with all audio and video formats, streaming via DLNA, AirPlay 2 and Chromecast - Elmedia Player offers everything that the best video player for Mac should have. Expand your video playback experience and enjoy your videos to the fullest.
Playlist Support
Drag your files into the app window and Elmedia will add them to the active playlist. Save it as an M3U file to open later. Choose to shuffle, play once or repeat.
Playback Control
Change the look and feel of your media. Adjust everything while the track is still playing - playback speed, color balance, subtitle position and more.
Streaming in just a few clicks
Video Player with One-Click Streaming
Enjoy your content on a TV screen! Elmedia Player allows you to stream local files to a different device through the use of AirPlay 2, DLNA or Chromecast (Chromecast Ultra included). Use a Smart TV, an Apple TV, Roku, or any other suitable device. Stream in Full HD or 4K.
AirPlay
AirPlay 2 is also included.
DLNA
Most devices use this protocol.
Chromecast
Connect to Google gadgets.
Format Compatibility
No conversion necessary. Elmedia Mac video player streams any format, transcoding it if needed. Play everything, on any device.
4K Casting
Make full use of devices like Apple TV 4K, high-resolution Smart TVs and Chromecast Ultra.

Advanced Subtitles
Elmedia Player features options for subtitle compatibility, such as encoding and subtitle burning. Watch streamed videos with external SRT, SSA and SMIL tracks.
Remote Control
Use the player as a remote - you retain the same amount of control as if you were playing a local video.
Playlists over WiFi
Use your saved playlists to stream music albums and video series. Of course, Shuffle and Repeat still work.
Simple Subtitle Management
Extended Subtitle Support
Not only does Elmedia open subtitles of various formats - SRT, ASS, SMIL, but also allows you to customize them as you wish. Easily change the look of subtitles, enable automatic search and keep them in sync with the video.
Appearance

Alter the font, encoding, color and position. Make the subtitles look good.

Online Search

Elmedia is integrated with OpenSubtitles.org, allowing you to find tracks quickly. You can also enable automatic searches.

External Tracks

Open SRT, SMIL and SSA files alongside videos. Adjust subtitle delay to sync them.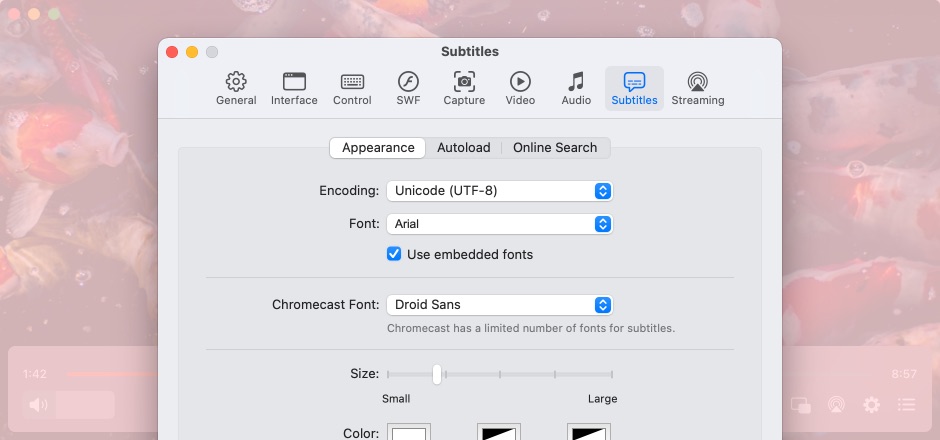 Customized Video Playback
The Best Video Player for Mac Features
Flash Player
Elmedia Player is one of the few multimedia players to offer SWF playback*.
* For more information about playing SWF files, click here.
Video tuner
You can enhance and personalize your video playback by adjusting brightness, saturation, contrast, gamma and other parameters.
Making Screenshots
Automate screenshotting and create entire series of screenshots at fixed intervals in a flash.
Touch Bar support
Use this MacBook feature to the fullest. Elmedia Player can also be used with gesture controls.
Deinterlace
Useful for old footage or security camera records. Makes them more bearable.
A-B Loop
Select points on the timeline and loop the fragment infinitely.
Fullscreen Mode
You can select the monitor for video playback. Elmedia runs in native fullscreen mode, which guarantees excellent performance no matter what screen you choose.
Audio and Video Sync
Adjust audio delay to achieve perfect sync with your video and subtitle tracks. Useful when opening desynchronized audio files.

Timeline Preview
If you enable this feature, the timeline will show a preview thumbnail when you hover over it.

Picture-in-Picture
The Picture-in-Picture mode is useful to keep the player running in the background and pinned over other windows.
Sound Improving Video Player
Sound Settings in Elmedia Player
Sound Preferences
Choose your audio output device and switch the number of playback channels.
Audio equalizer
Use a 10-band equalizer to customize the way Elmedia sounds.
Surround Sound
Enable AC3 or DTS output to use advanced sound devices.
What others say about Elmedia
Elmedia Player is easy to use and takes much of the guesswork out of playing back videos of just about any format you can imagine.
Elmedia Player for Mac is a comprehensive solution for playing all kinds of videos and other media files on your Mac without having to convert them.
Plays all my video files swimmingly. Streaming local videos to the smart TVs is pleasant bonus of the PRO version.
It's a media player for Mac, which boasts a huge range of codecs. All of the features of this program are easily accessible through the app's streamlined interface.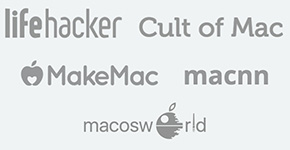 #1 at Video
Elmedia Player Free
4.8
rank based on
1531
+ users
Get a download link for Desktop
Submit your email address to get link for quick download and get started!
Languages:
Deutsch, English, Français, 日本の, Español, 中文