NEW
Yoo-hoo! Commander One is now natively compatible with Apple M1-powered Macs!

7Zip for Mac
Compress and extract 7zip archives, plus work with 7zip archives as regular folders: view, add, delete files without extracting via our Mac file extractor.
RAR for Mac
This extractor for Mac allows you to seamlessly decompress files from RAR archives, search through their contents, and copy files from RAR archive without even extracting.
TarGz for Mac
With the help of this file archiver for Mac you can get full access to TAR files (TBZ, TGZ, Tar.Z, tar.lzma and tar.xz) with the possibility to compress, extract, open as a folder and search through archive contents.
Advanced search with Regular Expressions
Look for any files or folders in Commander One. They can be compressed — it won't stop Commander One! Search can be case sensitive and use Regular Expressions to narrow results.
Search the contents
Flexible settings and the possibility to set text encoding help you efficiently search through documents contents and find even the files you don't remember names of.



Search with Spotlight
Commander One offers Advanced search and contents search, and additionally you can use Spotlight search. All these options guarantee you'll never lose a file or folder.
Free file manager for macOS
Besides being a great Mac file archiver, Commander One is also one of the best ways to work with files. Experience the convenient feeling of dual-pane
file manager for Mac
with keyboard and mouse synergy and you'll never want to do it any other way. You can use it as a Finder alternative or replace Total Commander when switching from Windows to Mac.
Show hidden files
Show/Hide hidden files with a handy switch
Fonts & Colors
Set any color combination that is the most pleasant for you to work with
Brief mode
Overview and work with multiple files at the same moment
History and Favorites
Keep track of your file operations and easily access your most used documents
Customizable Hotkeys
Assign a hotkey to any action for lightning-fast operations
Unlimited tabs
This Mac archiver solution offers two-panel interface with an unlimited number of tabs
Convenient items selection
Flexible selection tool
File operations queue
Queue up currently running operations accordingly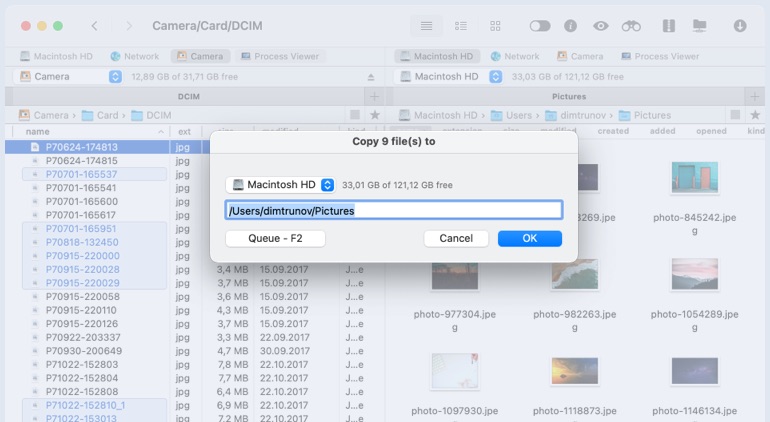 Zip archives
Easy to use file archiver Mac tool with support for ZIP files extraction and compression
Built-in file viewer
Binary and Hex files are supported as well as the media, text, image, HTML ones
List of Computers of local network
Detect all available computers over network and get them conveniently listed
Root Access
Get the most profound control over your files
PRO Pack
You are welcome to use the amazing PRO Pack features of Commander One for 15 days for free!
FTP Manager
Connect to remote servers via FTP, SFTP or FTPS with built-in FTP client.
Amazon S3
Access and manage files in Amazon S3 storage or just specific buckets.
WebDAV
Work with WebDAV protocol server to be able to manage files directly from Commander One.
Dropbox
Our file extractor for Mac allows mounting your Dropbox account or integrating it with Commander One to share Dropbox links directly from the app.
Google Drive
You can mount many Google Drive accounts at a time to work with your docs and sheets in a dual-pane environment.
OneDrive
Access your online files the same way as local ones when you link your Microsoft storage with Commander One.
Mount iOS
Get a comprehensive access to your iOS device when you mount it.
Mount Android
Transfer files from Mac to Android device and back just by dragging them with a mouse cursor.
Mount MTP
Mount MTP devices to manage their files as your Mac ones.
Compress and extract
ZIP, RAR, TBZ, TGZ, 7z files are supported by our Mac archiver solution – Commander One.
Process viewer
Access the list of all processes running on your Mac with the possibility to quit them.
Terminal emulator
Execute terminal commands directly from Commander One.
Themes
Various color themes were created with care for personalization of your Commander One.
OpenStack storage
Mount OpenStack Object Storage as a local drive without copying the content on Mac.
Backblaze B2
Manage your documents directly on B2 cloud account with this Backblaze Mac client.
Box cloud
Get more opportunities for Box file sharing on maсOS with Commander One.
How to archive files via Commander One
Commander One is the perfect compression software for Mac, with its help compressing files will not take a lot of time. You just simply need to follow the steps below:
Select the files you want to archive.
Right-click them and from the context menu select the "Compress selected file(s)" option. You can also use the hotkey combination Ctrl + F5.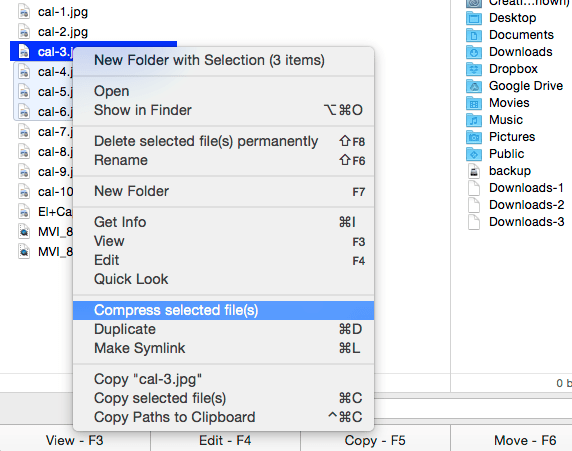 The archive will appear in the same pane.
To compress files with options, use the following hotkey combination Ctrl + Alt + F5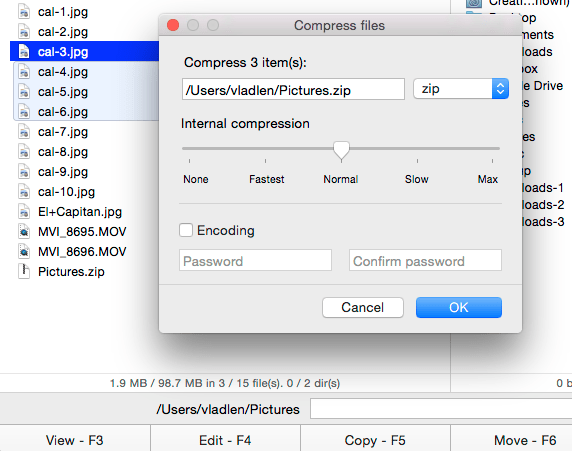 Please note that to tune the archiver's settings/set the default archiver go to Preferences.
Frequently Asked Questions
Český

Deutsch

English

Français

Українська

Magyar

日本の

한국어

Polski

Русский

Español

Nederlands

中文