Short for Audio Video Interleave, Microsoft created the AVI format in 1992, and it quickly became the go-to choice for many video files. Unfortunately for Mac users, the format was not built to be compatible with macOS and QuickTime, Apple's native video player.
The .avi extension is still very popular, and the compatibility issue did not disappear. Luckily, users who want to figure out how to play an AVI file on Mac have many more options nowadays.
The three solutions we explore in today's article are using a dedicated video player, converting AVI to a more Mac-friendly format, or repairing a corrupt AVI file. So keep reading and find the best method for you!
Option 1: Use a Quicktime Alternative to Play AVI on macOS
Elmedia Player
If you want the best experience watching AVI movies, Elmedia Player should be your first choice. This versatile and efficient app is built to handle any video format. Besides AVI, it can play MP4, MKV, MOV, and many other popular file types without needing additional plugins or codecs.
Furthermore, this Mac video player gives you full control, various settings, and lots of extra features that contribute to a great experience. Easily change playback speed, load subtitles, sync audio/video, or tweak the visual settings from the app's menu. The user interface is designed for maximum efficiency, and you'll find everything immediately. Thanks to the 10-band audio equalizer and AC3/DTS support, you can also count on surround audio.
Another top Elmedia Player feature is the ability to stream to Apple TV, Smart TV, Chromecast, and DLNA devices. Why settle for the Mac display when you can watch your favorite AVI file on the big screen? Finally, the player can also deinterlace videos on the go, so you won't have to worry about lags or random stripes.
How to Open and Play AVI Files with Elmedia
Already convinced Elmedia is the best way to play AVI files on Mac? Follow these few steps to get started:
1. Install the video player on your Mac;
Start by downloading Elmedia Player from our website or the App Store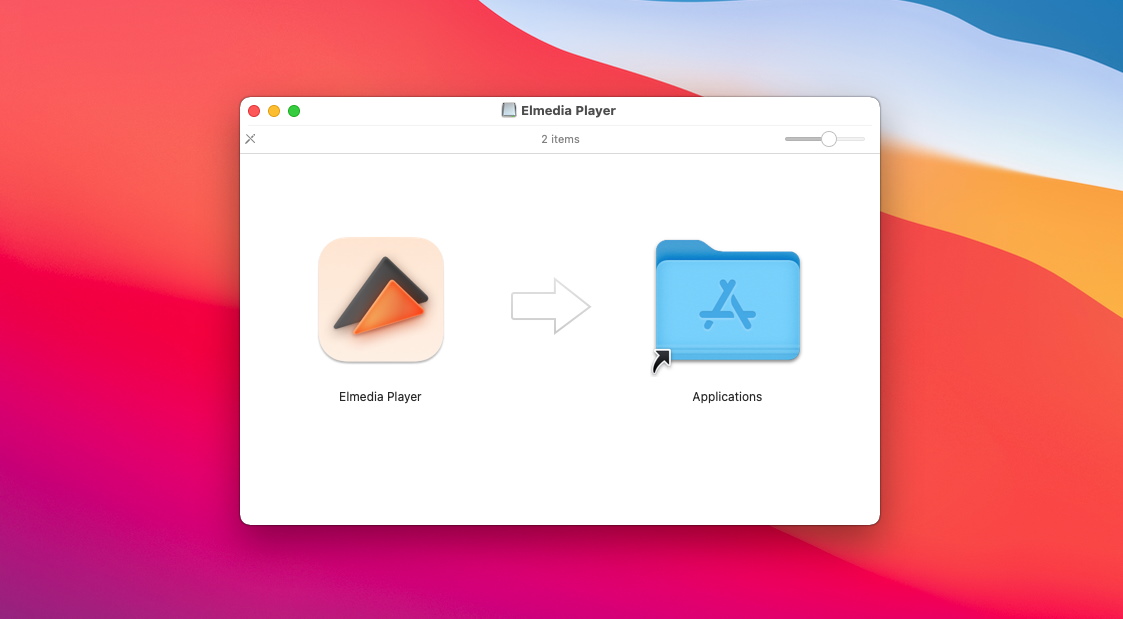 2. Launch the AVI player and load the files you want to watch using one of these three methods:
Drag the video to the Elmedia window or Dock icon;
Right-click the file and select Open With;
Search for the video by clicking File – Open in the menu.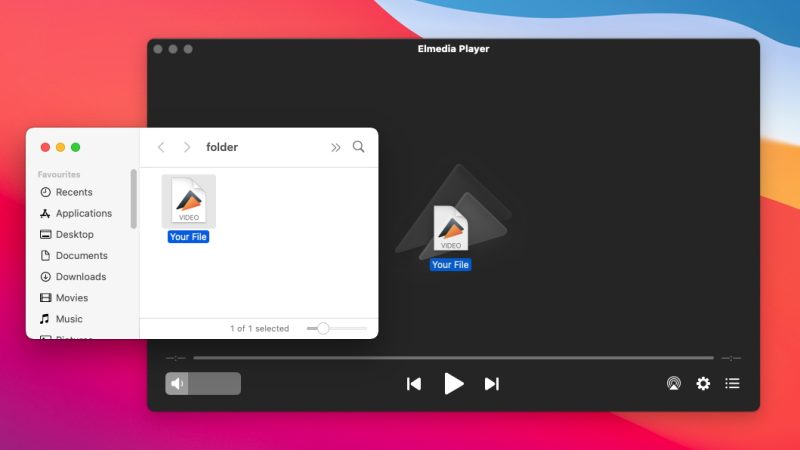 3. Get cozy and enjoy watching your favorite multimedia content!
VLC Free AVI Player
Another alternative to open an AVI file on Mac comes from VLC. With this app, you will be playing most of the popular video formats easily. It's open-source software, so you'll never have to pay to use it. VLC comes with many features that enhance playback, such as video editing, subtitle synchronization, playlists, and many others.
You can rely on VLC regarding various settings like adjusting brightness, color, subtitle font, positioning, or speed. It works perfectly on macOS without requiring too many system resources. However, the user interface could use an upgrade since it looks outdated, even with the skins provided by the developer.
How to Open and Watch AVI Videos on Mac Using VLC?
Before using this free AVI player for Mac, you need to install it, and we give you the steps for the entire process:
1. Download VLC from the official website.
2. Find and run the downloaded .dmg installation file (click Authenticate when prompted).
3. Drag and drop the VLC icon onto the Applications folder.
4. Open the video player and load the AVI file you want to watch.
5. Sit back and watch your videos.
Option 2: Convert AVI to a QuickTime Compatible Format
If you don't want to install a third-party app to watch AVI on Mac, another solution is to convert the video files to a format compatible with QuickTime. Once again, there are various converters available, both online and as downloadable software. We've analyzed the top ones and recommended the best ones to change the video format of any file type.
Stellar Video Converter
This app is a great solution for Mac users that want to convert AVI to formats that QuickTime supports. The process is straightforward, so you won't need advanced technical skills to use it. Just load the video file, wait for the software to analyze it, and choose the output format and quality before pressing "Convert" in the bottom-right corner.
As an added benefit, you can edit the video before converting. Also, Stellar allows you to process files in batches, so you won't waste time loading them individually. Unfortunately, the free version doesn't convert a full file, just ⅓ of it.
EaseUS Converter
Another tool that helps you convert AVI when it won't play in QuickTime is EaseUS Converter. It supports the highest quality and resolution standards available – up to 4K, and you can easily change the format to MOV, MP4, or other macOS-friendly file types.
AI powers it, so it can work on batches of videos up to 30x faster than its competitors. Another interesting function that may prove useful is the ability to transform videos into GIFs.
VLC Converting Feature
Remember VLC? The second solution we offered when talking about QuickTime alternatives to play AVI. We must admit we didn't give you its full set of features because we kept one for this section. In its default macOS version, this app also includes a video converter. The available formats include MP4, MOV, FLV, OGG, or Webm, to mention a few. 
You can access this feature from the menu by pressing File and choosing the Convert / Stream option from the dropdown list. However, the entire process seems too complicated for the average viewer.
CloudConvert
If you're not thrilled about installing another app just for opening AVI files, you don't have to. There's also the option of doing everything online with CloudConvert, a useful tool that does much more than converting. You can change the resolution, aspect ratio, video codec, and even tweak the quality slightly.
Other features allow you to trim videos, add subtitles, or insert a watermark, depending on your needs.
Option 3: Repair Corrupted AVI File
Do you still have issues playing AVI videos on Mac after trying the first two options? Most likely, you're dealing with a corrupt file. If you've installed a dedicated app and also failed to convert to a different format, there's simply no other way. Not even the best AVI player or converter tool won't be able to process a damaged file.
Most of the time, the damages or corruption occurs in the AVI file index that comes with the video, not the media itself. Therefore, you should be able to repair it with dedicated software, and we've selected some of the best for this task.
Stellar, the same developer that offers the converter mentioned earlier, also has repair software. It's called Stellar Repair for Videos and fixes most causes that lead to corrupted files.
EaseUS Data Recovery Wizard is another software that can help you repair damaged AVI movies. It addresses issues like missing video frames, broken video clip links, etc.
VLC strikes again and proves its versatility by offering users access to a repair tool. It's active by default, so every time the app tries to play a corrupt .avi file, it will first try to recover it.
Warning for Mac Users About QuickTime Codecs
When searching for methods to play AVI with QuickTime, you may find the solution to download additional codecs to make the native macOS player open this format. Unfortunately, this workaround only worked with QuickTime 7 when there was still the ability to add codecs. The new versions do not support codecs anymore.
Play all Your Favorite AVI Movies Right Now
Now that we've explored all the possible answers to the undying "how to play AVI files on Mac?" question, all that's left is for you to take them for a spin. Most users choose to simply replace QuickTime with Elmedia Player of VLC and forget all about any issues. Converting the videos to MP4 or MOV is also an option, but you could lose quality if the software or website isn't top-notch.
To sum things up, if you want to enjoy all your favorite AVI movies with cinema-like conditions, Elmedia Player is your best bet. It gives you access to extensive video and audio settings, you can build endless playlists and stream the media on the big screen.
Frequently Asked Questions
The AVI format was never developed to be compatible with Mac's default player QuickTime. It is developed by Windows to work on PCs and other operating systems, but not macOS. Therefore, you need to install another app, such as Elmedia Player, that's specialized in all the popular video files, including AVI, MKV, MP4, or MOV.
You have multiple ways to open an AVI file on Mac. For starters, you can use dedicated software, like Elmedia Player, to easily watch any video, regardless of format or quality. Another solution is to convert the .avi to a file type that can be played on QuickTime, and you can do that with a third-party app or online.