Quite a lot of Mac users encounter issues when playing the F4V video format, an improved version of FLV. As not all media players support this format on the Mac platform. In this article, we will present you with a selection of the best F4V players for Mac that combine efficiency, ease of use, and rich functionality, and Elmedia takes first place among this list.
Users scenario
"I am unable to view F4V files. I've tried installing the Perian codec in Quicktime, tried VLC player, tried Handbrake to convert. Nothing. Help?"
What is F4V format
F4V is a video file format that was widely used for high-quality video storage and playback on various platforms. It is an extension of the Flash Video file format developed by Adobe Systems.
One of the main advantages of F4V is its ability to support high-quality video with a high compression ratio, which can reduce file size. In addition, F4V supports H.264 for video and AAC and MP3 for audio for superior sound and picture quality.
Elmedia - top F4V File Player Mac Solution
Elmedia Player is a great media player developed by the Electronic Team. It offers a wide range of functions, including the ability to play F4V files on Mac. The app lets you create and manage playlists, export and import bookmarks, search for subtitles from the app's interface, and much more. 
Another feature is the ability to capture screenshots to create a collection of your favorite video scenes. Last but not least is the ability to stream your content to different devices, including Roku, Apple TV, and a wide list of Smart TVs.
Overall, this F4V player supports all file types associated with Adobe Flash, including FLV and SWF file types, as well as MOV, MP4, MKV, WMV, AVI, and many more. For audio files, it also supports MP3, OGG, M4A, AAC, etc.
Note: SWF playback functionality is limited on M1 Macs. Get more information here.
How to Play F4V files on Mac
2. Add movies.
Add F4V files to Elmedia with one of the following options:
Drop the F4V files to the player window or on its icon in the Dock.
Use context menu for the file in Finder and select the "Open With" menu option. Select Elmedia Player.
Choose "File" from Elmedia Player's Main menu, then "Open".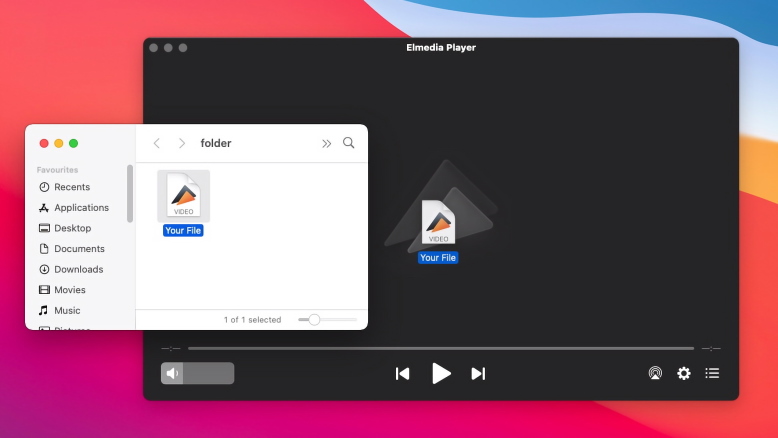 3. Enjoy.
F4V are supported wonderfully by Elmedia, but also you can also watch SWF, FLV, MP4, AVI, MKV, etc. Among the music files supported you will find MP3, OGG, M4A, AAC, etc. Enjoy! 
5KPlayer
5KPlayer is a popular choice for anyone looking for a great F4V player on macOS. It's been around for a while and has plenty of users. On top of that, it can easily handle lots of different formats, including those that are used for flash videos (except SWF). A great extra is the fact that it can play videos directly from YouTube, Dailymotion, Vevo, and Vimeo. Overall, it's a great F4V player Mac solution for anyone looking for a solid media player.
How to Open F4V Files on Mac with 5KPlayer
1. First of all, download 5KPlayer from the homepage.
2. Add your F4V files to this F4V file player. You can either drag and drop the file on the player's icon in Dock, right-click on the file in Finder, and choose to open it with 5KPlayer, or simply open the app and choose your file from there.
3. That's it, your file will be opened in 5KPlayer and you can enjoy the content.
Cisdem
Cisdem Video Player is another straightforward option for anyone looking for a way to open F4V files and other file types on macOS. It's a popular F4V player, with plenty of users. It can handle a wide range of different files and formats. It also benefits from not requiring any additional plugins. It's a great way of getting high-quality video playback and a good tool for making use of any F4V files you may have in your library.
How to Play F4V Files with Cisdem
1. First of all, download Cisdem from the homepage.
2. You can move files to Cisdem in the same manner as the other tools we've looked at – either drag and drop, right-click and open with, or access via Cisdem.
3. All you need to do now is open the file and enjoy the content.
Convert F4V to another format
As with most conversion tasks, you don't actually need a desktop program to carry out the conversion. There are online solutions that have been designed to do it for you, without any downloads or installations necessary, and that can handle formats such as MP4, M4V, MKV, and more. While they can get the job done, they aren't the ideal solution.
They require uploading before you can download your chosen file type, so they take a bit longer. They also tend to lack the additional features you can find in a desktop program. However, sites like Zamzar and FileZigZag are okay if you want to convert F4V to MP4 or any other format. However, if you're planning on working with large video files, the process could take quite a while.
F4V vs. FLV vs. SWF
F4V, FLV, and SWF are terms used when discussing Flash Video formats. FLV and F4V are similar, though F4V is a slightly more advanced format that is referred to MPEG-4. SWF is a file format not only for video and audio but also for flash animation and vector graphics. For video streaming over RTMP, the FLV format was developed, encoded in the same way as SWF files.
Typically, these files contained video codecs such as On2 VP6 and Sorenson Spark, and audio codecs like MP3, Nellymoser, and Speex. While it was possible to use H.264 and AAC codecs in FLV, their usage was limited. Therefore, for compatibility with the MPEG-4 Part 12 standard, Adobe created the F4V format.
Conclusion
It's unfortunate that Adobe is phasing out Flash Video. For anyone who's been using the internet for more than a decade, Flash defined an entire generation of content, from videos to games. That said, with MP4 taking its place, it's easy to see why Flash Video is no longer needed.
Thanks to great solutions like the Elmedia Player, there's no reason why you can't go on enjoying your library of F4V videos, as well as SWF and FLV. This F4V player for Mac can handle a huge range of different formats while also providing great features and tools for an easy experience. We highly recommend it to anyone looking for a reliable media player.
Frequently Asked Questions
All you need to do is launch VLC Player, then click and drag your F4V file onto the interface. Once you drop the file, the player will start playing it.
We recommend Elmedia Player as the ideal tool for playing F4V files on Mac. Once downloaded, all you need to do is either drag and drop, right click and select Elmedia, or search for your files via Elmedia's search function. Elmedia Player also has a number of other great features, such as a range of playback options, and the ability to broadcast to compatible devices such as Chromecast.
There are a number of online tools that let you convert F4V to MP4. All you need to do is upload your F4V file, select MP4 as download format, and hit download. They can be quite slow for large files, so you may want to consider getting a desktop program for conversion if you plan on regularly converting files.