Explore the world of cinema with our media player — Elmedia
Enjoy the excellent quality of video playback with our best media player for Mac — Elmedia. The app guarantees smooth HD playback with no artifacts or squares, no pauses or slowdowns. Сonfigue it according to your taste and get the best user experience.
Wide range of supported formats
Elmedia Player solves format compatibility issues with ease. With the help of this media player for Mac, you can easily open MP4, MP3, MKV, and WMV, and unconventional files like DAT, SWF, and Blu-ray.
Native M1/M2 support
There is no need for a Rosetta compatibility layer as Elmedia Player can seamlessly run on Mac computers with Apple silicon: M1 and M2 series. Get maximum performance with this Mac media player no matter the device.

Quick and easy streaming
It doesn't take much effort to start a stream in Elmedia. A couple clicks, and you can connect to AirPlay 2, DLNA and Chromecast devices. And you can still control and configure it from your Mac.

Playlist and bookmark capabilities
Managing your media libraries became easier with Elmedia Player as this Mac video player offers an incredible amount of settings for both playlists and bookmarks. Save, modify, load playlists, create, export, import, rename bookmarks, and way more.
Subtitle and audio options
You can open external audio and subtitle tracks when watching videos. If you need to, they can be manually synchronized. Audio equalizer, subtitle search, playback speed - there's a lot you change.
Control the playback
Elmedia Player guarantees enhanced control over video playback. By using this media player for Mac you can sync subtitles and audio, speed the movie up, slow it down, or watch it frame-by-frame or even use the timeline preview thumbnails for easier search across the file.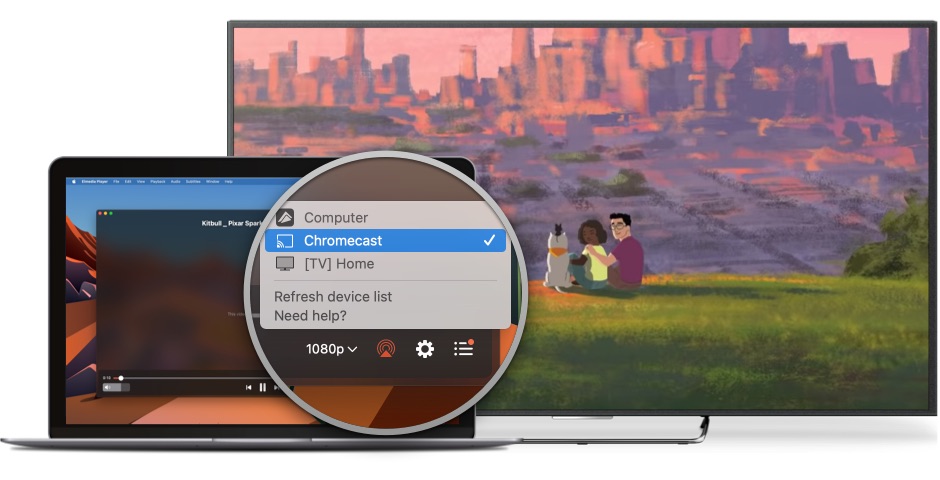 Flexible settings for maximum comfort
In terms of settings and individualization, Elmedia Player is one of the best software to date. This media player offers both enhanced features and simplicity of use. Among its wide range of functions, you can find the following:
Fullscreen Display Selection
Timeline Preview Thumbnails
Interface Color Scheme Setting
Support for External Tracks
Video - Audio Synchronization
… and other handy features.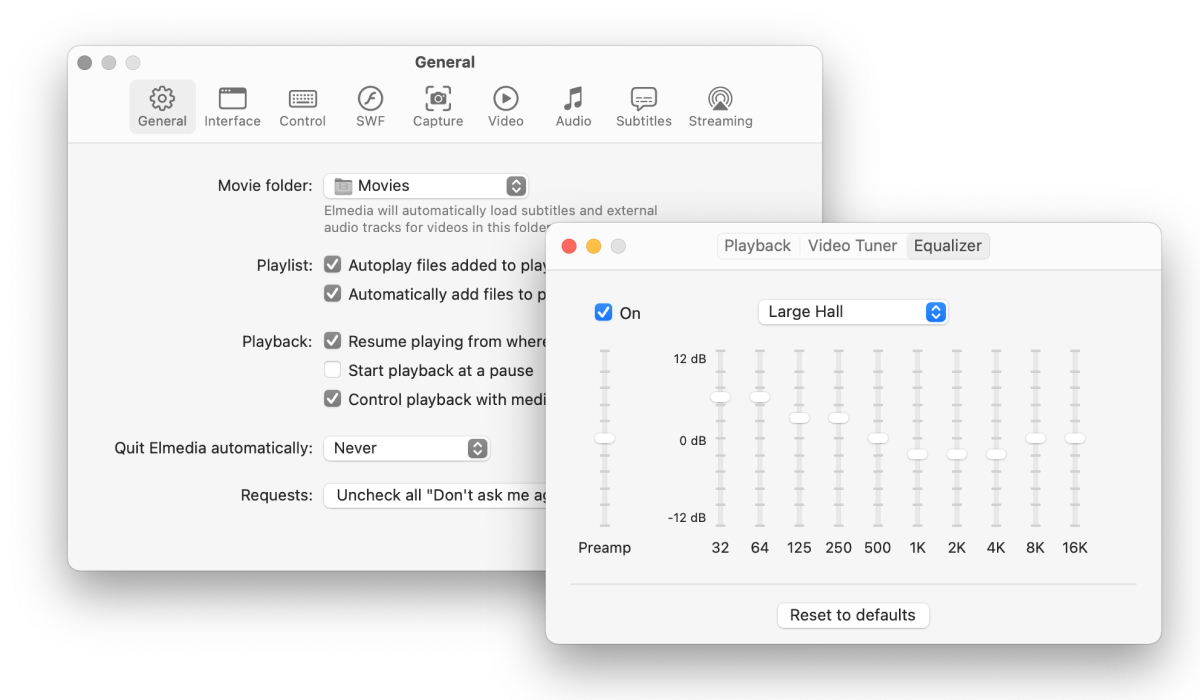 How does this media player for Mac work?
What others say about Elmedia
Elmedia Player is easy to use and takes much of the guesswork out of playing back videos of just about any format you can imagine.
Elmedia Player for Mac is a comprehensive solution for playing all kinds of videos and other media files on your Mac without having to convert them.
Plays all my video files swimmingly. Streaming local videos to the smart TVs is pleasant bonus of the PRO version.
It's a media player for Mac, which boasts a huge range of codecs. All of the features of this program are easily accessible through the app's streamlined interface.
Pricing:
Starts from $19.99
Languages:
Deutsch, English, Français, 日本の, Español, 中文