How to Use This Media Player on Mac?
Customize Your Experience
Customizable Playlists
There's a lot you can do with playlists in Elmedia free media player for Mac. Create and edit them as you see fit; assemble collections for your enjoyment.
Playback Adjustments
Playback in Elmedia isn't just perfect - it's also highly flexible. Many adjustments are available, such as playback speed.


Fullscreen & Multiscreen
Do you have multiple monitors hooked up to your rig? Worry not, Elmedia has an option to switch between them at any time.


Precise Modifications
You can fine-tune every little thing: brightness, contrast, hue, saturation, etc. Adjust the movie to your liking to make your viewing experience even more enjoyable.
Fragment Looping
Any part of the audio can be looped repeatedly. This is an excellent feature if you find a use for it.


Screenshot Gallery
Capture great moments from your favorite movies with the screenshot feature. Also, you can make screenshot sequences automatically.
Desync Alleviation
When the media plays with lag and delays, it's quite annoying. Elmedia makes it easy to fix incorrect audio delay. Better yet, it can even be done while the video is still playing.
Image Deinterlacing
Stripes are a real bane of old footage, but thanks to Elmedia, you can enjoy all of it without this annoying, distracting defect.



Picture-in-Picture
Use picture-in-picture mode to play clips in the background. The video will be shrunk to thumbnail size and pinned above other windows so you can easily multitask.

Timeline Preview
After enabling this feature, you will see a preview thumbnail when you hover over the timeline.


Media Player for Mac
Enjoy Exquisite Sound with Mac Media Player
Looking for the best free media player for Mac with perfect sound? Elmedia delivers flawless audio quality. There are numerous settings to help you improve the sound. Customize it as you want and enjoy watching movies to the fullest.
Elmedia-Specific Volume Controls
There is a built-in volume control feature that allows you to keep system audio settings and Elmedia Player's volume separate. You don't have to worry about apps running in the background.
External Sound Tracks
Want to add a better dub to a video? Or want to watch it in another language? Elmedia allows you to add external audio tracks to videos without any issues.



DTS/AC3 Compatibility
Get surround audio by setting up passthrough for hardware decoders - AC3 or DTS.


Graphic Equalizer
Use the 10-band equalizer to make the sound perfect for you: adjust the sound volume, add more bass, etc. Alternatively, you can choose one of the existing presets.
Configure Your Subtitles
Free Media Player with Extensive Subtitle Support
Subtitle files are often stored and distributed separately from videos. Elmedia
video player for Mac
provides a lot of options available for working with subtitle tracks. Do not miss the opportunity to improve this process.
Automation

Why add subtitles manually, when they can be automatically loaded with the media file?

Visual alteration

Enhance the text of your subtitles. Fonts, colors and sizes are yours to choose.

Open Subtitles

Elmedia provides excellent integration with the opensubtitles.com online service.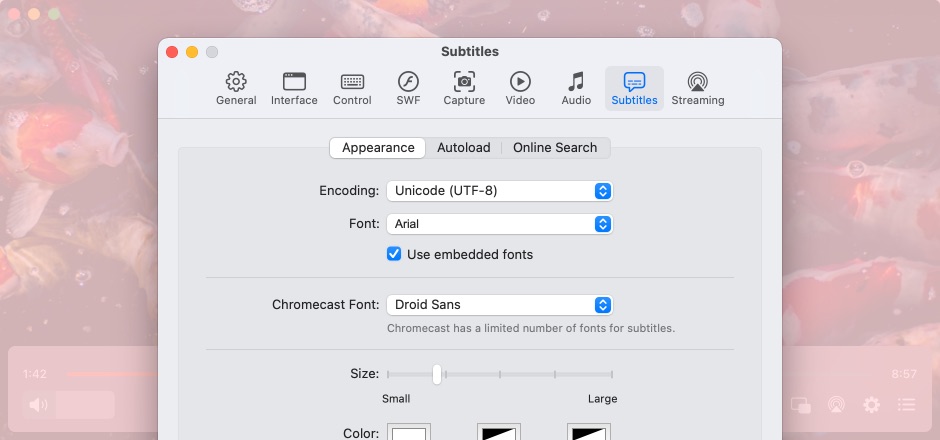 Network-Friendly Player
Mac Media Player with Chromecast, AirPlay and DLNA Streaming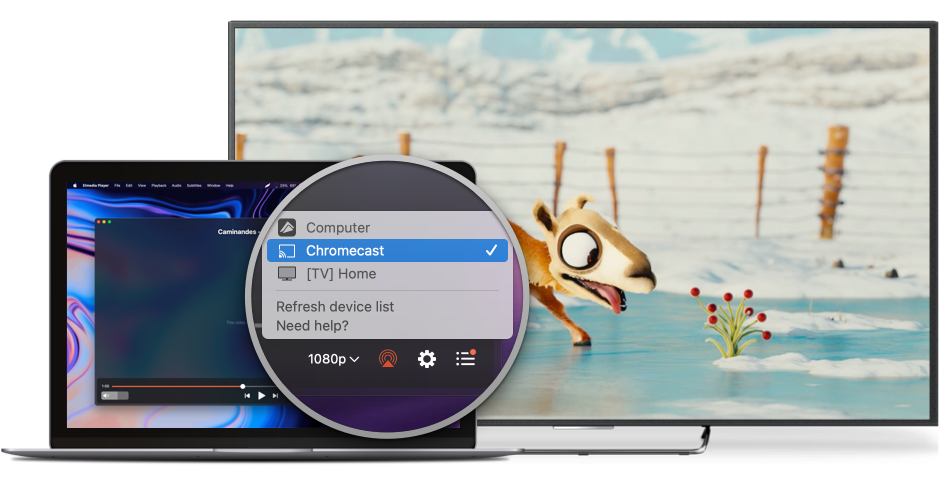 The handy features of Elmedia go beyond your computer. This free media player Mac app lets you effortlessly cast your local content to Apple TV and other AirPlay, Chromecast, or DLNA-certified devices. You can also transfer music from your phone to Mac. Connect to larger speakers for better quality.
AirPlay, Apple TV
As usual, Apple has developed its own network protocol. Used on any Wi-Fi Apple device.
Chromecast
A dongle used to turn normal TVs into Smart TVs. Versatile and compact.
DLNA Protocol
This standardized connection type is rather common. You'll probably find it on a Smart TV.
What other users are saying about Elmedia
If you are searching for an advanced movie Player for Mac, then Elmedia Player is here for you. Elmedia Player is known as the best media player amongst the new generation of Mac users.
Elmedia Video Player for Mac offers a wide range of features to meet all your multimedia needs. You can stream directly to Smart TV or Apple TV.


Elmedia Player has a wide variety of other features and capabilities, but having the ability to play just about every possible video format, tweaking settings as needed for sync, audio and video problems.
It can play any file format including the widely-used ones like AVI, MP4, FLV, SWF, WMV, MKV, MP3, M4V, etc without the need of installing any other plugin or codec.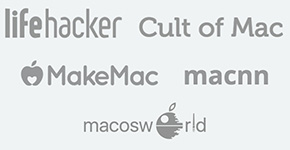 Languages:
Deutsch, English, Français, 日本の, Español, 中文