Chromecast is one of the best ways to stream your favorite movies and shows to your TV wirelessly. It offers a wealth of features that make your viewing experience truly exceptional without costing you a fortune. Some features require third-party apps, but many are built-into the streaming device. 
In this article, we'll review the Google Home app along with many other free Chromecast apps that you can use to cast videos and mirror your iPhone's screen.
Best Chromecast Apps for the iPhone You Can Use for Free
Video Guide About 5 Best Chromecast Apps for iPhone in 2023: Mirroring and Streaming Features
To use Google Chromecast apps, you first have to set up your streaming device with the help of Google Home. Remember that you must be on iOS 14 or above to be able to use Chromecast. 
That being said, here are some of the best free Chromecast apps for iPhone.
1. Google Chromecast App – Google Home
Google Home is an app that helps connect Chromecast to the same Wi-Fi network as your iPhone. Once you've set up your Chromecast with this app, you can start casting videos from compatible apps like YouTube, Netflix, and Google Photos.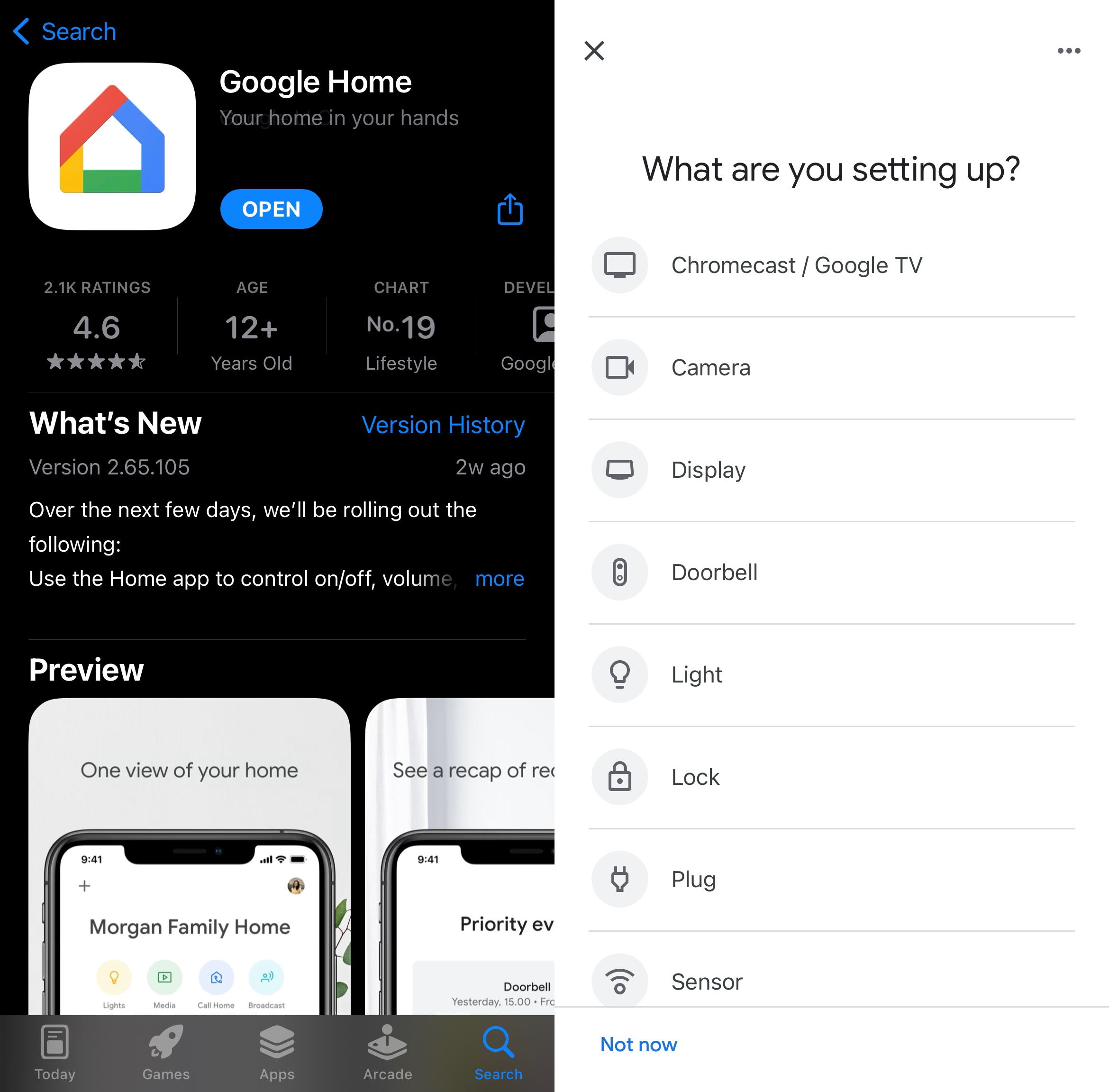 Note that you can't cast media content from every app. For that, you'll need a third-party app. Nevertheless, it's incredibly easy to set up and it takes only a few seconds to start casting with it. 
On the App Store, Google Home has a rating of 4.6/5. The only thing that's missing from the app is a screen mirroring feature. 
Pros
Lets you cast videos and photos from various apps
Easy to set up
Completely free and shows no ads
Cons
Can't use it to cast offline or downloaded photos or videos
Doesn't let you mirror your iPhone's screen
2. TV Cast Chromecast
TV Cast Chromecast is a third-party free Chromecast app that you can use to cast offline photos and videos, and online videos via a built-in browser, and mirror your iPhone's screen.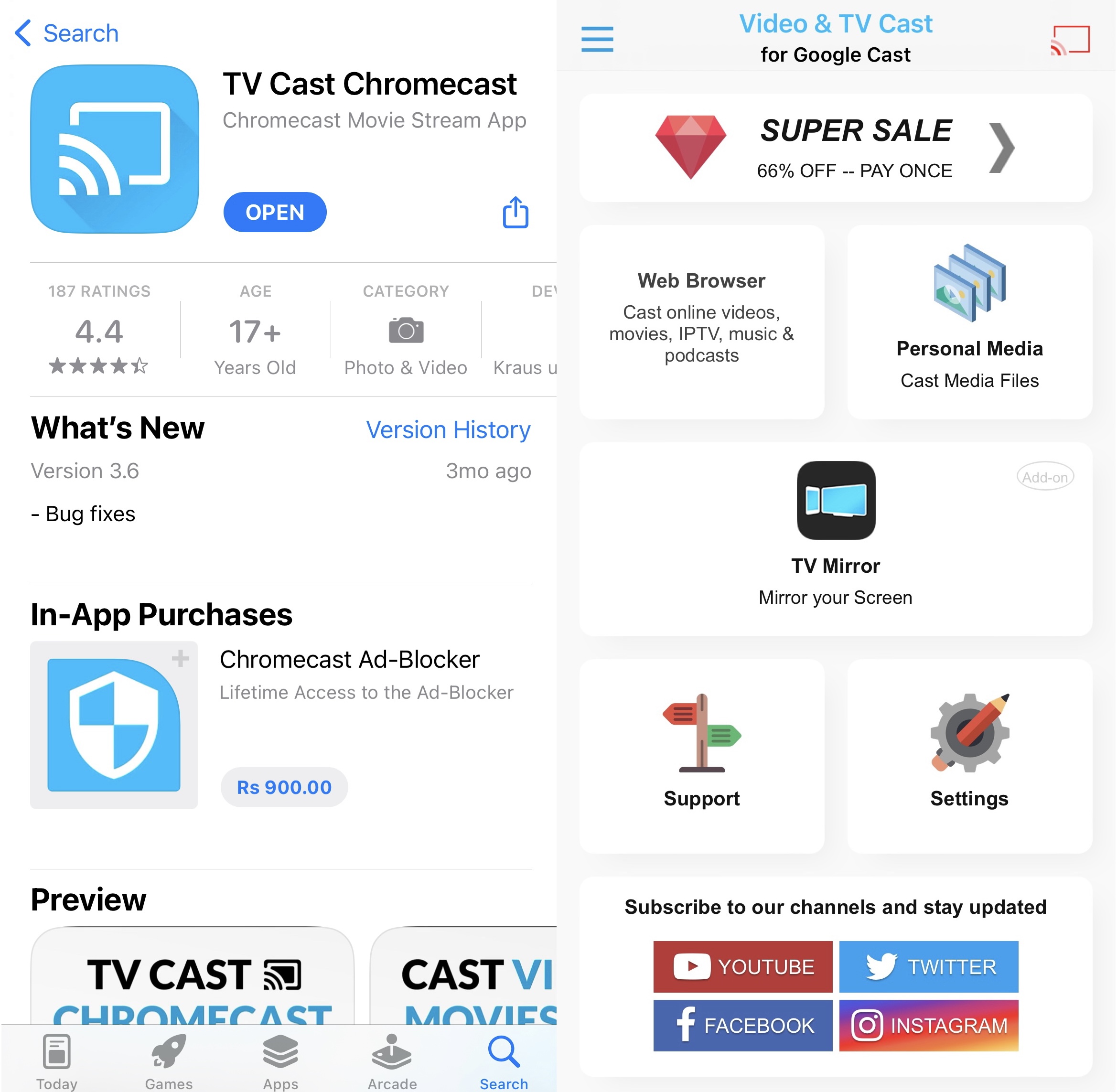 The screen mirroring feature is an add-on that has to be downloaded separately. You can also cast IPTV, music, and podcasts with this app. It automatically searches for your Chromecast device and takes only a few seconds to connect to it.
TV Cast Chromecast has a rating of 4.4/5 on the App Store. 
What we don't like about the app is that the free version shows too many ads. Moreover, you can only cast the three most recent photos or videos on your iPhone.
Pros
Cast photos and videos stored on your iPhone
Lets you mirror your iPhone's screen
Capable of casting web videos, IPTV, music, and podcasts
Cons
Free version only casts the three most recent photos or videos
3. Screen Mirroring on Chromecast
Screen Mirroring on Chromecast, more popularly known as AirBeamTV, is another third-party app that you can use to cast offline and online media content from your iPhone to your TV.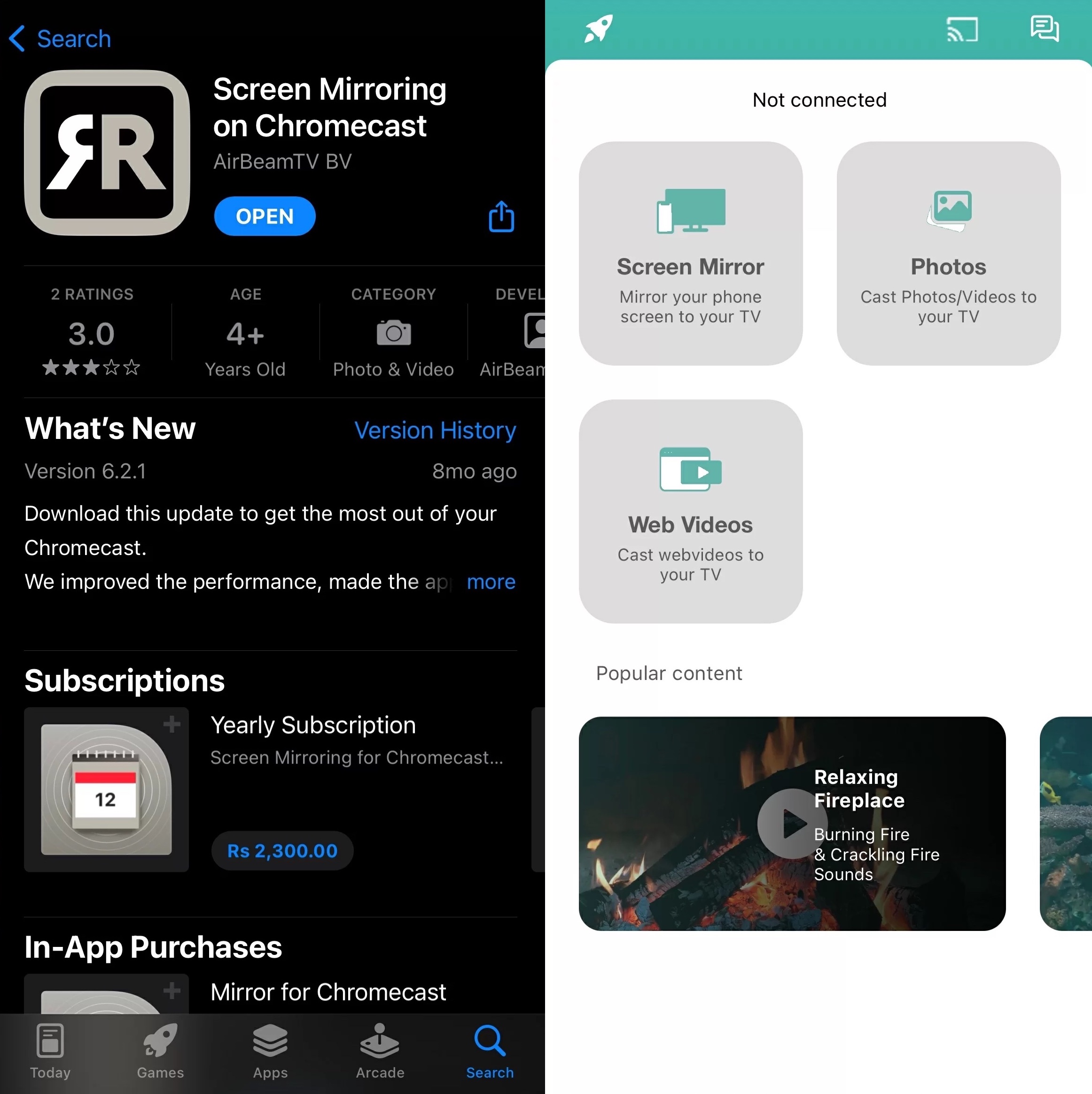 Just like most third-party Chromecast apps, AirBeamTV allows for screen mirroring on the iPhone. What's unique about this app is that it's available on multiple platforms including iPadOS, macOS, and Android. 
The dashboard of the app is much cleaner than that of many other apps. On the App Store, the app has a rating of 3.0/5.
You won't hear any audio while screen mirroring if you're on the free version and there's a latency of 2-3 seconds so it's not the perfect app for gaming.
Pros
The app isn't filled with ads
Available on multiple platforms
Casts both offline and online media content
Cons
No audio when screen mirroring
Slight latency during screen mirroring
4. iWebTV: Cast Web Videos to TV
If you want something to cast videos directly from a browser, then iWebTV is the app you're looking for. It comes with a built-in web browser that lets you cast any video from a video streaming site.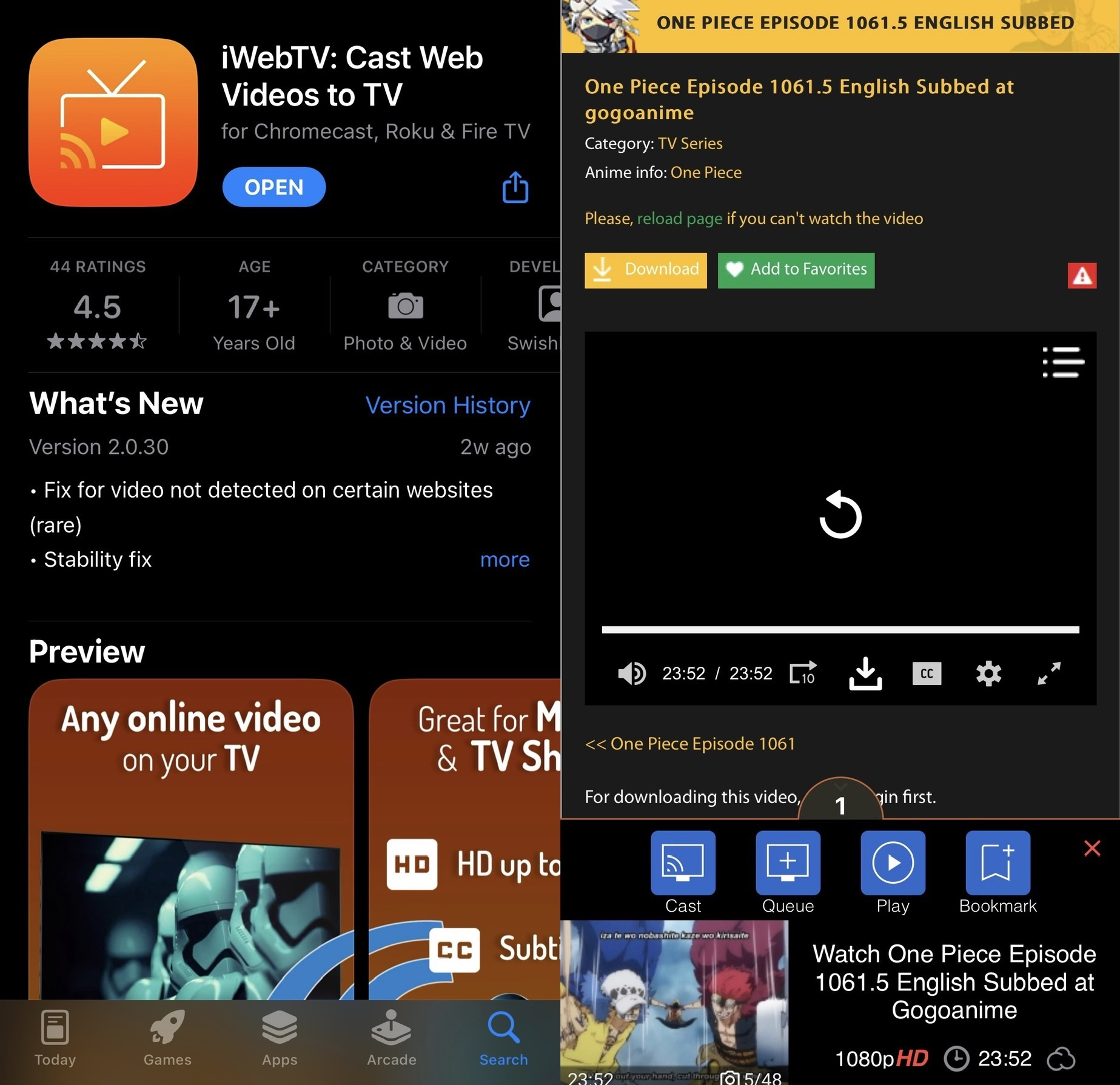 There are no other features. What makes this app better than others at casting online videos is that it lets you stream them in 1080p for free. You don't even have to watch any ads before playing your video!
Once your video starts playing on your TV, you can create a playlist on your iPhone. You also get playback controls on the phone where you can adjust the video's quality and add closed captions.
The app has a rating of 4.5/5 on the App Store, but we do believe that it could improve its UI a little. It can sometimes glitch out when you're trying to cast videos from certain sites.
Pros
Specifically made for casting online videos
Lets you cast videos in 1080p at no extra cost
Doesn't show intrusive ads
Cons
Occasional glitches when casting from certain sites
5. Screen Mirror・Smart View Cast
Screen Mirror・Smart View Cast is another app that has a visually appealing app design which makes it incredibly easy to use. Its free version has limited screen mirroring and lets you cast for free both offline and online media content.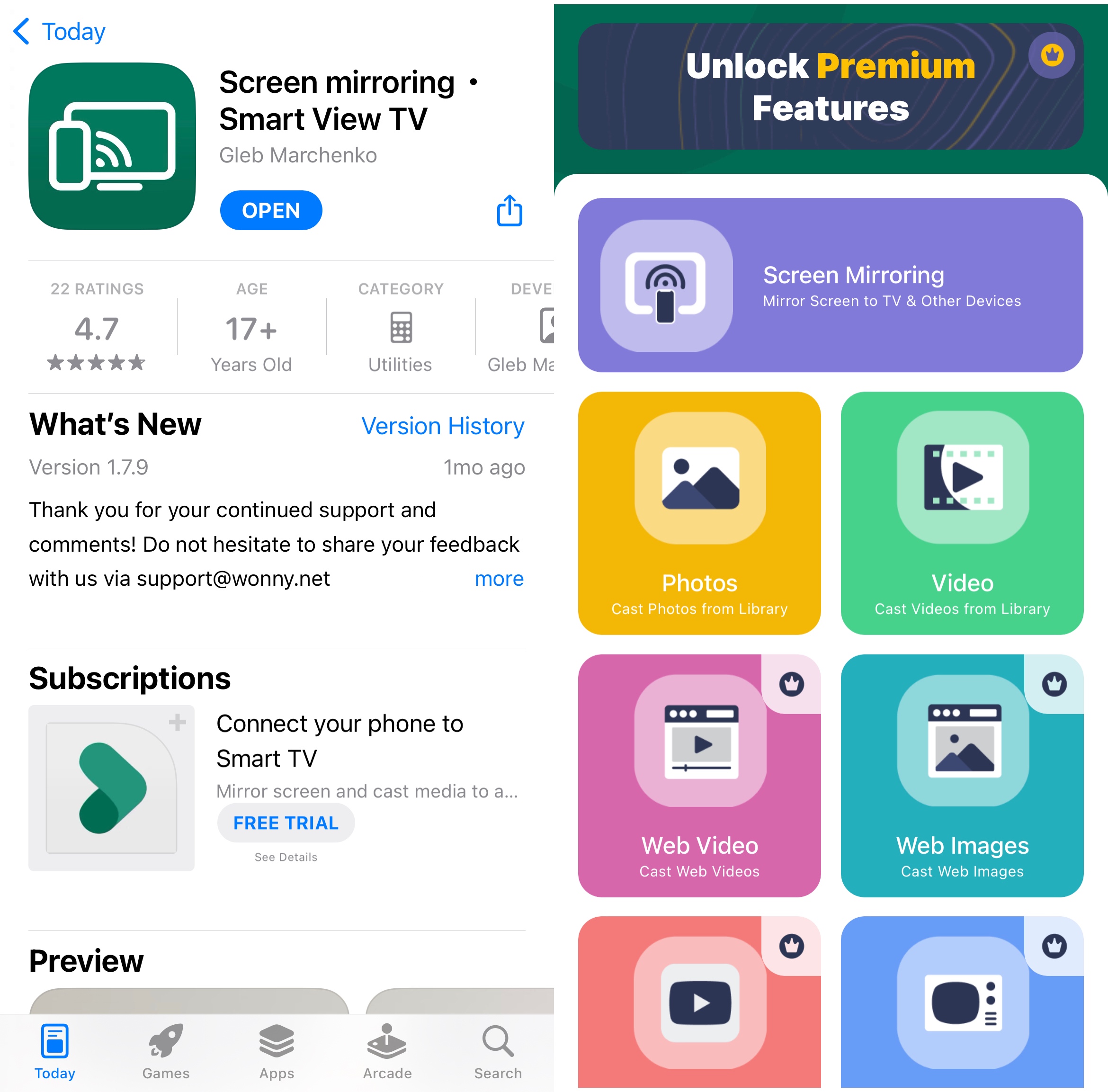 The free version only allows you to cast offline videos and photos. When you upgrade to the premium version, you can cast videos directly from YouTube as well as IPTV. 
Smart View Cast is capable of mirroring your phone's screen without any latency, which is why it's a solid choice for things such as gaming and presentations. 
While the app is great for both casting offline content and screen mirroring, the fact that the developers have chosen to keep online casting locked behind a paywall is confusing since you can do it for free using nothing but the Google Home app.
Nevertheless, no-lag screen mirroring is an enticing feature, so it's worth giving it a try. Plus, the app has a rating of 4.7/5 on the App Store.
Pros
Aesthetically pleasing UI
User-friendly app
Lets you cast offline content and mirror your phone's screen for free
Cons
Can't cast online videos on the free version
6. Replica
It's impossible to create a list of free apps for Chromecast and not include Replica. It's currently one of the best apps on the market, thanks in part to its minimalistic UI and features.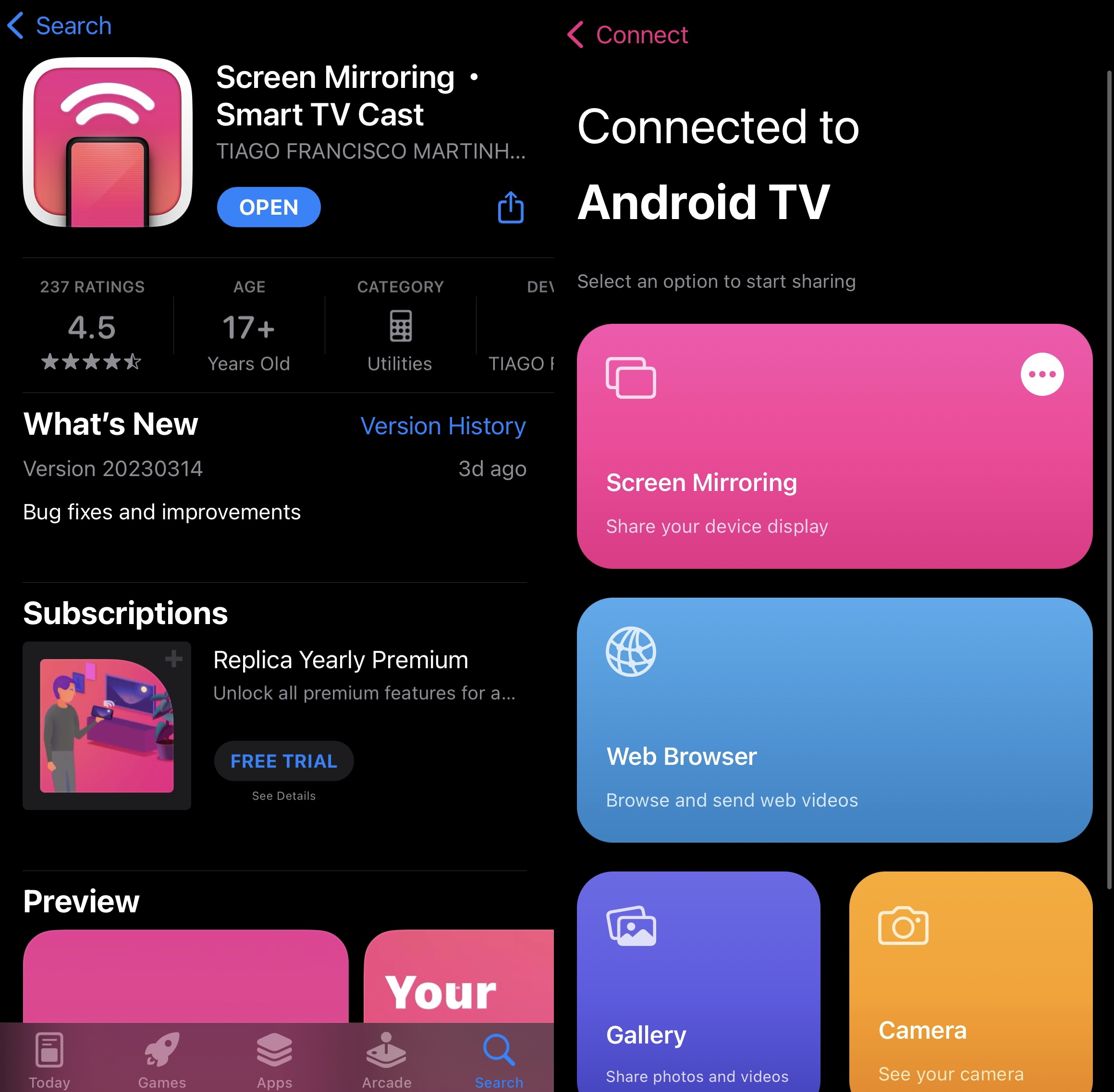 You can use this app to cast offline and online content and mirror your iPhone's screen for 15 minutes. It's available on iOS and iPadOS. 
The best part is that the premium version costs only $2.50 per month and it also has a 3-day trial version. On the App Store, it has a rating of 4.5/5. 
Pros
App's minimalistic UI makes it extremely user-friendly
App can be used to cast offline and online media
Has a 3-day trial version
Cons
Screen mirroring on the free version has a limit of 15 minutes
7. Web Video Cast | Browser to TV
Web Video Cast is mainly a browser that you can use to stream online videos to your Chromecast, but it also has some other features. For example, you can cast files stored on your iPhone and via IPTV.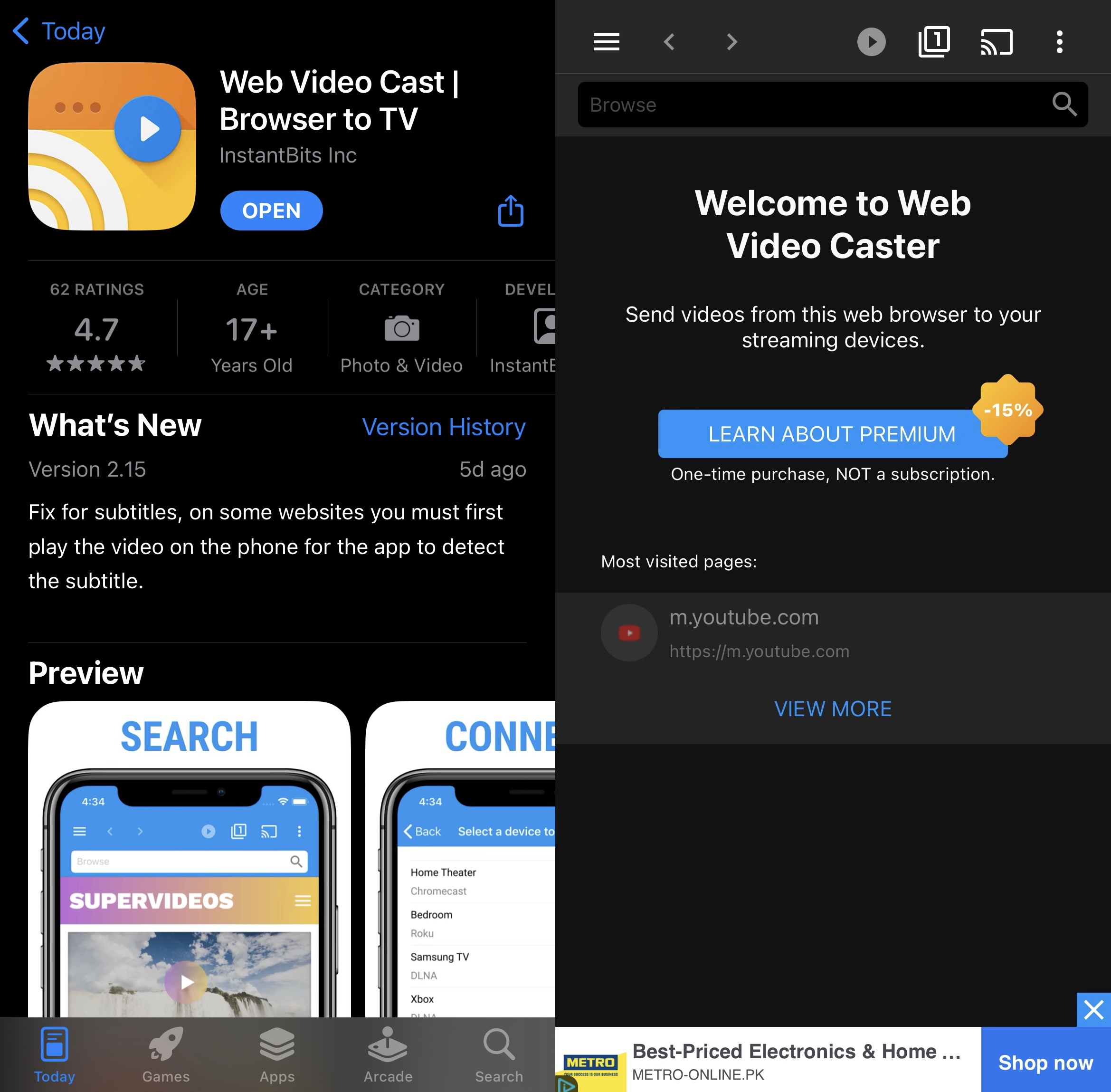 The app allows you to create a playlist so you don't have to manually choose the next video. You can directly access the downloads and the most recent folders in the app. With the premium version, you can even create bookmarks of your favorite video streaming sites.
Web Video Cast is capable of detecting subtitles on the page where your video is streaming. On the App Store, it's rated 4.7/5. 
Pros
App lets you cast offline videos and photos
Functions mainly as a browser so you can cast from any video streaming site
Allows you to create playlists
Cons
No screen mirroring
Bookmark feature requires a premium subscription
How to Choose the Ideal Chromecast App for iPhone
Which app you should ultimately get is your decision to make and depends on various factors. Here are some things to consider which may make it easier for you to decide:
✅

Features

– Consider what features the app has to offer and see if they meet your requirements. Most free third-party Chromecast apps will have features such as offline and online casting, and screen mirroring, but some of them may require a premium subscription.
😊

Ease of use

– Make sure you check how easy it is to use the app. Does it show too many ads? Is it easy to access all its features? These are only some of the questions you should ask when evaluating the user-friendliness of a Chromecast app.
⭐

Reviews

– The App Store is full of apps that claim to do things they can't. That's why it's important to read user reviews and check the ratings on different websites. If the app mostly has poor reviews, then it's best not to use it.
📱

Compatibility

– If you have multiple platforms, then check if the app you want to get supports all of them. Many third-party apps work on iOS, iPadOS, Android, and even Windows.
💸

Premium version

– We recommend choosing an app that has a cheap premium version so you can easily upgrade if you ever feel the need to unlock more features or remove ads.

💿 Updates

– Always make sure you check when the app was last updated. Frequent updates mean the developers are committed to listening to their users' concerns.
Conclusion
Finding a free Chromecast app for the iPhone isn't too hard nowadays. Deciding which one to actually use is, though, because of how many there are. 
Google Home is a great choice if all you want to do is cast videos from compatible apps, but if you want more features, then it's a good idea to explore third-party options. If you want more than just casting online media, then we recommend using Replica. It lets you cast offline content as well as mirror your iPhone's screen.
Frequently Asked Questions
You can connect to Chromecast for free with the help of Google Home. It automatically detects your Chromecast device and helps connect it to the same Wi-Fi as your iPhone. Connecting iPhone to TV takes only a few seconds and it's one of the prerequisites to casting or screen mirroring your phone.
Google Home is a free app you can use to cast from iPhone to Chromecast, but you can only cast from compatible apps such as YouTube and Netflix. If you want to cast offline videos or from an incompatible app, we recommend using one of the third-party apps we've mentioned in this article.
There's a plethora of third-party apps for Chromecast that you can use on your iPhone. We recommend Replica if you want both offline and online casting, along with screen mirroring. If you only want to cast online videos from your browser, then it's worth checking out iWebTV.