NEW
Yoo-hoo! Commander One is now natively compatible with Apple M1-powered Macs!

Show all processes
This Task Manager Mac alternative allows you to seamlessly view all the processes that are running currently in the system.
Show info of all the processes
Find out information about every single running process on your Mac (PID of the process, used memory, date and time of launch, user who launched the process).
Kill the process
Convenient way to kill running processes with the ability even to kill system processes (enabled root mode is required).
Connection Manager
Commander One guarantees fast and seamless access to all your clouds and remote servers right from its interface. It is one place for all your online connections and a great Mac Task Manager.
Commander One lets you work with the remote servers and supports work with FTP, SFTP and FTPS protocols.
Amazon S3 or any S3-compatible storages can be flawlessly accessed from your own copy of Commander One.
In addition to FTP, SFTP, and FTPS, this Mac OS Task Manager alternative supports work with WebDAV protocol.
Make it possible to share files directly from Commander One and have your multiple Dropbox accounts at your fingerprints.
Have access to every single sheet or doc no matter the Google drive account. Facilitate the work with online files.
Link your Microsoft storage with Commander One and access your online files the same way as local ones.
Commander One makes it possible to work with OpenStack docs with no need to synchronize or copy files to the hard drive.
Convenient online file handling with the help of Backblaze client alternative for Mac – Commander One.
Link numerous Box accounts and handle your online files right from Commander One's interface. Facilitate Box file sharing.
Encryption for extra protection on all online connections
Add an extra layer of protection to the file transfer between your Mac and cloud accounts as well as remote servers. Our Task Manager Mac alternative guarantees safe work with your online files due to support for an advanced encryption standard.
Web services (FTP, Amazon S3, WebDAV)

Cloud storages (Dropbox, Google Drive, OneDrive and more)
Private files

s#hV*IJ@3*mK

folder

mountencr2

Research

iu3T5YKp$dVy

xls

mountencr2

Presentation

(F-7bd[,-[Nj

png

mountencr2

Report-20xx

ypZp}tx6GL<d

doc

mountencr2
Encrypt data
File manager at no cost
Commander One is not just a macOS Task Manager alternative but first of all, it is a free file manager with an impressive set of features that guarantees fast and convenient file management. Whether you are a savvy user or just a newbie, Commander One is a perfect app where you can find everything you need and have full control over your files.
Unhide hidden files
Convenient way to unhide all the hidden files on your Mac
Fonts & Colors
Create a stylish interface by choosing any color and font
Brief mode
Handle multiple files on your Mac computer at a go
History and Favorites
Convenient work with already opened files as well as access to your favorites
essentials at your fingertips
Personalized Hotkeys
Any task can be executed via a personalized hotkey
Unlimited tabs
Use two panels together along with the multiple numbers of tabs
Seamless items selection
Select files in the most convenient way with the help of Commander One
Systematic file operations queue
Systematize your file operations methodically in a queue
helpful tools you get for free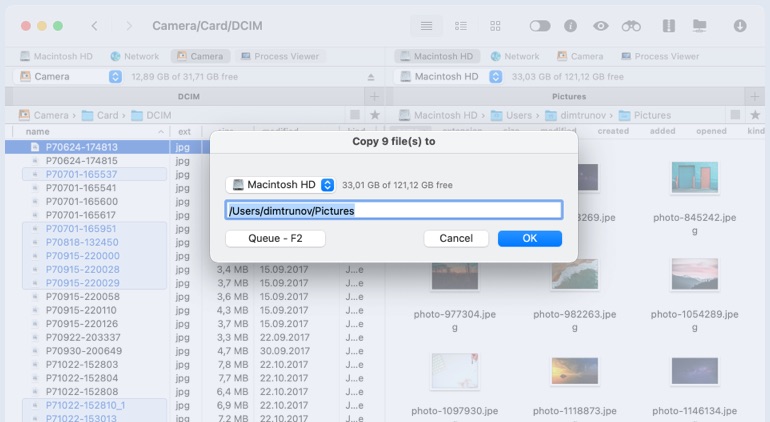 ZIP Support
Convenient work with ZIP archives right from Commander One
Built-in file viewer
Provide a backup to different types of files like text, media, image, HTML as well as the Hex and Binary
List of Computers in local network
Detect and get a display of all these computers that are sharing the same network with yours
Root Access
Easy and convenient access to all your files
PRO Pack Features
Commander One offers a PRO Pack that offers more useful features and adds functionality to your file management. Available for 15 days for free!
Connection Manager
Multiple cloud storages and remote servers can be mounted to your Mac as local drives
Mount iOS devices
Ability to connect your iOS devices as a regular disk and have convenient work with their content
Mount Android devices
Media information and photos from your Android as well as other files can be seamlessly reached right from Commander One
Mount MTP devices
Ability to work with MTP devices and access their content with ease
Work with different archives
The app support work with the most popular archives, namely ZIP, RAR, TBZ, TGZ, 7z files
Terminal emulator
Manage the system processes right from Commander One interface
Process manager on Mac
Have full control over the running processes on your computer with the ability to quit any of them
Themes
Commander One offers set of themes to choose from, as well as an infinite color palette
Frequently Asked Questions
Commander One Languages
Český

Deutsch

English

Français

Українська

Magyar

日本の

한국어

Polski

Русский

Español

Nederlands

中文