One cannot overestimate the importance of having a good file manager – not only for staying organized and sharing items, but also for synchronizing across devices and online storage accounts. Nowadays there are a lot of options on the market – some are good at performing basic operations, while others offer more advanced functionality. Choose one carefully depending on your needs and required features.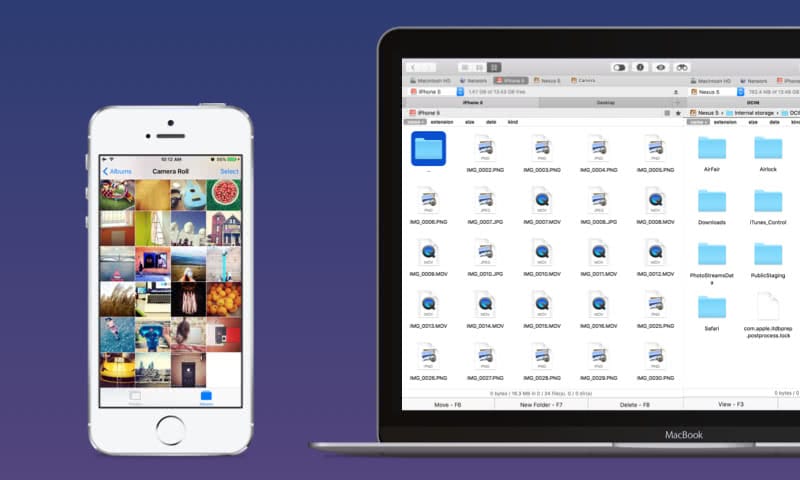 If you have to interact with iOS devices often, e.g. you need to import photos from iPhone, transfer music from iPhone to Mac, copy files to iPad, etc., Commander One is a terrific choice. This application developed by Eltima Software helps you with iPhone file transfer, iPod to Mac transfer. It is also serves as a very convenient iPhone file browser. How is that? Commander One is capable of mounting iOS devices on Mac as if they were additional hard drives so you can easily browse their contents.
Introducing Commander One
If you are a long-time computer user – and by 'long-time' we mean since the era of Norton Commander – you are likely to fall for Commander One at a first glance. It features the classic dual-pane interface, where copying and moving files is a matter of a drag-and-drop operation from one pane to another. Navigating the application is equally easy. The number of tabs you can keep open in Commander One is practically unlimited, and you can select only those files you need.
Working with Commander One
Download Commander One from the developer's web site, install it and launch the app. For iPhone file transfer connect iPhone to Mac with the help of USB cable. Now your phone appears as a flash drive and you can view files on iPhone, access User/Media iPhone folders and get photos off iPhone. The same works for other iOS devices, connect them to Mac and go ahead – transfer files to iPad, your favorite tracks to iPod, etc.
Apart from performing basic file management operations such as copy, paste, delete files and folders this iPad/ iPhone file explorer offers the following functionality:
Brief mode – for you to view a large number of files and folders at once
Display hidden files using a handy switch
History & Favorites – navigate easily to your recently and frequently visited locations
Hotkeys – setup a key or their combination for quick access to a functionality
Operations queue – this requires less resources and does not slow down your Mac
ZIP and un-ZIP – compress and extract data of this format
Search – you can locate files even in archived folder
File viewer – you can view files of various formats, including hex and binary
Bonjour service – to detect and list network computers and devices
Root access – to get full control over your Mac
Themes – choose a look for Commander One.
This functionality is included in the free edition of the application. If you need a file manager to transfer files from iphone to mac check, the app's PRO Pack – its advanced functionality is available to you for trial period of 15 days. The highlight of the paid functionality is mounting cloud storage services – Amazon S3, Dropbox, Google Drive, OneDrive WebDAV – on your Mac. You can access their contents through Commander One as if they were stored locally – they aren't, unless you choose to open them. MTP and Android devices can be mounted too. Built-in FTP/ SFTP/ FTPS client allows you to transfer data online in a secure way. The list of archive formats supported is longer than of the free edition, it includes ZIP, RAR, TBZ, TGZ, 7zip. Terminal emulator enables you to execute text commands – this feature will certainly be appreciated by computer geeks. Also, there is a way to view processes running on Mac and end them, if required.
This iOS transfer app for Mac is fully compatible with Mac OS 10.10 and later and supports iOS up to 10.x version.
Commander One
Requirements: MacOS 10.12+ , 37.59MB free space
Version
3.3(3508)
(
8 Sep, 2021
)
Release notes
Category:
System Utilities