NEW
Yoo-hoo! Commander One is now natively compatible with Apple M1-powered Macs!

 ————————————————————————————
| >                          |
 ————————————————————————————


/Command Line
Execute terminal commands directly from Commander One window.
 ————————————————————————————
| 000                        |
 ————————————————————————————
| >                          |
|                            |
|                            |
|                            |
|                            |
|                            |
|                            |
|                            |
 ————————————————————————————


/Emulator window
Bring Terminal window up front really fast with the hotkey and manage your files and processes like a pro.
/Use Terminal for folder management
Apply commands to the contents of a folder currently opened in the file manager window.
Free File manager for Apple
Commander One is your go-to file management app with the classic dual panel interface and modern operating mechanisms. For the true fans of Total Commander for Windows, Commander One for Mac is a perfect switch. It is considered an effective Finder alternative for those looking for a fast and professional data management.
Show hidden files
Show/hide hidden files with a handy toggle switch
Fonts & Colors
Brighten up your long working day with favorite fonts and colors
Brief mode
Perfect for a simplified overview of all your files
Favorites and History
rack your file operations and get a convenient access to the most used files
essentials at your fingertips
Customized Hotkeys
Create your own combinations for lightning-fast operations with files
Unlimited tabs
Never run out of tabs, have the most used folders always at hand
Convenient items selection
Selection of items is as easy as if you were hand-picking them
File operations queue
Ongoing file operations are queued in the background for easy access
free and handy bonus tools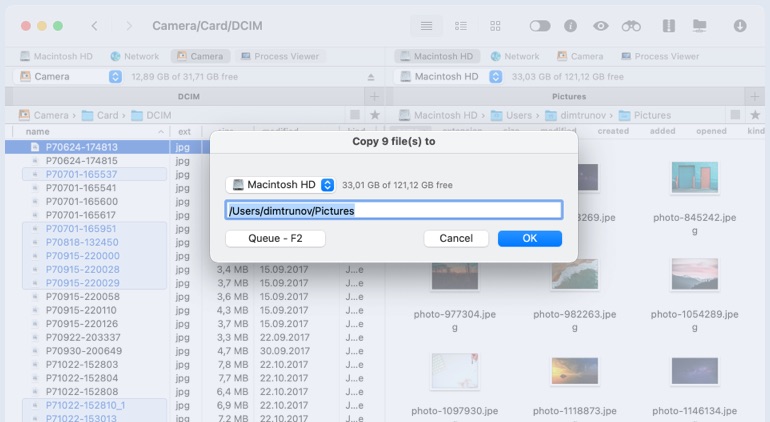 ZIP files
Compress or extract ZIP archives with an ease
Built-in file viewer
Hex, Binary, texts, images, media, HTML types are all supported
Local Computers on tap
Commander One can locate available machines on the network and list them
Root Access
The most complete control over your files with the deepest access
PRO Pack
A powerful PRO Pack of Commander One can be used for free for 15 days!
Enjoy an easy access to remote servers via FTP, SFTP or FTPS
Work with Amazon S3
Your Amazon S3 files are easy to work with just as if they were saved locally
WebDAV protocol
Connect to and work with WebDAV servers directly from Commander One window
Dropbox
Mount or integrate your Dropbox accounts. Thanks to integration you get the sharing possibility right from the app
Mount Google Drive
Work with your multiple docs and sheets without even opening a web browsers
Microsoft OneDrive
Work with your online content in the same manner as with local files
Accessing and managing an iOS device content as a mounted disk is so easy
Mount Android
Connect your Android device to Mac computer and manage files there as if stored locally.
Browse files of MTP devices on Mac or MacBook, move documents to computer and back.
Compress and extract your archives in Commander One
Process viewer
View all ongoing processes on your Mac and quit any if needed
Terminal emulator
Manage your files and folders as a pro with this fast and simple approach
Personalization
Enjoy personalization in Commander One with lots of fun color schemes
OpenStack Storage
Manage files in OpenStack Object Storage without copying the content on the hard drive.
Backblaze B2
Get the access to your documents in B2 cloud storage with this Backblaze client for macOS.
Box cloud
Download from and upload files to Box cloud drive, share them directly from Commander One.
Český

Deutsch

English

Français

Українська

Magyar

日本の

한국어

Polski

Русский

Español

Nederlands

中文