NEW
Yoo-hoo! Commander One runs natively on Mac computers with Apple silicon: M1 and M2 series!

Mount iOS Device
Your iOS device can be easily mounted as a flash drive when you connect it to your computer with a USB cable. Seamless iOS file transfer is possible via Commander One.
Transfer Files
Use iOS file transfer functionality to carry files from one Mac to another.
Free file manager for OS X
Manage all your files with the best — with iOS file transfer software Commander One. It unites a keyboard and mouse speed with convenient dual-pane style and modern software approach. Commander One is an ultimate replacement for Total Commander for those switching from Windows to Mac. It can also be a Finder alternative with lots of versatile options.
Hidden files
Show/hide hidden files with a handy switch
Fonts & Colors
Set up the most pleasing colors for your eyes
Brief mode
View and manage many files and folders at once
History and Favorites
The most used materials are easily accessible and all history is well documented
essentials at your fingertips
Custom Hotkeys
Perform any action with your favorite key combo
Unlimited number of tabs
When done working with some folders for now there is no need to close them to switch to others
Convenient selection
Be flexible and select only those files you want to work with
Operations queue
Store your file operations in the background queue
free and handy bonus tools
Zip archives
Seamlessly compress and extract ZIP files
Built-in file viewer
Work with Hex and Binary files additionally to the text, image, media, HTML formats
Local Computers at hand
Commander One detects local machines and lists them
Root Access
The most profound access to your files
PRO Pack
You are welcome to enjoy and test the fullest Commander One PRO Pack for 15 days for free!
FTP Manager
This iOS file transfer software also allows using FTP, SFTP or FTPS to connect to remote servers with built-in FTP client.
Amazon S3
Your Amazon S3 files are on hand and easy to work with.
WebDAV
Your files on WebDAV protocol server are easy to manage directly from Commander One.
Dropbox
Mount and integrate as many Dropbox accounts as you need. Share files directly from the app when integrated.
Mount Google Drive
Work with all your sheets and docs in a professional dual-pane environment.
OneDrive
Work with online files as if they were on your hard drive by linking your Microsoft storage to Commander One.
Mount iOS device
Get an easy and comprehensive access to your iOS device. Transfer file from Mac to iPad, iPhone and back with just a couple of clicks.
Mount Android
Work with Android devices files as if they were stored in a local folder on Mac.
Mount MTP
Browse files from MTP devices on Mac, move any of them to the computer and back.
Compress and extract
ZIP, RAR, TBZ, TGZ, 7z files are supported.
Process viewer
Processes running on Mac are easy to access with the possibility to quit them.
Terminal emulator
Check out how fast it is and add up on much needed features.
Themes
Use various color themes to make your Commander One the reflection of your personality.
OpenStack storage
Manage files in OpenStack Object Storage without copying the content on the hard drive.
Backblaze B2
Get the access to your documents in B2 cloud storage with this Backblaze client for macOS.
Box cloud
Download from and upload files to Box cloud drive, share them directly from Commander One.
How to transfer files from iOS devices to Mac and vice versa via Commander One
With the help of Commander One you can easily transfer file from Mac to iPad, iPhone, iPod and back while using a simple USB cable. To get to the content of your iOS devices right from your Mac, follows this simple steps:
Find your iPhone in the Finder's sidebar.
Select iPhone and click "Trust" in Finder's window.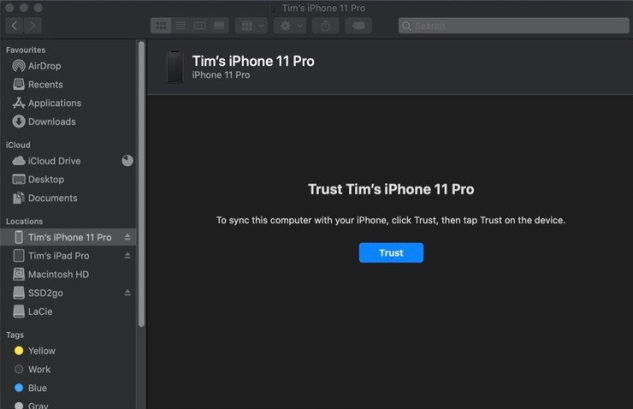 After that click "Trust this device" on your iPhone.
Reconnect your phone via a USB cable.
Open iOS file transfer software – Commander One. Your iPhone will be mounted as a local drive.
Frequently Asked Questions