NEW
Yoo-hoo! Commander One optimized for both Apple silicon and Intel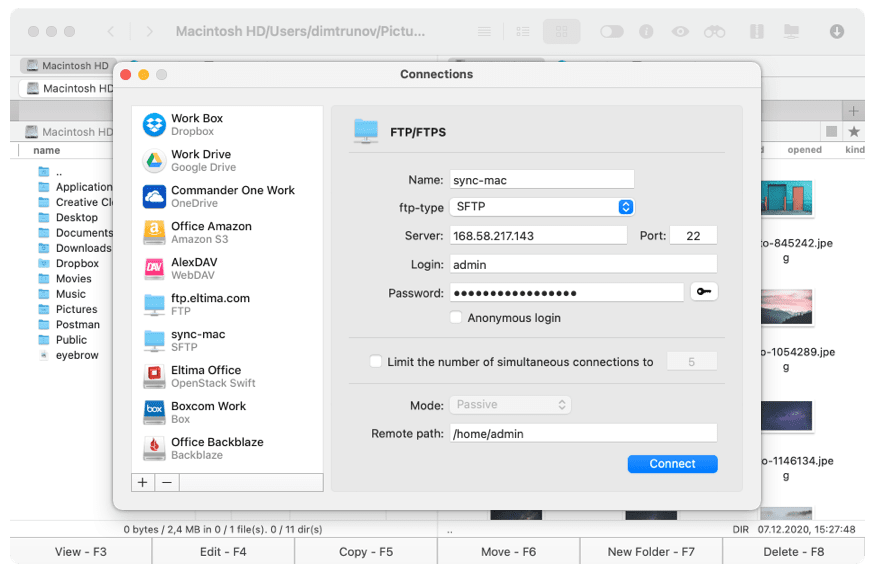 Full protocols support
Commander One provides you with the fast and secure way to transfer and share your files via FTP, SFTP and FTPS.
Multiple connections
Tabbed browsing, multiple connections at a time — all to provide flawless and effective file transfer for Mac.
FTP server as a local drive
Map FTP server as your local drive to work with files as if they are located at your local machine — copy, delete, create, edit, etc.
Connection Manager
Your one place to access and manage all your clouds and network servers.
Connect to remote servers via FTP, FTPS and SFTP protocols with Commander One built-in FTP client.
Connect to and manage data in your Amazon S3 or S3-compatible storage. Link your entire account or just the specific buckets.
Servers with WebDAV protocol are at your fingertips with Commander One.
You can integrate all your Dropbox folders in Commander One for easy access and sharing.
Mount as many Google Drive accounts as needed to access and work with your online files.
Link your storage with Commander One. You can work with your online files just as if they were saved on your hard drive.
Mount all your OpenStack documents without synchronizing with your Mac and copying the content on the hard drive.
Manage your documents directly on Backblaze B2 cloud storage with Commander One for macOS.
Manage files from Box cloud storage on Mac. Get more opportunities for Box file sharing with Commander One.
Mount Devices
How does working with all of your devices from one app sounds? We think it is pretty convenient to manage Android or your camera content in Commander One.
Access and work with the data on your video or photo camera. Connect it with a USB cable to mount it as a drive on your computer.
Mac's big screen is great for browsing your photos and videos without copying or moving all of them back and forth.
Browse and manage Android files
If you have movies, music and photos on Android that you'd like to watch on Mac you won't even need to copy the files there. And of course you can copy and move files back and forth between your Mac and Android when needed.
Commander One allows flexible work with various types of archives. Open your archive as a folder, delete files from it if needed. Conveniently search through archives to find any of your files.
Work with ZIP, RAR, TBZ, TGZ, 7z files: compress (only RAR can't be compressed just for now), extract, get full access and search through archives.
Themes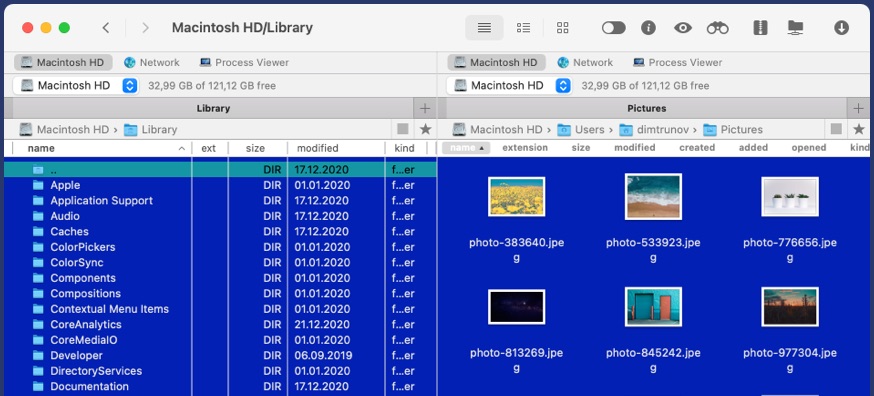 We have created various color themes to personalize your Commander One and you can tune your very own for unique appearance.
Advanced search with Regular Expressions
Find anything you need with Commander One on any disk. Regular Expressions help you make your search more specific and it can be case sensitive too..
Search the contents
If you can't remember the name of the document, use flexible settings and even choose text encoding to find a file by its contents.



Spotlight search
Commander One offers advanced search and search by contents, but for your utter convenience there is also Spotlight search available!
File manager for Mac
Commander One easily handles big loads of files and folders on Mac. It is a professional yet very accessible dual pane manager fully crafted in Swift offering all kinds of convenient file management options, think of anything — it probably has it!
Show hidden files
Just one click on a toolbar icon to see all hidden files on your computer
Fonts & Colors
Set up color scheme for Commander One for pleasant work
Brief mode
See and work with multiple files and folders at a time
History and Favorites
Access your favorite folders or those you recently used easily
essentials at your fingertips
Customizable Hotkeys
Assign your most frequent actions with their own hotkey combinations
Unlimited tabs
Open as many tabs as you need in each panel of Commander One
Flexible items selection
Select those files you need right now
Current operations queue
Manage ongoing file operations
handy tools as a free bonus
ZIP Support
Archive or extract ZIP with an ease
Built-in file viewer
Text, media, images, HTML files are supported along with Hex and Binary.
List of Computers in local network
All computers over network are detected and displayed in the list.
Process viewer
Look through the list of all processes running on your Mac.
Commander One full list of Version Differences
| # | Features | PRO Pack | PRO (MAS) |
| --- | --- | --- | --- |
| 1 | Two panels with three view modes and unlimited tabs | | |
| 2 | Multiple selection | | |
| 3 | File operations queue | | |
| 4 | Rename files during copy and move operations | | |
| 5 | Set up custom hotkeys for any action | | |
| 6 | Work with local and network drives | | |
| 7 | Customizable fonts & colors | | |
| 8 | Spotlight search | | |
| 9 | Show hidden files | | |
| 10 | Advanced search with regular expressions | | |
Commander One
Requirements: macOS 10.13+
51.85MB free space
Version 3.7(3831) (25 Sep, 2023)