How to Connect Android to PC – USB and Wireless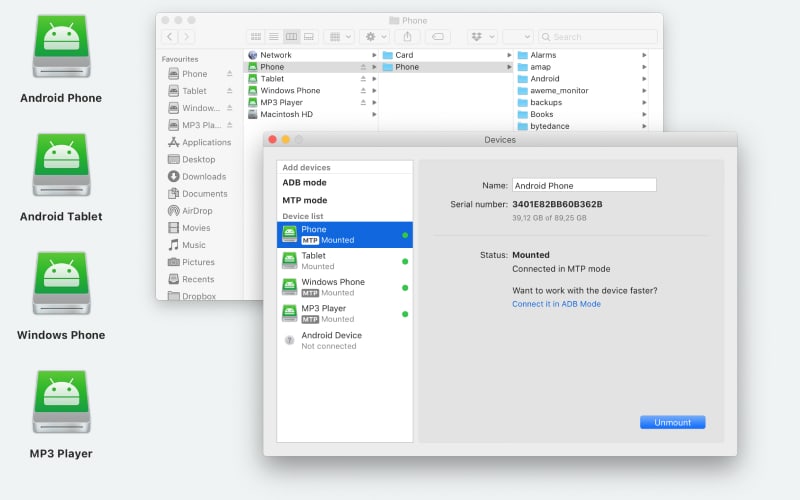 Android is one of the most used operating systems in the world and the driving force behind a range of devices. Whether it's an image, video, or document, most smartphone users will find themselves needing to transfer files from their Android devices to a PC.
When we say PC, we mean any computer or laptop that's running Windows or macOS. There are a couple of different ways you can move files between two devices.
In this article, you'll learn how to connect Android phone to computer using solutions that require USB cables as well as those that work via a remote connection, making this process as easy as possible for you.
Once you know how to connect Android to Mac, it's easy to move files between devices. This is crucial if you want to back up your Android files, sync with other devices, or simply place important data on your Mac. There are plenty of different ways to connect your device, depending on your preferences. Once connected, files can be moved back and forth easily. Read on to find out how to connect your phone to your computer.
USB Options
The most common method to connect a phone to a computer and send files is using a USB cord. You can do this with either a third-party app or simply by using existing software. We recommend the former (a third-party app), as it makes things more straightforward and simpler while offering a higher level of file and folder management than if you were to move from folder to folder simply.
Solution 1: Connect Android to Mac with MacDroid
Once you know how to connect Android to Mac, it's easy to move files between devices. This is crucial if you want to back up your Android files, sync with other devices, or simply place important data on your Mac.
Despite the ease that USB cables provide, you might run into some problems due to compatibility issues between Mac and Android. For this reason, we recommend you use MacDroid.
It is the ideal tool for anyone looking to connect Android to Mac. Designed to facilitate file transfers and change settings between Android and Mac devices, the app removes all of the compatibility issues that have previously caused problems with these processes.
Conveniently, this software does not require root access and lets you mount both internal and external storage, making accessing and moving files the work of a few seconds. It doesn't require you to download any additional plugins or extensions. All you need to do is download the app and start using it. Plus, you can manage your DCIM and other folders and add files directly from the app rather than through your Android phone or tablet.
2. Open the app, go to "Devices" in the main menu, and connect your Android device to your Mac.
3. Select either ADB or MTP mode in MacDroid. ADB is recommended for higher speeds, but make sure you've turned on USB debugging on your phone first.
4. Follow the messages and steps to give your computer access to your Android device.
5. You're all set! You can now send and receive files between your computer and Android device.
6. Remember to disconnect and unplug from your Mac when done.
Solution 2: How to Connect Android Phone to Mac with Android File Transfer
Android File Transfer is Android's own program that you can use to get your Android and computer connected. It offers the basics and, as Android's own native program, is one of the more popular solutions for file transfer.
Just like MacDroid, this app also solves the compatibility problem and is easy to use. Here's how to connect your phone to a laptop with it:
2. Launch the app on your Mac.
3. Connect your Android device to your Mac using a USB cable.
4. You can now browse files and folders and transfer them from your Android to your Mac.
Solution 3: Connect Android to PC
Using a USB cable, you can transfer files on Windows without the need for an additional program. Keep in mind, though, that this only works on the Windows operating system.
Essentially, you will be using Windows file explorer to access the folders on your Android phone without any additional software. Here's how to do it:
1. First of all, use a USB cable to connect your Android device to your computer.
2. Unlock your device and tap the "Charging this device" box on your Android screen. Tap File Transfer. Feel free to lock your phone after this.
3. If you're doing this for the first time, your Windows PC may take a couple of minutes to install the necessary drivers (this process happens automatically) and recognize your device.
4. Open File Explorer and Windows will display Android's content as a hard drive or SD card.
5. You should now be able to transfer any file easily.
Wireless Options
The USB cable that's used to charge your phone is usually great for connecting it to a PC. It's one of the ways to connect your Android device to a computer, but it is certainly not the only one – wireless is another good option to carry out this task. A wireless connection is useful because it means you do not have to worry about cords.
On top of that, if you set up automatic sync, your Android device will communicate and sync with your PC whenever in wireless range. The following are a few of the ways you can wirelessly connect.
Wireless Solution 1: Connecting Android to PC with AirDroid
AirDroid has been around for about ten years. It's a reliable way to connect your Android device to your computer, and it's able to work completely wirelessly. You can download it for free or pay for a pro version that gives you extra features.
It's also available in both personal and business editions and works with both Windows and Mac OS. The following is how to transfer files wirelessly using this program on any computer:
1. First of all, download and install AirDroid from the website for Windows or Mac. You can also use the web client (requires an Internet connection).
2. Open the client and click on My Devices.
3. Search for the Android device you want to use and scan the QR code displayed.
4. Once the connection is remotely established, all you need to do is drag and drop files into the "Send" box to send them between devices.
Wi-Fi Solution 2: Connect PC to Android with a Phone Link App (Windows 10/11)
Phone Link is Microsoft's own app that comes with Windows and lets you pair an Android or iPhone device with your computer. Once connected with the app, it uses the network to sync your Android device with your computer automatically.
You can also use this app to back up and send/receive files from it. Here are the steps to connect an Android phone to a PC using Phone Link:
1. Open Phone Link from the desktop on your Windows 10/11 PC (or search for it on the taskbar).
2. Select Android in the app that pops up.
4. Scan the QR code displayed and follow the steps to complete the setup.
5. Customize notification preferences, and you're all set to manage your Android files.
Solution 3: Connect an Android to a PC (Windows 10)
Bluetooth is one of the easiest wireless methods to connect your Android device to a Windows PC. It is widely compatible, and while it may not be the fastest option out there, it is definitely one of the most common.
Here's how to connect an Android phone to PC using Bluetooth:
1. Ensure that the Bluetooth on your Android device is on and that your device is visible.
2. Go to the Bluetooth settings on your computer.
3. Select your Android device, and pair it with your PC.
4. You will see a code on both of your devices. Enter the code you see on your phone on your computer/laptop to pair the two.
5. Use the "Send or receive files via Bluetooth" option to move files between the devices.
Why Won't My Android Connect to My Computer?
There are a number of different reasons why you might be having difficulties connecting your Android phone to your PC. The most common of these include the following:
PC won't detect the USB: If your PC is having trouble recognizing the USB cable, try using a different one or plug it into a different port.
Not having permission: Make sure you've given permission to your phone to transfer files to your computer. Choose the "File Transfer" option after connecting your Android to your PC so it can be used as a USB drive.
Compatibility issues: Sometimes, you may need to renew your drivers, update your operating system, or ensure that you have no other file transfer systems running in the background.
Conclusion
That's pretty much all you need to know about connecting your Android device to a computer. We've covered all the bases for both Mac and Windows. You'll probably want to use different ones depending on your requirements.
That said, we highly recommend MacDroid for any Mac users, as we found it by far the most convenient of all the options we covered for macOS.
For Windows, you'll need to check out one of our other solutions, such as AirDroid or Phone Link. Whatever you use, bear in mind the issues we've covered in our troubleshooting section in case you run into any problems.
Frequently Asked Questions
You can use a number of methods to connect your Android phone to your Windows PC. You can use AirDroid, Phone Link, Bluetooth, or simply connect it with a USB cable and use Windows file explorer to manage your Android's files and folders.
You can use the following methods or apps to transfer photos from your Android to PC:
Cabled:
MacDroid
Android File Transfer
USB charging cable, which can also be used to transfer files.
Wireless:
AirDroid
Phone Link
Bluetooth
There are two ways you can connect your Android to a computer – via a USB cable and wirelessly, depending on the OS of your computer.
Cabled:
MacDroid (Mac)
Android File Transfer (Mac)
USB Cable (Windows)
Wireless:
AirDroid (Windows + Mac)
Phone Link (Windows)
Bluetooth (Windows + Mac)