Any Mac user, who decided to switch to Android, sooner or later has to face the problem of synchronizing their devices, the most common issue being iTunes media library transfer to Android.
Although Mac and Android cannot be synced directly, you can still move your media files from iTunes to Android - and there are various ways of doing it.
Use SyncMate to Synchronize iTunes Music with Android
SyncMate is what you need if iTunes remains the default app you use for storing and listening to your favorite songs, and at the same time you'd like to have the entire music library on your Android. A very functional robust app to sync iTunes with Android.
How to use it:
Download SyncMate, install and launch it;
In the app window click 'Android Device';
Choose the connection type you need - USB, WiFi or Bluetooth;
Once connection to the device is established, select 'Music' in the list of options displayed.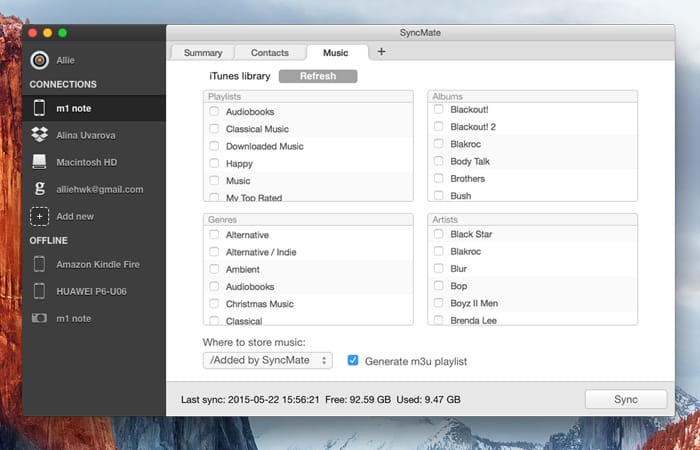 Transfer playlists with SyncMate
That's it. Audio tracks in iTunes library are organized by playlists, albums, artists and genres, and SyncMate transfers your music with their metadata and album covers. You can create playlists right in the SyncMate - select tracks or playlists, and press Sync.
If you prefer good old drag-and-drop, SyncMate can mount your Android as an external drive. Tick Mount Device Automatically in the Summary of your device and you will have access to all files and folders from both internal and external storages of the device.
Apart from media files SyncMate allows you to sync pretty much everything between Mac and Android.
Pros:
The app runs through your iTunes library and displays all songs that you can sync;
Connect the way you like - via USB, WiFi or Bluetooth;
Sync multiple devices simultaneously.
Cons:
Media files can be synced only in Expert edition.
Transfer your music to Android manually
Takes a while, but this is perhaps the safest way to do it - there is little chance that you lose your data or encounter a syncing issue, if you transfer music to Android manually. Once the syncing is complete, you can use any media player on Android to playback the files.
First, you need to locate your iTunes library on the computer - it is usually a set of folders with AAC files inside. The latter contain proper tags marking artists, songs, etc. The media can be reproduced on Android as long as there are no Apple's DRM attached to them.
Connect your device via USB, and it will be displayed in your computer's directory. Dump AAC files in your Android's internal storage, and they will be sorted by a media player used for playing them back.
Most Android devices now use MTP and PTP for file transfer. These modes are quite specific, to work with files you need to install Google's USB file transfer utility.
Here is how you can do it:
Download Android File Transfer and install it;
Connect Android device to Mac via USB;
Once Android device is detected, Android File Transfer will launch automatically.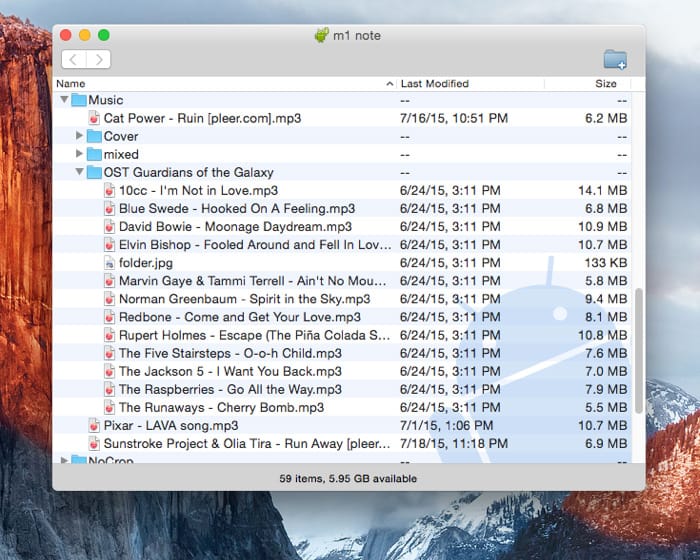 Add music manually
Now you can browse your Android's content, i.e. files and folders, copy files, the size of which does not exceed 4 Gb. You can drag-and-drop audio files from your computer to Android device.
Pros:
Absolutely free;
Drag-and-drop to transfer.
Cons:
Time-consuming;
Requires USB connection;
Your music library has to be located manually;
Might not recognize Android device immediately;
MTP and PTP need special app.
Use Google Play Music to get your music from iTunes to Android
Since now you are an Android user, why not give Google methods a try? Check them out for yourself.
Log in to Google Play Music Manager using Google credentials. It should be the same account you use for Android device. When Music Manager asks you where to keep your music, select iTunes.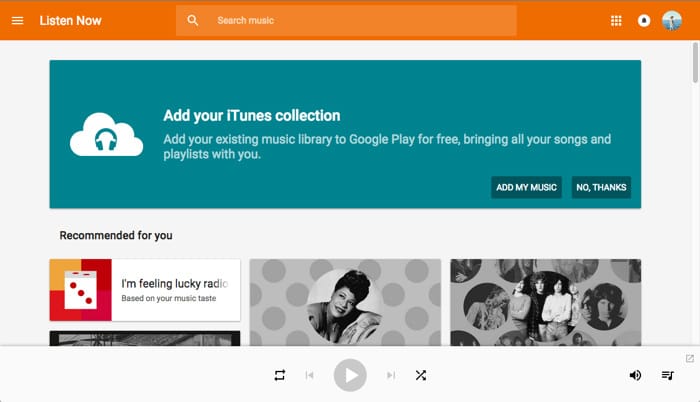 Upload your library to Google Play Music
It works pretty much like iTunes Match, but there is a free storage space that can accommodate up to 50 000 tracks. All uploaded tracks will be transcoded from AAC to 320Kbps MP3s, for their playback you can use a web player or the Google Play Music app on your Android device.
To save a song or an album on your phone, select them first and select 'Keep on device' in the menu. The media will be synced for offline playback over mobile data or WiFi, depending on your settings - syncing can be seen in Download Queue > Settings. Note though that these songs can be accessed only via Google Play Music.
Pros:
Easy to setup;
Sign into your account and access your music on any Android device;
Customize uploading media.
Cons:
Playback depends on the quality of your Internet connection;
Music saved on Android device is accessible only through Google Play Music;
Ads display in Free account.
So, those are three of our chosen methods. If you've got any questions or other tricks to help Mac and Android work together be sure to drop them into the comments below!
SyncMate Expert
Requirements: OS X 10.8.5+ ,
50.9MB
size
Version
8.1.475
(
30 Mar, 2020
)
Release notes
Category:
System Utilities