NEW
Yoo-hoo! Commander One is now natively compatible with Apple M1-powered Macs!

Support for FTP, SFTP and FTPS
Commander One supports all file transferring protocols, including FTP, SFTP and FTPS. It's a flexible, reliable and secure FTP client for Mac.
Multiple simultaneous connections
Carry out file transfers from your Mac to multiple connections, at the same time. The intuitive UI and tabbed browsing make managing multiple connections simple.
Use FTP servers like a local drive
With this Cyberduck for Mac free alternative, you can map the FTP server as a local drive. That means you can work with your files as if they're on your own machine.
Secure encryption
With SFTP and FTPS, Commander One enables encrypted file transfer between your Mac, servers and cloud services – including remote servers (like Amazon S3) and cloud storage platforms (like Dropbox, Google Drive and OneDrive). And unlike Cyberduck for Mac, Commander One is not open-source – meaning reliable, dependable security when you need it most.
Web services (FTP, Amazon S3, WebDAV)

Cloud storages (Dropbox, Google Drive, OneDrive and more)
Private files

s#hV*IJ@3*mK

folder

mountencr2

Research

iu3T5YKp$dVy

xls

mountencr2

Presentation

(F-7bd[,-[Nj

png

mountencr2

Report-20xx

ypZp}tx6GL<d

doc

mountencr2
Encrypt data
FTP and file management
Do more with your Mac. Not only is Commander One an excellent Cyberduck alternative Mac FTP, it's also a fully-featured file management system for macOS.
Power users and professionals will love the workflow-enhancing features, dual-pane view and deep customization built into Commander One. It's just another reason not to download Cyberduck for Mac.
Show hidden files
The toolbar lets you toggle hidden files with a single click, anytime.
Customize your experience
Make it yours. Choose any color and font combination for Commander One.
Brief mode
Open and manage multiple files and folders, simultaneously.
A smarter way to manage favorites
Get instant access to your most important documents, with history and favoriting.
A CYBERDUCK ALTERNATIVE MAC USERS WILL LOVE
Custom hotkeys
Make your own shortcuts, to carry out any task with ease.
Unlimited tabs
Never run out of space. Open an unlimited number of tabs, to browse and move files easily.
Selection, simplified
Manage multiple files with powerful selection features. Never accidentally lose your selections again.
Add to queue
Clear your view. Queue file operations in the background, get status when you need it.
MORE TOOLS, ALL INCLUDED FOR FREE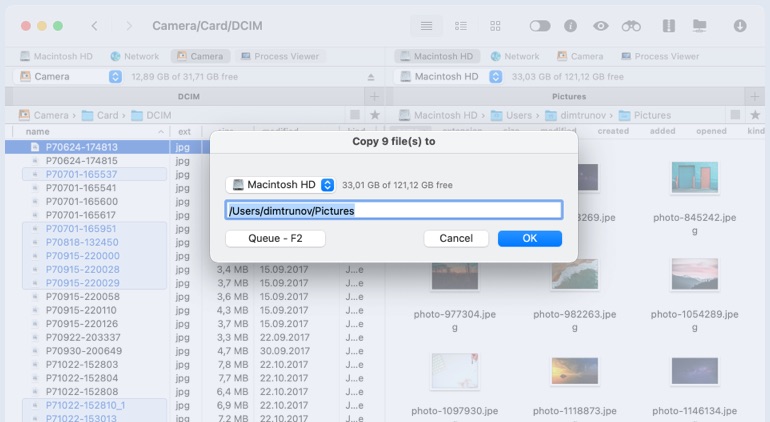 ZIP Support
Extract, compress and explore ZIP files, for efficient archiving.
Built-in file viewer
Quickly preview your files, with support for a huge range of file types – including Hex and Binary, media files, text documents and HTML.
See the computers in your local network
Instantly access shared computers in your local network, as if you're browsing your own files.
Root Access
Execute any command. Access any resource. The ultimate level of control for Mac users.
PRO Pack
Try before you buy – get full access to all the PRO Pack features of Commander One, completely free for 15 days!
Connection Manager
Use cloud storage services (like Dropbox and Google Drive) just like a local drive – with seamless integration.
Mount iOS
Use your iPad or iPhone as an external drive. Transfer, access and manage your iOS files on your desktop.
Mount Android
Get direct access to all the files on your Android smartphone or tablet – including your photos.
Mount MTP
Manage media files from cameras and other MTP devices – in a local folder on your Mac.
Work with compressed files
As well as ZIP, you'll be able to compress and extract RAR, TBZ, TGZ and 7z file extensions.
Terminal emulator
Access the terminal through a quick and powerful emulator.
Process viewer
See what your Mac is doing behind the scenes. View resources, or manage and quit processes at a glance.
Themes
Make your experience unique. Personalize Commander One, with colors and styles for every kind of user.
How to use Commander One as a Cyberduck alternative (Mac)
Using Commander One for FTP and server connection couldn't be simpler. Just follow these steps, and get access to the files on your server.
Open and run Commander One FTP client for Mac.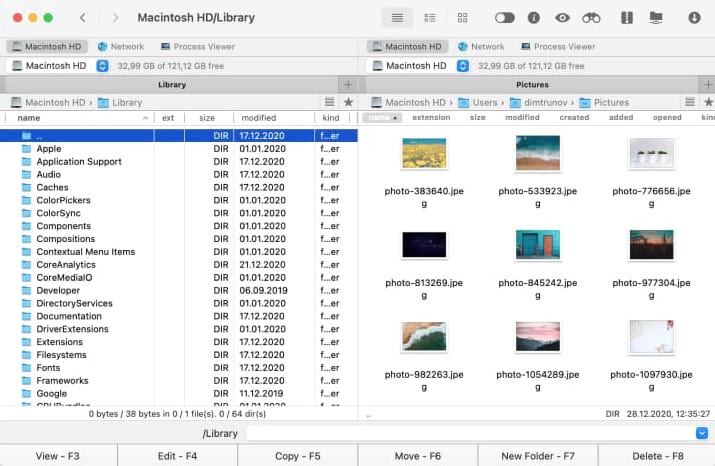 Start Connections Manager in Commander One, by either:
Clicking on the icon in the toolbar;
Clicking Window → Connections Manager in the menu;
Pressing the Command+F default hotkey.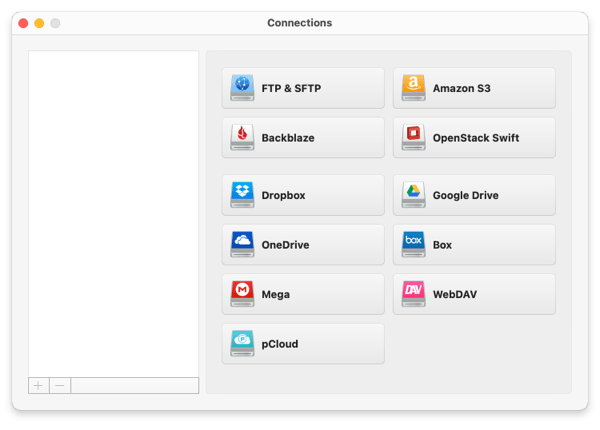 Select the FTP icon and fill out the required fields.
You'll need the name of the connection, your server address and port, plus your login information.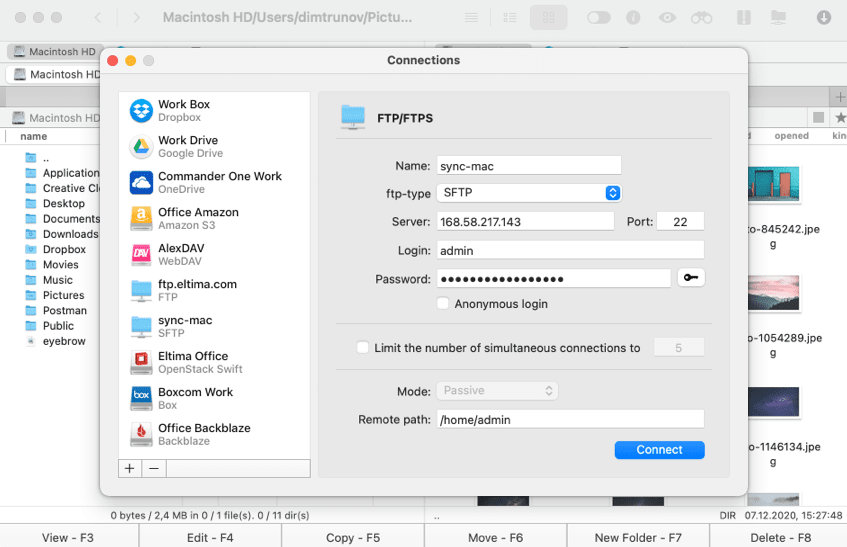 Choose the type of connection you need (active or passive).
Enter the remote path – this is the directory where the files you upload will be stored on the server.
Click Connect, and you're done.
Frequently Asked Questions
Český

Deutsch

English

Français

Українська

Magyar

日本の

한국어

Polski

Русский

Español

Nederlands

中文