NEW
Yoo-hoo! Commander One is now natively compatible with Apple M1-powered Macs!

Full protocol support
FileZilla client Mac alternative Commander One supports various protocols and ensures secure and fast file transfer between your Mac and Remote server.
Multiple connections
Commander One allows you to work with multiple connections at the same time in order to have more convenient file transfer.
FTP server as a local drive
Thanks to our FTP tool for Mac users can handle files stored on the remote servers as if they are stored on their computer. Commander One makes it possible to map FTP servers as regular drives thus facilitating file management.
Protect your online connections with encryption feature
Our Mac FTP solution offers you to add extra protection to the files stored online. Establish encrypted file transfer between cloud computing services, remote servers and your Mac. With encryption feature you are guaranteed to have safe and secure work.
Web services (FTP, Amazon S3, WebDAV)

Cloud storages (Dropbox, Google Drive, OneDrive and more)
Private files

s#hV*IJ@3*mK

folder

mountencr2

Research

iu3T5YKp$dVy

xls

mountencr2

Presentation

(F-7bd[,-[Nj

png

mountencr2

Report-20xx

ypZp}tx6GL<d

doc

mountencr2
Encrypt data
Enhanced file manager for free
Commander One is not just a perfect Mac FileZilla alternative but also an andanced file manager that you get absolutely free of charge. The app is equipped with an impressive set of features for fast and convenient file management. It would be a cup of tea for both savvy users and the newbies providing them full control over their files.
Easily show hidden files
Display all hidden files with the help of the button on a toolbar.
Adjustable fonts & colors
Personalize the appearance of your file manager with adjustable fonts and colors.
Support for brief mode
Show thumbnail preview of a file instead of an icon.
Add directory to Favorites
For quick access, this FTP client Mac solution lets you add directories to the favorites list.
EVERYTHING YOU NEED AT YOUR FINGERTIPS
Hotkeys for any action
Seamlessly assign your favorite combo of shortcuts for any action.
Unlimited number of tabs
Convenient work with folders with no need to close them each time thanks to unlimited number of tabs.
Flexible selection of items
Commander One features a useful way to conveniently select the files.
File operations queue
Continue working with Commander One, while all your are being copied or moved in the background.
GRATIS SET OF USEFUL TOOLS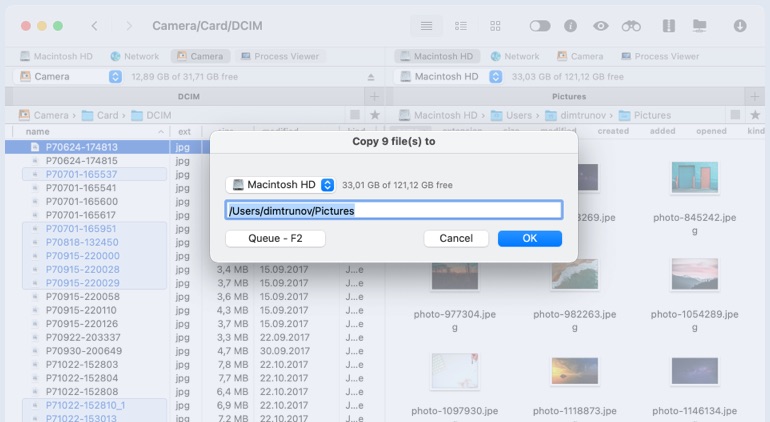 ZIP Support
Support for reading and writing Zip file format.
Built-in file viewer
Ability to view files of different formats. Hex and Binary files are supported.
List of Computers in local network
Commande One allows you to seamlessly access computers over the network.
Root Access
This Mac FTP software lets you use your Mac as the root user.
Benefit from PRO Pack features
Check out the amazing features presented in the Pro Pack of this FileZilla OSX alternative and try these features for 15 days absolutely free of charge.
Connection Manager
Commander One is not just an FTP client for Mac but also a great connection manager that allows mounting multiple online storages as local drives.
Ability to map iOS devices
iOS devices can be mounted as a network drive and accessed right from Commander One.
Ability to map Android devices
Media information and photos can be easily managed on all your Android devices.
Ability to map MTP devices
Having files on MTP devices in local folder on Mac is possible via Commander One.
Flawless work with archives
One place to work with ZIP, RAR, TBZ, TGZ, 7z files.Compress and extract them easily.
Terminal emulator
Built-in command line for more efficient work and access to all necessary featuresю.
Process viewer
Track all the processes running in the system in real time and quite any of them whenever it is needed.
Collection of themes
Commander One is rich for different color themes that allows you to personalize it according to your taste.
Connect to FTP via FileZilla Mac alternative - Commander One
This FileZilla Mac OS alternative allows you to seamlessly access the files stored on a remote server. To сonnect FTP as a local drive you need to precede with the following steps:
Launch the app and invoke the Connection manager by clicking the corresponding icon on thу toolbar or using the Command+F hotkey.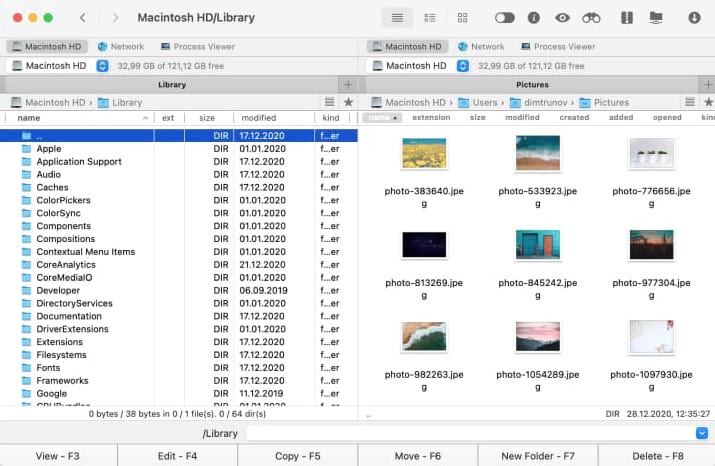 Select the FTP icon from the available connections.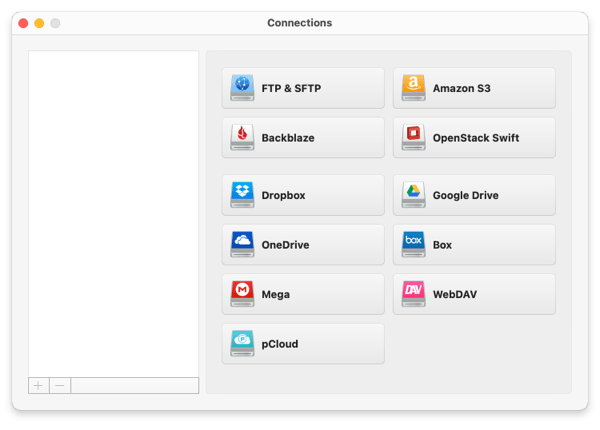 Proceed with the settings and specify the following: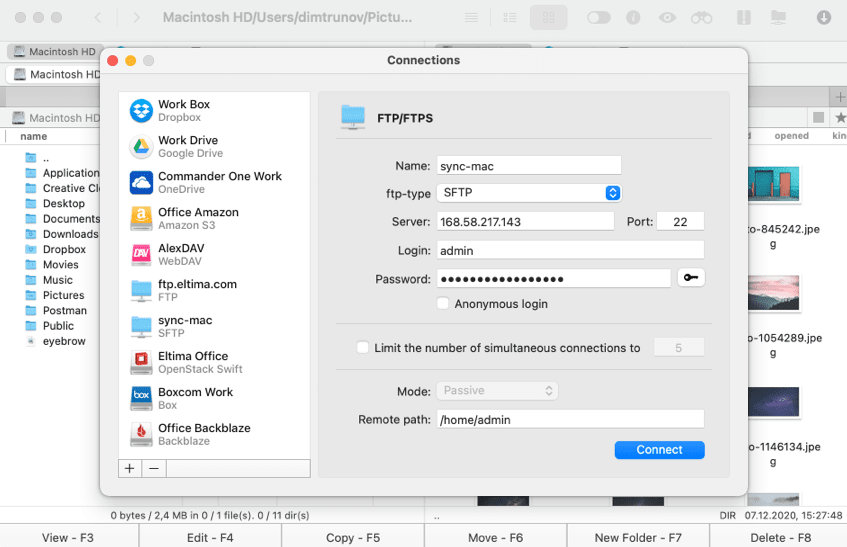 name of the connection;
server's address;
port number;
login credentials;
connection mode - active or passive;
remote path (directory on the server that will hold the files you upload).
Frequently Asked Questions
Český

Deutsch

English

Français

Українська

Magyar

日本の

한국어

Polski

Русский

Español

Nederlands

中文