Yoo-hoo! CloudMounter runs natively on Mac computers with Apple silicon: M1 and M2 series!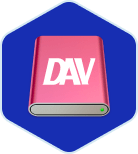 Encrypt your data on WebDAV servers
Encrypting a file makes its content scrambled in such a way that it becomes unreadable to those who do not have the decryption key. This
WebDAV client for Mac
adds an extra layer of protection to the data you store on your remote servers for even better data security.
Mount as a Disk
CloudMounter makes it possible to mount WebDAV servers on your computer as disks. The app allows multiple connections via the WebDAV protocol.
WebDAV encryption
Encryption proves to be very efficient for file transfer protection. Increase your WebDAV security with CloudMounter.
Locking
This
WebDAV client
makes your content unreadable to those who do not have the decryption password.
CloudMounter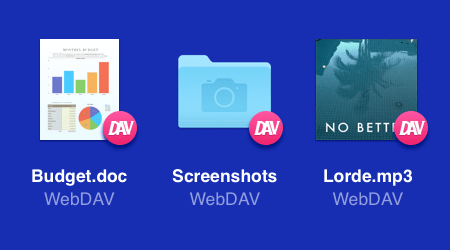 Other app/device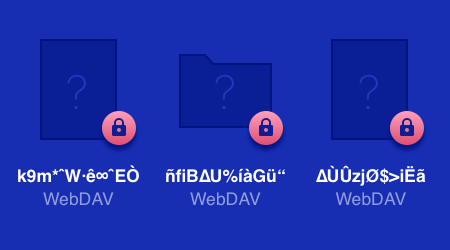 Online files at your fingertips
With CloudMounter, your cloud storages are easily accessible in Finder, just as if they were another drive on your Mac. Enable the offline mode of working with files and continue working even without the Internet connection. Files will be re-synced once reconnected to the network.
Why users choose CloudMounter
CloudMounter is so loved for its safety, flexibility, friendliness, and support of a great number of online cloud storages and web services. CloudMounter blends its capabilities with Finder, which makes it rather convenient. Also, this software is constantly updated and improved.
Usage of Keychain
CloudMounter respects privacy deeply. That is why all passwords are kept in macOS Keychain and are only used by CloudMounter when you need to log in to a designated storage or server.
Integration with Finder
Finder integration makes working with remote connections so familiar and therefore comfortable. It is all you knew before, just better! All contents of cloud accounts and web servers that you mount with CloudMounter are as easy to access and manage as local files on your computer.
More Cloud services
We believe that there is always room for improvement. That is why we never stop digging through fresh ideas on how to make CloudMounter even better and add more supported cloud storages to it.
Encrypt other clouds and web servers
With CloudMounter, it's also possible to encrypt files in Dropbox, OneDrive, Google Drive, Amazon S3, and files on FTP/SFTP servers.
CloudMounter for Windows
You can now mount your multiple cloud storages as local disks on your PC too.