Yoo-hoo! CloudMounter runs natively on Mac computers with Apple silicon: M1 and M2 series!


Mount Google Drive
CloudMounter can make your Google Drive accessible as a drive in Finder. Instead of using the Google Drive web interface, you can just click and drag. With this tool, documents can be edited and saved straight to cloud storage without having to re-upload them. Other file types can also be viewed without downloading.
CloudMounter opens up a lot of possibilities for cloud file management, such as using desktop batch renaming and sorting tools.
Connect More Accounts
Two or more Google Drive accounts can be accessed simultaneously.
Transfer Files Between Cloud Drives
Copy and paste to instantly send files from one mounted drive to another.
See Shared Files and Folders
CloudMounter folders include shared and viewed files in addition to your own.
Why we choose CloudMounter
CloudMounter is a fast, convenient way to access cloud drives. It has lots of advantages over browser interfaces, including the ability to
mount multiple cloud accounts
. At the same time, it's completely secure.
macOS Keychain
In order to provide more privacy and safety, CloudMounter does not store your login info. Instead, it relies on the Keychain.
Finder Integration
Mounted drives support all Finder functions - copying, moving, linking, folder creation, and deletion, regardless of the cloud service.
Highly Compatible
CloudMounter supports all popular cloud drive providers, including Google, Dropbox, OneDrive, MEGA, Amazon S3, OpenStack, and other supported services.
Finder Integration
Mount cloud storage as local drive on your Mac to manage your cloud files like local ones in Finder. Besides that, CloudMounter features an offline mode of working with files. Have all your files within reach, regardless of the Internet connection.
How to mount Google Drive on Mac via CloudMounter
You can use CloudMounter to overcome
Google Drive limits
by mounting several free accounts. Here's how to add one:
Select Google Drive.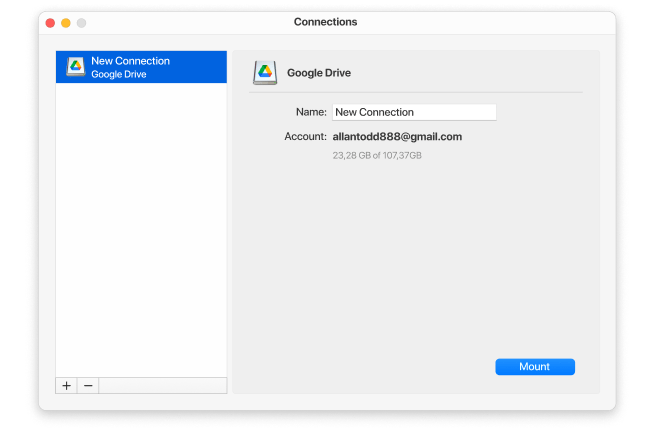 Enter your account credentials and specify other options.
It can now be found under Locations in Finder. You can quickly upload to Google Drive by dragging files over to this folder.
Frequently Asked Questions:


There are repositories for software such as google-drive-ocamlfuse, which lets you accomplish this task. If you don't have any other options, Google Drive can be opened in the browser.
You can go to drive.google.com, press the big + and choose "File upload". Alternatively, you can mount the drive with CloudMounter and paste the file in its directory.
CloudMounter is the easiest way to do this. Try the app - you'll add your Drive to Finder in no time.
Protect Cloud Storages and Web Services
Enable Google Drive encryption to make your files inaccessible to the service provider. Add another layer of safety at the press of a button. No need for additional apps.

k9m*ˆW·ê∞G
Research.xls
Dropbox

ñfiÚ7B∆U%í"
Screenshots
Amazon S3

ñfiÚ7B∆U%í"
Blur–Jets.mp3
FTP/SFTP
Encrypt data
CloudMounter for Windows
You can now mount your multiple cloud storages as local disks on your PC too.