NEW
Yoo-hoo! CloudMounter runs natively on Mac computers with Apple silicon: M1 and M2 series!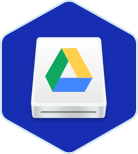 Encrypt Google Drive for better protection
Google Drive encryption
is performed from the server side, which basically means that the service provider has the decryption key. If you don't feel very comfortable about this fact, you can ensure more
Google Drive security
with CloudMounter before uploading files. This is the client-side encryption, meaning it is just you who can decrypt your cloud data. You get the best of Google Drive privacy when using CloudMounter.
Mount as a Disk
With CloudMounter you won't be wondering how to share Google Drive folders anymore – the app is very intuitive and won't make you synchronize data on your hard drive.
Data encryption
Encryption is a very efficient option for file transfer protection. Increase your Google Cloud security with CloudMounter.
Locking
Encrypt Google Drive files: your content becomes unreadable to those without the decryption key.
CloudMounter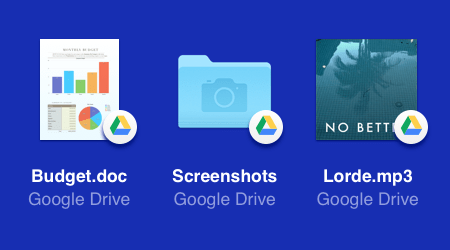 Other app/device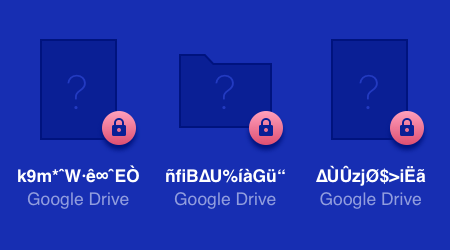 Your cloud files at your fingertips
Mount your Google Drive account as local drive in Finder and work with your online files the same way you would with local ones.
Why users choose CloudMounter
Because it is safe, flexible, easy to use and supports a vast number of online storages and web protocols. CloudMounter works with Finder directly, which makes it rather convenient. And we are always working on updates and new features.
Secured by Keychain
We deeply respect your privacy, so CloudMounter doesn't store any of your personal data or share it with any third parties. The login data is securely stored in Mac OS Keychain and is only used for dedicated servers login through encrypted channels.
Finder Integration
CloudMounter smoothly blends its capabilities with Finder to provide you an efficient connection between your machine and remote servers. It supports many cloud storages as well as web protocols so you can access all of them in Finder easily.
More Cloud services
We are working on new ideas all the time and trying to implement all of them sooner so that CloudMounter could be even more of a versatile solution. Currently iCloud support is in the works. Stay tuned!
CloudMounter for Windows
Access and manage your multiple cloud accounts as well as remote servers right from Windows Explorer.