NEW
Yoo-hoo! CloudMounter runs natively on Mac computers with Apple silicon: M1 and M2 series!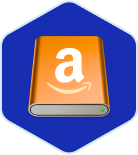 Use Amazon encryption for better security
In case of S3 server side encryption AWS uses its own encryption key and removes it from the memory once the Amazon cloud encryption is done. When a client provides the decryption key, the encrypted symmetric key is retrieved and decrypted with client's real key, then it is used for decrypting the data. Since the symmetric key is stored on AWS side, the client does not fully control the keys and their use. The best option to manage your data on Amazon S3 and for data encryption is to get CloudMounter.
Mount as a Disk
CloudMounter owners do not have to duplicate data locally and online, thus saving precious space on their hard drive.
Cloud security
Encryption proves to be very efficient for file transfer protection. Increase your Amazon Cloud security with CloudMounter.
Locking
With this Amazon S3 encryption client your content becomes unreadable to those without the decryption key.
CloudMounter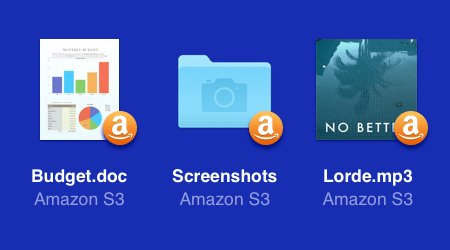 Other app/device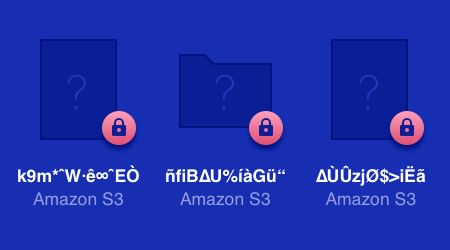 Work with online files as with local ones
You can mount any of your cloud storages as local drives in your Finder or Windows Explorer and access your cloud files as the local ones.
Why CloudMounter is number one for many
Being such a universal, reliable and secure solution, it also supports an impressive number of cloud storages and web protocols. CloudMounter works with Finder and Explorer directly. We are constantly working on the app's new features and improvements.
Usage of Keychain
CloudMounter cares about your privacy! It does not store or send your personal info to any third parties. Your login details are kept in Mac OS Keychain and are only used for corresponding servers via encrypted channels.
Explorer and Finder Integration
CloudMounter is like a bridge between your computer and remote servers making the work with remote files as effortless as if they were on your hard drive. It smoothly integrates with native file managers for your convenience.
More Cloud services
We are constantly working on new ideas and implementations for CloudMounter. Currently full integration with iCloud is under works and there is more of course.
Encrypt other Clouds and web servers
With CloudMounter it's also possible to encrypt files in Dropbox, OneDrive, Google Drive and on FTP/SFTP and WebDAV servers.
CloudMounter for Windows
You can now mount your multiple cloud storages as local disks on your PC too.