How to manage multiple cloud storage accounts
Know of anyone who does not use cloud storage services nowadays? Well, maybe your 80-year old granny or 3-year old nephew do not but the rest of us, regular computer users, do.

Cloud storage services are plenty – Amazon Cloud Drive, Amazon S3, Dropbox, Google Drive to name a few. Each of them has its own advantages and disadvantages in terms of security and privacy, pricing policies, etc. and there is also an issue of interoperability – big players such as Apple, Google and Microsoft would want you to stay within their ecosystems, say, if you want to work with Google Docs online, you need Google Drive, your iOS apps can work with iCloud content and so on. Soon we find ourselves juggling subscriptions to multiple cloud storage services, and it can be confusing at times. Here we will talk about ways to manage multiple cloud storage accounts in an easy and efficient way.
Opt for a broader compatibility
Some cloud services are capable of supporting a larger number of platforms and applications. One fine example here is Dropbox, it works on Windows, iOS, Android and Linux. The service is relatively inexpensive too.
Get rid of unnecessary
Make sure to subscribe only to unique services, avoid duplicates. If cloud A and cloud B offer identical functionality, why do you need to subscribe to both of them?
Cloud storage is different from cloud backup
Copying files to remote servers so you can retrieve them from another computer is called cloud backup. Mostly used for long-term retention and data restoration, it typically offers superior encryption. Cloud storage works well if you need to regularly synchronize your content across devices.
Divide your content between services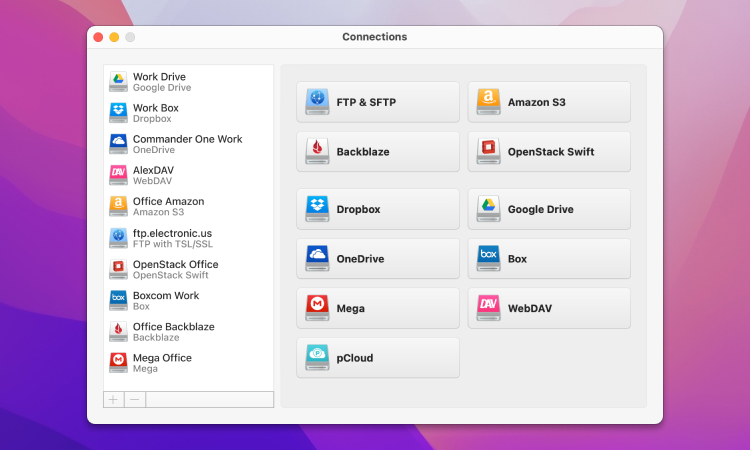 Keeping the same files and folders on multiple services does not make much sense, assigning each service its own content seems to be a much better idea to me.
Manage your online content via third-party app
CloudMounter is a multiple cloud storage manager, i.e. an app that can mount cloud drive services on your computer, so you can access and manage multiple cloud storage in an easy and efficient way, also transfer files between storages, for example from Dropbox to Google Drive. Files get copied to your hard drive only when you decide to open them from the cloud, so no local storage space gets wasted. Using CloudMounter is totally safe, the app does not store your sensitive data such as logins and passwords. Besides, the developer added encryption to data transfer and storage in the latest release.
The application can mount Dropbox, mount OneDrive and map Google Drive and Amazon S3 as network drives.
We often receive queries regarding Amazon Cloud Drive support by CloudMounter. We need to get Amazon's permission to add the service to the list of supported clouds. Thus we'd like to request you to contact Amazon Support Service directly with the same request. The more users' feedback they receive the more likelier they allow us integrate Amazon Cloud Drive into CloudMounter.
Instead of conclusion: sticking to a single cloud storage service is not a very wise decision – instead pick up those you really need and find a way to streamline the process of working with them keeping in mind that a third party app can be of great help here.
CloudMounter
Requirements: macOS 10.12 , 14.27MB free space
Version
3.11.698
(
16 Dec, 2021
)
Release notes
Category:
UtilitiesApplication