Being mainly used by Mac computers and iPhones, the MOV file format doesn't cause any difficulties when being played by QuickTime. However, there are situations when the default media player is unable to open it. In the given article, we have gathered several tips on how to play these files via an alternative MOV player for Mac as well as with the help of converting tools.
Use Media Player to Play MOV Files on Mac
Most likely Mac QuickTime player is unable to open MOV file as it's corrupted or due to codec compatibility issues as the file can be encoded with different codecs, for instance, HEVC (H.265), H.264, MPEG-4 part 2, etc. Below, we have gathered QuickTime alternative for Mac solutions, that can help you with this issue if QuickTime won't.
How to Play MOV Files on Mac Using Elmedia Player
Elmedia Player is our first choice of alternatives to QuickTime that can help you with opening .mov files on Mac. The app has a neat interface and is easy to get used to. Having an impressive set of features for enhanced video playback. Here you can find wireless streaming on Chromecast, Smart TV, or DLNA-based device, the ability to create your own playlists, a fully customizable audio equalizer, PIP mode, a built-in online video viewing option, and many more. 
Besides that, Elmedia Player can also be called a decent MKV player for Mac as well as a versatile media player that supports work with dozens of file formats with no need for additional codecs. Rather powerful yet simple app, it has a lot to offer its users.
Supported OS: macOS
Supported formats: MP3, MP4, FLAC, AVI, M4A, APE, OGG, AC3, M4A, AAC, WMV, WMA, WAV, and many more.
Price: free version, PRO costs $19.95
Step-by-step guide on how to play MOV files with Elmedia Player:
2. After the installation, launch the app.
3. Choose the way you want to open .mov files via Elmedia:
Select the "File > Open…" menu option. Specify a file or folder, then click "Open". After that the file will be added to the playlist;
Drag and drop the file to the payer's icon in the Dock;
Drag and drop files from Finder to Elmedia Player's window or the playlist.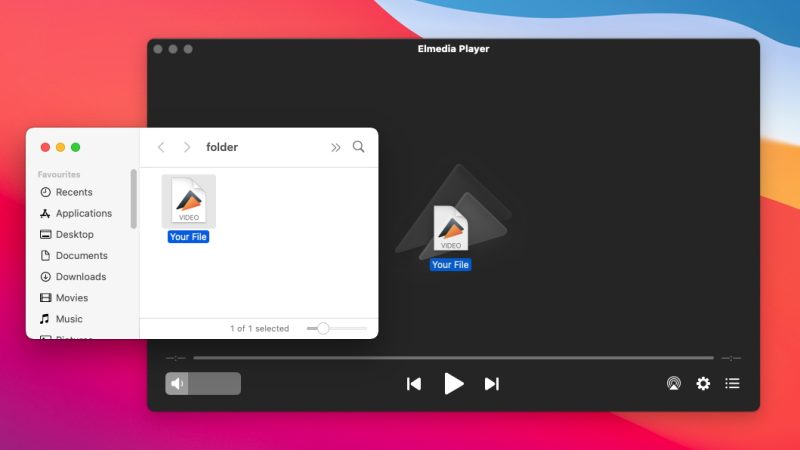 How to Open MOV File on Mac with JustPlay
JustPlay is an excellent choice if you want a lightweight app with a wide set of features. The player has a laconic interface that perfectly blends into the macOS environment. Despite being rather minimalistic, it can boast an impressive list of supported formats where you can find the most popular ones like MOV, MP4, M4V, FLV, MP3 as well as rare ones. Among the features offered by JustPlay, you can find support for subtitles, the ability to change brightness, saturation, contrast, an audio equalizer with presets, a deinterlacing option, and way more.
The great thing about this AVI player for Mac is that it doesn't require any additional codecs and plug-ins to be able to play files. To play MOV files Mac users need to proceed with the following steps below.
Supported OS: macOS (including support for Ventura)
Supported formats: MP3, MP4, AVI, MOV, FLAC, M4A, OGG, APE, and more.
Price: $4.99
Here is a quick guide on how to use JustPlay:
1. Download JustPlay on your Mac. Once downloaded, proceed with the installation.
2. After the app is successfully installed, open it.
There are 3 ways to open .mov files via JustPlay:
Click the "File→Open…" menu option. Choose a file, then click "Open".
Drag a file from the Finder and drop it into the player window
Drag and drop the file to the app's icon in the Dock.
How to Watch a MOV File on Mac Using VLC
Another player that can help you with the question of how to watch s MOV file on Mac is definitely VLC. Having a long history the app has proven to be a decent player with support for more than just some file format. It is a powerful media player that offers great control over your media files and additionally provides converting options. 
Despite being free to use the player has the only major drawback, namely the interface. Compared to the rest of the media players it looks a bit old-fashioned and not so perfectly blended into the modern macOS environment. Still, you need a powerful player and not a fancy thing.
Supported OS: Windows, macOS, Linux, iOS, Android
Supported formats: P4, MP3, MPEG, AVI, MOV, 3GP, WMV, WMA, ASF, OGG, OGM, DTS, AAC, WAV, MKV, FLAC, FLV, MXFf, NUT, MID.
Price: free, donation-based service
Here's how to open .mov files on Mac with VLC:
1. First of all, download the VLC player on your Mac and proceed with the installation process. Once the app is installed launch it.
2. In order to choose the .mov file you want to play, click on "Media" and after that select the "Open File…" option.
3. Once your file is imported, you can click the "Play" button and enjoy your video. 
Converting MOV to QuickTime-Compatible Format on Mac
As you already know, there are different reasons why you can't open MOV files on Mac. The most common reasons are the corruption of the file and codec compatibility issues. In case the default media player is unable to seamlessly play the file, you can convert it to another QuickTime-supported format using different conversion tools. Below you will find 2 powerful apps that can help you with this issue.
How to Convert MOV Files Using WinX HD Video Converter
WinX HD Video Converter is a feature-rich program that allows working with your video files quickly and easily. It is the best 4K video converter of its kind with lots of features and benefits. With the help of this solution, you have the ability to convert and compress any video to any format and to any device. It creates attractive video content suitable for sharing, watching, emailing, and downloading.
WinX HD Video Converter offers you such features as compression, loading, editing, cropping, trimming, cutting, merging, and many other features for working with video. In short, the converted videos are virtually indistinguishable from the originals.
Supported OS: macOS, Windows
Supported formats: AV1, MPEG, WMV, MP4, FLV, F4V, H.264/MPEG-4, AVI, DivX, XviD, MOV, RM, RMVB, VOB, ASF, 3GP, 3G2, QT, DAT, Google TV, WebM, DV, Vpx 8, G2M4, iCod, YUV411, mp2v, MXF, DAV. The full list can be found here.
Price: free trial, price starts from $29.95
So, to convert MOV files using WinX HD Video Converter, you can follow the step-by-step guide below:
2. You'll see a screen where you need to click "Video" to download the video (for conversion). You can do this by navigating to the video's folder, or by simply dragging and dropping it.
3. After downloading, select your profile in the "Output Profile" – "Mac General video".
4. Then click the "Run" button to transcode MOV – encoded videos to MP4 or another supported format for unlimited playback.
Detailed Guide on How to Convert a Video via iMovie
iMovie is software created by Apple developers for all their devices. The application clearly demonstrates and reflects the capabilities of a large corporation. This video editor works on all devices, including iPad, iPod, and Mac computers.
Working in the application is simple and easy due to the principle of intuitive action. Here you can import video, change it, impose a variety of filters, and add a voice. After that, send it to your friends to watch. The program can recognize gestures and voices, as well as the name of the video and the location.
Supported OS: macOS, iOS
Supported formats: 3GP, AVCHD, AVI, DV, HDV, HEVC, M4V, MOV, MPEG-4, AAC, AIFF, BWF, CAF, MP3, MP4, RF64, WAV, BMP, GIF, HEIF, JPEG, PNG, PSD, RAW, TGA, TIFF, etc. 
Price: free
In case your .mov file won't play on Mac you can convert it to a different format and enjoy its playback with ease just by following these simple steps:
1. Download and install iMovie on your Mac.
2. Once the app is installed, click the "Add Media" button to specify the path to the file, and choose the one you need to convert to.
3. Choose the output format by opening the "Video Tab".
4. Click the "Convert" button to start the process.
TIP: You can add the file to your iTunes media library before starting the conversion process by checking the iTunes option beforehand.
Conclusion
Sometimes it may happen that the MOV video made by your iPhone or the one that was shared by your friend is not possible to play on Mac. In this article, we have answered the question of how to play MOV files on Mac if you face any issues. Above we have reviewed different media players as well as conversion tools and provide a step-by-step guide for your convenience.
We also couldn't help but mention that of the entire list Elmedia Player is our go-to choice. It is the best video player for Mac that one can have ever wished for: minimalistic, powerful, and doesn't cost a fortune. It can be useful for not only opening MOV but also SWF files and way more.
Frequently Asked Questions
The reason why you can't open MOV is the codec issues.
MOV files are encoded with codecs that sometimes are not supported in QuickTime. That's why opening.mov files on Mac may require additional software. To know more info about why the QuickTime player not working we recommend reading our article.
You can convert MOV to MP4 by using the special apps described in this article above.
Despite being a native format for Apple, sometimes QuickTime won't play MOV with just a simple click requiring you to convert the files first.