If you've been using Chromecast to stream on your TV, you might already know that there's no native method to Chromecast photos from iPhone. That's because it's not compatible with AirPlay. 
To view photos from your gallery on a Chromecast TV, you need a third-party app. Picking the right app can be challenging because there are many on the market and not all of them will provide all the features you need. 
We've conducted thorough research and found some of the best methods for you to try. This article explains those methods in detail so you can easily look at your iPhone's photos on your Chromecast TV.
Solution 1: A Third-Party App with Additional Benefits
The Photos app on your Apple iPhone and Chromecast don't work together. You might be asking the question, "How to cast photos from iPhone to Chromecast if this is the case?" Well, there are several third-party applications that support the iPhone Chromecast photos feature. 
One such app is DoCast. We recommend this application to those who want additional features such as screen mirroring and video casting.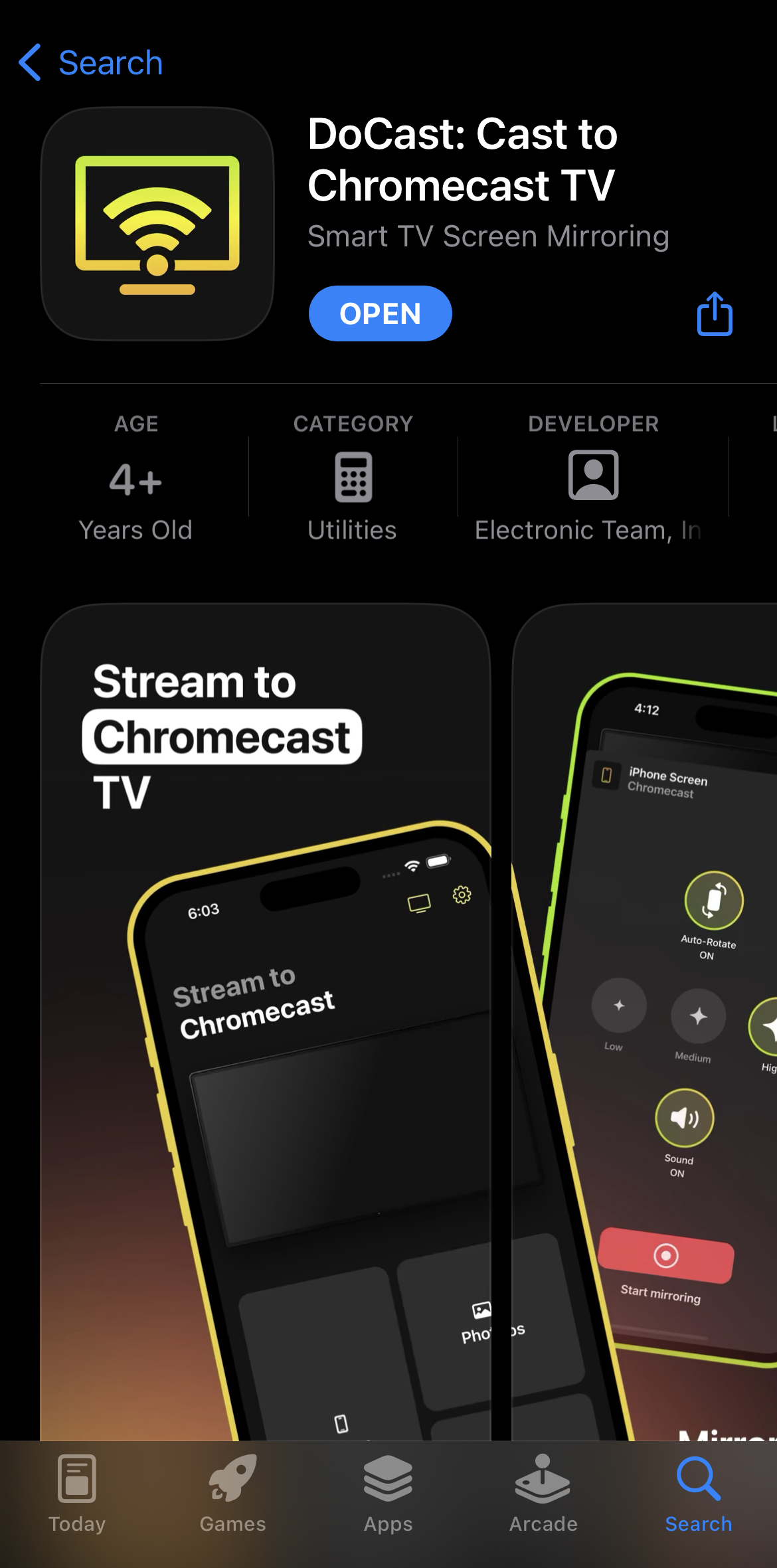 With this application, you can quickly pair your iPhone with your Chromecast device and start casting photos. You can also mirror your iPhone's screen in high quality and enable sound.
Video Guide on How to Cast Photos from iPhone to TV (For Chromecast-enabled devices)
Let's take a look at how DoCast works:
2. Allow the app to search for your Chromecast device. Tap your device once it's been found to connect to it. If it can't be found, then make sure your iPhone is on the same Wi-Fi network as your Chromecast/TV.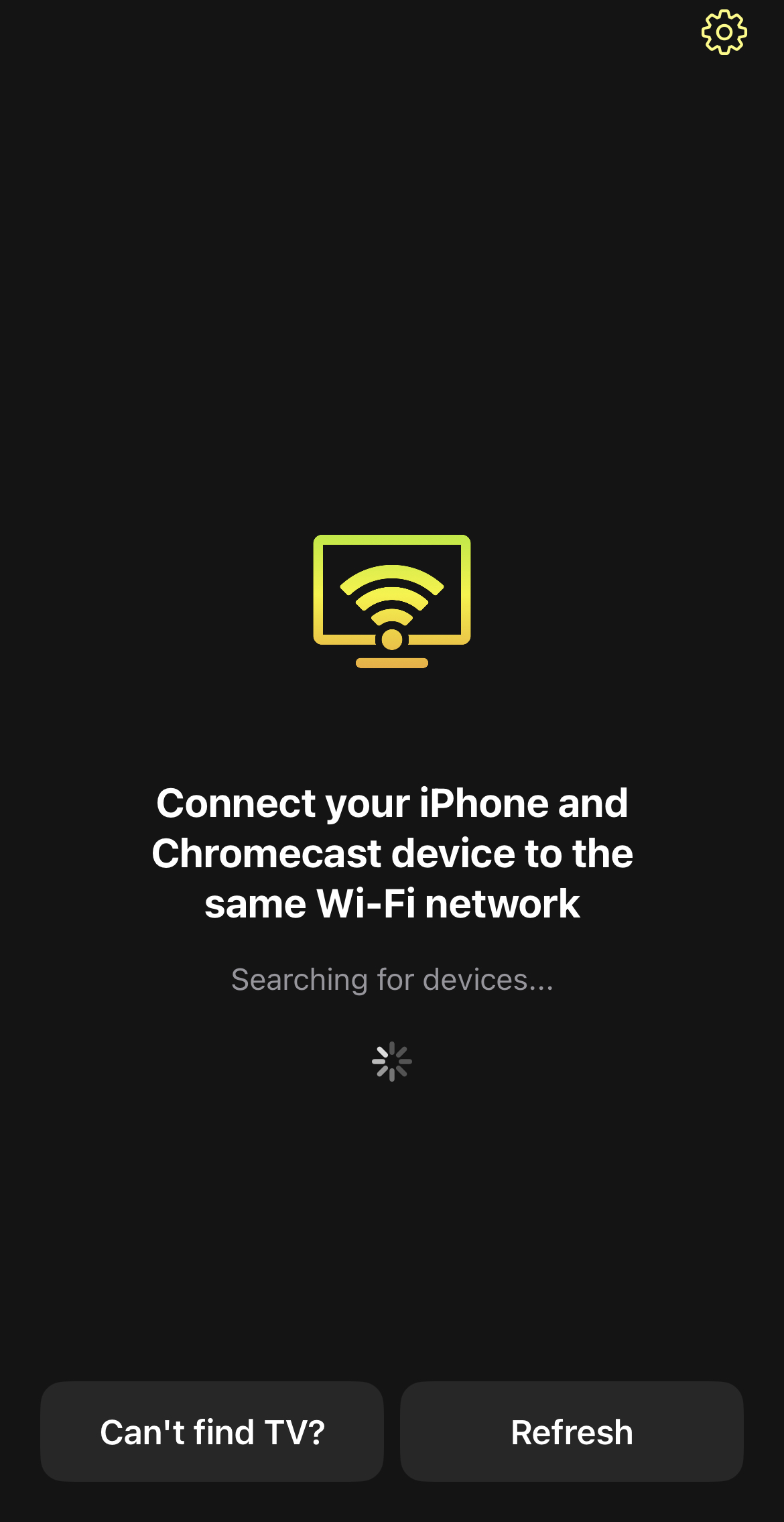 3. On the main screen, tap the Photos tile.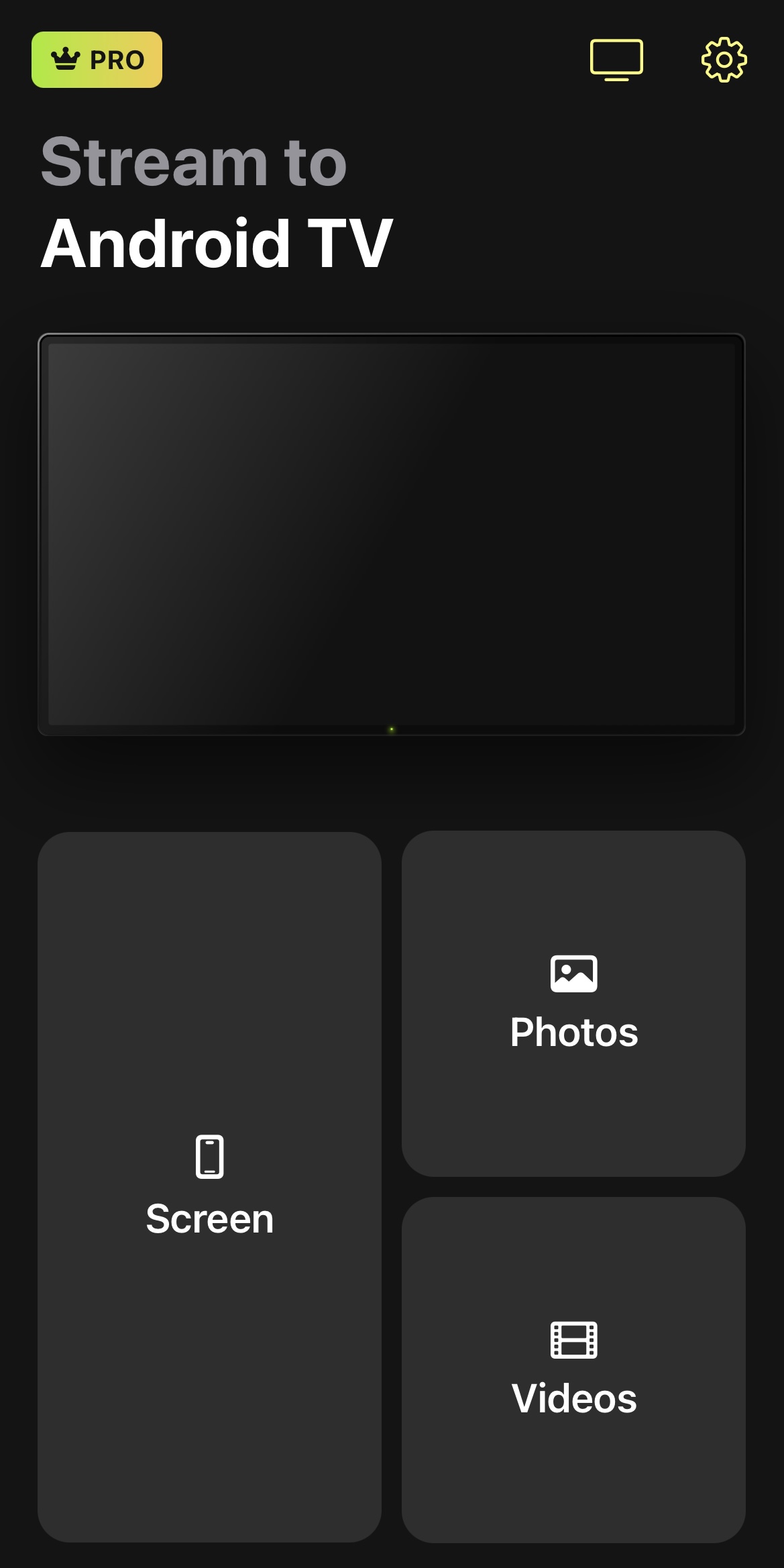 4. Allow the app to access your photos by tapping Allow Access to All Photos.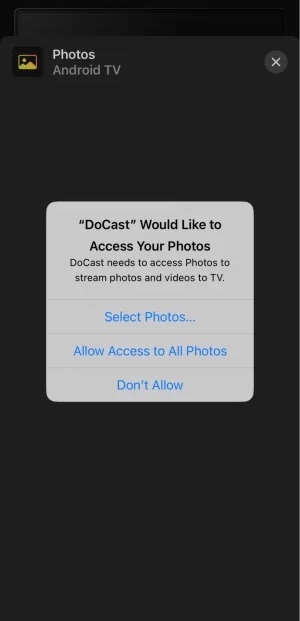 5. Tap on any photo to display on your Chromecast TV.
6. The photo being currently displayed on the TV will have a red/pink circle around it. You can switch between different photos by simply tapping on the one you want to see on your TV.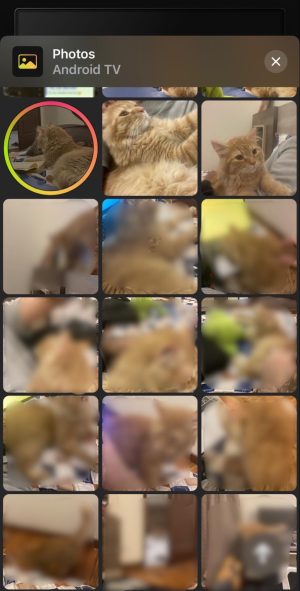 7. To stop casting, simply tap the photo currently being casted. 
Solution 2: Google Photos Chromecast iOS Devices for Free
The Google Photos app is a good alternative if you don't want to spend any money on a third-party app. It's easy to use, completely free, and even comes with its own backup option, which will be perfect for those who've run out of iCloud storage.
Here are all the steps you'll need to follow:
Video Guide on How to Chromecast Photos from iPhone to TV
2. Sign into your Google account.
3. Tap on any image and press the Casting icon at the top right corner.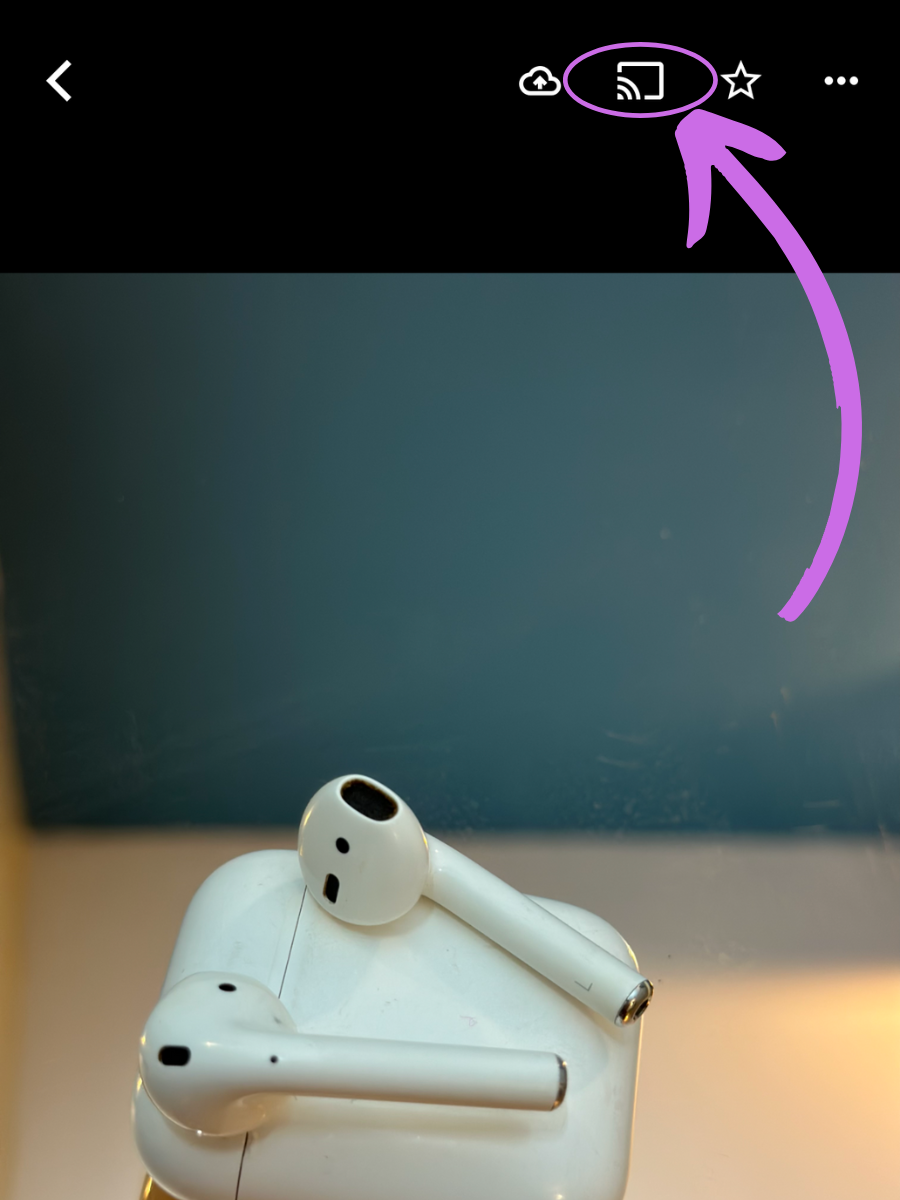 4. Grant the app permission to cast and then Allow it to find and connect to devices on your network.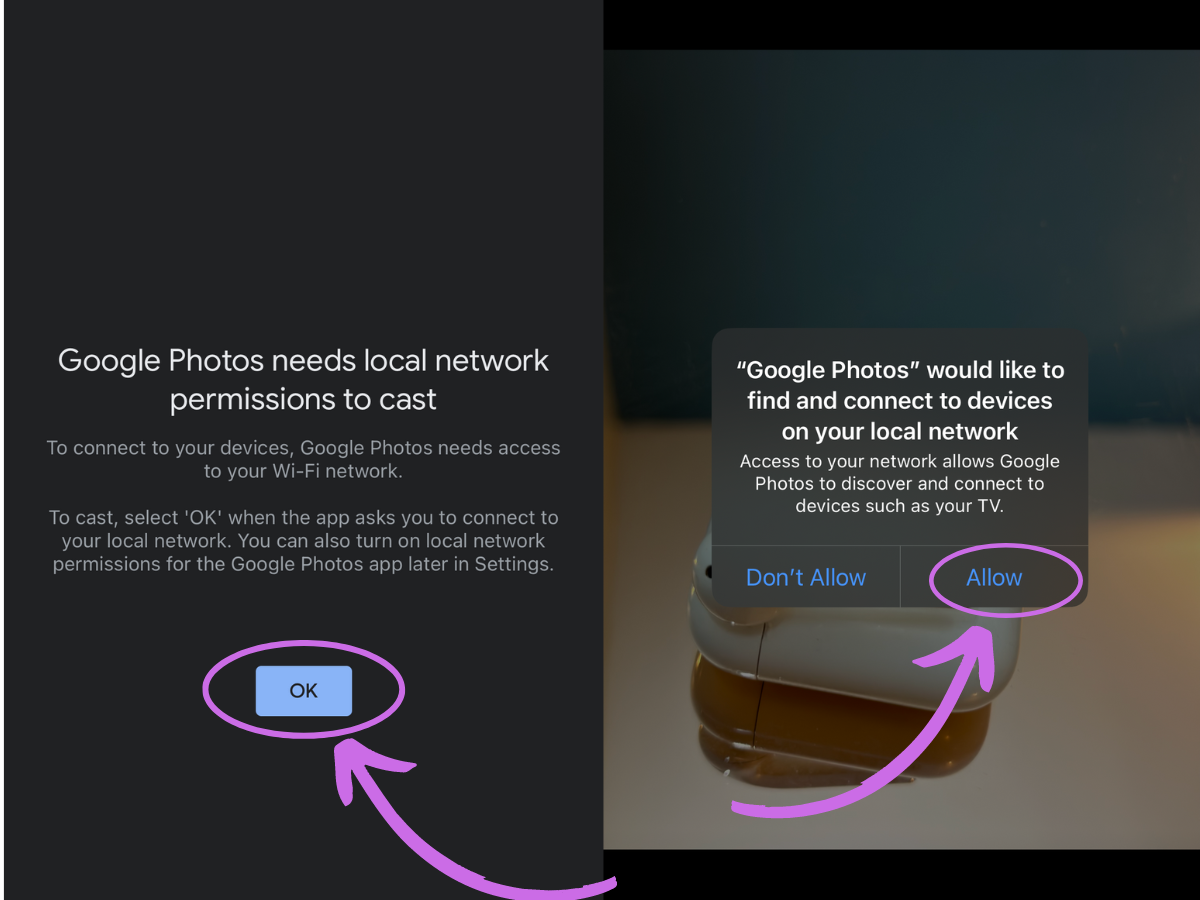 5. Select your device to cast your iPhone photos on your Chromecast.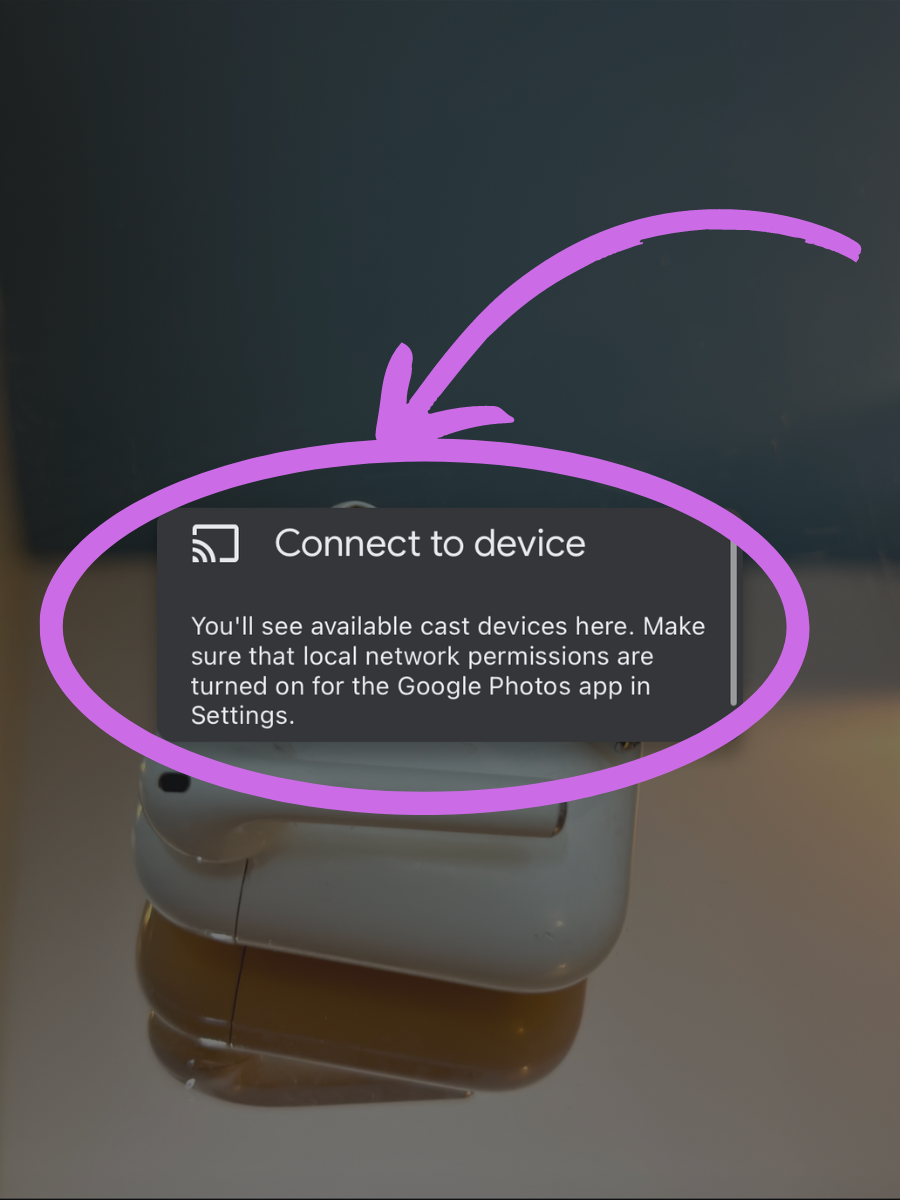 6. Start swiping on iPhone to display different photos on your TV.
NOTE: This method doesn't just work for iPhone users. Android users can also use this tutorial to stream photos to TV.
Cast iPhone Photos Through AirPlay
If you are an Apple TV owner or your TV supports AirPlay technology, then you can use the instruction below to stream photos to your TV:
1. Open the Photos app on your iPhone and then open an image you want to cast on your Apple TV or AirPlay 2-compatible TV.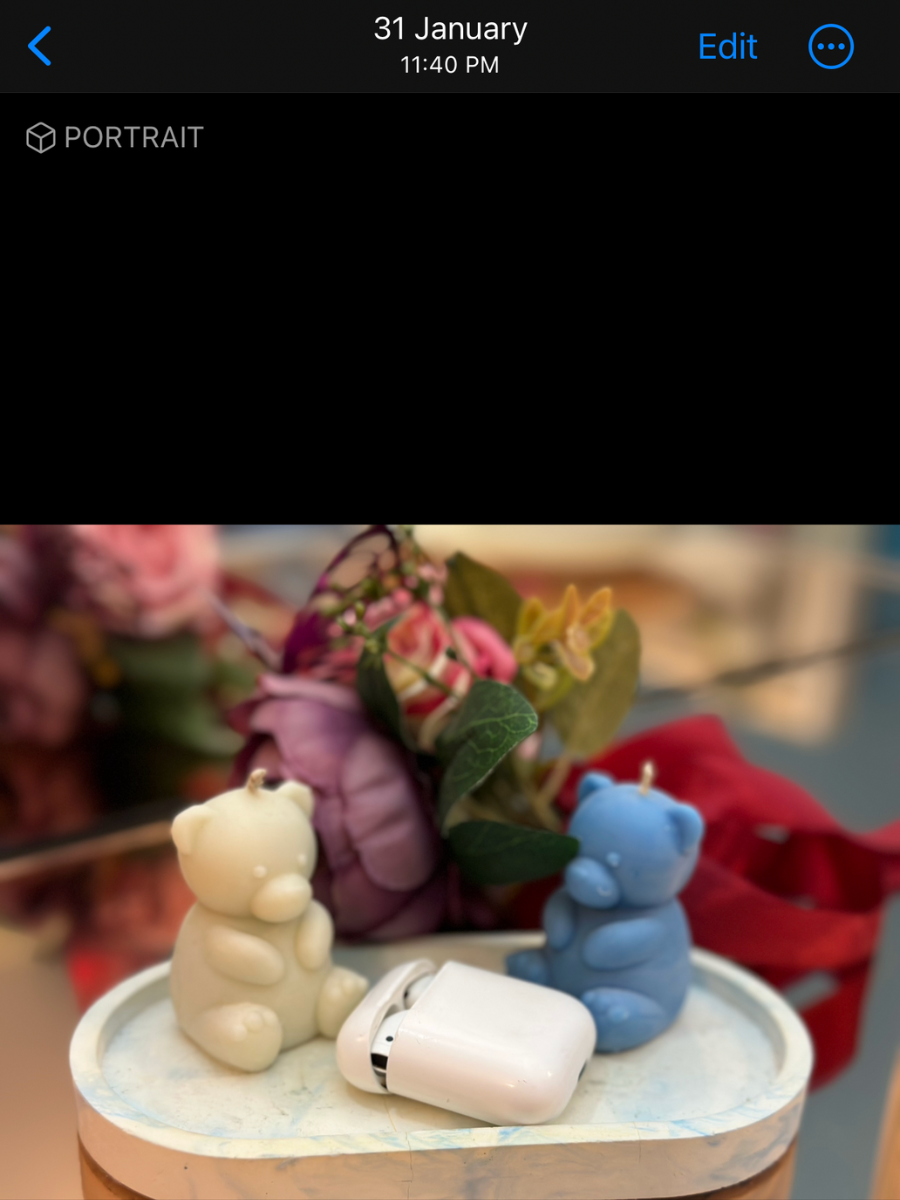 2. Press the Share button at the bottom left corner and tap the AirPlay option.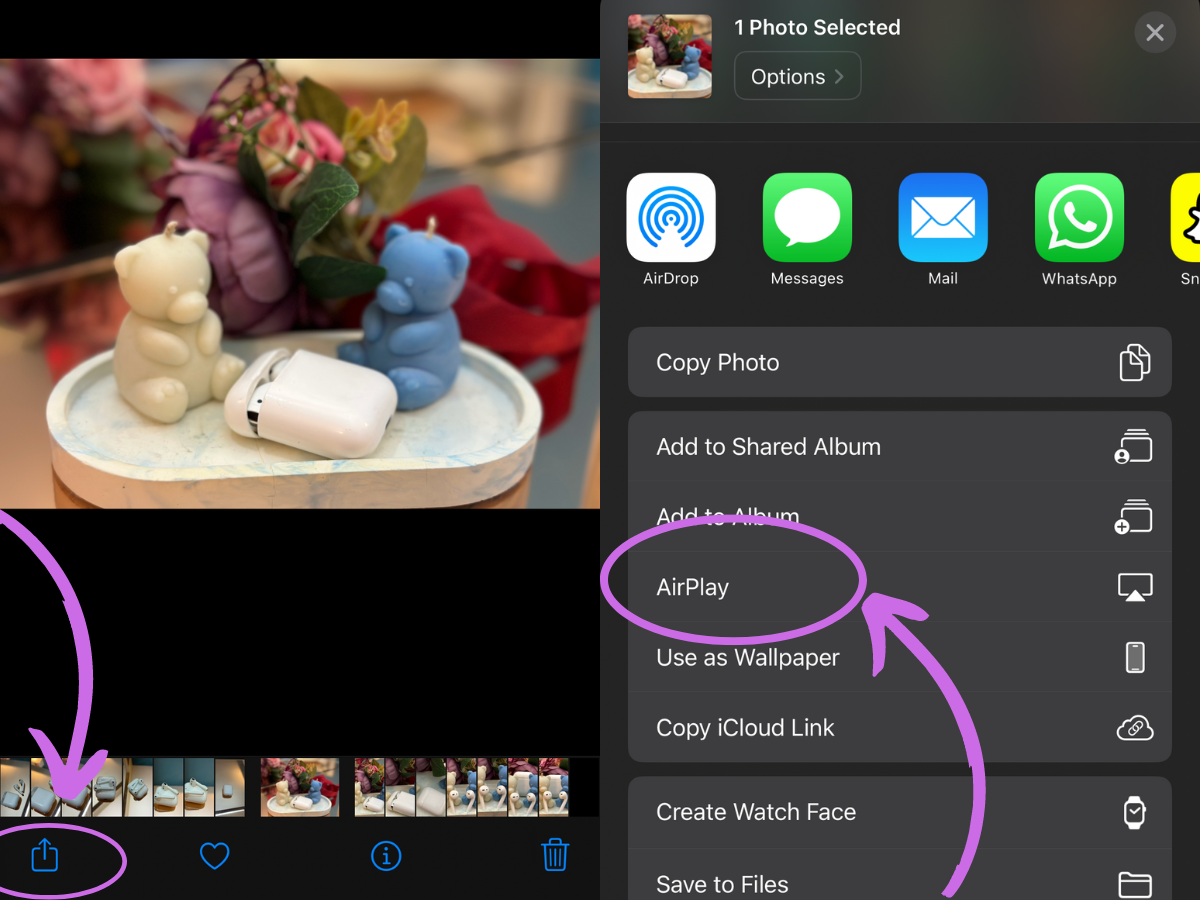 3. Select your Smart TV from the list of devices that appear.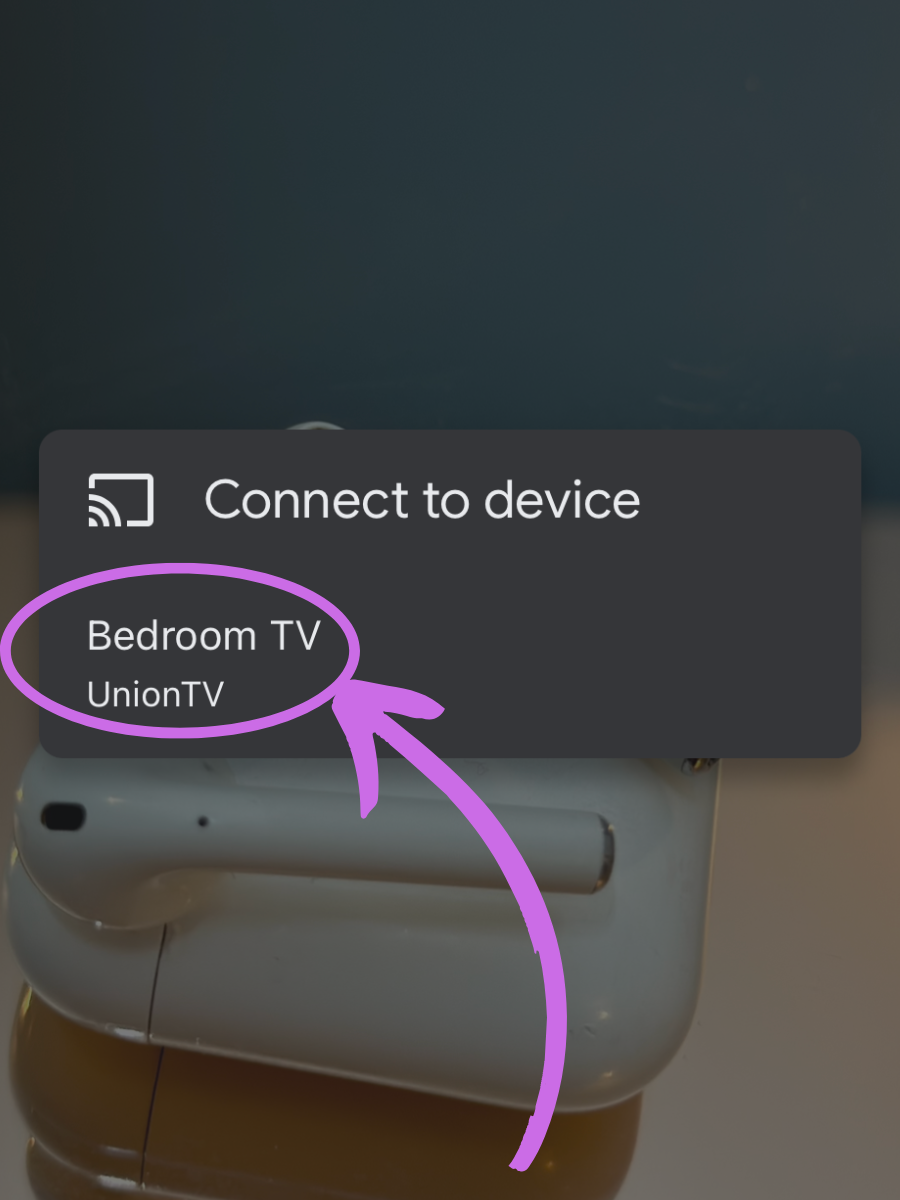 4. Enter the passcode displayed on your TV into your iPhone, if required.
5. To stop streaming, tap the AirPlay icon and select the Turn Off AirPlay option.
Bonus: Cast Google Photos to TV from a Computer
If you don't want to tie up your phone, you can also use your computer to cast Google Photos on your TV.
1. Install the Chrome browser on your computer and connect it to the same Wi-Fi network as your Chromecast TV.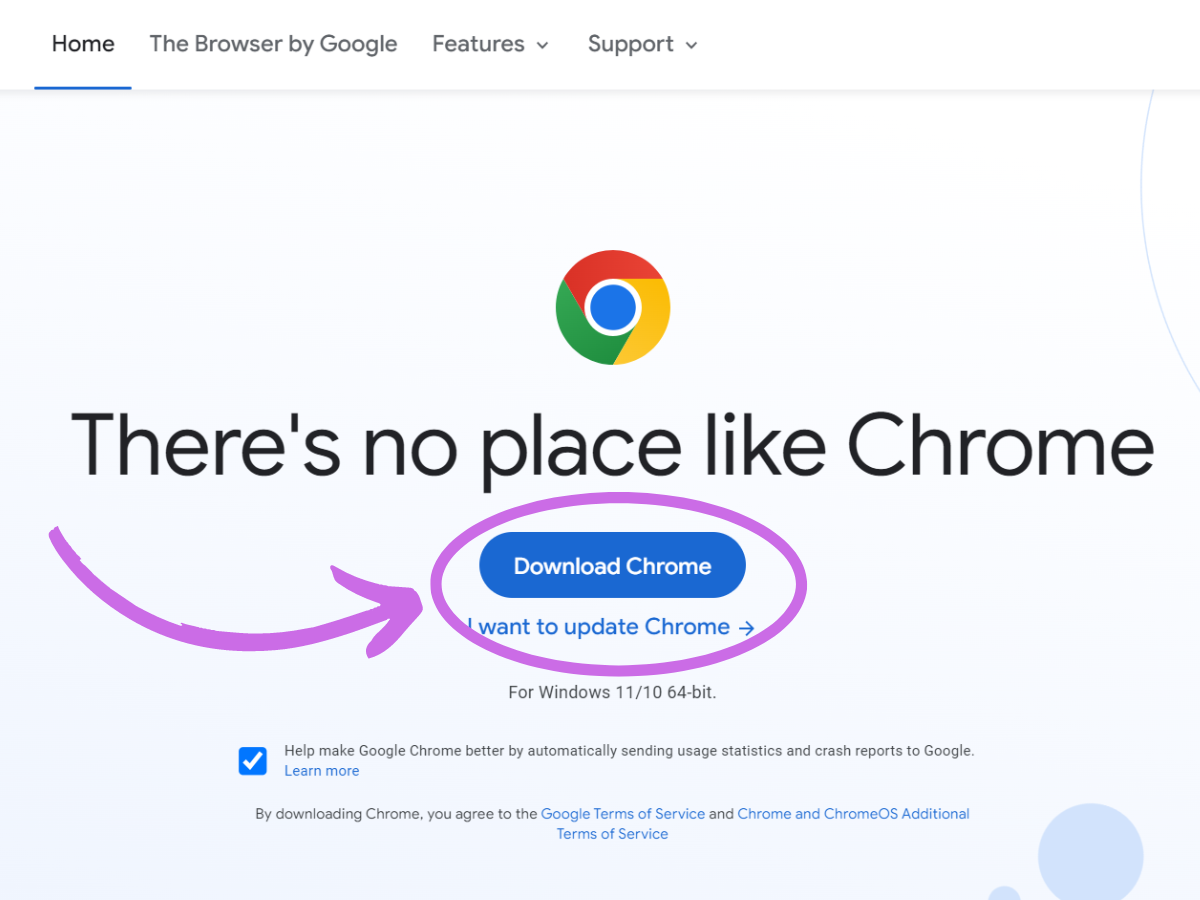 2. On your Chrome browser, enter photos.google.com.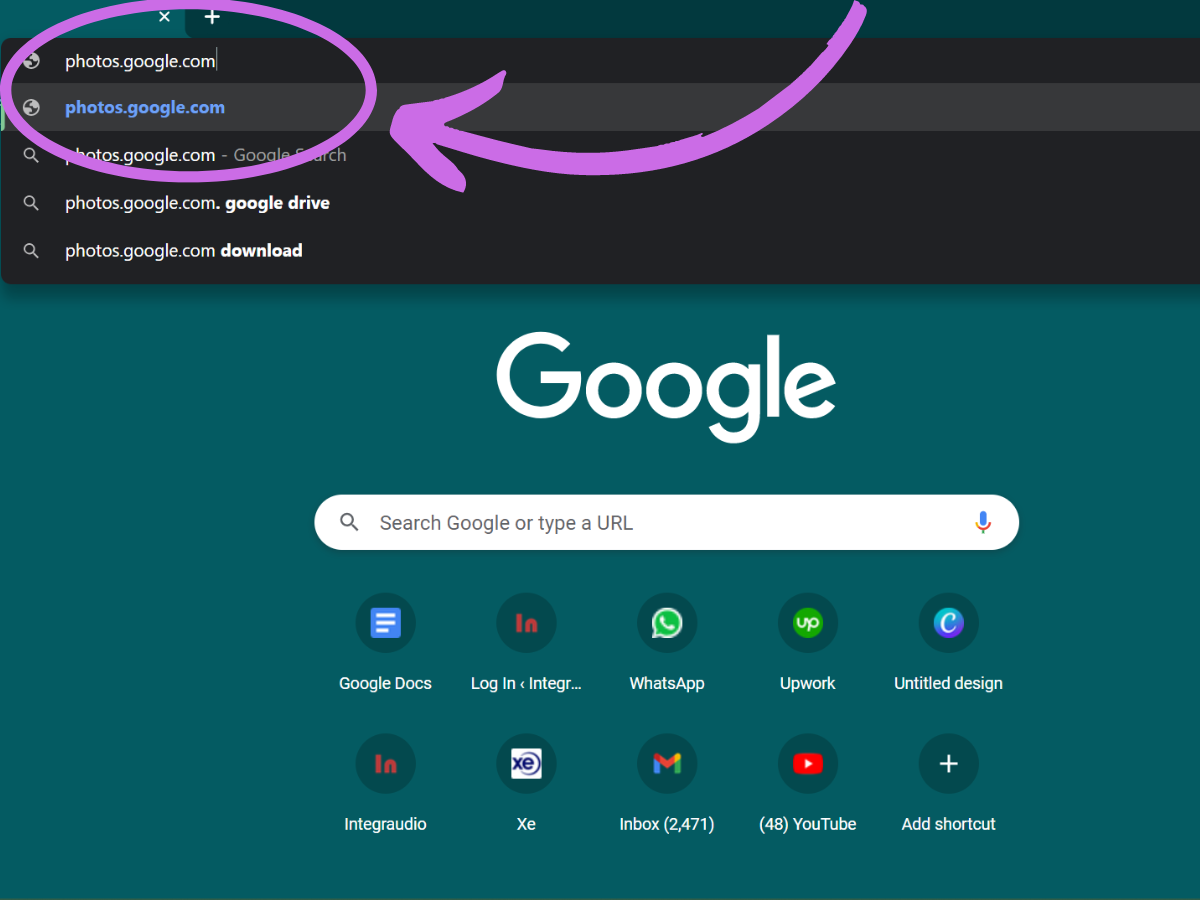 3. Click on the More icon [the three dotts] on your Chrome browser.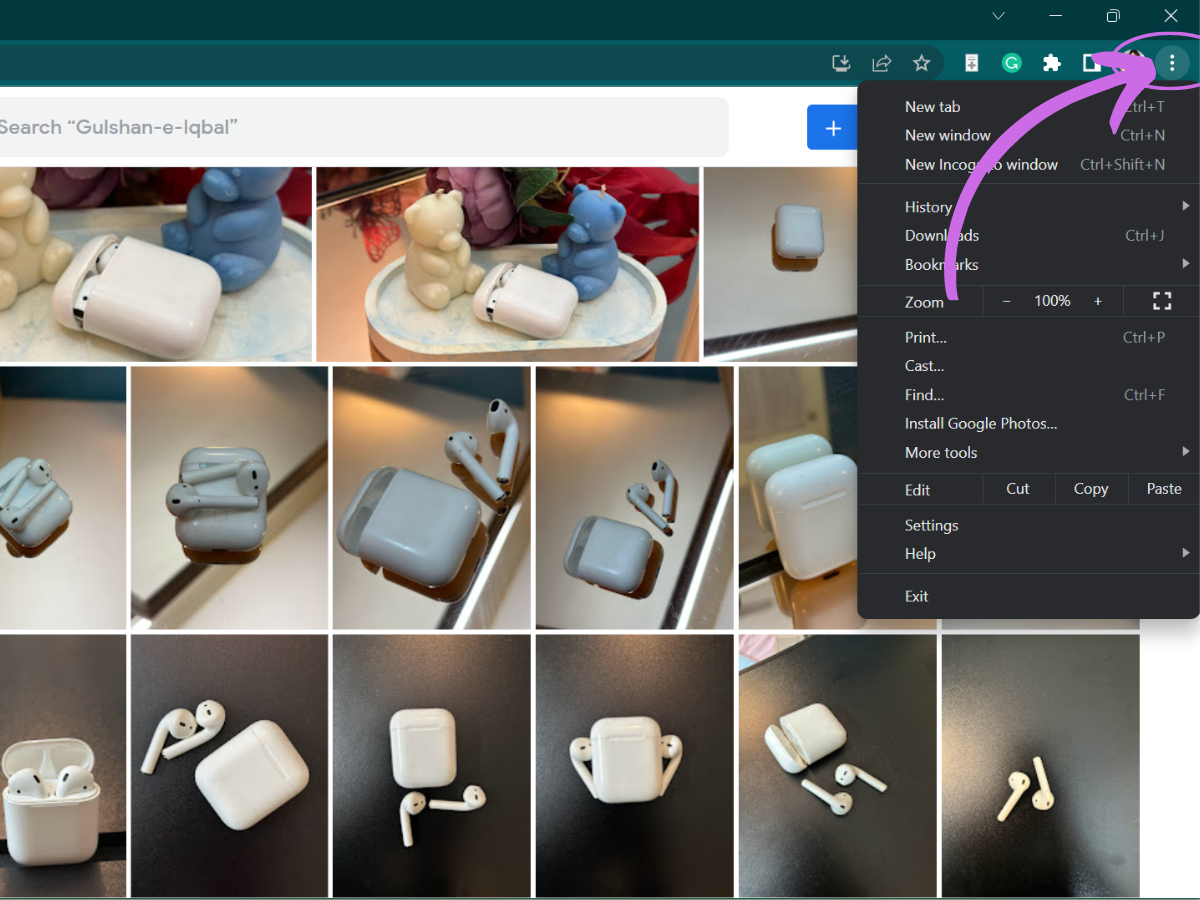 4. Select the Cast… option and then click on your Chromecast device.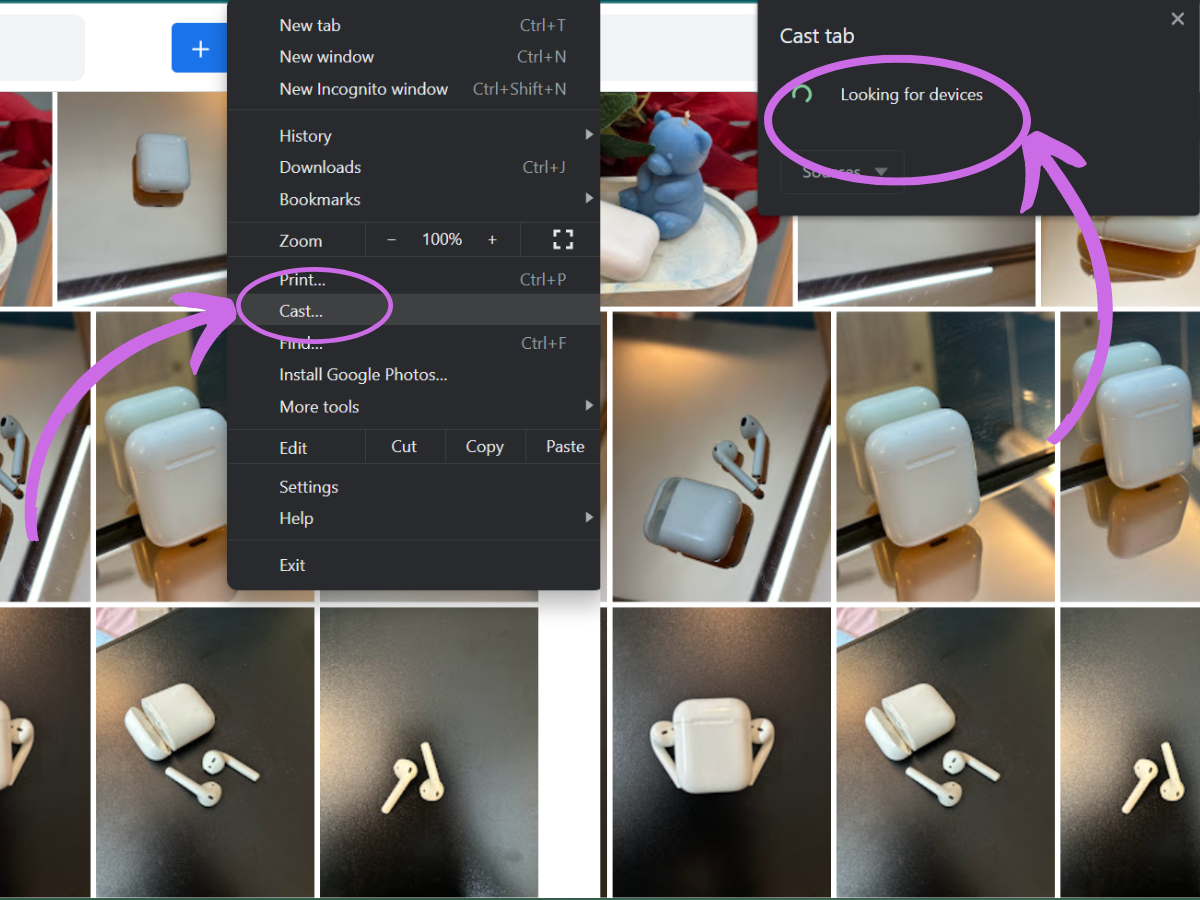 5. To stop casting, click the More option again and select Stop.
NOTE: You can cast only the Chrome browser to your TV or the entire computer screen by changing the settings on your browser. Once you hit the Cast button, you can change the Source to Cast Tab or Cast Desktop to achieve this.
Conclusion
These were all the top methods of Chromecasting photos from your iPhone. The Google Photos app is perfect for those looking for a more casual and free way to screencast their images on a TV. On the other hand, the alternate third-party app solution is more suited for business and professional use with its paid add-ons.
Our instructions on how to cast photos through AirPlay are suitable for those who have an Apple TV or a TV with AirPlay support. Additionally, for those of you who wish to use your computer instead of your iPhone, our Bonus method will prove to be the best solution.
Frequently Asked Questions
To cast Google Photos from your iPad to your TV, you can use the third-party app DoCast. The app is capable of displaying offline photos and videos to a Chromecast-enabled TV. Connect your iPhone to the same Wi-Fi as the TV, and then tap Photos in the app. Tap the picture you want to cast and it'll start being displayed on the TV.
If you're casting your iPhone photos to an AirPlay 2-compatible device, you can use the native AirPlay option under the Share button on your picture. If your TV is not AirPlay 2-compatible, you can use any third-party app available on the App Store to cast your pictures on your TV.
Unfortunately, it's impossible to AirPlay to Chromecast directly since Chromecast is not AirPlay 2-compatible, and there's no native support for this device. That said, you can always use a reliable and efficient third-party app available on the App Store for this purpose. For example, the Photo Video Cast to Chromecast app that we described in this article.