Sometimes you may experience some issues when playing AC3 on Mac. Fortunately, there are easy ways to overcome them. You can either install the AC3 codec or use dedicated software such as Elmedia Player. The right audio player for macOS will play any type of file, while providing you with various functionalities, customization options, and more. Read below to find all solutions recommended to play AC3 file on Mac.
Users situation
"Why can't I play AC3 audio? I've noticed that media files containing AC3 audio tracks will not play in Quicktime or in iTunes. No problem with VLC or other media players. In QT, I get an error message that "The document "my.mp4" could not be opened. An unknown error occurred (1718449215)". I have also seen an alert that opening the file requires lowering a security setting for coreAudio. I can't reproduce that alert to provide the exact wording."
What is .ac3 format?
AC3 (short for Audio Coding 3), is the file extension for surround sound audio files. It was developed by Dolby Laboratories and is mostly used for Dolby Digital audio in movie theaters, DVD and Blu-ray discs, as well as video games, etc. AC3 uses lossy compression to reduce the size of the file, similarly to MP3 and AAC. It features 6 separate sound channels, one for each speaker in a surround sound system.
Five of the channels are dedicated to a normal range, while the sixth one is dedicated to low frequency. AC3 can be played with most media players on Mac and Windows. Let's consider some of them.
Best AC3 Media Player for macOS - Elmedia
Elmedia Player allows you to play AC3 files on your Mac with minimal effort. Besides AC3, Elmedia Player can handle a large number of audio and video formats, including AAC, WMA, FLAC, ALAC, MP3, FLV, MKV, AVI, WMV.
Furthermore, Elmedia Player allows you to set up media output parameters and offers a number of customizable options, all the while being extremely easy-to-use. The in-built 10-band audio equalizer lets you manually adjust sound settings or use custom presets to fully enjoy your favorite songs. Elmedia Player also supports passthrough for AC3 (Dolby Digital)/DTS hardware decoders to ensure the best sound quality.
How to Play AC3 Audio on Mac
Pros
Wide range of audio formats supported
Customizable audio equalizer with presets
Offers wireless streaming
Extensive support for subtitles
Passthrough for hardware decoders - AC3/DTS
Cons
Available for Mac only
To use some advanced features, you need to upgrade to the PRO version
How to Play Xvid Files on Mac using Elmedia Player
2. Launch Elmedia Player and open an AC3 file.
3. You can do this in several ways:
Use the "File" option in the Main menu to locate the file.
Drag-and-drop the file into the Elmedia Player window.
In Finder, bring up the context menu by right-clicking on the file, choose "Open with" option, then Elmedia.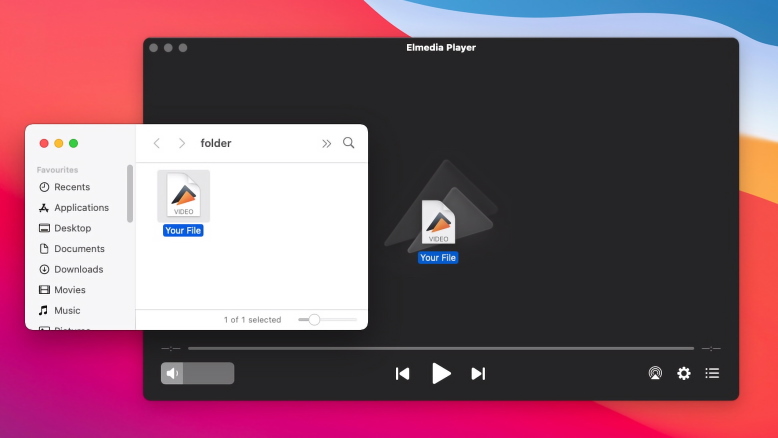 Alternative App to Play AC3 File - VLC
Another AC3 audio player on our list is VLC. It is an open-source cross-platform software that supports a wide range of file formats including AC3, MP3, FLAC, and more. It can be used for DVD and VCD playback as well. With VLC media player, you also get useful features like video conversion, desktop recording, audio and video effects. You can adjust the sound quality using the Equalizer, Compressor, and Expander tabs, or try out the available presets. However, it is also worth highlighting the lack of Chromecast and AirPlay support and the old-fashioned interface.
Pros
Support for multiple audio and video formats
Absolutely free to use
Works on macOS, Windows, Linux, Android and iOS
Built-in graphic equalizer
Cons
Not as feature-rich as its competitors
Outdated interface
Some controls are hard to find as they are hidden in a complicated menu
AC3 codec installation: an alternative way to open AC3
Apart from using the AC3 player, there is another way Mac users can try. The AC3 codec is a QuickTime component that allows you to play AC3 audio files in AVI video files. It's easy to set up and once installed it automatically works with QuickTime.
However, this method is outdated and only works if you're using a Mac with an older version of QuickTime. The best solution is to use video player with AC3 audio support like Elmedia Player. It will play AC3 without the need to install and add any additional codecs.
Pros
Easy to install
Solves sound problems in AVI
Conclusion
We hope this article helped you find the right solution for playing AC3. There are quite a few players that support AC3. Just choose what suits you best, install it on your Mac and enjoy high-quality sound on your device. If you are looking for the best way to listen to AC3 audio files, try Elmedia Player. Not only is it easy to use, but it is also capable of playing AC3 without additional codecs.