The world of music extends far beyond MP3, and true audiophiles know this very well. So when it comes to a less common format like APE, the playback can get a little tricky. Fortunately, there is a versatile audio player for Mac that can help you get rid of compatibility issues and open APE file without a fuss. We recommend Elmedia Player, an app that supports numerous music formats, ensuring compatibility and providing a wide range of features for your ultimate comfort and enjoyment of music.
Users situation
"How can I play APE audio files on a mac? Monkey's Audio really should write some programs for mac."
What is APE file?
APE format, also known as Monkey's Audio, is an audio format designed for lossless music files. It provides an amazing combination of space-saving and sound integrity, making this format the preferred choice for audiophiles, recording professionals, and musicians.
One of the key features of this music format is the ability to compress audio files without losing quality, which means that after compression, the sound remains identical to the original. Thus, users can enjoy superior sound with smaller file sizes, which is convenient for storing and transferring music.
The APE format supports various bitrates and sampling rates, allowing the user to customize the audio quality to suit their own preferences and requirements. In addition, this format supports metadata such as artist, song title, album, and other tags, making it easier to organize and manage your music libraries.
It can be played with various programs and devices that support this format, such as audio players, media players, and even some car audio systems. This makes the APE format versatile and available for use in a variety of situations.
APE Player for Mac: Elmedia Player
Elmedia Player is a user-friendly media player for macOS that offers a rich set of features to enjoy high-quality audio playback and get the most out of their media content. The app handles popular formats such as MP3, FLAC, APE, AAC, WAV, OGG, and many more without issue.
With this multifaceted format support, users can play their favorite audio tracks in their original quality without worrying about incompatibilities.
This audio player Mac solution also offers various features that enrich the user's audio listening experience. Users can adjust the equalizer to customize the sound to their liking, create and manage playlists, which makes it easy to organize and play a large number of audio files and way more.
Summing up, Elmedia Player is a powerful and user-friendly media player for macOS that provides excellent playback of audio files of various formats. With its features and support, users can enjoy the great sound of their media library and create a personalized music experience.
How to play APE on Mac
2. Launch Elmedia and drag the APE audio file onto the open player's window.
3. Alternatively, right-click the APE music file in Finder and use the "Open With" option. Find and choose Elmedia Player from the list.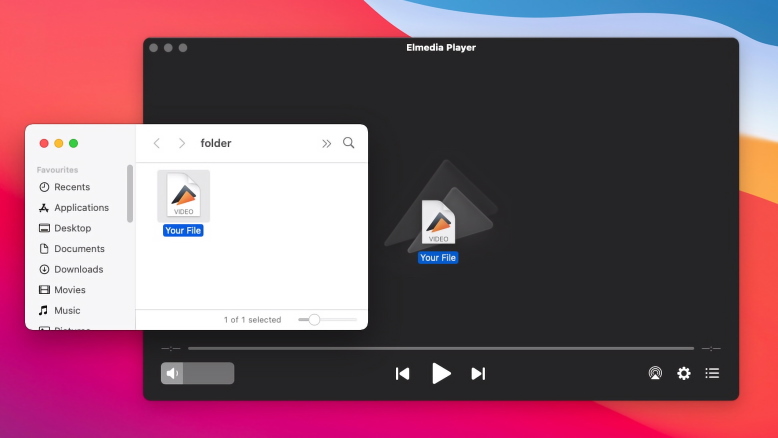 4. Another way to add .ape file is to go to the "File" menu and select the "Open" option.
5. Enjoy listening to your favorite music.
Conclusion
Even though APE is more popular and widely used on the Windows platform, that doesn't mean that Mac users aren't familiar with this extension. Among all the available apps for playing APE files on Mac, Elmedia Player stands out as the best option. It has wide format support, a user-friendly interface, and many other features, making it an ideal choice for all music admirers. And how do you open APE file on Mac? Share your life hacks in the comments below.
Frequently Asked Questions
To find support for APE for Mac, use Elmedia Player. You won't need to install any additional software, such as plug-ins or decoders. Just play the file by either dragging and dropping it into Elmedia or by going to File > Open. Alternatively, you can right-click on the APE file > Open With > Elmedia. The Elmedia app will provide quality sound as well as fine audio adjustments, convenient playlists, and more.
You can convert APE to FLAC by using convertio.co.
Use the following steps:
To upload your APE audio file or files, either select them from your computer, Google Drive, or Dropbox, paste a URL, or drag them onto the Convertio page.
Select "To FLAC" from the drop-down menu to indicate your output format.
Click "Convert" and wait while it processes.
Download your FLAC file(s) by clicking "Download".
If you need an application to play FLAC on Mac, feel free to view our recommendations for apps compatible with macOS.
In terms of sound quality, there is no difference between the various types of lossless compression methods. There are some differences in other aspects, though. For example, APE achieves slightly better compression compared to FLAC but it needs more processing power to decode.