OGG file format is not as popular as MP3, however, thanks to support for modern technologies this codec has gained popularity and has many fans. In the following article, we will talk about the OGG file and recommend 7 top audio player for Mac solutions that allow playing OGG files without worrying about compatibility issues.
Top OGG File Player for Mac - Elmedia
To start it off, we'd like to highlight Elmedia Player as a dedicated, all-around OGG player Mac solution. It's incredibly versatile and places user experience above everything else. What's great is that this app doesn't require users to download additional plugins or codecs to play any format, including OGG files. All these make it the go-to choice among Best Music Players for Mac.
Along with that, you can expect to enjoy all your videos in the highest quality possible, with built-in controls and playback options to optimize your experience even further. Fine-tuning audio controls, deinterlacing, hardware-accelerated decoding, and screenshot features are just some of the many ways you'll get to enjoy your videos on Mac.
Rating in App Store: 4.5
Price: free to use, PRO upgrade priced at $19.95
Supported OS: macOS ( including Ventura)
Pros
Minimalist design
Does not display additional settings on top of the content
Ability to customize the display of subtitles
Support for streaming
Picture-in-picture mode
Work with bookmarks.
Cons
Available for macOS only
Pro version is needed to unlock all the features
Is not compatible with some older devices.
Video tutorial on how to open OGG files on Mac
How to Open OGG Files on Mac
2. Add your files:
Drag and drop your OGG file into the Elmedia Player window or app icon in the Dock.
Click on "File" in the Elmedia Player menu bar and find the video you want to open.
Find the video on your Mac, right-click and select "Open with" Elmedia Player.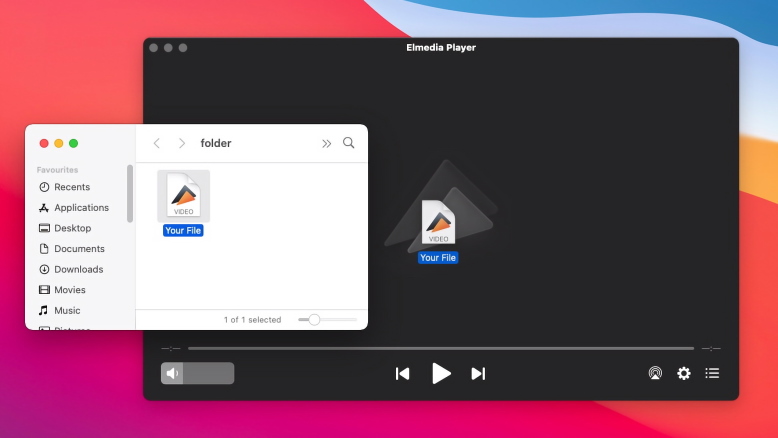 3. Start enjoying your music!
OGG is just one of the many file types that the Elmedia Music Player for Mac supports. Explore more file formats and play them without any issues or hiccups with Elmedia.
Cisdem Video Player
Cisdem Video Player can proudly be called not only an excellent OGG audio player but also a powerful video player for both Mac and Windows users. In its arsenal, you will find support for virtually any media file, including 1080P, 4K, 5K, and 8K video. The app also offers you the ability to convert some formats to the most needed ones.
Explore the full playback capabilities, including playing and pausing, controlling the volume, viewing in normal and full-screen mode, time displaying, and way more. In addition, the minimalistic interface of the app makes it the perfect choice for users.
Rating in App Store: 4.3
Price: $9.99
Supported OS: macOS, Windows
Pros
Uncluttered interface
Support for concert feature
Can handle multiple file formats
Support for the latest OSes.
Cons
Presence of ads
Some issues with managing subtuitles
Latest update was in December 2021.
VLC Media Player
VLC is a powerful all-in-one media player that perfectly works on different operating systems.. One of the top features of this solution is the ability to play almost any type of video and audio, including MPEG-1, MPEG-2, MPEG-4, DivX, XviD, MP3, OGG, and others, regular DVD and VCD disks. Does not require any additional codecs to be installed since all components are already contained within it.
Despite having a great list of features offered by this OGG file player it has some nuances, namely the outdated user interface that is not so modern compared to the rest of the players. Otherwise, it is a perfect choice for video and audio playback.
Rating in Trustpilot: 2.2
Price: free, donation-based service
Supported OS: Windows, macOS, Linux, iOS, Android
Pros
Ability to synchronize several audio tracks
No annoying ads
Support for plug-ins
Set of enhanced features for video playback.
Cons
Issues with playing 4k videos
Can't be installed from Mac App Store
Confusing official website.
SMplayer
Next on our list of OGG player software is SMPlayer. It is a multifunctional player that works with the most popular audio and video formats and does not need to install additional codecs. The program also plays DVDs and streaming videos. It is a full graphical shell for MPlayer, providing both basic functions of the latter and more advanced ones, such as filter support.
One of the main features of SMPlayer is that the player remembers the settings for all the files being played. Even after you close the player, it will save the place where the video was stopped, the audio track, subtitles, volume, etc.
Rating in TechRadar: 4.5
Price: free
Supported OS: macOS, Windows, Linux
Pros
Work with subtitles
Rewinding with the mouse is available
Interaction with different formats
Playlist control.
Cons
Not too convenient settings dialog
Experience is required to work with codecs
Outdated interface.
Free Mac Media Player
Want to download free OGG player, then take a closer look at Free Mac Media Player by Aiseesoft. Despite having Mac word in its name the app can seamlessly run on Windows so don't let it mislead you. The player can boast an impressive list of supported audio and video formats, including image ones like JPG, PNG, etc.
Additionally, you will find support for 3D, and 4K videos, a self-define playing process, the ability to take screenshots of a favorite moment, adjust the video playback effects, and way more.
Price: free
Supported OS: macOS, Windows, Linux
Pros
Intuitive interface
Ability to handle region codes
Ability to adjust playback
Support for the latest DTS-HD and Dolby TrueHD audio encoding technology.
Cons
Does not allow 1080pHD video playback
Occasional crashes.
What Is an OGG File?
The OGG file extension stands for a free, open container format that uses the OGG Vorbis audio compression. Apart from audio data, these files can also include song metadata, such as artist and track information. The OGG file type has been developed and maintained by the Xiph.Org Foundation, and the word "Vorbis" refers to the encoding scheme provided by the organization.
Despite Vorbis OGG files can use other audio compression types like FLAC and Speex, in this case, they may use the .oga file extension. OGG files are common and can be opened by most major media players, including Windows Media Player and many others. You can even play these audio files directly in Google Drive. If you are a Mac user, you'll need to install a third-party player since Apple is not natively compatible with OGG. Elmedia Player is a good option to consider.
Alternatively, you can open an OGG file online by dragging it into Google Chrome or other browsers like Opera or Mozilla Firefox.
OGG File Type vs. MP3 - What's the Difference?
Generally, when you place the two popular formats side by side, there won't be any significant differences. However, it is not correct to say there aren't any. When it comes to comparing OGG and MP3, there are a few distinctions to note.
For example, the OGG file type has better sound quality and is smaller in size compared to MP3 when compressed. OGG supports open audio encoding, while MP3 is a patented encoding format. Also, the bit-rate compression of OGG files varies depending on the requirements of each individual file, while the bit-rate compression of MP3 stays consistent, no matter the file type.
In all cases, MP3 seems to come out on top as the popular choice due to its ease of use and tremendous portability across various applications. Although OGG has its place in certain key applications, unfortunately, it isn't as universally supported as MP3.
Convert ogg. format on Mac - Alternative solution
There are lots of audio file converters on the Internet that can help you with converting OGG files to the most widely used ones, namely MP3, WAV, MP4, and other similar formats. The most convenient way is to use online converters, for instance, Zamzar, FileZigZag, Online-convert.
Here is how to convert OGG files using Zamzar:
Go to Zamzar and click "Choose Files" button, and then select the OGG file you want to convert.
Select the output format from the drop-down menu.
Click "Convert". After that your file will be converted and you will be able to save it to your computer. Alternatively, you can get a link to the converted file.
If you don't want to upload your files online or need to work in bulk, you can convert OGG files using a downloadable program. Besides that, OGG files can be saved to OTP via the Origin app, by following these steps, namely File > Save Template As. As a result you will have an Origin Graph Template file.
However, converting files can be time-consuming. With Elmedia Player, you don't need to convert OGG format to MP3 as the player handles all popular video and audio formats, no codecs are required.
Conclusion
Summing up, playing OGG files is not a difficult thing if you have decent OGG player software. Another variant of playing is using OGG player converter apps. In the article above, we have gathered the full list of tools that can help you with this issue. They are aimed at both professionals and beginners, so each user will find the most suitable for their needs.
As for our recommendation, our choice is Elmedia Player, as the app is simple yet powerful so it can satisfy the needs of both savvy users and newbies. And what is your favorite OGG file player? Share your thoughts.
Frequently Asked Questions
When you have an app like Elmedia Player, you'll never be left wondering and trying to figure out how to play OGG files on Mac. The app has everything you need – from user-experience controls to built-in high-quality standards in video and audio.
No, OGG is not the same as MP3. There are differences in sound quality and in size of the while.