Unfortunately, nowadays lots of video players have stopped support for older video formats, making it difficult for users to enjoy their favorite videos. Thus finding a reliable and versatile video player for Mac is a must. Elmedia Player will save you from the hassle as the app offers support for almost any audio and video file format and 3GP is among the list.
What is 3GP?
Created by the 3rd Generation Partnership Project (3GPP), a 3GP file is a multimedia container format that can contain video and audio data. The 3GP file format was developed to save disk space, therefore it is used to transmit audio and video over the Internet, as well as save videos shot on a mobile device.
Generally, the 3GP container supports H.263, MPEG-4 Part 2 encoded video, besides that, H.264 (MPEG-4 Part 10/ AVC) encoded video can be inside as well. In audio, 3GP usually contains various AMR, AAC, and AAC+ coding formats. However, it is worth noting that 3GP nowadays is not so widely spread, and newer formats take their leading positions.
Best 3GP Video Player for Mac - Elmedia Player
Elmedia Player is your #1 utility for opening Mac video files, 3GP included. It can help you configure audio, video, and subtitles, avoid audio and subtitle desync, create and export playlists, and make bookmarks to remember where you left off. With this all-in-one media player, you can enjoy your 3GP files to the fullest.
This 3GP player Mac app can even stream videos to DLNA, AirPlay 2, and Chromecast devices. If you want more clarity in your 3GP movies, use the video tuner and audio equalizer, and look for subtitles online, even automatically, if you want to enjoy 3GP video in a language of origin or any other.
How to Play a 3GP File on Mac
2. Install the app and launch it.
3. Select one of the following advice on how to play 3GP files.
From the player itself, go to the Main Menu, and click on "File" > "Open".
Locate the file in Finder, right-click it, and choose to open it with Elmedia Player.
The easiest way is to drag the file on the top of the player's window or its icon in the Dock.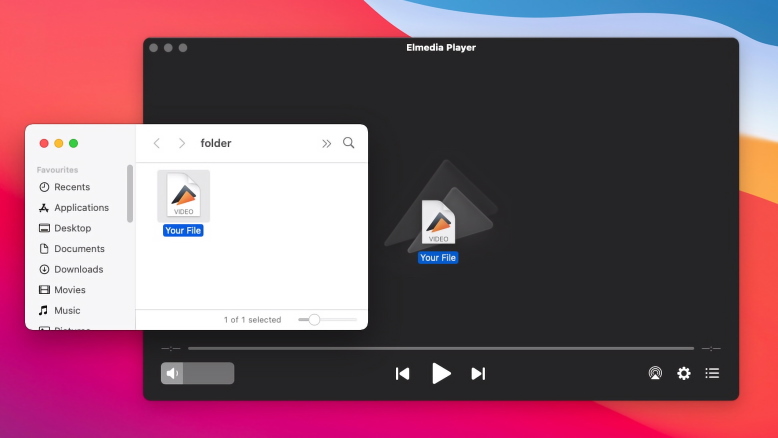 4. Enjoy watching any 3GP file you want.
Conclusion
Despite being an old file format, you can still find 3GP video files all over the Internet. Generally, all modern video players should have support for this extension, although there are exceptions. However, you can always rely on Elmedia Player if you need to play 3GP movies. In addition to supporting the 3GP format, this media player also offers extra features, including customization options, a streaming feature, subtitle support, and way more.