JustStream
Connect Mac to LG Smart TV through Your Network
JustStream is the greatest way to mirror MacBook to LG Smart TV. Expect nothing short of a good time, as you'll need no wires or additional external hardware. And it's not just limited to LG - any AirPlay, DLNA or Chromecast device is on the table. Whatever you intend, JustStream is here to fulfill that intention - make presentations, watch movies or listen to music at your leisure.

Free 20-minute Test Run
Any doubts you have about our software are totally normal. To make sure that you make the right choice, we offer a 20-minute free trial version. It's not terribly long, but these 20 minutes should suffice for a complete test run of our app.
NEW
Yoo-hoo! JustStream now supports Apple M1, AirPlay 2 and Roku TV!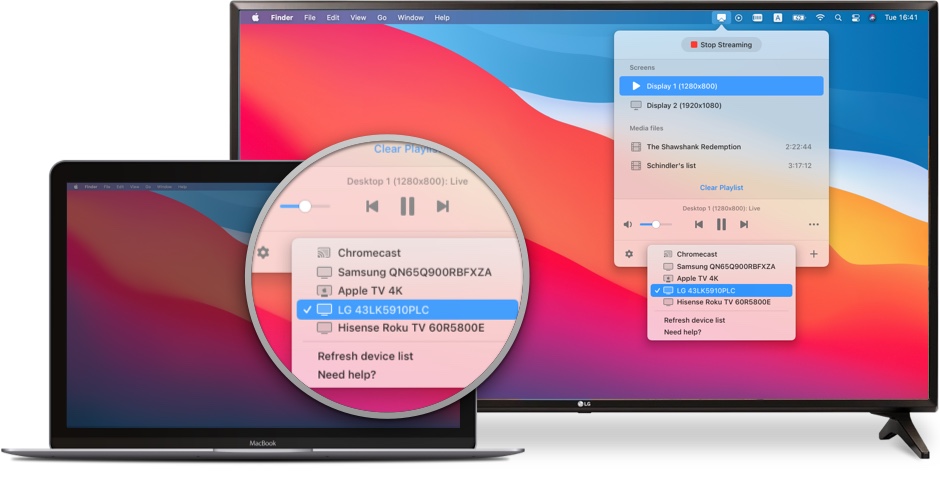 Adjustable Resolution and Image Size
Not every display is the same, and we understand this better than anyone. Connect Mac to LG Smart TV without worrying if it's going to fit. With JustStream, you have access to several useful configuration settings, allowing you to switch both resolution (720p and 1080p included) and output screen size.
Use Mouse Pointer like a Laser Pointer
Most movie enthusiasts will appreciate the option to disable the mouse cursor. It can get annoying at times. But it's also just as useful to enable the cursor when you mirror Mac to LG Smart TV. If you're making a presentation, you can highlight important points via clicks - there's an option to show clicks with a small animation.
Mirror for LG TV Mac free
Mirror Mac to LG smart TV
How to Mirror Mac to LG Smart TV
No need for an Apple TV device! To get started with JustStream, all you need is your Mac, your Smart TV, and a local WiFi network.
Switch on your Smart TV. Ensure that it's connected to the same network.
Open JustStream and expand it from the Menu Bar.
The first thing you'll see is a list of connected monitors. Choose the one you want to mirror.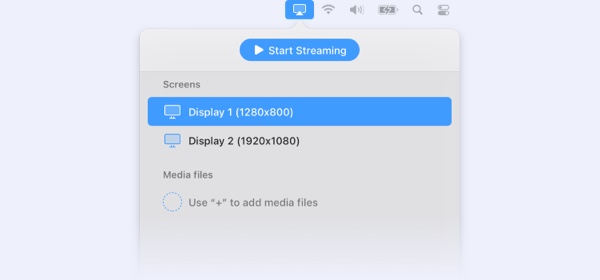 Now, click the "WiFi" icon at the bottom to open the list of available network devices. If the TV isn't showing up, try reloading it and refreshing the list.
Once both devices are chosen, you can start mirroring!
Press "Start Streaming".
Double-click your monitor.
Or choose "Start Mirroring" from the context menu of your monitor.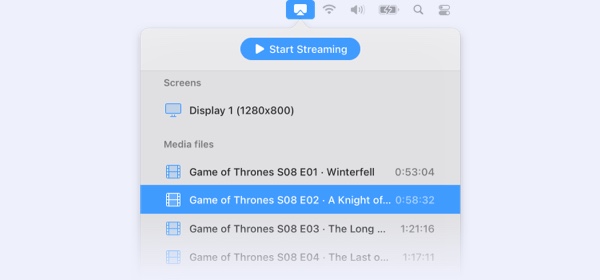 Questions and Answers:
It's not always simple to set up a mirroring session. With this section, we'll try to make sure that none of your questions go unanswered.

#1 at Video
JustStream
Streaming App for Mac
4.5
rank based on
23
+ users