JustStream
Mirror Mac to LG Smart TV
Connecting MacBook to LG smart TV is no longer a big hassle thanks to JustStream – a free lightweight app that supports almost all LG Smart TV of different models. With this app, you won't have to deal with countless cables or Apple TV to mirror videos, audio files, presentations and even software applications.

Enjoy 20 Minutes of Free Demo
If you have any doubt about this app, you can enjoy 20 minutes of mirroring Mac to LG TV for free to evaluate all aspects of the app.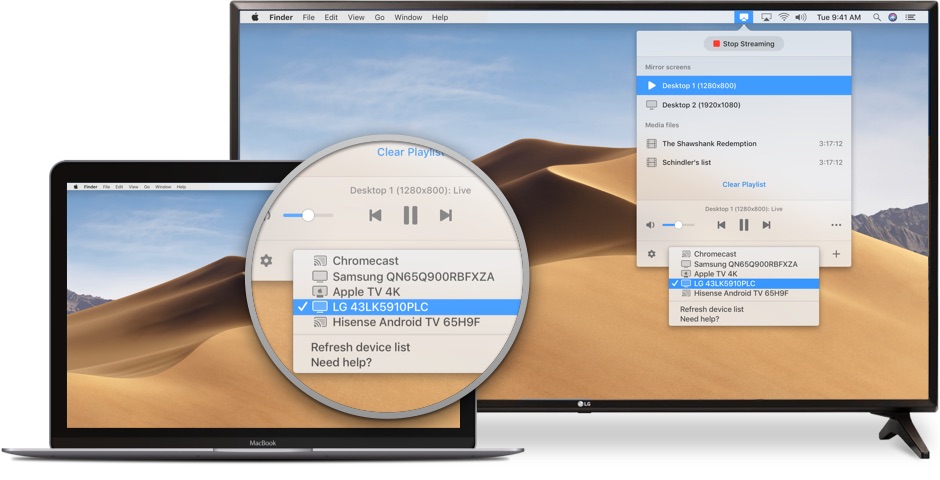 Quality of Video Image and Display Settings
When you mirror MacBook to LG smart TV using JustStream, you enjoy great flexibility because it lets you adjust mirroring process according to your needs. What's more, it allows you to set your videos to either auto, Full HD (1080p) or HD (720p). Plus, you have total control over the mirrored video's dimensions to ensure it fits the TV screen.
Added options for mirroring
JustStream offers some amazing mirroring options. For instance, it allows you to capture mouse cursor movements on the TV screen. Mouse clicks can also be captured and highlighted in the output video.
Mirror for LG TV Mac free
Mirror Mac to LG smart TV
How to Mirror Mac to LG smart TV with JustStream
Without using an Apple TV device, you can now stream anything from your MacBook computer to your LG TV screen thanks to JustStream. Here's a step-by-step guide on the whole process.
Download JustStream app and install it on your Mac computer (you can download it from this page).
Switch your LG smart TV on.
Open the app on your computer. Since this is a menu bar application, you'll have to click its icon in the menu bar.
From the list of monitors connected to this Mac select the screen you will be mirroring to the TV set.
Now select the LG smart TV from the list of available devices. All the TVs that are on the same wireless network will be listed there. However, if you can't see your TV on the list even though it is clearly switched on and connected to your Wi-Fi, try refreshing the list.
Once everything is set up, click "Start streaming" and the mirroring of your Mac screen to the LG TV will commence!
There are other ways to start mirroring too. E.g. you can double-click on the monitor name, or you can use the menu that opens when you click the three dots by the monitor name.
To stop the mirroring process, use the "Stop Streaming" button.
Questions and answers
Here we answer questions on how to mirror Mac to LG smart TV wirelessly.

#1 at Video
JustStream
Streaming App for Mac
4.5
rank based on
23
+ users