Even if you're playing movies on a Mac, a Chromecast makes it possible to use the big screen and the speakers of your TV. How to cast to Chromecast from macOS? A Chromecast-compatible Mac media player can be used for this purpose. There are also alternative solutions, such as a streaming app or even Google Chrome.
Chromecast compatibility with macOS is a complex issue. An HD media player that streams to Chromecast is less common than AirPlay apps. Even VLC won't do that. But we have a list of software that will. Enjoy chromecasting from Mac in hi-res.
What Is a Chromecast?
A Chromecast is a TV dongle that can receive video and audio streams over Wi-Fi. Chromecast is not DLNA compatible – the device series has its own protocol. Generally, these dongles are extensively compatible with other Google hardware. Trying to cast to Chromecast from Mac is more troublesome.
macOS devices don't have this capability by default, and the same can be said for most media apps. Specialized apps that are designed around Chromecast streaming may be lacking in other regards. Format compatibility or option variety may be compromised.
Folx offers a free version and a PRO version. The free version includes all the basic features you need for downloading, while Folx PRO adds many advanced features such as download scheduling, speed control, and built-in search.
Best Way How to Stream from Mac to Chromecast: Elmedia Player PRO
Elmedia Player supports almost all video and audio codecs – MKV, MP4, MOV, WMV, and FLV, among others. But, most importantly, this media player for macOS includes Chromecast compatibility.
It's so much more than a simple streaming app, with all sorts of options. For instance, you can adjust audio levels on any frequency by using the equalizer. Color balance, brightness, and contrast can be adjusted, and it all carries over to the TV screen. With outstanding subtitle support, playlist importing and exporting, bookmarks, playback speed, and external track addition, Elmedia PRO is the best way to connect Mac to Chromecast.
How to Chromecast from Mac using Elmedia
2. Open a media file by dragging it to the player window.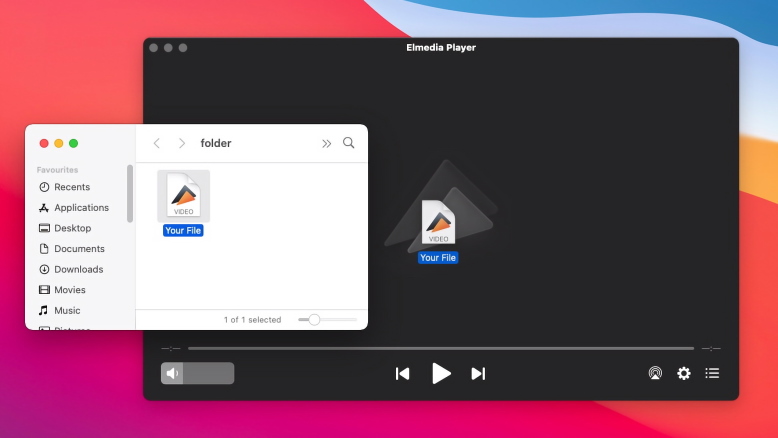 3. Turn on your Chromecast.
4. Make sure that both devices are on the same Wi-Fi network.
5. In Elmedia Player, click the AirPlay icon in the bottom right.
6. Select the Chromecast from the list of devices.
If you try Elmedia Player, you'll find yourself using it more and more. It provides a superior viewing and listening experience that will enrich your media library – whether that includes videos, audiobooks, music, podcasts, or animated series. Elmedia will impress even the most experienced user with its compact, functional, yet pleasant interface. It's the go-to player app for any Mac owner.
How to Stream to Chromecast from Mac Chrome Browser
Here's one of the possible ways to connect Mac to Chromecast. Chrome browser is a free app that's commonly found on macOS devices, and it's quick to install if you don't have it. So, how does one use Chrome to stream? It's simple.
How to stream to Chromecast from Mac Chrome browser
2. Open a video in one of the tabs.
3. Click the casting icon in the top right. It's a box with a Wi-Fi symbol.
4. Choose "Cast this tab to… Chromecast".
5. Select your device from the list.
It's worth noting that this only works for web content or anything else you can open in a web browser. This means that most offline video files will be unavailable, and the few that are will not allow much in the way of customization and playback control.
You'll mostly be limited to MP4, WebM, MP3, and other common formats. Any unusual codecs will cause incompatibilities and may fail to open in Chrome. Playlists will not be available. On that note, YouTube videos will display a quick access button for the Chromecast player Mac streaming feature. So, if you're viewing online content, this method may be sufficient.
Streaming Video with JustStream Easily
JustStream is the definitive streaming widget. Convenient and efficient, this app can substitute any Mac video player Chromecast experience. Maximum compatibility is assured, whatever, whenever, wherever you stream.
If you want to use your TV as a set of speakers, JustStream is perfect. You can freely pause or continue with a mouseclick, since any controls can be accessed on your Mac with this app. When it comes to videos, you have countless settings at your disposal. Video, audio, subtitles are customizable in every possible way. Do you want to stream via AirPlay, DLNA, or Chromecast? That's entirely possible.
How to Stream to Chromecast from Juststream
1. Install and launch JustStream.
2. Power up your Chromecast and TV.
3. Check the connection on every device.
4. Expand JustStream from your Menu Bar by clicking the toolbar icon.
5. Use the "+" button to add media to your playlist.
6. Use the AirPlay button at the bottom to choose your device.
7. Click "Start Streaming".
Conclusion
It's important to distinguish different situations when you'd want to start chromecasting from Mac. Some cheaper, less functional apps may fulfill your needs, whereas other situations will require an advanced solution.
Whatever the case, Elmedia Player or similar software are a solid bet. Simple streaming is no good if you can't customize it to your specifications. Try to choose the application that will complete the task at the lowest cost, and support your TV/dongle combination.
Frequently Asked Questions
Since QuickTime and other system applications can't connect to Chromecast, a third-party app is necessary. The best media players for Mac are also the ones that can connect to Google hardware.
Yes! Elmedia Player is an excellent way to stream via Chromecast, and it's the closest you can get to PotPlayer for Mac. This amazing app can be operated in a click, opening a whole world of casting possibilities.
Whereas mirroring deals with the whole screen, casting is used to send a single file. Casting is, overall, more optimized, whereas mirroring is latency-heavy and inflexible, since you're streaming the whole screen in full resolution at any time.
Use a third-party Apple TV media player, and there's a good chance that it will support Chromecast. We've provided some examples in the article above, so you can choose with no effort.