H.264 is now the most widely used video compression standard. It is popular for providing good video quality at lower bitrates. Blu-ray and a wide range of streaming services use the H.264 codec. In order to play files encoded with H.264 compression, you will need a powerful video player for Mac. In this article, we're going to share with you the 5 best solutions for your consideration.
1. Elmedia Player
The first solution that can help you play H.264 files on macOS is Elmedia Player. It is an efficient media player that offers the best playback experience and supports a variety of file formats, including AVI, SWF, MKV, MOV, WMV, MP3, FLAC and DivX, so you won't have any compatibility issues.
As a free h.264 player, Elmedia Player offers personalized playback controls, lets you create playlists and bookmarks. It is also fully compatible with subtitles. Elmedia has an integrated function to search for subtitles on OpenSubtitles.com. You'll only need to upgrade to PRO version for advanced features like an audio equalizer, video tuner, A-B loop, etc. 
What makes this player one of the best is its streaming capabilities. With Elmedia Player, you can stream media files to AirPlay 2, DLNA and Chromecast devices. And you can control and customize your stream right from your Mac. Overall, Elmedia Player combines powerful functionality with a sleek user interface and is a decent option for playing H264 files on Mac.
Pros
Subtitle support
Quick and easy streaming
Flexible audio and video settings
Gives you full control over playback
Cons
Mac only
To use all the features, you need to upgrade to the PRO version
Supported OS: macOS
Supported Formats: AVI, FLV, SWF, MP4, WMV, MOV, DAT, M4V, M4A, AAC, 3GP, ASF, OGG, MPG, MPEG, MPV, DivX, MKV, WebM, etc.
Price: free to use, PRO upgrade priced at $19.99
I love elmedia player. It worked perfectly out of the box and quickly replaced my previous prefered video player as I wanted to consolidate as many apps from within Setapp! Also this was the first video player for me that genuinly could get the "share to TV with airplay" function to work without headaches
— Nicolas Mertens, Setapp
How to Play H264 Files on Mac with Elmedia Player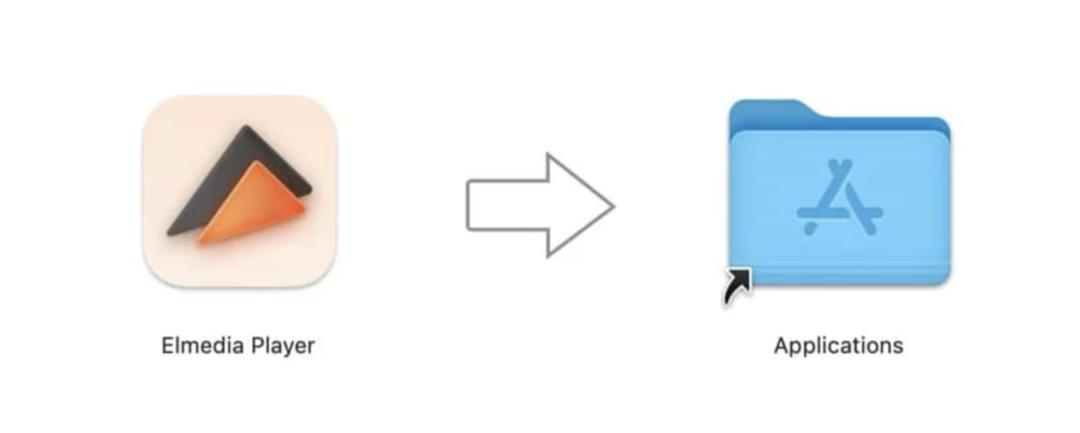 Step 2. Open your H264 file.
Add an H264 file to Elmedia Player by dragging it to the application window or by searching directly from the player's interface.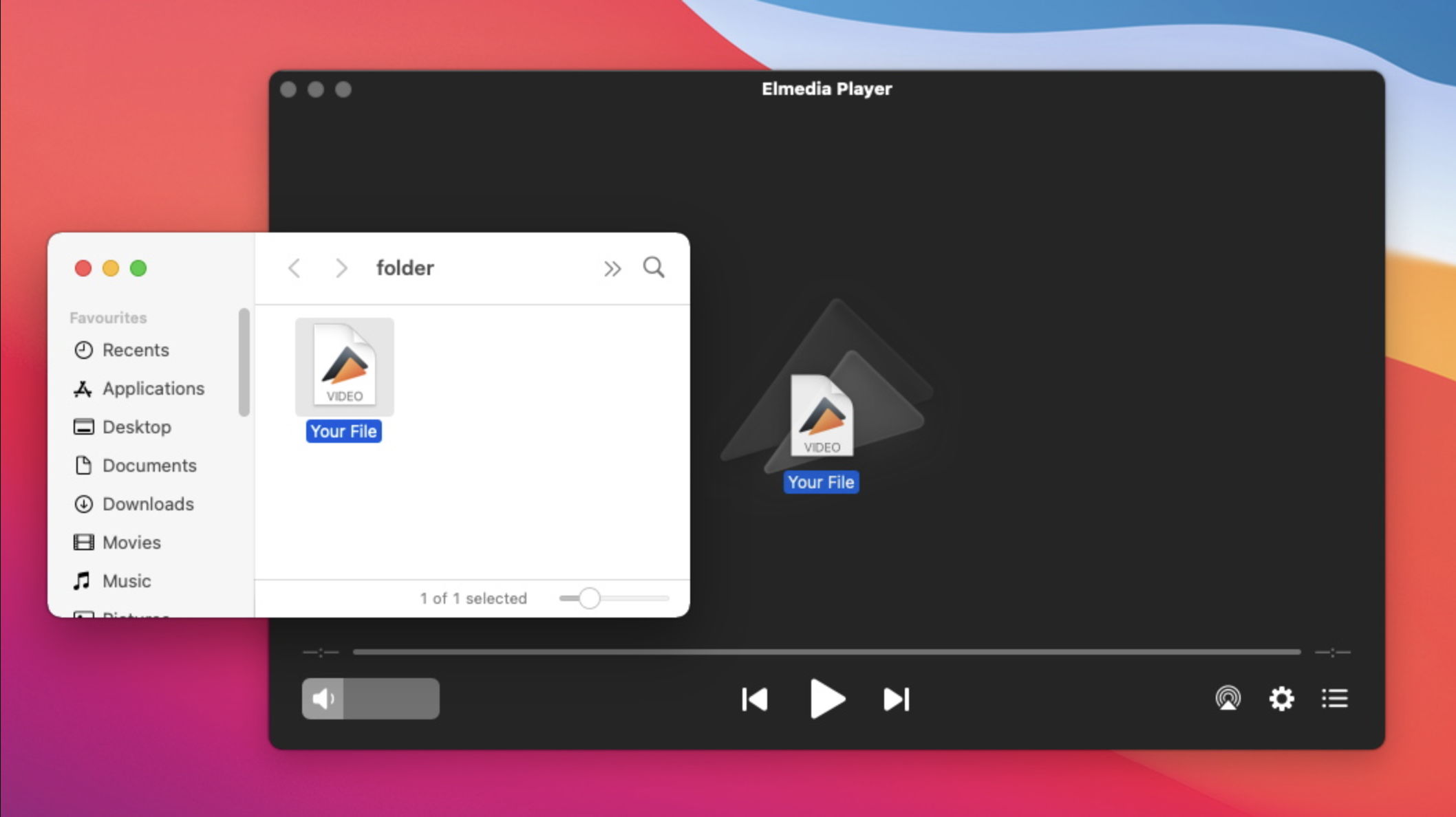 Step 3. Enjoy watching!
That's it! Your H264 file will start playing automatically.
Video guide on how to open any video on Mac
2. 5KPlayer
5KPlayer supports a wide range of formats and codecs, including H.265/H.264, MP4, MKV, FLV, and provides smooth 4K 8K HDR video playback. In addition, the application allows you to switch to 360-degree video playback with a single click. The app uses a dark color scheme, has a minimalistic user interface, and gives users full control over audio and video playback.
5KPlayer also doubles as a media downloader, which means you can save videos directly from YouTube, Vimeo, and other video-sharing sites. However, despite such an abundance of features, 5KPlayer still has drawbacks. Many users complain about the cluttered interface and the spammy ads displayed in the app. More user reviews can be found here.
Pros
Supports a variety of formats
Doubles as an online downloader
Wireless streaming
Cons
Difficult to uninstall
Ads in the free version
Supported OS: macOS, Windows
Supported Formats: MP4, MOV, M4V, 3GP, ASF, DAT, FLV, WMV, Xvid, MP3, AAC, FLAC, WAV, WMA, etc.
Price: free
5KPlayer has unique features and tools. It is so easy to install and set up. In addition to this, you can go on with the default preferences to download the software or may customize it by using your drive. Therefore, I can say that the interface itself is user-friendly and does not slow down when you are editing and downloading.
— Jordan Scott, topsevenreviews
3. VLC Media Player
VLC (formerly VideoLAN client) is a free and open-source media player that has been around since the 2000s. It is capable of playing almost any audio or video file, as well as various streaming protocols. VLC media player is not only for playback, it also contains many advanced controls over playback, video and audio filters, and allows users to fine-tune their experience. 
What's good about this app is that it works on all platforms. You can use it on macOS, Windows, Linux, iOS, Android. However, the UI feels a little clunky and it can be difficult for new users to navigate. If you are looking for a player with a simple and clean interface, opt for the VLC alternative for Mac.
Pros
Free to use
Conversion feature
Handles a wide range of file types
Comes with additional extensions and plugins
Cons
The interface is quite outdated and difficult to navigate
Supported OS: macOS, Windows, Linux, iOS, Android
Supported Formats: PS, TS, PVA, MP3, AVI, ASF, WMV, WMA, MP4, MOV, 3GP, OGG, OGM, MKV, WAV, DTS, AAC, AC3/A52, FLAC, FLV, MXF, etc.
Price: free and open-source
Still after many years of use they haven't fixed the playlist option. Cannot function a simple 1-10 playlist. We have to go 1, 10, 11 etc until 2, 21 etc. This problem has existed since 2008 at least from what I can see? Real shame as it's a swiss toolkit for many things. Problem with freeware is nobody gets around to fixing anything. 🙁
— Wayney Wayney, Trustpilot
4. DivX
DivX Player is another h264 player Mac users can get. It can play H264/H265, DivX, AVI, MKV and HEVC up to 4K resolution. If you need high-quality surround sound, there is the ability to play AC3 and DTS-HD. However, this feature is available in DivX PRO. After the upgrade, you will unlock the Ad-Free option, Cloud Connect to upload and download videos from Google Drive and Dropbox, and VideoPack to convert MPEG-2 and VC-1 video. With DivX, you can also stream videos to DLNA compatible devices, Chromecast, and more.
Pros
Flexible playback options
Streaming capabilities
Plays video from the cloud
Cons
Some advanced features are available in the PRO version
The Mac version was last updated in 2020, and on the latest macOS it looks glitchy sometimes
Supported OS: macOS, Windows
Supported Formats: AVI, DivX, MP3, AC3, MKV, MP4, AAC, etc.
Price: free, Pro version $19.99
5. QuickTime Player
QuickTime Player is a media player developed by Apple. It comes preinstalled on every Mac device. It's free, easy to use, and supports most multimedia formats. Among other things, QuickTime Player allows you to record screen and edit videos through cropping, rearranging and rotating. All in all, QuickTime is a great option when you need to play some popular formats, but if you want to go beyond the default player, you should look for the QuickTime alternative for Mac.
Supported OS: macOS, Windows
Supported Formats: MOV, MP4, M4V, M4A, MP3, AAC, etc.
Price: free
Nice tool for viewing certain type of video, namely interactive movies. Even though it is not the most comfortable player for me, I do enjoy it in playing specific file formats.
— Mariika, mac.informer
What Is h264 File?
An h264 file is a video file compressed using the H.264 protocol (also known as MPEG-4 AVC), which is popular for providing high-quality video at a lower bit rate. It is commonly used in video streaming, as well as cable broadcasting and Blu-ray discs. The vast majority of modern DVRs also use h.264 as their primary codec.
H.264 is essentially a video codec that requires a video container to store the encoded video. Thus, H.264 can be included in MP4, AVI, MOV and other container formats.
Conclusion
After exploring various video players for Mac, we have found the best solutions to help you play H.264. As you can see, there are quite a few options, and you can use any of the players described in this article. Our top pick is Elmedia Player. This MP4 player for Mac offers compatibility with a range of formats and codecs, and delivers an outstanding video experience.
Frequently Asked Questions
To play H264 on Mac, you can use Elmedia Player. It is a comprehensive media player for Mac with many playback options. The player can open H264 files and other formats without the need for any extra codecs. It's also a great MKV player for Mac. 
There are multiple players and we have included some of them in the article. You can check out our recommendations above to find the best video player for Mac to play H264 files.
To use Elmedia Player to play a H264 video file, you need to drag and drop the file onto the application window. Once done, your H264 file will start playing. 
MP4 is a media container format, while H.264 is a video compression codec that needs a container to hold the encoded video. In most cases, H.264 is referred to as an MP4 file compressed with the H.264 video codec.