MPEG-4 is natively compatible with QuickTime. However, you may experience problems while playing these file types since they can be encoded in different ways. In this article, we're going to list some of the top MPEG-4 players for Mac that are reliable and also come with added bonus features for a more wholesome viewing experience.
What is an MPEG-4 file?
MPEG-4 stands for Moving Picture Experts Group – an alliance of groups that are responsible for setting standards in media coding, audio compression, the transmission of formats in various applications, and more. MPEG-4 was created and designed to play high-quality video at lower data rates in a compact size. Unlike previous iterations of this compression method, MPEG-4 is a combination of layers and profiles.
An MPEG-4 file can contain both audio and video data and is commonly used to distribute and stream video content over the Internet. MPEG4 files use the MPEG-4 encoding standards. Almost all MPEG-4 video files are typically saved with the .mp4 extension.
Elmedia Player - the Best MPEG4 Player for Mac
Elmedia Player is an optimal choice for anyone when it comes to playing MPEG4 on Mac. This free video player for Mac comes with all the bells and whistles, like a robust subtitle integration feature, multiple playback controls and features, the ability to fine-tune audio and video settings to the dot, and many more. It plays a plenty of audio and video fromats not supported by QuickTime. It's compatible with MP3, M4A, AVi, MOV, and many others.
The player features an eye-catching user interface, easy navigation, and responsive controls. And not to mention a whole slew of more desirable features in its PRO version – if you haven't already, this MPEG video player for Mac is one you have to try.
Pros
Multiple file formats supported (MPEG-4 included)
HD 4K and 8K video playback for the most life-like visuals
10-band audio equalizer for the sharpest and most-refined audio experience
Robust playback and video controls to set settings exactly how you like
Cons
The free version can be limited to heavy users, and advanced features are unlocked behind the PRO version of the app
Available only for macOS, no Windows support
MPlayerX
MPlayerX is another great option to play MPEG4 files on your Mac and one worth checking out. With this multimedia player, Mac users get some of the same widely-popular features as other players like Elmedia Player. You get to enjoy having full control over playback controls and setting your own customizable hotkeys for the most personalized experience.
This MPEG4 player for Mac also plays virtually any audio and video file format you can think of – so MPEG4 is going to be a breeze. Editing videos, adjusting speed, and subtitles are all part of the MPlayerX ecosystem. By far, this player is a strong contender most users would find very useful.
Pros
Support for all kinds of file formats
Minimal design and user experience for a clean aesthetic feel
Solid settings and player control options for users
Cons
Lacks playlist support (which can be a deal-breaker for many as this is a highly sought after feature)
5KPlayer
If you're looking for a complete video player that will easily play MPEG4 on Mac, you need to check out 5KPlayer. This app is a popular one and for good reason. It's easy to use and runs HD 4K and 8K MPEG4 videos without any troubles, slowdowns, or lags. It has tremendous video downloading capabilities and similar to other players like Elmedia Player, this app also supports AirPlay so you can stream content between your Apple devices seamlessly.
Pros
HD 4K and 8K uninterrupted support
Video downloading capabilities support popular sites like YouTube and Vimeo
AirPlay support for wireless mirroring between Apple devices
Cons
The odd crash while interacting with the app from time to time
Leawo Blu-ray Player for Mac
For those wondering how to open MPEG4 file on Mac, Leawo Blu-ray Player is another player Mac users can rely on. It supports video and audio formats and can play any type of files easily. It also lets you play Blu-ray discs, DVDs and folders, ISO image files. On top of that, Leawo Blu-ray Player provides a Blu-ray menu to give you full control over your media playback, as well as features many audio and video settings that you can adjust during playback.
Pros
Free
High-quality 4K video playback
Can play various surround sounds such as Dolby, DTS, AAC, TrueHD, DTS-HD
Serves as a Mac DVD disc player
Cons
Does not allow you to save playlists for later
May crash when start playing Blu-ray/DVD discs
How to Open MPEG4 Files on Mac
2. Find an MPEG4 file you want to open. You can either drag and drop the file into the Elmedia Player open window or icon in the Dock, right-click the file on your Mac and "Open with" Elmedia Player, or navigate to the file from within the Elmedia Player menu itself.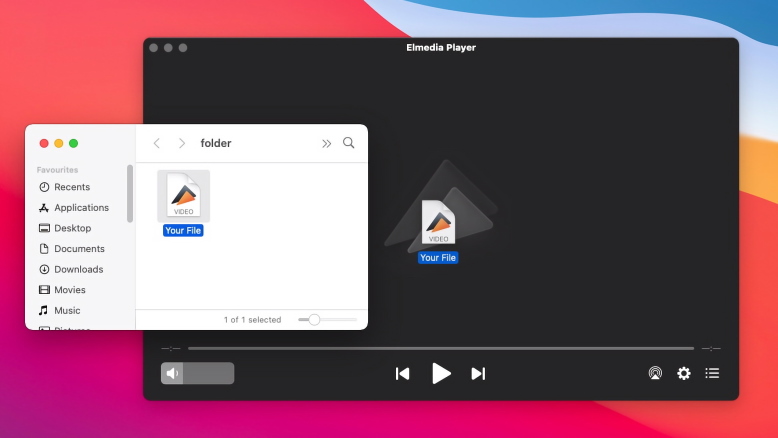 3. Just like that, your file gets added to Elmedia Player and is ready to enjoy!
Comparison table of the top MPEG players for Mac
| | | | | |
| --- | --- | --- | --- | --- |
| Top features | Elmedia Player | 5KPlayer | MPlayerX | Leawo Blu-ray Player |
| Playback video quality | HD   | Normal | Normal | Normal   |
| The speed of playback | Fast  | Fast  | Fast  | Normal |
| Supported formats | AVI, FLV, SWF, MP4, WMV, MOV, DAT, M4V, MPG, DivX, MKV and many others | MKV, M2TS, MP4, AVI, WMV, FLV, etc. | AVI, MKV, MOV, MP4, MPG, OGM, etc. | VideoCD, MPEG, MKV, MOV, AVI, FLV, WMV, MP4, RMVB |
| Support for subtitles | | | | |
| Create and edit playlists | | | | |
| Streaming option | (Pro) | | | |
| Free option | | | | |
How to Convert MPEG-4 on Mac
You can also use a converter and convert the unplayable MPEG-4 file to another popular format. However, the best and easiest option is to use a full-featured third-party player like Elmedia. You don't need to convert anything in Elmedia, it will play all your MPEG-4 files, regardless of the codecs used. So if you have a file and need to quickly play it on your Mac, Elmedia is the way to go.
Conclusion
We hope this article has helped you find the right media player for Mac and you won't face the "cant play MPEG4 on Mac" issue anymore. All the solutions above will let you play MPEG4 files. Although each one has its own benefits, our top choice is Elmedia Player. Not only does it offer wide support for media formats and codecs, but it also guarantees smooth playback, has many features and lets you stream local files to other devices.
Frequently Asked Questions
If QuickTime Player won't open MPEG4, it may not have the right codecs to recognize and play these types of files. The easiest way to play MPEG4 on Mac is to use a third-party player like Elmedia.
Actually, there is no difference between MPG and MPEG. MPEG was shortened to MPG because a three-letter file extension was required in the early versions of Windows.