Can you play DivX on Mac? Yes, but not in QuickTime. Many third-party solutions include a DivX codec, and we chose some of the better ones, like Elmedia Player, to list in this article. We've included their characteristics as well, and our verdicts on their quality and usability. Each player review is summarized under Pros and Cons.
What is DivX?
DivX codecs were initially developed as a free MPEG-4 decoding solution, but were later remade and commercialized. As for DivX containers, they include AVI and MKV derivatives. Because of this, a DivX player Mac app should at least be able to handle multiple embedded subtitle and audio tracks.
The format has seen both personal and commercial use, with DivX compatibility being often advertised on hardware DVD players. Later implementations of h.264, such as libx264, did not contribute to the popularity of the license-burdened DivX.
Use Elmedia Player on Mac to PLay DivX
Elmedia Player can run any kind of .divx, and lots of other formats, too. This DivX player for Mac incorporates modern interface features, such as color scheme customization and timeline preview thumbnails. Media settings range from basic – such as choosing subtitles and audio, or adding external tracks – to advanced, such as sound equalization, video tuning, and settings for subtitle font, color, and size.
Elmedia PRO enhances the experience by adding DLNA, AirPlay, and Chromecast streaming. In the spirit of old DVD players, you can stream .divx to your TV and enjoy high-resolution media on a larger screen.
How to Play DivX Videos on Mac using Elmedia Player
2. Open your video clip knowing that you can choose any of the following options:
Simply drag and drop the file in the main window or on the icon in the Dock.
Right-click the file, choose "Open With" from the dialog box and then select Elmedia in the list of apps to perform the action.
Use the File – Open function in Elmedia, locate the file on your drive, and play.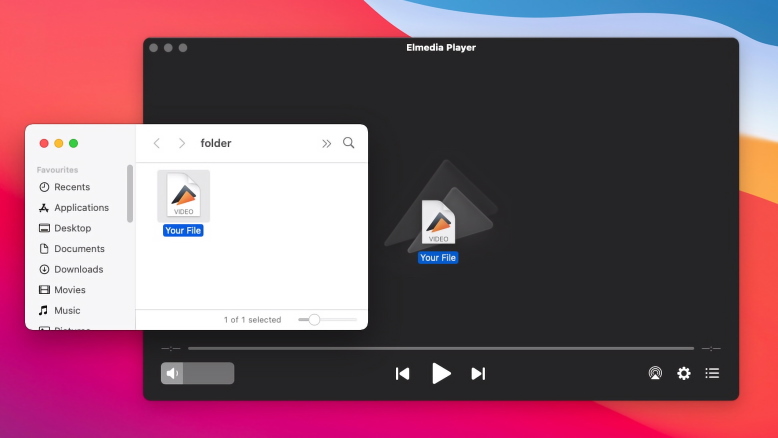 3. Tweak the display settings to your preferences and have a great time watching your favorite videos.
DivX Player
This is the official way to play DivX on Mac. It's compatible with a large variety of other formats, too. There are customization options for video and subtitles, but no audio equalizer. In addition, video options are located in the Settings dialog. It would be more convenient to have them as a separate, smaller window, to make adjustments visible.
While it's still being updated, the latest versions of DivX Player were made for Mac-64, and not the ARM processors. This may necessitate the use of Rosetta, and thus, cause decreased performance.
Pros
Maximum .divx compatibility
Part of a free suite that includes a DivX encoder
Plenty of settings
Cons
No M1/M2 support so far
Really old app that could cease updating at any moment
VLC Player
VLC is perfectly competent as a DivX Mac player. And as a player in general – it only suffers from poorly-explained options. Although, many of these options aren't there to begin with in most other apps.
You can expect the standard feature set – playback speed controls, graphical filters (like brightness and hue), an audio equalizer, bookmarks, and playlist management. Also, VLC provides extensive information about the metadata and other stats of the files it plays. Despite being totally free, this player easily competes with commercial freeware apps.
Pros
Free and open-source
Many settings to play with
Cons
Clunky UI
Sometimes, it's hard to tell what an option does
DivX converter for Mac
If the .divx format intimidates you, and you'd like to turn your files into something that doesn't require a specific player, then you need a converter. Any DVD Converter for Mac is a potential solution for your problem – especially since it can convert files in batches, and doesn't have to do it one by one. Still, conversion can get tedious – if the video is in HD or higher resolutions, encoding may take longer than its actual duration, and you'll have to experiment with settings a fair bit.
Pros
Permanently changes .divx to a more accessible format
Can queue up multiple files
Cons
Takes a long time to convert
Requires learning to get the best result
Conclusion
Each of these apps has its advantages, but in general, we recommend a player with a good mix of compatibility and features. In that regard, Elmedia is definitely the winner. Lots of good media has been encoded with DivX. We hope you enjoy viewing it!
Frequently Asked Questions
Xvid is a free video codec that offers remarkable compression and quality standards. It's chosen by many users worldwide for the lossless compression and optimization for the latest CPUs. Another great advantage of the Xvid codec is that they can be played anywhere, on multiple platforms and players.
Playing Xvid codec files is easy, you just need a player that supports it. Finding one isn't a tough task since this is a very friendly codec that can be played even with an MPG player. However, you should always aim for the ones with lots of features and support. We recommend Elmedia Player to anyone that wants a flawless video experience.
Yes, there are no risks when using DivX as it's as harmless as it gets. However, whenever you're downloading DivX files, it's good to check the source as some websites may contain malware or other potentially harmful programs.
There are lots of players that support Xvid but if you really want to get the best experience, count on Elmedia Player. You'll be able to play lots of video formats with no limitations. Plus, you get multiple settings, like audio video sync, to tweak your experience for the best results.
Since many videos are still compressed using DivX, it doesn't hurt to have it on your Mac. However, you don't have to worry about installing each codec individually. Simply go for a mediaplayer that supports a wide list of codecs and formats, like Elmedia Player.
DivX uses almost the same codecs as MP4, so it doesn't offer any significant size advantages. Some variations of DivX include DVD menus. Generally, the format loses to MP4, because it's proprietary and less compatible with apps and devices.
It's open-source, mainly worked on by a small team of developers, but it also accepts code contributions.