If you've ever tried playing M4V files using the built-in video player on your Mac, you may have encountered some difficulty due to the file's complexity. Luckily, there are solutions available to help you play M4V files on your Mac more easily.One recommended method is to find a professional M4V player like Elmedia, which can provide better compatibility with this file format.
With an impressive number of media player apps available on the Internet, choosing the right M4V video player for Mac isn't an easy task. Below you will find a list of M4V players to help you play M4V files smoothly.
What is an M4V File?
An M4V file is a format similar to MP4 that is used to store videos downloaded from the Apple iTunes store, such as TV episodes, music videos, and feature films. It is similar to an MP4 file, nevertheless, can be copy-protected using Apple's FairPlay DRM copyright protection.
Sometimes you may face the issue that M4V files cannot be played in Apple Music or QuickTime Player. In this case, the file should be either encoded at 540 kbit/s (minimum) MPEG-4 video (H.264) with an approximately 128 kbit/s AAC audio track or at a 1.5 Mbit/s (minimum) MPEG-4 video (H.264) with a minimum 128 kbit/s AAC audio.
M4V files can be opened by many players, and if your player doesn't support this video format, just try changing the file extension from "m4v" to "mp4". Another option is to use M4V player Mac apps to seamlessly play M4V files.
Top Solution to Play M4V Files on Mac
Elmedia Player is an easy-to-use M4V player with a huge feature set and attractive design. The player supports almost all necessary and frequently used formats (AVI, MOV, MP4, DIVX, MKV, FLV, SWF, XAP, WMV, RM, RV, etc.), so it makes absolutely no sense to keep several players, plugins or use additional codecs. One of the advantages of this M4V player Mac app is that ads, malware, or any of those annoying third-party pop-ups will not bother you.
"Elmedia Player is a good media player for the normal media playing needs and an excellent one for the advanced needs such as streaming your files or downloading the online videos for offline viewing. The interface is simple, it can play high-quality videos, and doesn't have any bugs."
— Muhammed Swalih, Thetechhacker
Elmedia Player perfectly reproduces high-quality video, without showing problems common for analogs in the form of audio desynchronization or video slowdown. The stability of the work is achieved due to the work with hardware acceleration for media decoding. In addition, the app is now fully compatible with M1-powered Macs.
The player comes in two versions – free and paid. Upgrading the Elmedia to the PRO version will provide additional features, such as wireless connectivity, local files streaming to smart TVs via DLNA, Chromecast, and AirPlay protocol, etc.
Pros
Huge list of supported formats
Creation of playlists
Built-in subtitle support, including online search
Ability to stream files to Chromecast, Apple TV, Smart TV, and other AirPlay and DLNA enabled devices.
Cons
Is not compatible with older macOS.
How to Play M4V on Mac with Elmedia
Follow this simple guide and learn how to open M4V files with this M4V player for Mac.
2. Select and play the file. There are 3 ways to add M4V files to Elmedia, namely:
Drag and drop the file either to the open player window or its icon in the Dock.
Locate the file in Finder and right-click it. Choose Open With > Elmedia Player.
In Elmedia's main menu select File > Open.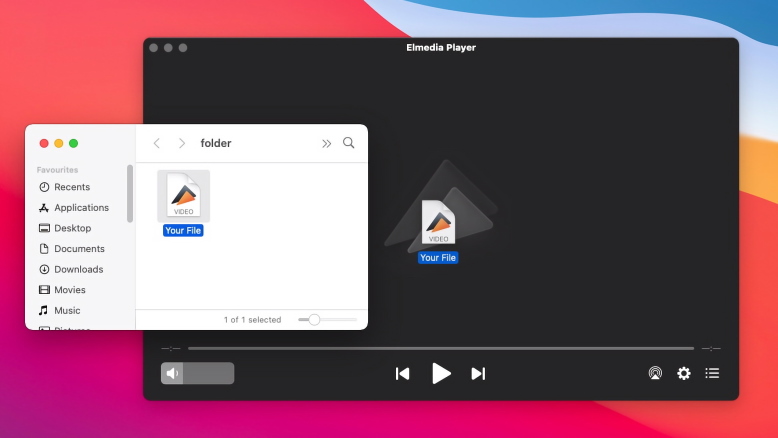 3. Enjoy watching the video.
Alternative Solutions to Open M4V on Mac
If you are a macOS user you can choose either iTunes or QuickTime Player to play the M4V files. However, sometimes M4V cannot be played on your Mac due to a lack of access rights. What should you do? Finding the perfect M4V player will be your first choice.
However, which M4V player can meet your requirements to play all your M4V videos? As we have already written, you can use Elmedia Player, however, besides this app, there are way more players that can be your cup of tea.
VLC Media Player
VLC Media Player is one of the most popular cross-platform media players. It is a free and open-source M4V player that supports all audio and video formats through various plugins. This M4V player VLC solution supports auto-rotation, multitrack audio, aspect ratio adjustment, and gesture control.
Pros
Able to play webcams, pairs, and discs
Support for various audio and video formats.
Cons
Overloaded user interface
Can be issues with the sound quality.
KMPlayer
Another player that is capable of playing the M4V media file described in this article is KMPlayer. This M4V player for Mac, from one hand, has impressive functionality and, from another, is extremely easy to use. KMPlayer has a built-in library that contains many filters and codecs for playing videos of any format.
Pros
Does not load memory and OS
Supports adding subtitles to the video
Supports almost all video formats.
Cons
It is worth noting the instability in the player
Annoying ads cannot be removed.
Cisdem Video Player
This M4V player for Mac supports up to 50 different audio and video formats. It can also automatically download embedded subtitles, or you can easily add external subtitle files. Cisdem Video Player is a powerful, easy-to-use software that delivers better HD video playback without buffering.
Pros
No need to install additional codecs or plugins
High-definition video plays without lag or buffering
Very nice user interface with intuitive controls and navigation.
Cons
There may be playback issues on laptops with dual cores
You can work with format conversion only in the paid version.
DivX
DivX Player is the last in our list of the "Best M4V player Mac apps". The player is able to open a huge number of video formats, supports subtitles. In addition, it is possible to cut files on optical media. You can also select the audio track with the necessary translation for the movie.
Pros
Provide multiple language options
Support 8 audio tracks and 2 subtitles in one video
Advanced features including playback and screencasting.
Cons
It may hang during the process.
Convert M4V on Mac
Besides using M4V player Mac apps there is also another way to play M4V files on macOS, namely converting files of this format into ones that are supported by QuickTime, like MOV or MP4.
When it comes to file conversion, there aren't many options better than UniConverter from Wondershare. Their software supports over 1,000 video and audio formats, and you can convert a multitude of files simultaneously.
How to convert M4V to MP4 on Mac
1. Download the free version of UniConverter for Mac.
2. Gather all the files you want to be converted.
3. Click the "Add files" button to select the desired files.
4. Choose the desired format from the list.
5. The conversion will start immediately after you click on the "Convert" button.
6. Once the file has been converted to your desired video format, simply open it in QuickTime.
Online Solution
Some of you might want to avoid downloading software to your Mac. There is a viable workaround through an online service. The fastest and most reliable method we have found is convert-video-online.com.
Below you will find a simple step-by-step tutorial:
1. Click "Open file" and select the files that will be converted.
2. Browse through the available formats until you find "MOV".
3. Start by clicking on "Convert."
4. When the conversion finishes, download and play the file.
Conclusion
Here we have overviewed the best M4V players for your consideration. We hope it will help you find the best M4V player for you that would meet all your requirements. Our personal choice is Elmedia player. The app can play video and audio files of almost all formats without the need for installing additional codecs. However, If you are for an M4V player for Android our advice is VLC.
Frequently Asked Questions
What players play M4V?
Besides the native clients in macOS, you can use one of the apps described in this article. We would recommend Elmedia Player, as it is not only compatible with M4V but also a great MKV player and not only.
The distinguishing difference between M4V and MP4 is that M4V is DRM protected while MP4 is not. Both are container formats, so if you change the .m4v to .mp4 or vice versa, they will not affect playback quality.