In the world of video files, M2TS stands out as one of the best formats for storing and playing high-definition video. To fully immerse yourself in the world of M2TS files, it is important to choose the right application. In this article, we have covered some variants on how to play the M2TS files. However, our top recommendation is Elmedia Player, as it stands out with its comprehensive capabilities and support for many formats, including M2TS.
What is an M2TS file?
M2TS, also known as MPEG-2 Transport Stream, is a container file format specially designed for storing high-quality video on Blu-ray discs and AVCHD. It is one of the main standards for HD video recording and provides the best combination of image quality and compression efficiency.
It uses H.264 (both on AVCHD and Blu-ray disks), H.262/MPEG-2 Part 2, and VC-1 codecs (on Blu-ray disks only), which allow you to maintain high definition even at high resolutions. This format also supports multi-channel audio and allows you to create spatial sound design for an amazing audio experience.
These files can contain not only video and audio but also subtitles. With its outstanding performance, M2TS has become one of the most widely used and preferred formats for storing and playing HD video content, delivering stunning quality and an unparalleled audio-visual experience.
Best M2TS player for Mac: Elmedia Player
If you want to enjoy M2TS media content, you can always rely on Elmedia Player, as it offers you an elegant and powerful way to play it. The app combines ease of use, impressive quality, and a wide range of features. It offers smooth playback of M2TS content with excellent picture and sound quality. The player supports high-quality HD and Ultra HD videos, allowing you to fully immerse yourself in the world of high definition.
Elmedia offers a wide range of customizable options that allow you to set the playback to your liking. You can adjust brightness, contrast, saturation, and other image parameters to get the perfect visual experience. However, the app's capabilities are not limited to just opening .m2ts files. This M2TS player Mac solution also supports many other formats, including MP4, AVI, MKV, SWF, and many more.
In addition, Elmedia Player has convenient control functions such as pause, rewind, loop, and others. You can control playback with one touch or with hotkeys, which makes the browsing experience even more comfortable.
How to open M2TS on Mac
2. Play your video.
You can add the video to Elmedia Player in several ways:
Drag the M2TS file on the player window or on its icon in Dock.
Right-click the M2TS file in Finder and in the "Open With" menu option choose Elmedia.
In Elmedia's main menu select File > Open.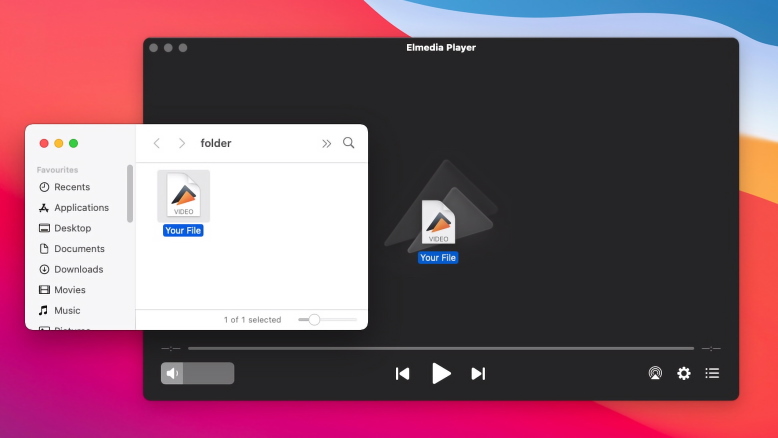 M2TS Converter for Mac
Another way to enjoy M2TS Mac content is to convert it to a format that it can already play without the need for third-party apps. MacX Video Converter Free is your solution to this problem.
When it comes to possibilities, you can convert files to anything your mind desires, examples being AVI, MOV, and M4V. If QuickTime can run it, you can convert to it. Choosing different resolutions is also a big plus of this software, that's able to convert in 4K, 60, or 30 FPS and use many codecs such as H264, HEVC, AV1, and many more.
How to Convert M2TS to Any Format You Want
1. Install MacX Video Converter, and make sure to browse and select the file that you wish to convert. Keep in mind that you can select multiple videos.
2. Now it's time to determine the output format. Again, as mentioned above, you can choose through a variety of formats.
3. Once you have decided upon the format, select the output folder. You can even choose the same one as the original file.
4. Press the "Convert" button and wait for the conversion to be finished.
5. Open the file using QuickTime player and enjoy your video!
Note: Free version allows you to convert only 1/3 of the video.
.m2t vs .m2ts
M2TS and M2T are transport streams of MPEG2 container format used to store video and audio data. The main difference between .m2t and .m2ts lies in the size of the packets. M2TS uses 192-byte packets, whereas M2T uses 188-byte packets.
Conclusion
Summing up, M2TS is the file format most widely used on Blu-ray discs and AVCHD. It has several advantages, such as optimizing the content size and maintaining high image quality. When it comes to playing M2TS files, Elmedia is the best choice. It is an outstanding video player for Mac that offers powerful features and wide compatibility with many formats, including M2TS.
Alternatively, you can use converting tools if your player doesn't support opening .m2ts video file for whatever reason. And how do you deal with this type of file? Share your thoughts and ideas in the comments below.