How to open MTS files on Mac? You may encounter MTS on a DVD, or as a file produced by your camera. In either case, QuickTime won't help – it's not on the compatible format list. But a third-party media player will fare better. Elmedia Player is able to open these video files, and the included settings and features will help you enjoy your .mts to the fullest.
Users situation:
"Hello, I have a Canon HD camcorder HG10. This Camcorder produces *.MTS files. However, all supporting software is Windows based and not Mac based.I have searched the web but didn't find any solution till so far"
— discussions.apple.com
What Is the MTS Format?
You might be wondering why opening MTS files on Mac requires other apps. That's because MTS video was created by the Blu-ray Disc Association, and while it's open, Apple is always hesitant to adopt formats made by other companies. MTS, M2TS files were designed for high-resolution footage, so they are encoded with variable bitrates. At the same time, since it's a DVD and camera format, MTS is multiplexed, meaning that a file can be played as it's being read, without the need to open it entirely or cache it.
What's the Difference Between MTS and M2TS?
MTS is the same file type as M2TS. It's the shortened file extension used back when operating systems, such as DOS, could only recognize three-letter extensions. An MTS file player Mac app can handle M2TS, and vice versa. The two MTS files Mac compatibility is also the same, so you'll need a specialized player on macOS either way.
Elmedia - the Best MTS Player for Mac
You can easily achieve .mts file Mac playback with Elmedia Player. It's compatible with a wide array of media formats, unlike QuickTime. Not only does it play MTS, but also lets you customize your experience. Both the 10-band audio EQ and the video tuner, which lets you adjust Brightness, Contrast, and more, can be applied during playback, making it easy to find the right setting.
DVD movies tend to be long, so Elmedia's bookmarking will come in handy, and if you enable an option, it will even remember the last moment you were watching before exiting the app. Finding a scene won't be hard at all with timeline preview thumbnails and the configurable time jump key combinations.
And if you're interested in streaming your MTS from a Macbook to a Smart TV, Chromecast, or other DLNA and AirPlay 2 devices, then Elmedia Player PRO is exactly what you need. The streaming function has a simple, menu-based interface that will put your media on a big screen in seconds.
How to Open MTS Files on Mac
2. Start the player and open the MTS file:
Drag it to the player window, or
Click "File" on the Menu Bar, select "Open" and navigate to it.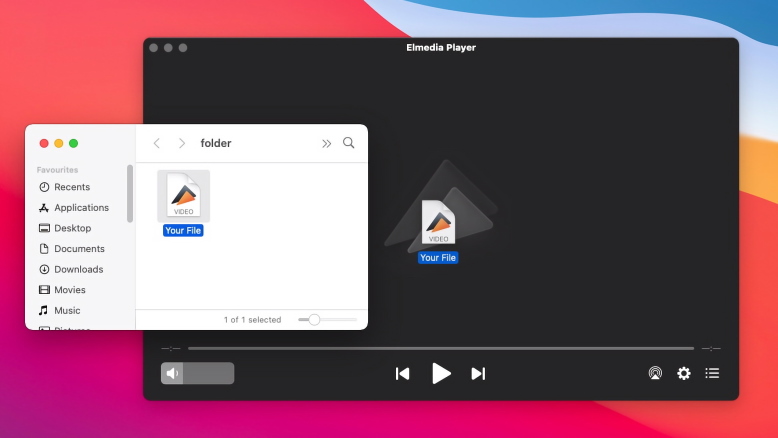 3. That's all there is to it!
If you want to use Elmedia Player by default for MTS files, you should right-click one of these files, then go to "Open with > Other", pick Elmedia Player and check "Always open with".
VLC for Opening MTS Files on Mac
The VLC media player is a popular way to play MTS file on Mac. What it lacks in UI design, it makes up for with a stunning amount of settings and features, all available completely for free.
The only real problems start when you try to do anything complex – that may require hours of searching and exploration of VLC's unclear interface. For simple playback, and even things like video or audio effects, it's quite efficient, though not the most pretty. We would only suggest VLC to advanced users that know what they're doing.
How to Open MTS in VLC
1.   Get it from here, make sure to select macOS, or macOS (Apple Silicon) if your CPU is M1 or M2.
2.  On startup, you'll see the playlist immediately – it's the large box saying "Drop media here". Do exactly as it says.
3.  If the file doesn't start playing right away, double-click it in the playlist.
Cisdem Video Player - Open .mts on Mac
Cisdem is purely a media player, not offering any effects or a variety of settings, but rather, a playlist and a set of simple playback controls. Naturally, it can open MTS on Mac – but you'll soon find yourself missing important features that even QuickTime includes.
In the paid version, there's a converter, so you could just get Cisdem to convert and play MTS file in QuickTime. Though, that's going to be slow, and you'll probably be able to find a better converter that doesn't cost anything. Overall, Cisdem is a starting option, but you'll quickly move on to other players.
How to Open MTS in Cisdem
1.  Install and launch Cisdem. The installer can be found here.
2.  Go to "File > Open". Find your file in the search window.
3.  The .mts or .m2ts will start playing.
Main Factors That Determine the Best MTS Player for Mac
The price. It's important that the app is fairly priced relative to its features.
Quick file loading, decoding, and caching. The latter two are the key to smooth playback.
UI quality. A media player is something you'll be using every day, so every small nuisance in the interface counts.
Compatible formats, other than MTS files Mac playback. This goes without saying – a player that won't recognize your files isn't very useful.
And finally, additional features – whether it's an equalizer or color configs. Different ones are important to different people.
MTS Player Comparison Table
| | | | |
| --- | --- | --- | --- |
| Comparison Parameter | Elmedia Player | VLC | Cisdem |
| Audio EQ & Video Tuner | | | |
| Timeline Preview | | | |
| DLNA, AirPlay, Chromecast Streaming | | | |
| Open Subtitles Search | | | |
| Full Subtitle Customization | | | |
| Free Version | | | |
Conclusion
There's often a need to make the MTS format playable Mac. This article should help – resort to one of the aforementioned media player applications. We'd especially like to recommend Elmedia Player as the absolute best solution in this category. Whether it's camera footage or an old disk, this file type is perfectly accessible for most media apps on the market.
Frequently Asked Questions
Not by default. Install an MTS-compatible player to load them. The codecs for this format are not natively available on any macOS version so far.
With a player other than QuickTime. How about Elmedia? It will be easy to look through the recorded videos with the preview thumbnails. Plus, you can group the files by exporting playlists.