The TS file format is mainly used on DVD and Blu-ray discs. When it comes to playing TS movie files on Mac computers, you can use a third-party video player for Mac, or convert TS into a format that's playable on your device. Some of the best TS players are featured in the article below.
What Is a TS File?
A TS file (a file with the .ts file extension) is a video stream file used to store video data on DVD and Blu-ray discs. This type of file uses MPEG-2 compression to compress video data.
List of the Best TS Players for Mac: Paid and Free Versions
There are many different players you could use to play TS file on Mac, including free players and paid ones that charge a one-off fee or a subscription. With so many out there to choose from, how do you find the best video player for your needs? In this article, we'll take you through some of the most popular players around, tell you a bit about each player, and explain their pros and cons, to help you choose.
1. Elmedia Player
One of the best and most popular media players around, Elmedia Player can play TS file on Mac as well as most other audio and video files, including DivX, MP4, MKV, WMV, MOV, and more. The app handles most codecs and container formats too, so there will be no problems playing back TS files.
This video player for Mac is easy to navigate and use, yet packs in an astonishing array of features like streaming wirelessly in 4K via Chromecast, Roku, AirPlay, and DLNA devices, picture-in-picture mode, and more. There are also numerous advanced features for experienced users, including the option to add bookmarks or watch movies frame-by-frame.
Pros
Intuitive and easy to use
Supports 4K streaming
Supports a wide variety of formats, codecs, and container formats
Support for embedded or external subs
Graphic equalizer and audio visualizer
Cons
No Windows version
You'll need to upgrade to PRO for some advanced features
Supported OS: macOS
Supported formats: MP4, AVI, MOV, SWF, DAT, MKV, MP3, FLAC, M4V, FLV or any other common format.
Price: free to use, PRO upgrade priced at $19.95
How to Play Video TS on Mac Using Elmedia Player
Wondering how to play .ts files on Mac? It's easy using Elmedia Player by following the below step-by-step instructions:
2. Launch Elmedia Player.
3. To open TS file Mac, you can either drag and drop the file onto the player, go to "File > Open", or right-click the file, click "Open With", and select Elmedia.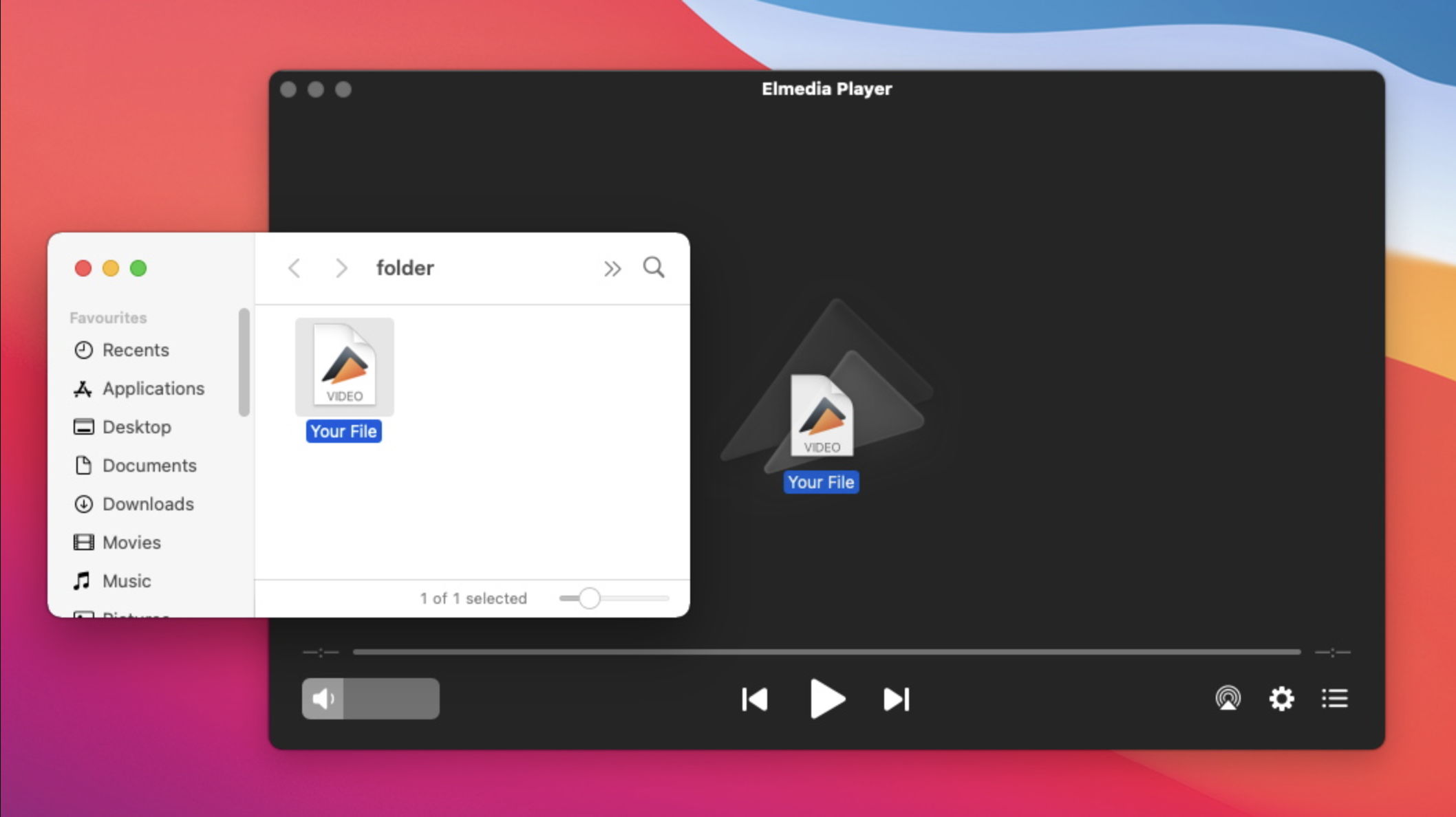 4. To start playback, press "Space" or click "Play".
Video tutorial on how to open any video file on Mac
2. VLC Media Player
If you're looking for an alternative player for playing TS files on Mac, VLC is a great choice. This free, open-source video player supports almost every format you can think of, including TS files. You can even play DVDs, Blu-ray discs, and audio CDs. Advanced features let you customize audio and video playback, though the software can be a bit tricky to navigate for beginners who aren't used to media players.
Pros
Free and open-source software
Supports almost all formats including TS files
Playback DVDs, audio CDs, and Blu-ray discs
Wide range of advanced features
Cons
Not the most intuitive app for beginners
Supported OS: macOS, Windows, Android, Linux, iOS
Supported formats: ES, PS, TS, PVA, MP3, AVI, ASF, WMV, WMA, MP4, MOV, 3GP, OGG, OGM, MKV, Real, WAV (including DTS), DTS, AAC, AC3/A52, Raw DV, FLAC, FLV, MXF, Nut, SMF.
Price: free and open-source
3. 5KPlayer
5KPlayer is a cross-platform media player that makes it easy to play video TS Mac, as well as most other popular audio and video formats. The intuitive tab-based interface makes it easy to use as a video and audio player, for streaming (with support for DLNA and AirPlay), or for downloading videos from sites like YouTube or Vimeo. 5KPlayer is completely free and as well as a wide range of advanced features, it includes various in-built editing options.
Pros
Free to use and cross-platform
Supports most audio and video formats
Includes editing features
Supports streaming via DLNA or AirPlay
Use as a downloader for online videos
Supports up to 4K resolution
Cons
There are ads
Not as extensive audio or video playback options as competitors
Supported OS: macOS, Windows
Supported formats: MP4, MOV, M4V, 3GP, ASF, DAT, DivX, F4V, FLV, H.264, H.265, MKV, MPEG, TS, VOB, WEBM, WMV, Xvid, MP3, AAC, OGM, AC3, APE, FLAC, M4A, OGG.
Price: freeware
4. GOM Player
GOM Player is one of the world's most popular media players, supporting a vast range of file formats including TS, AVI, MP4, FLV, MKV, and more. One excellent thing about GOM Player is that aside from being a great TS player, it can even configure damaged files, or allow you to start watching files while they're still downloading.
With support for 360 VR playback and an extensive subtitle library, the free version of GOM Player is suited to most users. There's also GOM Player Plus, the paid version which removes ads, supports 4K UHD playback, and provides priority customer support. 
Pros
Free and paid versions
Supports most file formats
Option to configure damaged files
Watch files even before they've finished downloading
Supported OS: macOS, Windows
Supported formats:  MKV, MP4, AVI, M4V, MOV, 3GP, TS, WMV, FLV, F4V, ASF, WebM, MPEG, MXF, VOB, MP3, AAC, FLAC, OGG, M4A, WAV, etc.
Price: free, GOM Player Plus $15
5. Cisdem Video Player
Cisdem Video Player is a cross-platform TS player for Windows and Mac operating systems. This free player not only supports almost all audio and video formats, including TS files but it's optimized to play videos in up to 8K resolution.
Advanced features include a wealth of video playback controls, such as Separate Mode to divide the playback window, playlist, and playback controller into separate windows, as well as the option to take screenshots, and support for both embedded and external subs. There's a PRO version that adds a conversion feature, making it easy to quickly convert files for playback on a range of devices.
Pros
Supports almost all audio and video formats
Optimized to play videos up to 8K
Advanced video playback controls
Supports embedded and external subtitles
Take screenshots
Cons
Conversion feature only available on PRO version
Supported OS: macOS, Windows
Supported formats: MP4, HEVC, M4V, MKV, MOV, MP3, M4A, AVI, etc.
Price: free to try; $9.99/1 Mac, $19.98/2 Macs, $49.95/5 Macs
How to Convert TS Files
Don't want to download a third-party TS file player? You could use a converter like Movavi Video Converter to convert these files into a format that's playable on your device. Here's how to use the software to convert TS files:
1. Download and install the free Movavi Video Converter.
2. Launch the app and then add your files.
3. Take a moment to configure your conversion settings to choose the input and output formats (the format you'd like to convert your TS file to for playback or sharing).
NOTE: Many of the players listed above, such as VLC and Cisdem Video Player (PRO) also offer the option to convert your files into other formats.
Conclusion
We hope this article has helped you think about some of the best video TS players for playing these files on your Mac, and consider which TS file player may be best for your needs.
In our opinion, Elmedia Player is the best solution for playing TS files on Mac. Not only is it free and intuitive to use, but it also supports most audio and video formats and lets you stream wirelessly via Chromecast, Roku, AirPlay, and DLNA. With its wide range of features, it's the only media player you'll ever need.
Frequently Asked Questions
Although you can open TS files on macOS with the default player, sometimes you may encounter some issues during playback. In such cases, you  can download a third-party media player or convert the TS file format to a more popular format.
If you're wondering how to play video TS on Mac, you can download a great QuickTime alternative for Mac, like Elmedia Player. You can use the app to play not only TS files but a whole range of other audio and video formats too or to stream wirelessly to your TV.
In our opinion, Elmedia is the best player for TS files due to its full range of features, ease of use, and support for streaming via Chromecast, Roku, AirPlay, and DLNA.