JustStream
Mirror Mac to Roku Smart TV
For all those asking themselves how to mirror Mac to Roku TV, we have a great answer: JustStream! With the help of this tool, you will mirror Mac to Roku without needing any additional cables or an Apple TV. You can effortlessly stream videos, audio files, presentations or even apps. JustStream will handle all your needs when it comes to mirroring to Roku TVs so you will enjoy an excellent experience.

Mirror or Stream Free for 20 minutes
The free version of JustStream allows you to mirror Mac to Roku TV without charge for a continuous 20-minute interval with all features active. This is the best way to make a true impression about the functionality and efficiency of this app.
NEW
Yoo-hoo! JustStream now supports Apple M1, AirPlay 2 and Roku TV!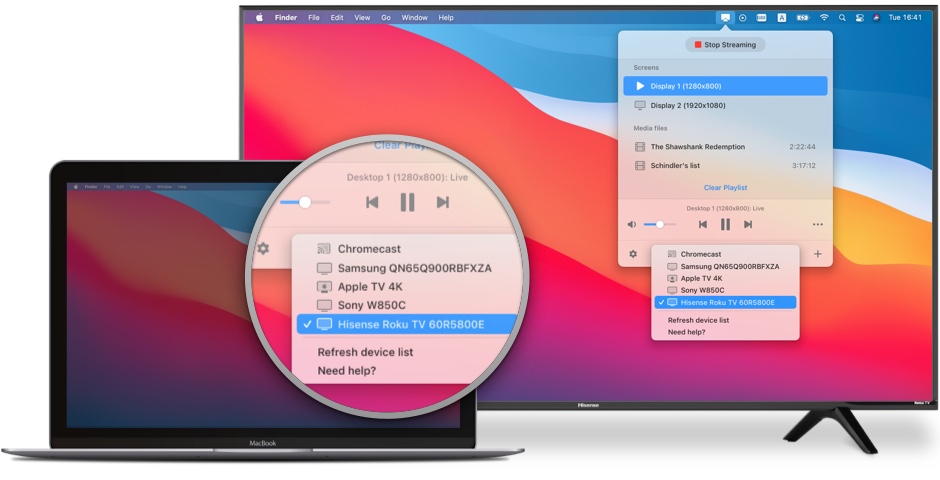 Video image quality and display settings
JustStream is versatile and allows you to use its mirroring service as needed. This means you are free to choose from a wide range of image quality settings, including HD 720p and Full HD 1080p. With this app to mirror MacBook to Roku you don't just get full control on quality, you can also change the dimensions of the mirrored material so it fits excellently on the Roku TV.
Additional options for mirroring
The list of perks that JustSteam offers continues with some special functions that can be activated when using it as a mirror for Roku. The ability to capture the mouse cursor and its movements and display it on the mirrored screen is one of the most important of such functions. Going further, you can also capture the mouse clicks to make them visible on the big screen.
Mirror Mac to Roku TV
Cast to Roku from Mac on All Devices
How to Connect Mac to Roku
The best part about JustStream is that you won't need an Apple TV to easily mirror the screen of your Mac. You will be able to do so with any TV brand out there with ease. A wide list of top TV producers, Roku included, can receive the screen mirroring from a Mac by following these steps:
Install the JustStream app after downloading from this website.
Launch JustStream on your Mac. Look for the icon on the menu bar and click it when you're ready to mirror your screen.
Select the screen that you want to mirror to another device from the list of monitors connected to this Mac.
Now select the device you're going to mirror the screen to. In this case, it will be your Roku TV. All the TVs connected to the same Wi-Fi network will be visible here. However, if you can't see the Roku TV on the list even though it is turned on, simply refresh the list and you should see it.
Once everything is as you want it to be, hit "Start streaming" and JustStream will start to use your Mac to mirror for Roku.
Alternatively, you can initiate mirroring by double-clicking on the monitor, or by selecting the Start Mirroring option from the context menu that opens when you click the ... (More) button by the monitor name.
To stop the stream from Mac to Roku, click the "Stop Streaming" button.
Frequently Asked Questions
The process of mirroring Mac to Roku is straightforward enough and we presented step by step instructions for it. However, we want to make sure our readers have full info and we put together a series of the most frequent questions along with their answers.

#1 at Video
JustStream
Streaming App for Mac
4.5
rank based on
23
+ users