JustStream
Mirror Mac to Roku Smart TV
Forget all about HDMI and USB cables all across your home just so you can
watch a movie on your Roku Smart TV
. It's time to let technology work to your benefit and seamlessly
mirror Mac to TV
using the JustStream app. Not only that it will work with any TV, no matter the manufacturer, but you will be able to connect to DLNA devices as well.
Mirror your Mac desktop, stream video and audio files in a few clicks
and obtain full control over playback with the numerous settings offered by JustStream.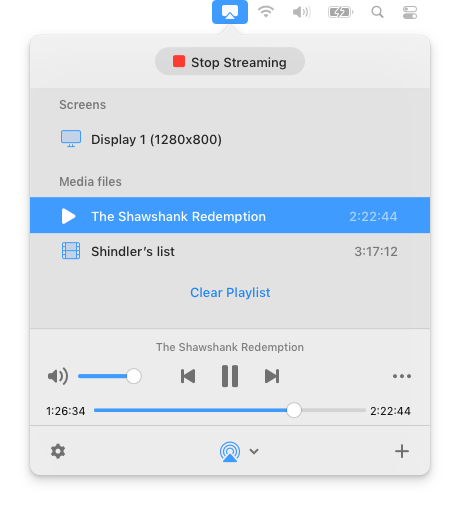 20 Free Minutes of Mirroring or Streaming
The free version of JustStream includes 20 minutes of use with all of its features. This timespan is definitely enough to make an informed decision. Even though it's not that much, JustStream will definitely leave a positive impression. There's nothing better if you want your Mac to mirror for Roku.
NEW
Yoo-hoo! JustStream now supports Apple M1, AirPlay 2 and Roku TV!

How to mirror Mac to Roku
With JustStream, you don't need an Apple TV. Connect your Mac to any Smart TV, a Chromecast, or even any DLNA or AirPlay device! This is how it's done:
Launch the app and turn on your Roku TV.
Click the toolbar icon to expand JustStream.
Select the screen to be mirrored from the list of connected displays.
If you don't have anything connected, keep the default option.
Select your Roku TV. To do that, click the middle icon at the bottom. Choose the TV from the list. Make sure that it's WiFi-connected and try to refresh the list if it doesn't show up. Click "Start Streaming".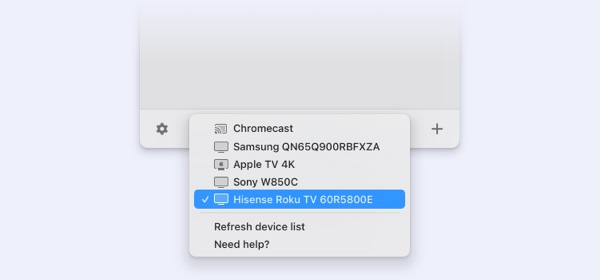 You can also start a mirror stream from the list of monitors. Double-click one of them, or click the ellipsis icon and choose "Start Mirroring".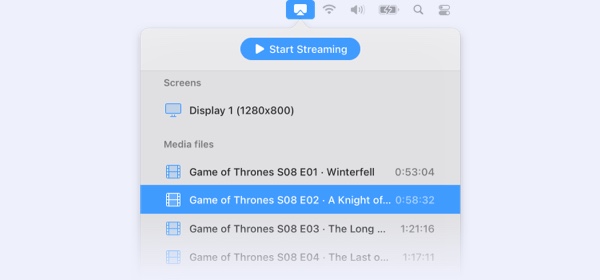 Mirror MacBook to Roku with Advanced Features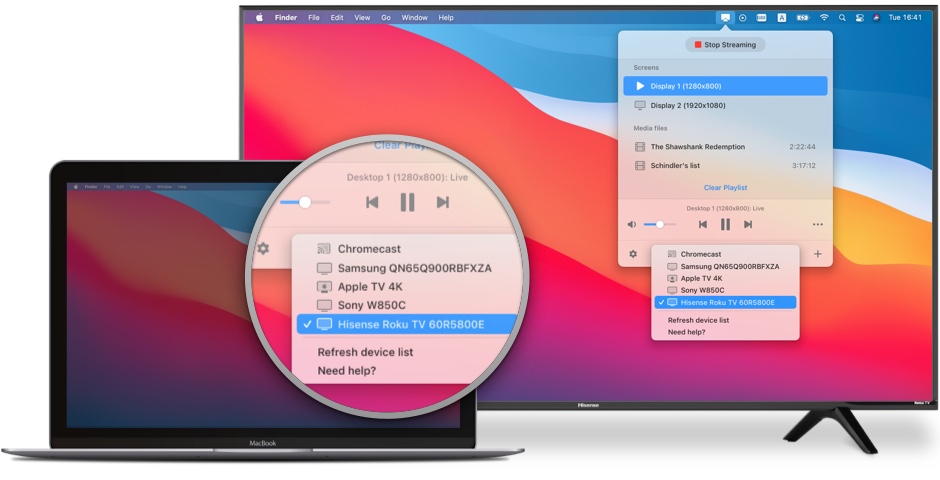 Choose How You Mirror Screen to Roku
JustStream displays high versatility when faced with displays of varying size and resolution. You are free to choose from a wide range of image quality settings, including HD 720p and Full HD 1080p. And that's not the only thing you can control when you use it to mirror MacBook to Roku. Change the dimensions of your output to make it fit perfectly on Roku TVs.
Utilize Your Mouse Cursor
Are you doing a presentation? Do you need to point something out to your audience? Use your mouse pointer! JustStream allows you to toggle visibility for your cursor, and provides an option to highlight clicks. When you mirror for Roku, nothing is more convenient.
Mirror Mac to Roku TV
Mirror Mac to Roku - or Any Other Device
FAQ
The mirroring process is straightforward enough, but there's enough nuance that we can't describe within the boundaries of this article. Since we want to give our readers as much info as we can, here are some answers to questions we hear a lot.
Older versions of Roku OS might be incompatible with AirPlay and HomeKit. In order to use AirPlay with your Roku TV, the OS version should be 9.4 an above. Go to Settings > System > About to check your current version. Roku devices update automatically, but you can do a manual update check.
Check out this sequence of actions. This guide allows you to mirror iPhone to Roku device. Maybe you've missed a step!
Confirm that your iPhone and Roku are on the same network.
Check that the options on your Roku allow mirroring:
Go to Settings - System - Screen Mirroring. Choose to "Always Allow".
Download and use the Roku app on your iPhone.
Once opened, the app will search for a receiver; tap your TV's name to select it.
Select a movie on your iPhone to start mirroring.
We assume that you mean the app by airbeam.tv. The full app is $9.99, but there's a trial version available. The developer warns that it's not suitable for video games due to the streaming delay (a normal occurrence for similar apps).