JustStream
Mirror Mac to Roku Smart TV
As nowadays we live in a highly technological world, the latest is meant to facilitate our lives and not to make them complicated. So if you are tired of using USB or HDMI cables to watch movies on Roku Smart TVs? Continue reading to know how to mirror Mac to TV with no fuss and enjoy spending time in front of your TV.
JustStream is a minimalistic screen mirror for Roku app that is aimed to facilitate your life so you can enjoy watching your favorite media content on a big screen without using any cables. The app allows not only to mirror Mac to Roku but also works perfectly in tandem with almost any modern TV as well as DLNA devices. With just a snap of a finger, you can get control over hundreds of playback settings available in JustStream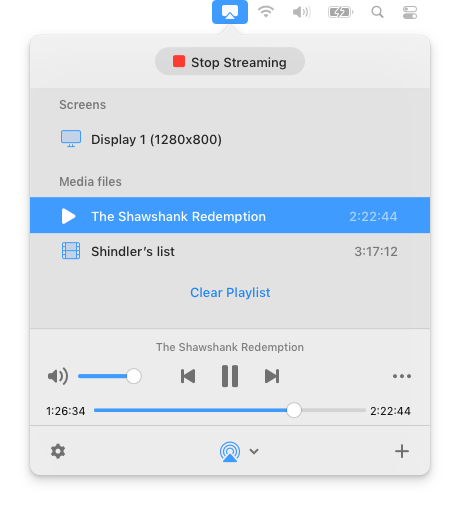 20 Free Minutes of Mirroring or Streaming
The free version of JustStream includes 20 minutes of use with all of its features. This timespan is definitely enough to make an informed decision. Even though it's not that much, JustStream will definitely leave a positive impression. There's nothing better if you want your Mac to mirror for Roku.
NEW
Yoo-hoo! JustStream now supports Apple M1, AirPlay 2 and Roku TV!

How to mirror Mac to Roku TV
Forget about using Apple TV only in order to mirror the screen of your Mac computer. JustStream is a hassle-free app that makes it possible to connect your Mac computer to almost any Smart TV, Chromecast, as well as DLNA device. Follow these steps to know how to mirror Mac to Roku:
After that run the app and turn on the Roku TV.
Invoke JustStream's main window by clicking its icon on the menu bar.
From the list of the connected displays choose the screen you want to mirror the content to. In case, you do not have any device connected leave the default options.
Click the middle icon at the bottom of JustStream's main window to find and choose Roku TV from the list. Keep in mind, that both your devices should be connected to the same Wi-Fi network.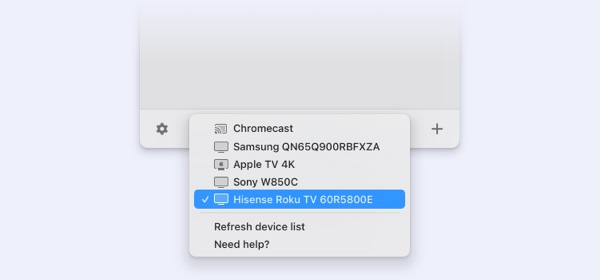 Click "Start streaming". Alternatively, click the ellipsis icon or double-click one of the monitors to be able to mirror Mac to TV.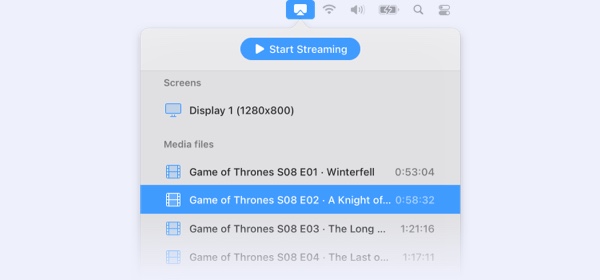 Mirror MacBook to Roku with Advanced Features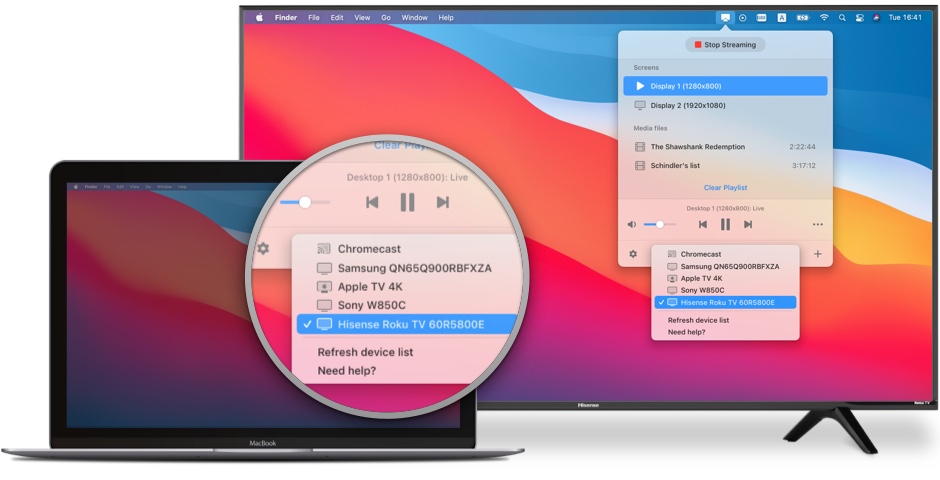 Choose How You Mirror Screen to Roku
JustStream has proven its great accuracy when working with displays of various sizes and resolutions. It is a versatile mirror for Roku tool that offers a wide range of image quality settings. Choose whether you want your video to be played in HD 720p or Full HD 1080p or adjust the output dimensions to perfectly fit the screen of your Roku TV.
Utilize Your Mouse Cursor
When you screen mirror for Roku use your mouse cursor as a pointer. The app supports a feature to highlight every click you make to facilitate your workflow. It can be useful if you are having a presentation and it is necessary to show something to your audience.
Mirror Mac to Roku TV
Mirror Mac to Roku - or Any Other Device
Frequently Asked Questions
The mirroring process is straightforward enough, but there's enough nuance that we can't describe within the boundaries of this article. Since we want to give our readers as much info as we can, here are some answers to questions we hear a lot.
Languages:
Deutsch, English, Français, 日本の, Español