JustStream
How to Screen Mirror Mac to Samsung TV Wirelessly?
Cables are a thing of the past. Thanks to JustStream, you can mirror Mac to Samsung Smart TV wirelessly and easily. This has a myriad of uses, including presentations, movies, music, and other media that can make use of superior TV speakers and screens. Most Samsung TVs are compatible.

Our demo lets you mirror Mac to Samsung smart TV for free for an uninterrupted 20-minute period to fully evaluate the app and see whether it works for you.
Mirror Macbook to Samsung TV with Options
Different problems require different solutions. JustStream offers numerous options, not the least of which is resolution. Switch between Auto, HD 720p or even Full HD. You can also set the image size manually, in order to match the TV screen.
Display Your Cursor
How do you prefer your mouse cursor? Hidden or displayed? You can also hide it, but keep the clicks visible with a graphical effect. Completely vital for presentations, this feature has many other potential uses. At the very least, you can hide the cursor to get it out of the picture.
How to Mirror Mac to Samsung TV
You'd think that you need an Apple TV to mirror your Mac; on the contrary, it's also trivial with a Samsung TV. This is how it's done:
Open it and find its icon on the Menu Bar.
Select the monitor you want to mirror.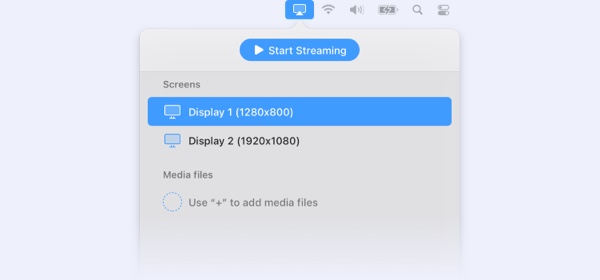 Select the network device that will mirror your Mac.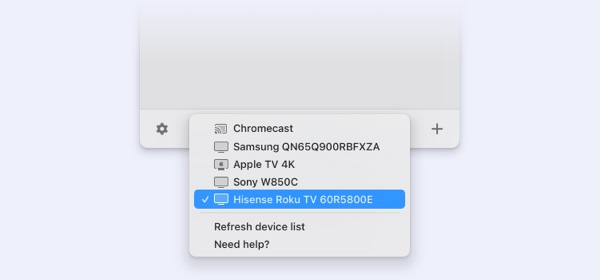 Start the stream. You can double-click the intended monitor, open a context menu for your monitor and select "Start Mirroring", or just press the "Start Streaming" button.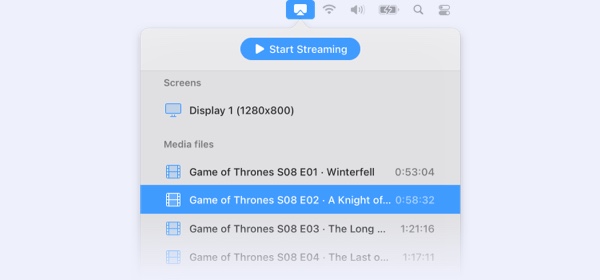 There is a "Stop Streaming" button for when you're done.
Mirror display
Mirror Mac to All your Devices
FAQ
Other than wondering how to screen mirror Mac to Samsung TV, there are many more questions that our users ask. Here are some of them, answered: