How to Open ASF Files on Mac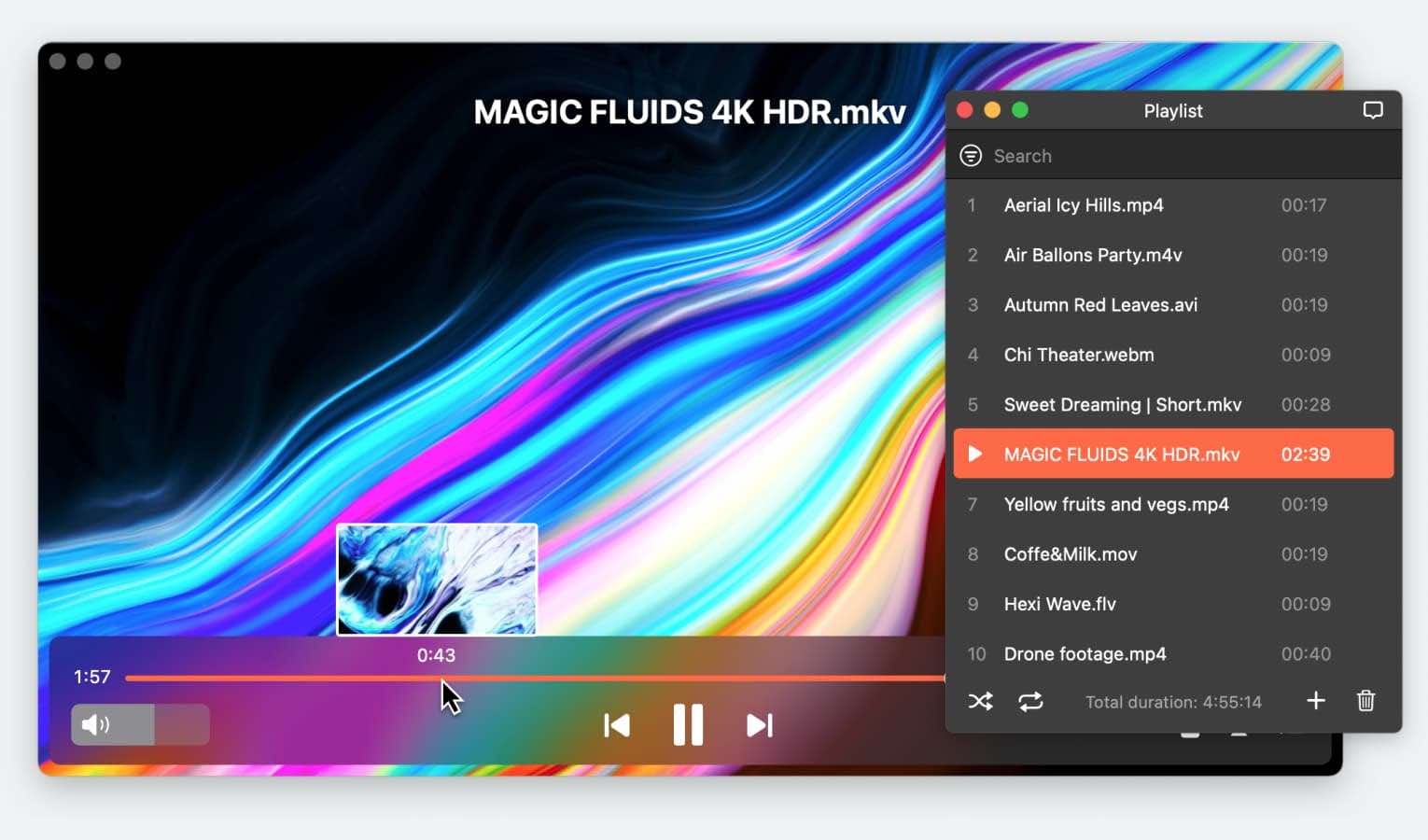 If ASF file format doesn't cause difficulties for Windows users the same can't be told about Mac ones. Since QuickTime is not compatible with this format, users need to resort to the different video player for Mac apps in order to solve this issue. In this article, you will learn how to seamlessly play ASF files on Mac via third-party media players and how to convert .asf to the accepted format by QuickTime Player.
Solution 1. Alternative Media Players
Being developed by Microsoft Corporation, the ASF format is not supported by QuickTime forcing users to search for QuickTime alternative for Mac solutions. Below we have gathered the 4 most popular apps aimed to help you with playing ASF files on Mac.
Playing ASF Files on Mac with Elmedia Player
Elmedia Player opens our list of players that can easily play ASF files on Mac. It is a solid and easy-to-use solution that guarantees smooth playback not only of the mentioned above file format but also of almost any video or audio file. This media player has an intuitive interface that could be a cup of tea for both savvy users and newbies.
The set of features presented in this solution is really amazing. Here you can find support for streaming technologies, the ability to create screenshots of the currently playing video, option of audio streaming without decoding, ability to burn subtitles into the video while streaming. PIP mode, Touch Bar support and way more.
Supported OS: macOS
Price: free to use, PRO upgrade priced at $19.99
Pros
Wide range of supported formats, including .asf
Supports work with subtitles
Allows creating and managing playlists
A-B Loop feature
Cons
Not a cross-platform solution
Not all features are available in a free version
Here is a quick guide on how to play ASF files using Elmedia Player:
2. Launch the app and choose the video in the .asf format you want to play. There are several ways of adding files to the player:
Go to "File" > "Open". Find the file you want to play and choose it.
Right-click the file and choose the "Open With" option. After that go for Elmedia Player.
Drop the file into the player's window or its icon in the Dock.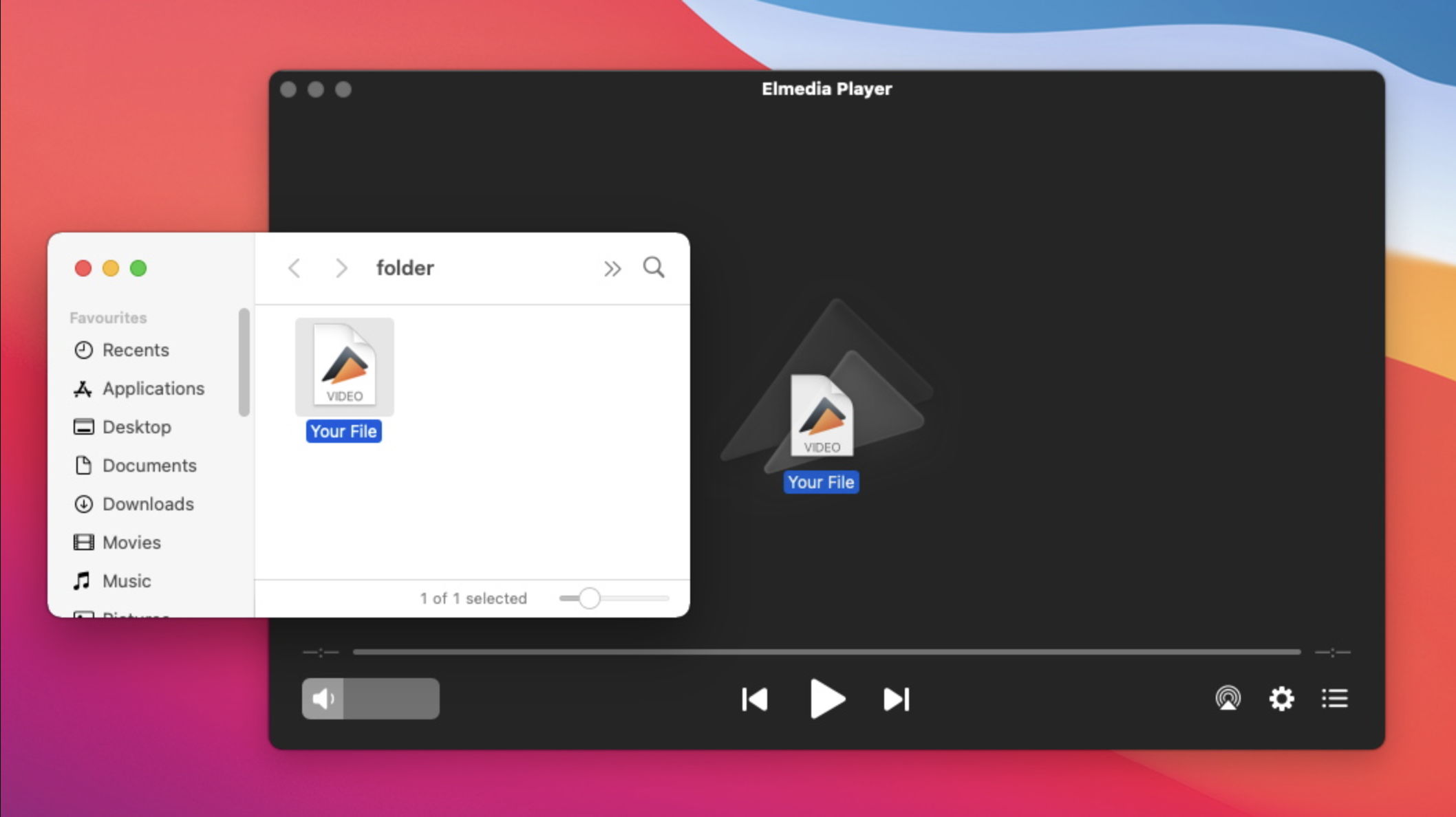 Video tutorial on how to open any video file on Mac
Open ASF Files on Mac Using VLC Media Player
VLC Media Player is a popular and well-known media player among users. The app has a long history and a wide list of features that have been added to it over time. Despite lots of advantages and up-to-date features, the player still misses the modern user interface that makes the work with the app a bit confusing. However, it is a great option if you want to play ASF file on Mac or any other popular and common file formats.
Pros
Multi-platform solution
Regular updates
Numerous settings
Conversion options
Cons
It's hard to find the option in the settings to keep the window size when reopening
No streaming feature
Supported OS: macOS, Windows, Android, Linux, iOS
Price: free, donation-based service
Step-by-step guide on how to open files using VLC:
1. Visit the official website in order to download VLC Media Player on your computer.
2. After that install the software and run it.
3. Open ASF by choosing from:
Find the file in Finder, right-click it, and select the "Open With…" option.
Drop the file into the player's window.
Click "File > Open File…" and select the ASF file.
How to Open ASF Files on Mac with OmniPlayer
OmniPlayer is another player for your consideration. The app offers compatibility with many different file formats and .asf is not an exception. This ASF files Mac player offers a wide set of features for the most convenient video playback including playlist creation and handling. Among the rest of the features, you can find support for 4K, 1080P, and 720P HD videos, the ability to change brightness, contrast, change aspect ratio, adjust subtitles, and way more. 
Additionally, it is a great MKV player for Mac that offers seamless casting functionality to different devices, as the app supports numerous streaming protocols.
Pros
Wide list of supported formats
Support for Roku, DLNA, and Chromecast devices
Ability to create and manage playlists
Offers taking screenshots
Cons
Occasional crash
Free version is limited in functionality
Available for macOS only
Supported OS: macOS
Price: free, PRO version is available for $8.99
How to open ASF files on Mac using OmniPlayer:
1. Go to the official webpage or the Mac App Store and download OmniPlayer to your Mac.
2. Once downloaded, install it on your computer.
3. Open the app and choose the way how to play ASF file on Mac:
Use the drag-and-drop option to add a file to the player's window.
Use the big + symbol. Click it, choose asf video. 
4. The file will be automatically added and played.
Open ASF Files on Mac Using Cisdem
Playing ASF files on Mac is also possible due to Cisdem Video Player. With a rather intuitive and convenient design for smooth video playback, the app handles many audio and video formats without needing additional codecs. Here you can find support for MP4, H.264/AVC, H.265/HEVC, AVI, MKV, MOV, WMV, MPG, M4V, TS, DIVX, MP3, M4A, WMA, AAC, TTA, etc.
Besides that, this media player grants full control over your video playback, allows you to select subtitles, take screenshots, sync audio, play in a loop, convert multimedia into the desired format, play videos up to 5K, and way more.
Pros
Allows conversion to other formats
Can handle dozens of audio and video formats
No codecs required
Offers plenty of control over video playback
Cons
Not a comprehensive set of features compared to the rest of the players
Sometimes have issues with playing different formats
Some issues with work with subtitles
Supported OS: macOS, Windows
Price: free to try; $9.99/1 Mac, $19.98/2 Macs, $49.95/5 Macs
Here's how to open .asf files on Mac with Cisdem:
1. Download Cisdem from the official website and install it on your computer.
2. Once installed launch the app and add the .asf file to the playlist.
3. There are several ways you can add files, namely:
Drag the files to the player's interface.
Alternatively, click on the playlist and add files.
Click "File > Open File" on the menu bar.
Solution 2. Convert ASF Files to a QuickTime-Compatible Format
If you are not into installing additional codecs, plug-ins, or even any of the ASF players from above, we can advise you of another way of playing ASF files on Mac, namely the conversion tool. With the help of such apps, you can turn any uncommon file format into the most popular and QuickTime-compatible one.
Convert the ASF to the Accepted by QuickTime Format Using Aiseesoft Video Converter
Aiseesoft Video Converter for Mac is an all-in-one video solution that offers you an opportunity to convert more than 1,000 video and audio formats for playback on any device. The high speed of this converter is ensured by AMD APP technology which increases the conversion speed by 10 times.
The app offers a wide range of features including video editing, work with 4K and 1080p HD video, adding 3d effects, different video-enhanced options, and way more. All these make Aiseesoft Video Converter a perfect ASF file format Mac converter.
Pros
30-Day Money Back Guarantee
Convenient user interface
Supports video editing options
Offers fast speed of conversion
Cons
High price
Free version is limited in functionality
Supported OS: macOS, Windows
Price: free trial version, $39.96 for a lifetime license
Follow the step-by-step guide below to convert ASF files with Aiseesoft Video Converter:
1. Download Aiseesoft Video Converter on your Mac computer and proceed with the installation.
2. After successfully setting the app up, launch the app.
3. Add the file to the app in several ways:
You can choose whether you want to convert one file or the entire folder. For this, click on the small arrow next to the "Add File" button.
Alternatively, you can drag and drop the desired file into the app's main window.
4. Click the Profile drop-down menu to choose the necessary file format.
5. Choose the path you want your files to be saved in.
6. Click the "Convert" button to start the conversion. 
What Is an ASF File?
An ASF file is a multimedia file stored in Advanced Systems Format developed by Microsoft primarily for streaming media. It's a proprietary video and audio container format that contained different kind of information, namely additional metadata such as title, author, and copyright bibliographic data, etc.
ASF files define the structure of an audio or video stream, but not the encoding method, as completely different video codecs can be used to compress the files. However, most often you can find Windows Media Audio ( .WMA ) or Windows Media Video ( .WMV ) data inside this container format.
And as you already know, this file format is not common for macOS and can't be opened via the built-in player QuickTime. That's why Mac users are in search for ways of playing ASF files on Mac. 
Conclusion
Summing up, there are lots of options for how to open ASF files on Mac. You can use one of the players described above or even convert ASF to a more QuickTime Player-compatible format. Depending on how often you need to deal with this kind of file it's all up to you to decide which solution to choose.
As for our recommendation, we can advise you to try Elmedia Player. This is the best video player for Mac that can seamlessly handle formats that QuickTime can't and offers great features for the perfect video playback.
Frequently Asked Questions
In order to play ASF files on Mac you need either to convert it to another file format or use one of the ASF players described in the article above. As for our top choice, we can recommend Elmedia Player. The player can handle those file formats QuickTime Player can't. It is not only a great ASF but also an AVI player for Mac and way more. 
You can convert .asf to a QuickTime compatible format by using Aiseesoft Video Converter for Mac. The detailed steps on how to convert you can find in the corresponding abstract described in the article above.