Being a rather complex file format, DAT files cause headache for many users. If with any other file extension, it is quite obvious what app to use in order to open it, well, with DAT, it is a bit tricky. In case you don't know how to open DAT files on Mac — do not worry, we will give detailed information with which you can see what kind of data is stored in the file type and the ways of opening.
What is DAT file?
DAT file is a universal container that can contain any information. It often stores data in binary or encrypted form, so a special or authorized DAT file Mac solution is required to decrypt it. It can be plain text, picture, video, streaming audio, game logs, passwords, and the list goes on for a very long time. Usually, a user may come across this file in an email as an attachment. The reason for this may be that there was some failure in the process of sending or receiving.
Top DAT Player for Mac - Elmedia
So, in case someone has shared a video in a .dat file and your video player is unable to open it, we recommend you take a closer look at Elmedia Player. With the help of this solution, you will be able to open DAT file on Mac with just a snap of a finger as no additional codecs or decoders are needed.
This media player will be a cup of tea for both savvy users and newbies as it has combined enhanced features and a user-friendly interface, so it won't take time to find all the necessary settings and figure out how they work. Here you can easily adjust playback speed, use a video tuner, deinterlace video for better image quality, put any part of the video in a continuous loop, and way more.
Besides that, the app can handle not only DAT files but also AVI, MP4, FLV, MOV, WMV, etc., and allows wireless streaming to any Smart TV, Chromecast, Apple TV, DLNA devices, and way more.
"I initially really liked this video player, because it plays so many different formats that other players won't like QuickTime."
— JoenSF (apps.apple.com)
How to open .dat files on Mac with Elmedia
Earlier the .dat format was used as a container in Video CDs and was common until DVDs came along. Internally, .dat videos usually have an MPEG-1 video codec and an MP2 audio codec.
2. Once downloaded, install Elmedia Player on your Mac and launch the app.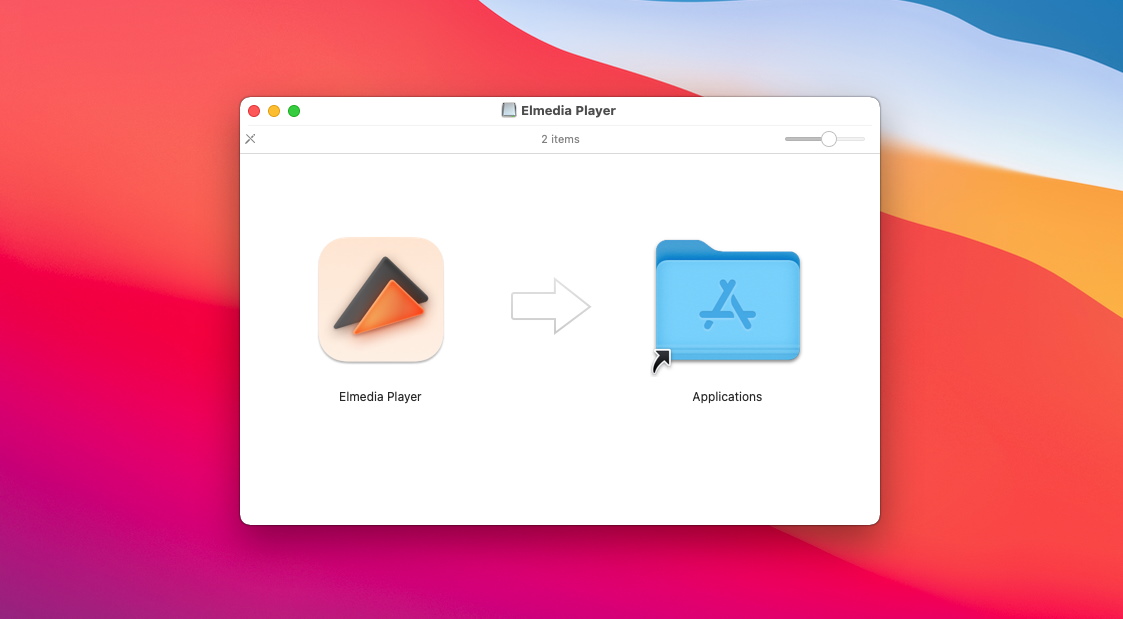 3. Add the .dat file to Elmedia Player by choosing one out of these variants:
Drag any DAT file into Elmedia Player's window or the app's icon in the Dock.
Locate the file in Finder and right-click it, after that choose the "Open With" option and select Elmedia Player.
Select "File" from the menu bar up top, click "Open" and open the .dat file on Mac that way.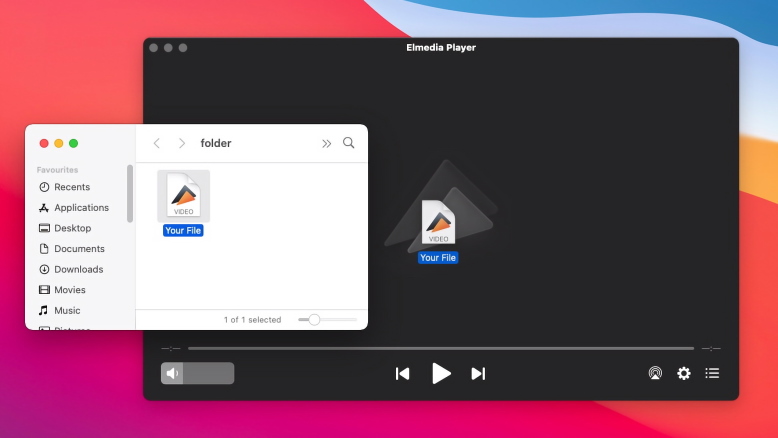 Note: Being a media player, Elmedia can only handle videos shared in .dat format. In case, it's just an abstract binary file, it will be marked grey with an unknown duration in the playlist.
Open a DAT file on Mac with TextEdit
One more method how to open .dat file on Mac is to use TextEdit. It is one of the easiest and most convenient ways, as you don't need to install any other additional apps since TextEdit is a default app that can be found on each Mac computer. Alternatively, you can use any other text edit app, if you are not fond of TextEdit and have a more interesting and convenient app installed on your Mac. In order to open DAT file Mac users need to proceed with the following steps:
1. The first thing, download the .dat file on your computer.
3. Find DAT file and drag it to the main screen of the app.
4. Alternatively right-click it and select the "Open With" option.
Note: A DAT file usually contains binary data, and very rarely text. Not always text editors of any type can correctly display the contents of the DAT file. In most cases, the user will see nonsense.
Tip: As you understood, DAT files are not as typical files as the rest of the files, and dealing with them can take some time and effort. Definitely, you can use DAT file converter Mac solutions to help you with opening this file format. For instance, you can use onlineconvertfree.com. Also, keep in mind that not all converters can flawlessly deal with .dat formats.
What is a winmail.dat file?
The winmail.dat file can be found in the email as an attachment. Usually, these files are generated when using such services as Microsoft Outlook, Outlook Express, or Microsoft Exchange. This attachment file is also encoded with TNEF (Transport Neutral Encapsulation Format). Usually, the winmail.dat attachment is added when sending a message from a misconfigured Microsoft Outlook email client.
When the Outlook email client sends an email in RTF (Rich Text Format) format, then all the text embellishments – bold text, italics, etc. are attached to the letter in a separate file, which is called winmail.dat. If the mail client on the side of the recipient of such a letter is not familiar with the MS-TNEF format, then the attachment remains unprocessed and cannot be read without special tools.
Open .dat file on Mac attached in email
If you use the below-mentioned programs to work with e-mail, then you will have no problems with winmail.dat files. Most likely, you will not even know about their existence, as these files will be automatically processed and converted to a standard form. But if you use another program, it may not be ready to accept an attachment of this unusual format.
Knowing how to open winmail.dat on Mac. will save you time. In this case, using the popular online tool winmail-dat.com is the fastest way to open a DAT file on a Mac. Check the step-by-step guide below:
Tip: Make sure that the .dat file was sent to you by a reliable source. Most often such kinds of attachments can contain viruses or spyware, that's why it is highly recommended to be careful when opening DAT files on Mac and properly check it with antivirus or security software.
1. Download and save the .dat attachment from the email to your Mac.
3. Locate the .dat file and click the "Open" button.
4. Wait for the file to be uploaded and click the "Decode" button.
How to open a winmail.dat file on Mac using TNEF's Enough
In case, you have to deal with winmail DAT files almost every day, then you should definitely consider taking a closer look at TNEF's Enough app. It is an easy-to-use app that can help you identify almost any DAT file. Follow the below steps to learn how to open winmail DAT on Mac.
Note: The app is free and there is a version for iOS, so you can even open DAT file on your iPhone or Tablet.
1. Visit the Mac App Store in order to download the app on your Mac.
2. Once downloaded, launch the app.
3. Locate the file you need to open and right-click it.
4. Select the "Open With" option and choose TNEF's Enough.
5. Wait for the app to extract the info saved in the .dat file.
Tip: If you can't find TNEF's Enough app after right-clicking the file go to the Others option and search for the app there.
Possible cases to come across .dat files on Mac
The most common cases where you can find .dat on your Mac computers are the following:
Simple VCD videos that are shared in the form of .dat can be opened with a video player. For example, Elmedia Player. Below, we will tell you about this solution in more detail.
An email attachment.
Data is stored in various applications. The contents of such files can be stored as text. It can be opened in any text editor. For example, TextEdit, etc.
As you can see, there is nothing complicated about opening such files. The main thing is to know in which program it was created and then you will not have any problems knowing how to open a DAT file on Mac.
Conclusion
As you can see, working with files in an unknown format does not have any particular difficulties, the main thing is to find the right approach to solving the problem. Sometimes, it's enough to try to use available or popular programs installed on your computer. As for opening video content in a .dat format, we can recommend using Elmedia. It is an easy-to-use app that can help you in playing different file formats. And how do you deal with DAT on Mac? Leave a comment below.
Frequently Asked Questions
To open DAT file in PDF you need to use DAT file converters. It can be either onlineconvertfree.com or any other third-party app.
Opening DAT files on a Mac is a bit tricky thing. Most likely, you are trying to open the file with the wrong app and think that the file contains another type of information. Literally, video, audio, PDF, and virtually any other type of file can be stored under the .dat extension.
You can use the above advice to make Mac DAT files readable. These can be different ways and depending on your needs you are up to choose the right one for you.
The winmail.dat file in email attachments contains information for Microsoft Outlook Rich Text Format emails that can be sent using Microsoft Outlook, Outlook Express, or Microsoft Exchange.